The tricycle is a 3 wheeler and is ideal for children learning to ride. The tricycle is easy to use and ride and has loads more stability than it's 2-wheeled cousin. Young kids will love this ride-on bike, but before they can do the 2-wheeler there is usually a transition from tricycle to bicycle.
There are loads of different types to choose from and in this review you will see some of the best on the market at affordable prices. There are some differences between brands and to name some like fisher price, Fly Bike, Schwinn, Durst Durst, Tricycle Tricycle and Radio Flyer might come to mind. There are loads to choose from and comparing them can be bothersome, that's why I have saved you the trouble and picked the best of the bunch. In this comparison review you will have a range in price, style, functionality and have ones that will adjust to size as your child develops with time. Before all that you should check out some of the considerations…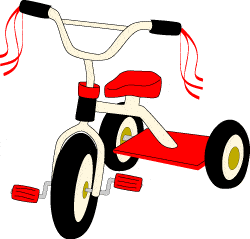 Considerations when choosing for a 2 to 3 year old toddler
Sometimes having a canopy on a tricycle is ideal for parents that like long walks, having their child beside them peddling and not getting caught out by the sudden rainfall.
Travelling long distances by foot means you want your kid to be able to mobile on their tricycle and can maintain a constant speed very easily. Some tricycles offer better functionality and can be pedaled for longer and more easily.
Storage can be an issue for some whether out the house or at home, so having one that is fold-able might be ideal for certain family homes and out and about moms.
Some tricycle are more suited for outdoor use and others for indoors, so depending on what your kid tends to do or like one might be appropriate over the other.
Some are more sturdy in design and suited for rough play and riding, so filtering the weak from the chaff is always a good idea.
The better the overall durability of the tricycles the longer it'll last, so make sure to have look at the best of the bunch further down this review.
Style is important no matter what age and finding one they will love is perfect. Colors, horns, lights, storage and whatever will suit them. For example, a tray for all their gear and drinking bottles comes in handy on long distant walks at the park.
I love the concept of "adjust as they grow", which makes sense to have a multi-purpose and usable features. Things like this make items worth a little extra and save money over the long-run.
Safety is import in choosing a tricycle, but these all are very stable and sturdy, so there should be no problems with poorly made tricycles.
Stability is another area this comparison review factored in and you'll be happy to hear all are firmly planted with a low center of gravity.
As a parent getting other parents approval is important and that is why all choices range from good to excellent with modern designs and high-quality finishes.
Sometimes the handlebars and grips can vary with each particular brand and product, but all these have easy to use handling.
Radio All-Terrain Red Wheelbarrow tricycle
Radio Flyer has been making kids tricycles for a while and this is one of their latest. This all-terrain tricycle is ideal for mothers wanting a ride-on trike for getting them out and about keeping active. This can be used at various ages and different development stages, so as your child grows they don't outgrow their tricycle.
Canopy – The canopy is UV protective and is another great feature for hotter climates with loads of sun shining.
Travelling –  Can be easy and when they manage to pedal themselves, however there is some concern with the pedals. Sometimes they get their feet in the way of the turning pedals and can be annoying for both the pushing mom and the child wanting rest his feet.
Storage – This is large tricycle and can breakdown to smaller individual components, but does not fold up like others in this review.
Outdoors/indoors – Can be used both indoors and outside. The wheels are none-marking and wont scratch wooden surfaces.
Design – The 4 way system is particularly nice but comes at a price, but as far as easy toddler learning tricycles are concerned this is a great start for this comparison. The bike weighs 19 pounds, can be easily handled, both picked up and stored away. The tires are rugged and air filled. This tray comes with a tray for his/her toys, cup holders for drinks and seat belts for those still needing them. The assemblage is easy and will take less than 30 minutes to assemble and most parents find it very easy.
durability – The overall durability is around a 6.5/10 and the stickers and logo graphics seem to wear easily. The mechanical side of this is well made, but some people have had manufacturing issues and needed to return.
Adjustable sizes -You will appreciate the adjustable features with this trike and with an easy push handle things can be suited just right. From 9 months all the way to 5 years this product can be used, which makes for engineering to be admired. The handlebars and grip make for easy control in busy times and is something that can be left or taken off.
Safety – This is a safe model and type, but the wheels and handlebars could have been wider, in my opinion, to give more grounded feeling to the children riding.
Assemblage – Quick and easy and takes under an hour.
Handling and grips – The handling is about a 6/10 for handling and some parents find their younger toddlers struggle with control.
Overall Concerns – Some moms have felt there are some issues with this and highlighted the fresh-out-the-box smell, which is chemically and isn't pleasant. Others felt the canopy is too small and wanted more out of this than they got, but overall this is a good product.
Summary – I would rate this a 7/10 and although there have been some complaints, in general, the reviews and feedback are positive.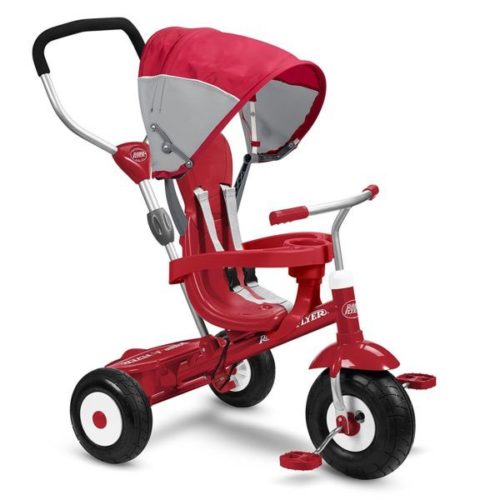 Fly Bike Toddlers Tricycle
This trike looks simple and that's because it is, but sometimes simplifying things makes it easier without a huge expectation that sometimes leads to disappointment. That being said your kid won't be unhappy with this and the feedback you be glad to hear is that kids love this tricycle.
Canopy – This doesn't have a canopy, doesn't adjust with age and growth, so in comparison make sure to find what kind features it is you're looking for. Kids that can be let off the leash, without going wild, can be trusted with this, but because this doesn't have pedals they might complain if used for long walks for example.
Traveling – This is easily carried, stored and brought along to any trip away you might be planning. This can also be used in the house, back garden and anywhere you find appropriate.
Storage – This is easy to store, but has no storage. The extra storage is none existent and if you want a place for a bottle or play to put the toys then this tricycle isn't the right one for you.
Outdoors/indoors – This is the smallest yet in the review and can be easily used indoors and out, but with the smaller wheels and no pedals indoors or grass is most likely preferred.
Design – This is very light-weight and compact, so be aware of others if that's not what you need. I have picked a tricycle that in reflections wasn't best suited for my friend's needs, especially cause it needed to fit in the car easily and her little one could manage the bulky design.
durability – The simplicity makes this last and history has taught us this that simple design makes things last longer and this is no exception.
Adjustable seat for age and size – No. This only comes in one size and for some wanting a seat to last for the next several years might be disappointed.
Safety – Very safe and very centered. This comes in high on the safe-richter scale.
Assemblage – The assemblage is virtually none and if you wanna have a product ready to use on arrival then this is the one for you.
Handling and grips – This is really easy to use and very stable with an overall sturdy feel. This is ideal for toddlers though and can prepare them for the 2 wheeled bicycles as they reach 4+.The user riding experience is great and your toddlers will love the handlebars, quick turns and quick starts with their powerful legs as motors. This is good for muscle development and makes for speedy-turning, which they'll enjoy.
Overall Concerns – Children of all ages are using this right up to 4, but ideally this from 1 to 3 years of age, because as they grow their knees start to get in the way.
Summary – Great! This is a fantastic product and I would rate this at 8.5/10.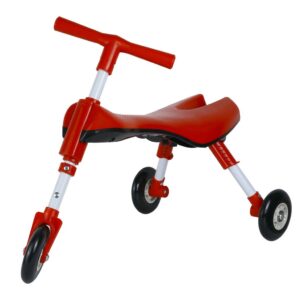 Red Radio Flyer Classic Tricycle
The post-modern design is one to stun most onlookers and parents all over rant and rave about this classic Flyer. There is a consensus that this is easy to use, hassle-free and makes things simple with style. You'll love the sound of the chrome bell, it's a classic and sounds like the 1920's.
Canopy – No. There is no UV canopy here and make sure to get the sunscreen on.
Travelling – Awkward for traveling in the car, but fine for trips to the local shops and convenience stores.
Storage – Average. Cannot be packed away and will need a space of its own.
Outdoors/indoors – Can be used at the park, back garden or around the kitchen island and won't mark flooring both wood or vinyl.
Design – The large wheels on this tricycle is a classic and remind me of the ones we used to get all those years ago, oh how the times have changed. Radio flyer has given a completely unique design and overall range of features and unlike the first "All-Terrain" type this has no canopy, no age multi-purpose use and is really a classic red toddler tricycle with a bell.
durability – Average and I would rate it a 6/10, but if looked after it'll last the test of time.
Adjustable sizes – No. This is a one fits all.
Safety – Very safe and secure with easy handling and steering.
Assemblage – Easy, but needs to be done right at the start and can cause issues if not done properly.
Handling and grips – The stability and overall balance of this product are fantastic and your kid will feel safe on the move. The handling is wide and with grip, so they can easily keep up with good peddling.
Overall Concerns – Yes, the concerns are it's easily scratched, becomes loose and wobbly with time if not assembled properly.
Summary –  This won an award at the "national parenting center" with a seal of approval and has many other similar awards for it's made and ease of use. HOWEVER…..This
high-quality retro tricycle is stunning and by far the most pleasing to the eye, but doesn't come with certain features and for those wanting to see particular benefits like parental steering or canopy then this isn't the one for you. The best tricycle for 2 years old and 3+ are usually the ones with more autonomy though and this shouldn't be overlooked. FURTHERMORE……Make sure to assemble correctly and tighten right from the start or problems occur. Some moms and dads have found that things start to wobble in time, but this is mainly due to initial construction and assembling issues, so make sure to spend extra time at the start.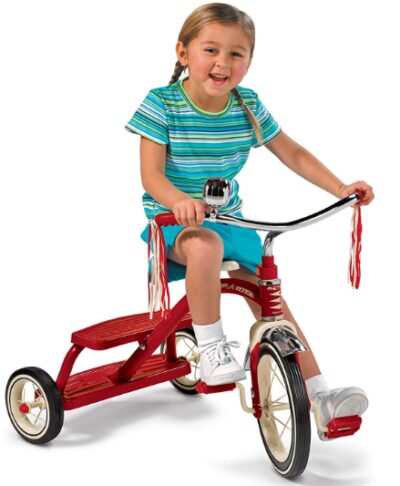 Schwinn Roadster Blue Tricycle
Canopy – No canopy and the only one so far to have is the "Radio All-Terrain Red Wheelbarrow tricycle".
Traveling – Smaller than some and will be easy to put in back of the car.
Storage – Smaller than most and will fit in most small sized storage cupboards.
Outdoors/indoors – Can be used for both and the smaller design makes it easier to move around the house, but just as easily moves on grass and street curbs.
Design – The sculpted seat makes this particularly easy to enjoy riding and is very comfy to use. The seat itself is adjustable and can increase in height as the child does also. The chrome bell sounds loud and is a nice touch to the tricycle. The construction is heavy duty and made to last with a fully-steel frame. The dimension for those wondering if it will fit in certain spaces is 12.5 x 14.2 x 24.7 inches and weighs 22.5 lbs.
durability – Very well made and sturdy. This will last for ages and even onto the younger brother who is still an infant.
Adjustable sizes – Yes, it'll vary will an easy to use handle/lever.
Safety – Very low to the ground, has a good center of gravity which produces stability when ridden.
Assemblage – quick and easy with less time than the average in this review.
Handling and grips – Chrome is throughout and the handlebars are no exception with long tassels and the bell on the right side of the handlebar.
Overall Concerns – None noticed, but some parents think there could be a problem with the tires deflating with time.
Summary – Good all-rounder and offers sound quality, great durability, sleek and stylish, which is why this gets a 8.5/10.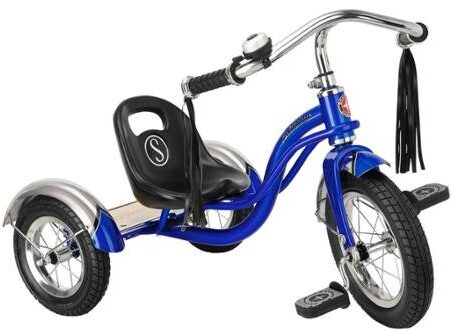 Tricycle Toddlers Wagon
Every childhood whether boy or girl should have a bike of some sort and this tricycle a combined wagon that brings all the best features together. From having loads of storage space to easy handling/riding wheels and handlebars, this wagon is a perfect combination some might say.
Canopy – None, so make sure you get a cap/hat on them.
Traveling – very bulky and once set-up unlikely to be traveling anywhere but the family home or local areas.
Storage – Storage room on board, but in terms of storing this is a pain to put away anywhere but the garage.
Outdoors/indoors – Mainly outdoors, but can be used if the house is roomy.
Design – Well made and has been crafted for beauty and functionality. The color and style are sleek and a ruby red, which is stunning and bright. The rear end of the wagon has wooden slatted basket-like features and as the photo suggests can handle quite large objects. In comparison to the others, this does have the most storage capacity and is gr
durability – Last over time and there are no perceived issues with the construction or design.
Adjustable sizes – No. Handles a max weight capacity of 110 lbs and the handlebars reach 25 inches.
Safety – This tricycle is better for the older toddler ranging 2.5 to 3 years, while the "Fly Bike Toddlers Tricycle" is for the just turned 2 years, however, this is very safe to use and ride.
Assemblage – Mid-hard to assemble and would need around 30 minutes to an hour to assemble.
Handling and grips – Your kid will love the big wheels and large handlebars, it makes it easy to steer and feels super safe and comfy. The molded hand-grips make this easy to hold even over small bumps and the center of gravity is aligned perfect, which isn't always the case with larger tricycles.
Overall Concerns – None. The only issue is the assembling and the lack of UV protective layers, but sunscreen will solve that.
Summary – Good choice and I'd rate a 7/10 and close to an 8, but it is large and bulky, which is not ideal for the nibble toddlers wanting something smaller and easier to maneuver.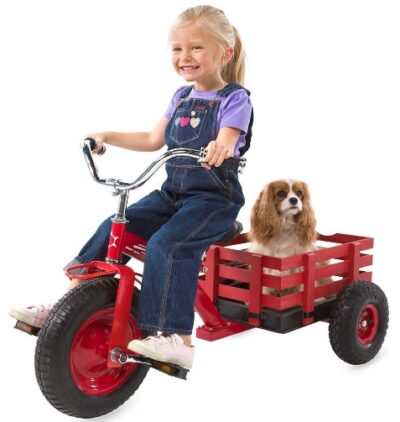 Red childrens Trike Deluxe Flyer
This really is an easy to use tricycle and the name "flyer" is true, it really does like whizzing around. This is a particularly fast like trike and for kids wanting speed and control, this is worth looking into.
Canopy – None.
Traveling – Can be dismantled for traveling but not as easy as the "Fly Bike Toddlers Tricycle", which can be packaged for easy use and handling. However, this is not a foldable trike and will require time is so needed to be.
Storage – Has a covered bin with lid and can store a few small toys and teddies. This extra storage makes for them getting used to planning tips and big adventures.
Outdoors/indoors – Ideal for both and with the backrest this can be used on outdoor trips and long walks.
Design – The wheels are molded and bulky which is ideal for varying types of terrain and environments. The seat can adjust to age and makes for extended use. The pedal is big and easily pushed, so speed can be reached. The parentally controlled handle steering can come off when suitable. Made to handle up to 50 lbs and suitable from ages around 2 to 5 years. The kick-start is quick and I can't rant enough about the easy pedaling this trike has, it's really fantastic. The dimensions are 28 x 21.5 x 19 inches and weighs 15.7 pounds, which is about average in range.
durability – Well made, can last through 2 kids and beyond with generations getting use out of it.
Adjustable sizes – Yes. The seat adjusts when needed and as your toddler turns into a kid they will still be able to use this.
Safety – Very safe, very sturdy and with the large seat they are well grounded and safe. The manufacturer recommended age 24 months – 5 years
Assemblage – Easy to set-up and once done it won't need to be adjusted anytime soon.
Handling and grips – Solid and sturdy steel construction, which handles well. The large wheels make this ideal for corners and fast turns. The grip is a little wide, but in general, this isn't a problem. Some kids lean a little forward but soon grow into it.
Overall Concerns – None, this is a good all-round tricycle with great features and style.
Summary – I highly recommend this to parents wanting to spend a little extra without having problems with manufacturing issues, scratches, wobbles and problems in general. This is one of the best for not having any issues and for those not wanting any risks with returns to choose this trike.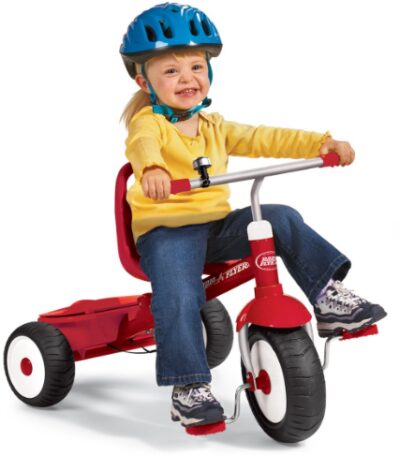 Best Overall Pick
The "Schwinn Roadster Blue Tricycle" is the best overall and with fantastic all-round features. From the adjustable seats to chrome finish the heavy steeled frame will last the test of time and will provide you toddler the stability with unparalleled control.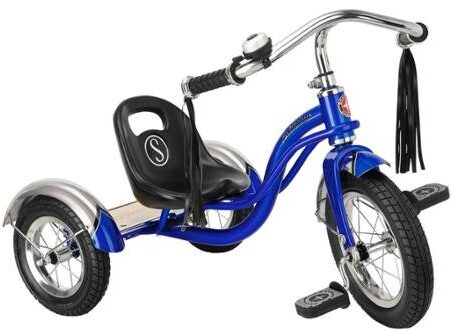 Best Budget Pick
The "Fly Bike Toddlers Tricycle" is one of the cheapest and is fantastic value for money. The design is unique in comparison and compares to none with the fold-able design, which is easy to handle, travel with and use on the move. Kids love using them and with leg-power being needed without the luxury of pedals they will soon build up strength and hand-eye coordination.