Maybe your here because it is time for finding a great twin bed. One that will help the transition from being a toddler into a big boy and all grown-up. All kids need to at some stage find their own space and their bed is no different, it's just part of nature some might say.
You might be anxious about making the transition and your trying to figure how to make this happen as smoothly as possible. You have some great options available to you and with a little time, you can find the best one to suit you and your families needs.
There are a few options available here. I will be reviewing the ones that I personally feel your child will love as mine also do. Some kids like fancy bed frames, slides, bunk beds and themes to help them feel they are having an adventure and possibly off to 'never-never land' like in peter pan, but here you will have a variety to ensure you get what's right for you and your little ones.
Considerations: Choosing The Right One for Your Child
Sometimes the right time is now and if you're ready to get a twin for your child then before finalizing, you should consider the factors surrounding and whether any will cause issues further down the line.
Developmental stage – Knowing your child is the most important factor to consider and no-one should presume to know your child like you do, so make sure to really decide what's best for them, which will ultimately be the best for your kid. Some parents find transitioning from the crib to the twin easy and others not so much, however when the themed twin bed comes and you make a huge fuss about it, it can help the anxiety surrounding it disappear.
There are different types of mattresses and for most kids they are usually happy with whatever is provided or at least in my experience it is, although this doesn't mean providing the best isn't ideal, but fortunately kid's don't suffer back pain in the same way as adults do in general, simply due to age and other factors. There are some that do however suffer from uncomfortable nights and if your child is complaining it would be best to consult or speak to a professional or a doctor as the first point of call.
Children at 5+ want their own bed because sharing is getting difficult for those that do, so below are some great options that you'll love and will make them stretch for freedom.
Loft Tent Bed
We are now getting into the realms of fantasy and this Donco twin lost styled bed is a great choice for the child that deserves a little bit of a treat. This comes in various colors to suit your own child's needs and will keep them happy whether sleeping or making games inside their magical tent.
The construction is made from solid pine wood and has guard rails to keep them supported, especially if they like to wriggle at night, but the main attraction for the kids is whizzing downslide that is a great excuse for them to get out of bed in the morning.  The kid's love this bed, it's a real feature of any room it sits in and makes a perfect combination for the child that spends long hours in their room.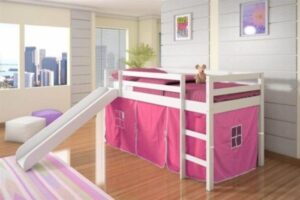 Metal Bed Frame
This is the starting one for kids and comes in at the low-end of the price range with a simple design and is easy to assemble with all parts included.  This isn't like some of the other children's beds with themes or slides that some kids demand, but it is a great buy for the affordable price and this is why I have decided to start with it.
The dimensions are relatively standard and there are 11 inches of storage capacity under the bed. The bed frame itself can handle a max capacity of 350 lbs, which is a large weight and should cope with most circumstances. This doesn't come with any mattress, but would suit memory foam or others, possibly latex made.
This may have no thrills as far as twin beds are concerned, but if the bed is purely functional then this is a great bed for the kid's, especially at the price.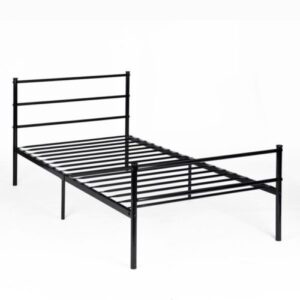 KidKraft Twin
This one is made from composite wood and various other materials, it's a solid bed and comes across as smart with a nice simple design in my opinion.  The weight is 55 pounds and is very easy to assemble with all parts included on arrival, which comes packaged up. The headboard behind is ideal for the child when sitting up with a book or tablet and is solid enough not to squeak like some beds unfortunately do.  This is in the low-mid price range and will suit most bedroom setting because of the neutral colors.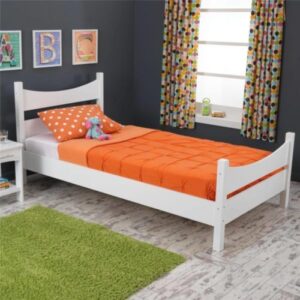 Twin Tree House
This is a stunning bed with a dream-like tree house effect and although this is at the top-end of the price range, the way it looks speaks for itself and stands out for your child and it really does make a statement.
The boxes underneath the bed are sold separately and although not necessary, the fact they seem so befitting the little extra is probably worth it. The windows offer a subtle glance in to make sure your kid is sleeping peacefully, but without the potential of being disturbed by entering the room.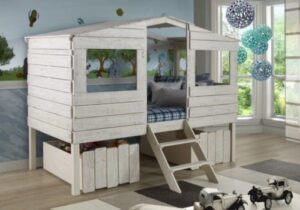 South Shore
This is a lovely little bed with beautiful features and a neat design for a lucky child. This is a little more expensive than other's in this review but does boast some added benefits.  This will snugly fit into a corner and will have loads of storage space with a crows-nest style for the child to feel comfortable in. The bed has a storage facility on top next to the mattress for books, tablets, and other toy-like things.
The material itself is made from laminated board and usually comes with a 5 year warranty. The shipping comes delivered with 3 separate boxes and is relatively easy to assemble, but does not include mattress.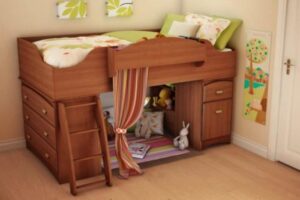 Best Pick Overall
The "Twin tree house" is a great all-rounder with a stunning look and with practical storage, so both the child and you will get the necessary function and comfort. The stairs leading up is a great feature for most kids and mine always preferred being higher up than low down to the ground. This is a mid-range in price and for the quality of the craftsmanship and I believe the bed is a great buy if you're happy with the price and want to treat your little -one.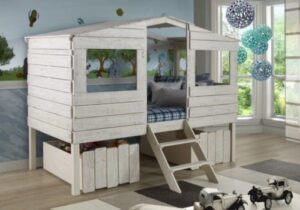 Best Budget Overall
The KidKraft is exactly what a bed should do, there isn't anything flowery or subtly beautiful here with this twin frame, but it will keep your kid secure and help get them a good night's sleep. Sometimes simple is best and this is exactly that.