Back when we did the short series "Just Like New" I had a project I intended to use for the series. It took me a while to finish it though, but now it's ready.
Here's the story.  I've been searching for an old pew for quite some time.  Every time I found one in the classifieds it was either massive or extremely expensive.  I kept looking.  I found one in an antique store but they wanted $250.  One day I was searching the classifieds and I saw an upcoming estate sale.  It was really some guy hired to clean out an abandoned home, but there were two really old little pews in the basement.
I went to the sale as soon as it began the next day and snatched one for $20.  I came home and my hands were black.  This is what it looked like and I think my husband thought I was nuts.  It was so dirty and it wobbled a lot.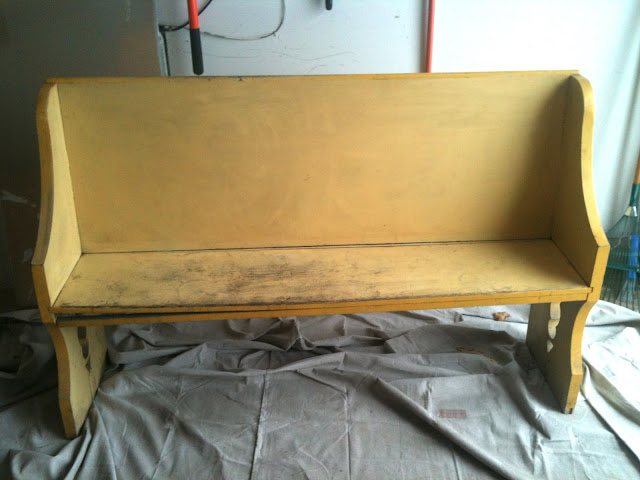 Here is my little pew now.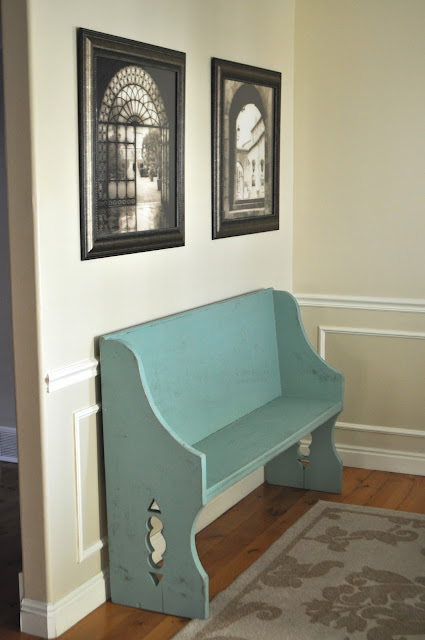 My dad reinforced the pew by adding a 2×4 under the seat.  He reattached the piece that was falling off.  He also sanded that baby down.  Thanks Dad!
I got out my paint sprayer and painted the whole thing gray first.  I stocked up on the Martha Stewart sample paints at the Depot right when they were clearancing them out, so I only spent $4 total on paint.
This job made me fall in love with the paint sprayer even more.  It took about 5-10 minutes per coat and there are no brush lines.  After the gray, I painted it this pale turquoise.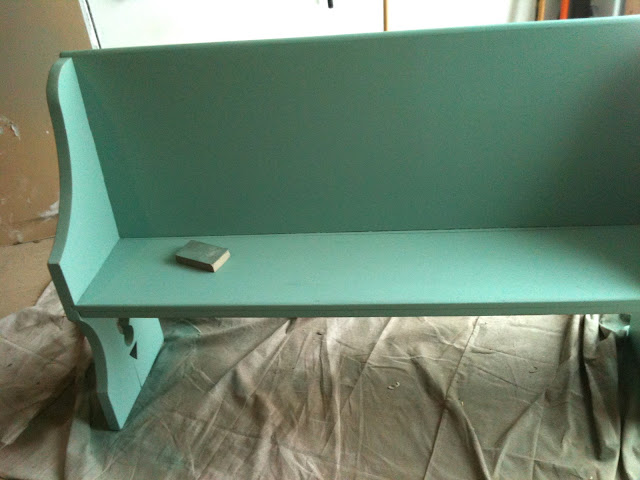 I got out my little sanding block to age it a bit.  I wanted the gray to show through in places to give it some depth and character.  The real wood shows through in spots as well.  After a while, I decided to get out the electric sander and give it a little more roughing up.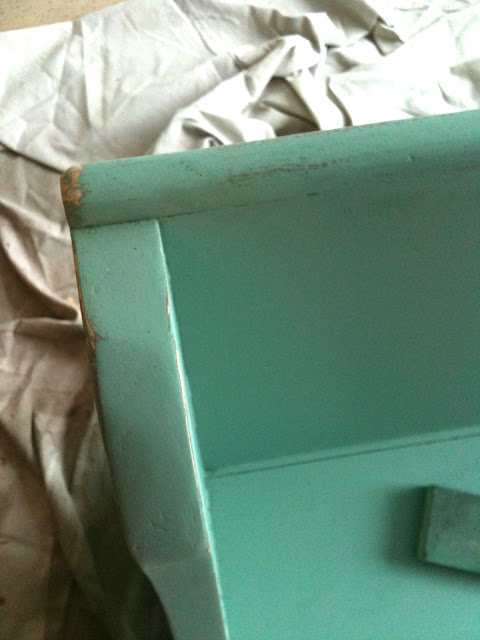 Once it looked how I wanted it to I did something I've never done before for the final coat.  I used paste wax. You rub it on and it gives you a buffed, matte finish.  I personally like matte finishes – especially for things that I want to look old.
The wax dried really nicely and it was kind of fun to put on.  I was in Karate Kid mode (wax on, wax off….except you don't wax off 🙂 and it was a good workout.  And obviously, it doesn't leave brush lines either.  Yay.
So here are the exact paint/products that I used.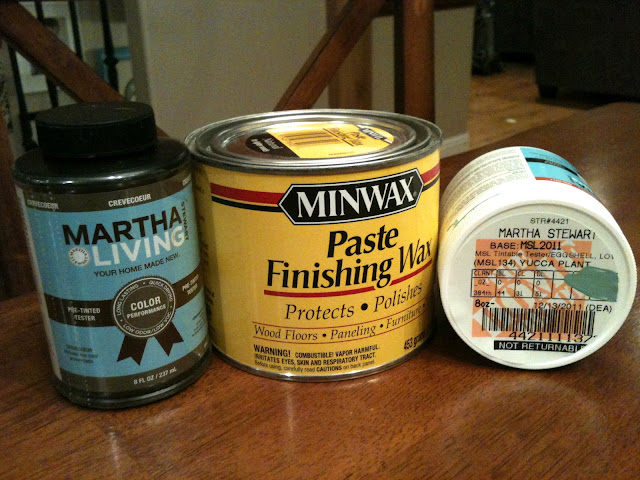 And here's a couple more looks at the finished pew.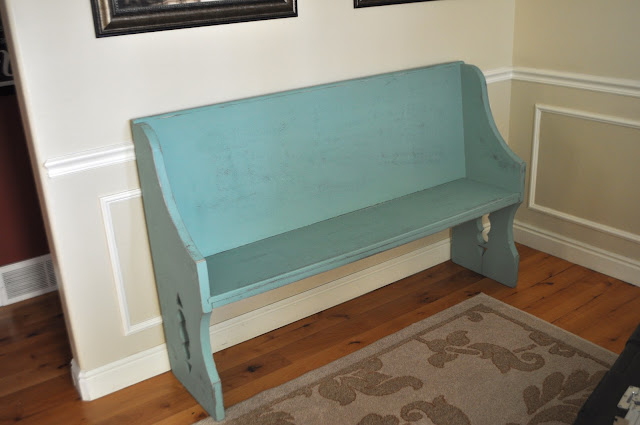 I sanded enough for the gray to come through on more than just the edges.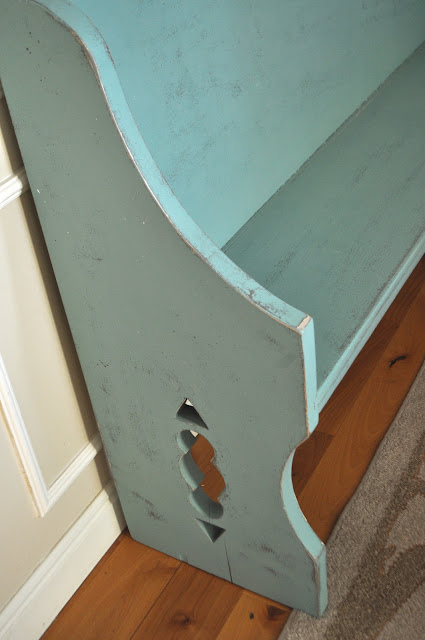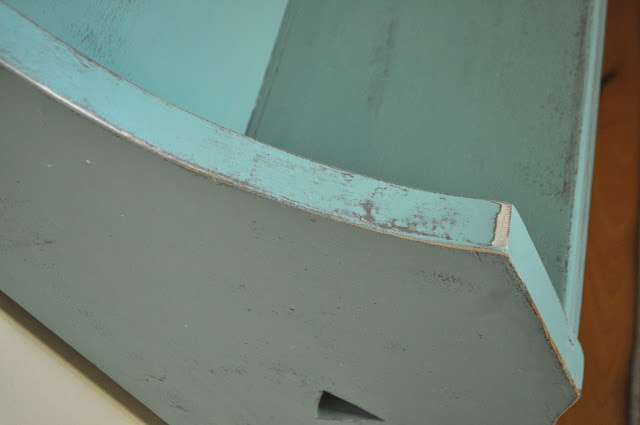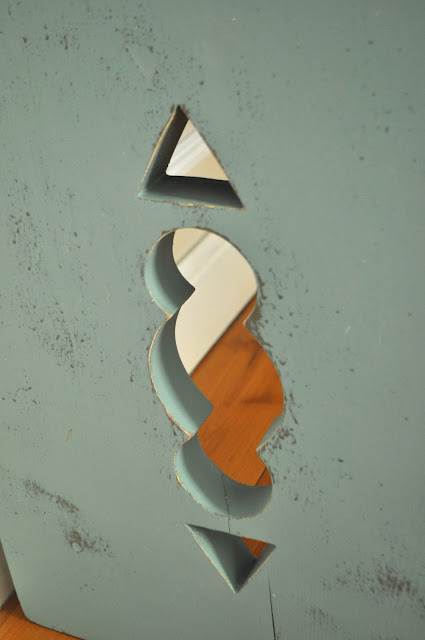 The pew will double as a place for guests to sit to take their shoes on and off, but most importantly it's our "Sorry Bench."  (If you've ever read "the Entitlement Trap" they talk about a "Repentance Pew."  It's where you sit until you say what you did wrong and apologize.  I like the concept but a "Sorry Bench" sounded a little friendlier.)
Don't worry.  He's just posing for you…..though I've seen this look for real a lot today.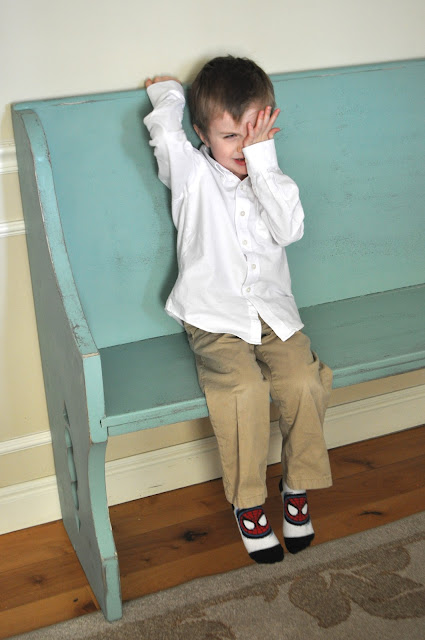 I have a few plans for this area/room that I'm super duper excited about.  It's the first area you see when you enter our home.  It was the dining room until I sold our dining room table and put the piano in its place.  (That's what freed up the office, which I'm converting to the craft room.)  Blah, blah, blah.  I'll show it all to you eventually.  There are lots to come….including something that will marry these two different colors together.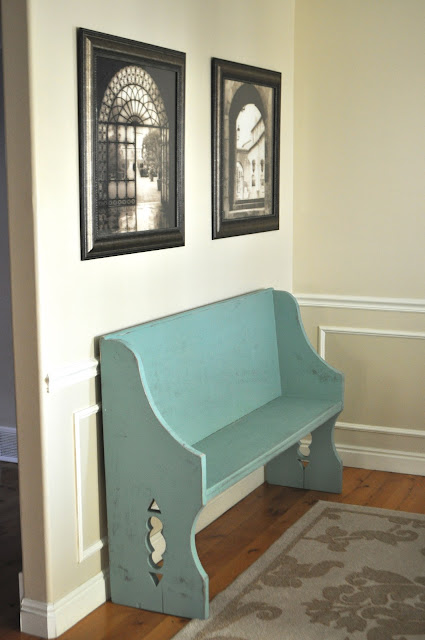 That's all for today.  Tomorrow I have a fun learning activity for kids.  See you then.  Thanks for reading.