PJ Masks is a big hit with kids and, if your little ones are a fan of the awesome animated series, we've put together a list of the best toys out there for them! From plush figures of their favorite characters to cool accessories like a Gekko watch, there is something out there for every kid who enjoys watching this show. Perhaps you're searching for a special Christmas gift or, want to treat your child to something new, whatever the occasion there is a perfect themed toy out there waiting for you. Lots of the toys we've selected are suitable for toddlers as well as older children.
Top PJ Masks Toys for Kids
1.  Cat Boy Plush Figure
Plush toys are loved by both toddlers and older children alike. If you're looking for a PJ Mask toy for your child to take on nighttime adventures, this Cat Boy is a great choice. The 14″ Plush hero features lots of great detail, just like the real character and is made using super soft fabric too. Kids can press the toy's ear to hear Cat Boy phrases from the show and sing along to the theme song for extra fun. The features don't end there. Children can also activate the hero's amulet on his chest to light up the night! This is a great toy for every PJ masks fan out there, and it makes a fantastic birthday gift ideas too. If your child already owns one of these characters, why not add this one to their set? Kids can collect all three characters including Cat Boy, Owlette and not forgetting Gekko!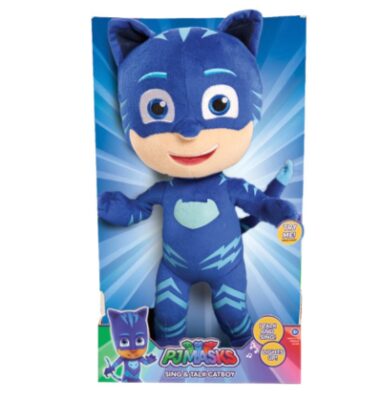 2.  Soft PJ Masks Plush Blanket
This lovely bed blanket is made using 100% polyester so its super soft while being machine washable. Kids can have an action-packed bedtime routine with these characters blanket! Featuring all three characters from the series, children can stay safe and comfortable using the blanket or, use it on the couch while watching their favorite TV show. Unlike other blankets for children, this one is great quality being lightweight, easy to carry and ideal for sleepovers, camping, traveling and den-making. For toddlers, it's a lovely naptime accesory and fits a standard single bed. We love the bright colors and friendly graphic on this cozy blanket, we're confident that your child will love it for this reason too.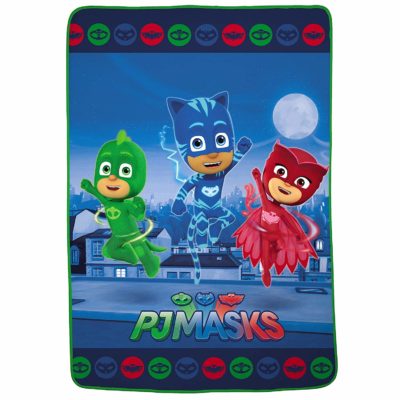 3.  Cat Boy and Vehicle Play Set
Vehicle toys are great for both boys and girls. They help to improve hand-eye coordination while providing hours of entertainment. Whether your little one collects toy cars or loves the show, this Cat Boy figure and vehicle assortment is fantastic addition to any toy box. It comes with a 3″ Cat Boy figure and his stealthy vehicle, known as the Cat Car! The car can fit all three figures! The figure has poseable arms and legs to which helps to promote imaginative play and make him relateable. With this toy, your child can collect all five basic vehicle sets including Owlette & Owl glider; Gekko & Gekko-mobile; Romeo & Romeo's lab; and Night Ninja and the Night Ninja bus.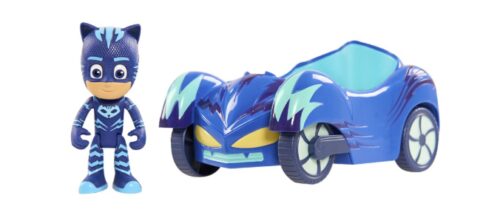 4. 5 Figure Playset
Children can bring the adventures to home with this awesome collectible figure pack! Every character features lots of detail just as they do in the series as they pose in dynamic action stances. Standing at 3″ tall, the deluxe pack includes Cat Boy, Owlette, Gekko, Luna girl and Romeo. Whether your little fan simply wants to display them on their shelf in their bedroom or gets busy imagining out superhero scenes with this pack of 5 figures, this is certainly one of the best toys out there. We love the bright colors and realistic detailing which makes these toys look like they've jumped straight out of the telvision screen.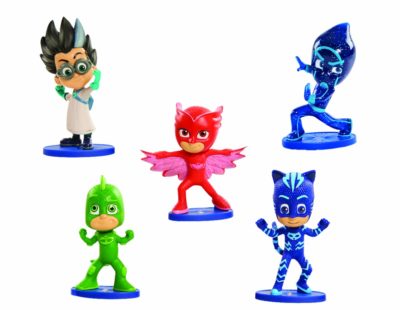 5. Super Gekko Costume
Are you looking for PJ Masks costumes? This super Gekko costume is the perfect toy for any imaginative child that enjoys the series. Made of polyester, it's lightweight and comfortable and includes a jumpsuit with a detachable tail and soft headpiece. Kids will love dressing up as their favorite character from the show with this officially licensed product. We're huge fans of the vibrant green color and are sure that your child will enjoy playtime as they role-play Gekko!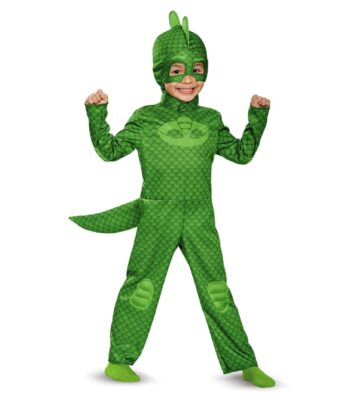 6. Gekko Watch
How about a superhero watch? This is an exciting toy for any fan, as not only can they keep on top of the time always but they'll also be able to play four exciting games that explore numbers, counting, addition and shapes. But this watche's activities aren't all about learning, in fact children will get busy trying to defeat Romeo, Luna Girl and the Ninjalinos with this accessory too! Used as a prompt to 'transform' into Gekko, the amulet's games include characters Catboy, Owlette and Gekko's with real voices fromt he series. With 9 different PJ Mask clock faces, an alarm, timer, stopwatch and cuckoo clock, there is lots of fun to be had with this cool green accessory.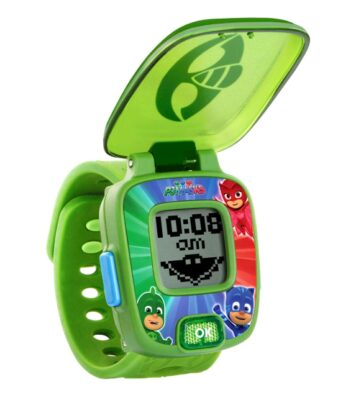 7. Headquarters Toy Set
This PJ Masks characters toy brings the serie's headquarters right to your child's bedroom as they play. Packed full of action, the double-sided playset is over 2 feet tall and has three character themed levels. Each level comes  filled with engaging kid-powered features for imaginative play with the superhero and hours of super-sized fun! In the set kids will find a 3" Catboy figure, a Catboy's Cat-Car and it comes fully compatible with all other figures and vehicles in this toy series too. To power this toy up and get kids playing with their favorite characters you'll need 3 AAA batteries.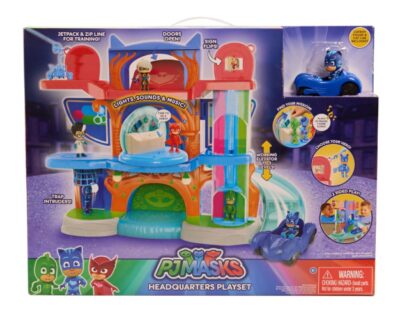 8. Super Hero Owlette Costume Set
We have another amazing costume set on our list! This super hero costume will allow your child to transform easily into their favorite night time hero from the series, Owlette. The set comes with a highly detailed full-body outfit made using only quality fabrics so it's super comfortable too. Included in the set is a fabric mask that willl provide your child with everything they need to the play out their own PJ Masks adventures. Fans can collect all 3 costumes: Owlette, Cat Boy and Gekko so they can dress up as their favorite characters whenever they wish to. This is a great gift idea for a fancy-dress themed party and is suitable for children ages 3 years and above.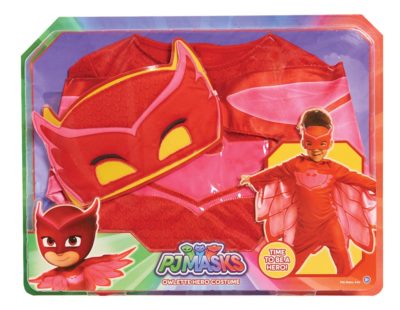 9.  2 in 1 Play Room Sofa
If you're looking for a comfortable piece of furniture that is PJ Masks themed, this 2-in1 play sofa is the perfect idea! The perfectly sized sofa is great for toddlers and children, giving them plenty of space to kick back, relax and enjoy their favorite show while all cosy. The lounger can be folded out into a bed to make a good spot for an afternoon nap and is great for kid's sleepovers. We love the bright colors usd and the fun graphic on the back of the sofa which displays all three superheros!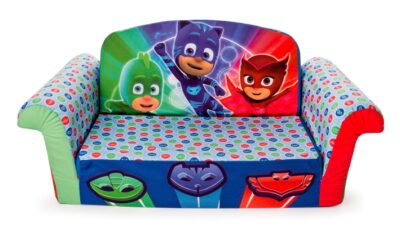 10. Themed Toy Storage Bin
Do you want to buy your child a cool piece of kit from their favorite TV series, while encouraging them to keep their personal space neat and tidy? We've got the perfect idea for you! This super cool storage bin for toys is both practical and stylish with its colorful PJ Masks theme. On the top shelf there are three storage boxes in colors red, blue and red to coordinate with the colors each superhero wears. Kids can use this area to store away their smaller clothing items such as socks or use it as a handy space to keep toys neat. The shelf also has 3 other storage areas, on the second shelf there are two boxes which would be great for pyjamas and on the bottom shelf a larger area that is deep enough to store away lots of things! This storage bin item of furniture is high-quality and comes with an awesome graphic of the characters on its side.

Best Overall Pick
Now that we've reviewed the top 10 PJ Mask toys out there, we've selected our personal best pick, the storage bins. Not only is this piece of furniture practical for any little fan's room, it also is cool to look at too! We're huge fans of the detailed graphic of the three superheros used on the shelf's side and love the bright colors used to represent each character. Your child can use this to store away their prized possessions or clothing, it's a super versatile item to have in any bedroom!

Best Product Buy
PJ Masks fans will adore this Cat Boy toy and car that he can ride in while zooming off to the next action-packed spot for a superhero adventure. Made of quality materials, this blue car is great for developing hand-eye coordination and is suitable for toddlers ages 3 years and above. Children can collect all variations including the Owlette version and Gekko green mobile. This toy is a great addition to any collection for those who follow the series and is guaranteed to provide hours of endless entertainment.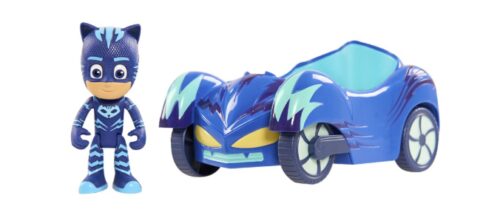 Considerations When Buying PJ Masks Toys
There are a number of things you'll want to consider when selecting a toy for your child based on the television series. While there are lots of great options you'll want to make sure that you're keeping age suitability and preference in mind. Children can be very selective when it comes to what types of toys they like and dislike! As with all toys, you should always check the age recommendations put forward by a retailer. If you'd like to get a toddler a themed toy for example, it's far safer to go with a plush toy rather than a toy car for example which can contain small parts.
In terms of the theme itself, your child will likely have a favorite character from the series. Why not keep their preference in mind when buying? It'll make the toy extra special to the child and allow them to really discover PJ characters further if they're engaging in imaginative play with these toys.
Best PJ Masks Christmas Toys
These toys are particularly popular around Christmas time, when paarents head out to select their child's favorite themed gifts. Whether you're on a budget or not, one of the toys in our selection above is ideal as a gift and will bring a smile to any kid's face. We recommend choosing the blanket as a Christmas gift, not only is it an otpion that won't cost too much, it's also practical for the winter months when warmth is needed and comfort is appreciated. The blanket is suitable for a single bed and a great addition to any little fan's bedroom. Any of the toys in our list above would make great Christmas gifts and we've included both larger and smaller budget options to make the task easier for you when it comes to selection.
The Best Place To Buy PJ Toys
The best place to buy these toys from is Amazon, however, you can also pick them up in toy retailers too. We'd always recommend buying an official toy where possible. Amazon offers lots of cool toys from plushies to toy vehicles with matching characters from the series. Across Amazon's site you'll find a rating system, where customers can leave their personal reviews for individual products.
Are these Toys Safe For Toddlers?
There a lots of different types of toys from themed toys from the series some of which are suitable for toddlers and others not. When buying a toy for any child it's super important to check the age recommendation to ensure that you're not putting your little one at risk. From our selection above, toys such as the blanket and plushy are suitable for toddlers whereas the car containing the character would not be. Be sure to check the age suggestion on Amazon prior to buying any of the toys in the list above. We always ensure that we include a range of high-quality toys made using safe materials for every range across our gift and toy guides.