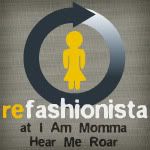 Alright! Now it's your turn! Let's see YOUR refashions. They can be ones you've made from the Refashionista tutorials or ANY refashion you've done. I am so excited to see everyone's ideas and transformations. Here are the instructions:
1) Link to the specific post and not your whole blog. (How? Click on the title of your specific post and then highlight and copy the link address at the top and paste it in.)
2) When typing in the title of your link, tell us what the refashion is. (for example, "pants to skirt" or "men's shirt to dress")
3) You can link back by pasting the Refashionista button into your post, but it's not mandatory. I'm not coming after you if you don't.
4) It would be great if you'd take the time to visit a few other links and comment. That's part of the fun.
That's it! Now strut your stuff!