Selecting a gift for a 14-year-old teenage girl is not an easy job. It takes time to search for a suitable gift that is usable and will make her happy too. However, you really cannot tell what exactly would be the best for a gift for a teenager. What was in yesterday is out of fashion today. The same goes if you buy something today it may be out tomorrow.
So, to help in your search for the perfect present, check out the gifts listed below to find a wide range of items which are loved by teen girls. There are various types of gift items for birthdays, Christmas and any other special occasion. Moreover, there are gifts to suit all budgets, ranging from under $10 to somewhat more extravagant gifts. You'll find our suggestions listed here with their title, some information about the gift, then the pros and cons of the item. We've also chosen a wide range of gifts, so whether your teen is into tech or beauty there is sure to be something she will love.
Considerations When Choosing a Gift for Teen Girls
There are a few things worth keeping in mind when thinking about what to buy for 14-year-old girls. The most important is to think about what her likes and dislikes are. This can give you a good clue as to what she might like to receive as a gift. For example, if she loves accessorizing and looking her best, make up brushes and clothes are great gifts. Sporty girls might like a new gym bag or water bottle.
Also think about the budget you have available for the gift. If you have a lot to spend, you can choose something more expensive such as a new piece of tech or some trendy sneakers. If you're looking for a little stocking-stuffer-type gift, don't worry – we have you covered.
21 Gift Ideas for 14 Year Old Teen Girls
Below, you will find our picks of 21 great gifts which will appeal to girls aged 14. There is something to appeal to all tastes and personalities here – you'll be spoiled for choice
1.  Bath Bomb Making Kit
What 14 year old girl doesn't love a great bath bomb? Well, this unique kit allows your daughter to make her own, so she can really customize everything the way she likes it! The set includes everything you'll need to make 5 handmade bath bombs, including gorgeous colorful powders, dried roses, and lots of shimmer!
Your daughter will be able to choose between lavender and vanilla essential oils, and even mix in coconut oil for extra luxury! This is an ideal gift for any young teen, and makes a really fun activity for a sleepover and parties, too!
Pros:
Great way for your daughter to get creative!
Lots of supplies so you can customize everything the way you like it!
Amazing essential oils for a luxurious experience.
Makes up to 5 bath bombs so your daughter can use it again and again.
Cons: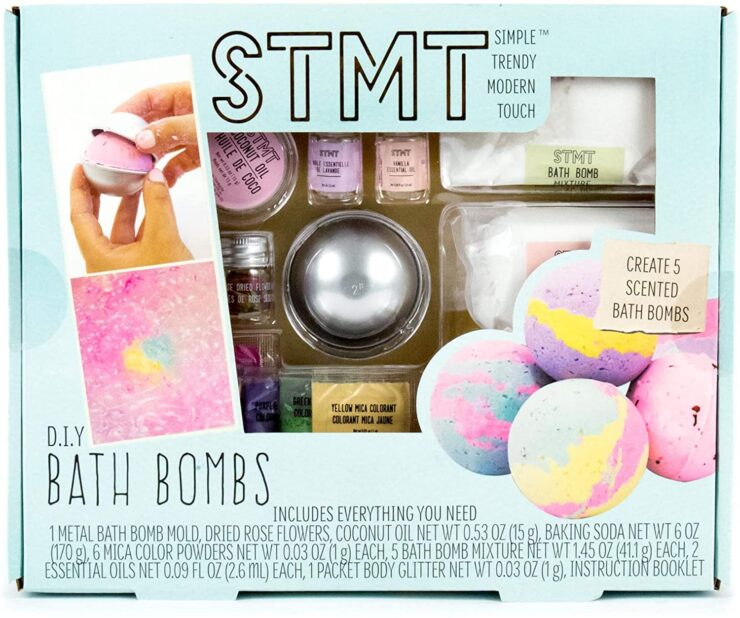 2. Photo Clip String Light
If your 14 year old loves decorating her room, or just wants to express her own style, then photo clip string lights are sure to make her smile! This gorgeous accessory includes 100 LED lights with space for 50 different photos, so it's guaranteed to be a fun addition to any space!
You can attach pictures of family, friends, and much much more, so the possibilities really are endless! Your daughter will be able to really make these string lights her own, and she's sure to get great use out of it for years to come.
Pros:
Fun way to decorate your 14 year old's room.
Lots of photo slots for all of your 14 year old's memories!
Pretty LED lights are sure to be a hit!
Cons:
Must be attached to the wall.

3. Victrola Vintage Bluetooth Record Player
This gift is a truly unique idea that your daughter is sure to love! This quirky record player comes in over 30 different pattern and color options, and is able to play vinyl records and stream BT audio through its high quality built-in speakers!
The quirky suitcase style design makes this record player a really portable option, so your daughter will be able to enjoy her favorite songs at home or with friends! It's also a great way to accessorize her space, and is sure to make her 14th birthday a memorable one!
Pros:
Quirky and fun design!
Vinyl and BT audio options for great versatility.
Portable construction makes this a great option for sleepovers and parties.
Unique way to decorate any space!
Cons:
Records must be purchased separately.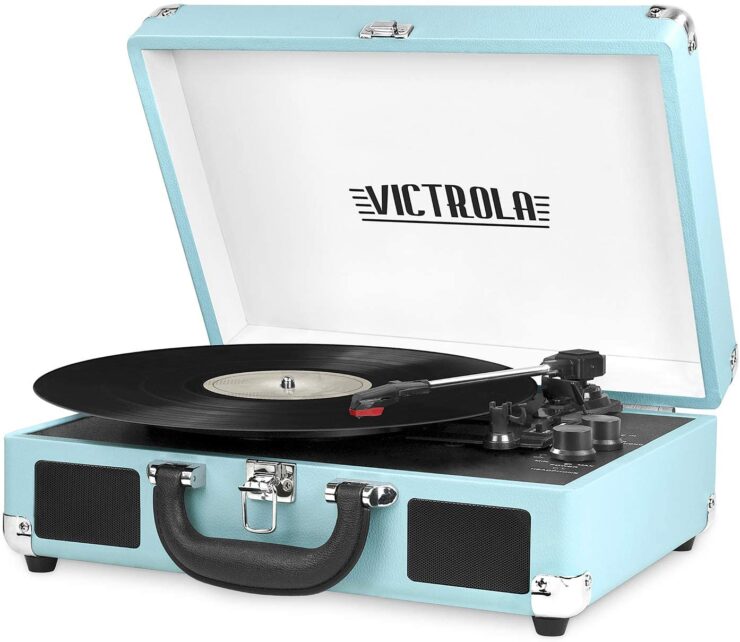 4. Fujifilm Instax Mini 9 Instant Camera Bundle
Whether your daughter is a budding photographer, or simply loves taking selfies with her friends, you can't go wrong with an instant camera! This incredible bundle comes with everything your 14 year old needs to get started. It includes an instant camera, 40 sheets of film, a carry case, photo album, and many more accessories.
The camera is super easy to use, with a handy light sensor to help you get the best shot possible! It even has a built in mirror to make taking selfies effortless. Every time you take a photo the camera instantly prints it for you, so you can use your pictures to decorate your room, make art projects, or even gift to friends!
Pros:
Great starter bundle with everything your daughter will need!
Very easy to use with different setting for the best picture possible.
Includes handy carry case for on-the-go photo shoots.
Range of accessories to customize your camera!
Cons:
Extra film will need to be purchased separately.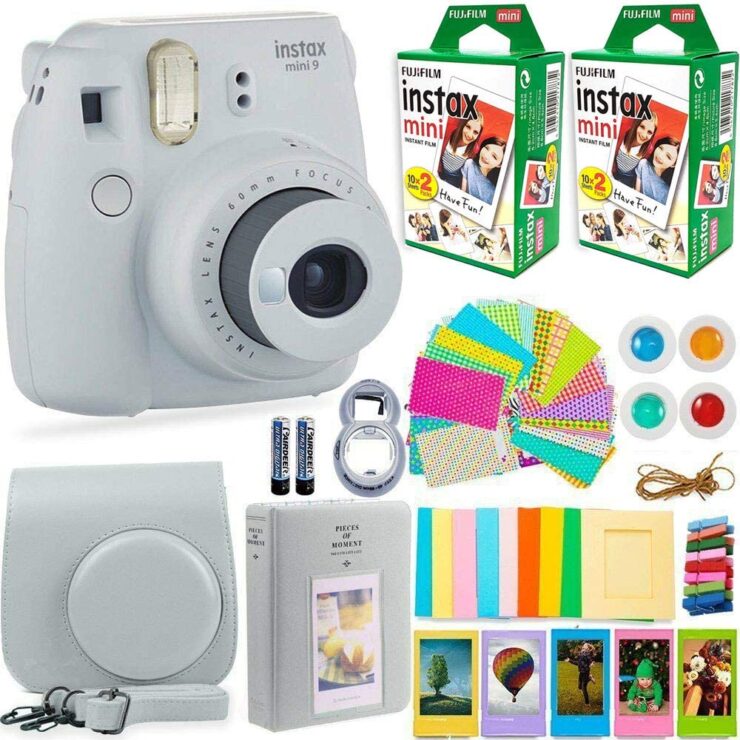 5. Heart Shaped Mini Waffle Maker
Everyone loves waffles, and this heart shaped waffle maker is guaranteed to delight your 14 year old on her birthday! It's super easy to use and heats up in just a few minutes, making it a perfect present for 14 year old girls.
Your teen daughter is sure to love making delicious snacks for family members, and the super lightweight design makes it a great option for sleepovers and holidays, too! The product comes with a handy booklet of recipes, so you can try different flavors and designs to really change things up. You can also use fruit, syrup, and sprinkles to decorate your creations – the possibilities are endless!
Pros:
Great way to encourage your daughter to learn a new skill.
Very easy to use and heats up in just a few minutes.
Easy to carry design makes it a perfect idea for sleepovers.
Includes handy recipes book for even more inspiration!
Cons:
May require adult supervision.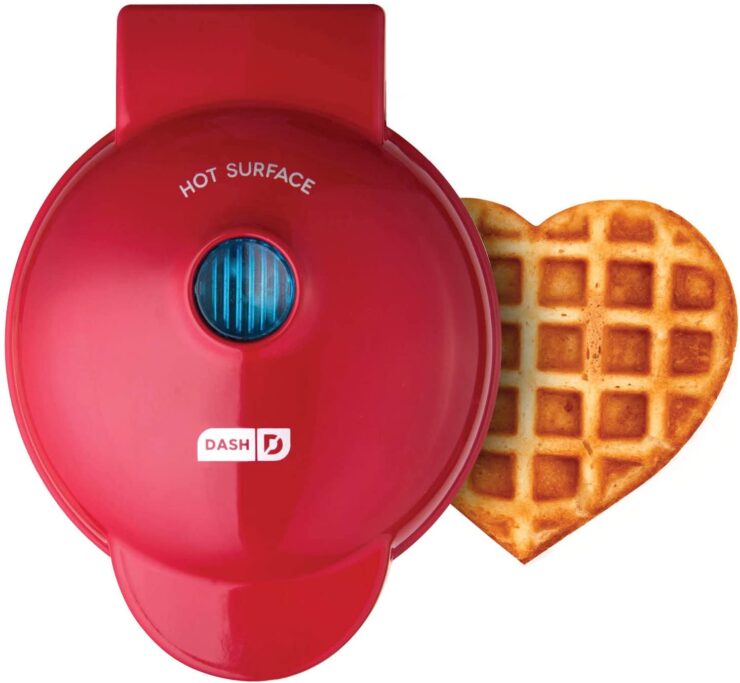 6. Wonderboom 2 Bluetooth Speaker
A Bluetooth speaker is sure to be a big hit, no matter if your daughter is a music enthusiast, or just discovering her favorite bands. This compact speaker from Wonderboom has a high quality design and comes in a range of color varieties, so you're sure to find one your daughter loves!
It has an impressive 13 hour battery and IPX6 grade waterproofing, making it an ideal option for days out to the pool or the beach! It's compatible with a wide range of smart devices, and is incredibly durable – so nothing will get in the way of the music!
Pros:
Range of design options.
Compact and easy to carry.
Compact with the wide majority of smart devices.
The speaker delivers powerful audio for up to 13 hours.
Highly waterproof.
Cons:
Requires a smartphone or similar device to operate.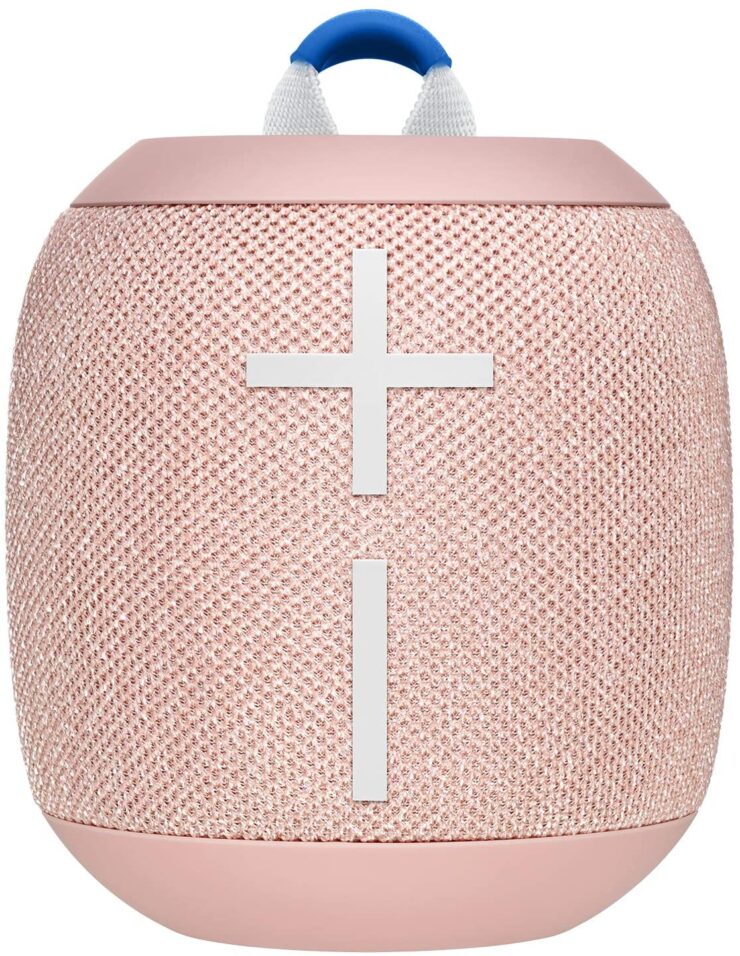 7. Motivational Wall Sign
Wall signs make great presents and last a lifetime. This is a great gift item to remind her of your love and empower her with great captions. As well as hanging the plaque on the wall, it can also be stood up on a desk or leaned against the wall. This is a great piece of art to encourage your teen during the difficult adolescent phase in life.
Pros:
Simple gift to tell your teen how much she is loved.
Great encouragement for a growing teen.
Made of strong wood-like material.
Cons:
No stand for use on a desk so may fall over.
Very simple as there is no framing/ decorative border, etc.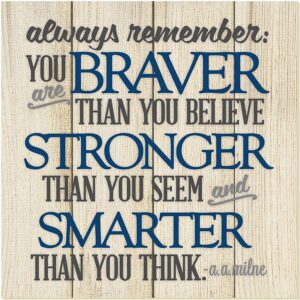 8. Pink Mini Disco Ball Lights 
This amazing portable multi-colored disco ball is powered by a USB, so it can easily be connected anywhere. It is suitable for any occasion like a Christmas or birthday party and girls will love to use it on a sleepover with their best friends. It is environmentally-friendly as it doesn't consume much power. It is one of the best electronic gifts for girls and it comes at a reasonable price too.
Pros:
Burning time for 10000 hours.
Plugs into any USB port like mac-book, laptop, etc for use everywhere.
Small size so you can carry it to a friend's house.
Use it to light up poolside, pajama party, disco night, dance party, etc.
It can be used indoors and outdoors and lights up area up to 16 ft outside.
Cons:
Not waterproof so can only be used outdoors when it is dry.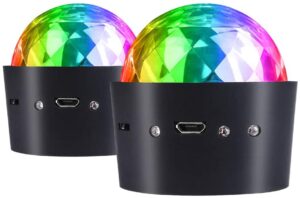 9. Hourglass Timer Sand Clock 
This timer comes with two color variations – purple and blue. The hourglass clock is made of glass and the stands are heart – shaped. The 3 pillar stands have a shimmer on them, making this ideal for girly-girls! As well as functioning as a handy 30-minute timer, the hourglass can also be used as a paperweight on the study desk. The timer can be used for just about everything, whether it's planning study sessions or enjoying more fun activities.
Pros:
Useful gift that has many purposes.
Looks stylish on display.
Cons:
It is made purely from glass and may break easily.
Care has to be taken during shipping and unpacking.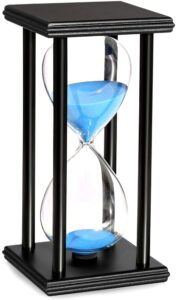 10. iPhone Charging Stand
This is a great gift in this age of smartphones. It is the best gift for a 14 year old as it is convenient and can be plugged in everywhere. There are two color variations, space grey or rose gold, the latter of which is likely to really appeal to teen girls. It also has a built-in USB charger suitable for iPhones of various generation, from 5th onwards.
Pros:
The base features suction grips making it non-slip.
USB cable is 3 ft long so it can be reached easily.
Charging dock made from stylish aluminum.
No need to remove the phone's case for charging.
Cons:
No charging adapter or external plug included.
Only supports cases 2mm thick or less, so sometimes have to remove the case to charge the phone.
Base needs to be cleaned often to keep it in good working order.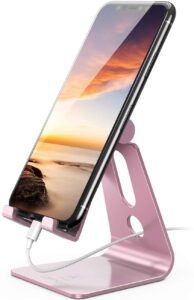 11. Free Standing Storage Ladder 
This is an innovative gift that you can gift a boy or girl aged 14 years old to place in their room. It can be used as a ladder, however it looks great as a storage item. You can put towels, hand-towels, newspapers, or anything that fits.
Pros:
Can be stood up against any plain wall.
It is a great portable storage ladder to carry it to any room.
It comes with five stylish rungs or bars to put thins on it.
It is not that heavy so the average person can lift it.
Cons:
It is nearly five feet tall but if you put it on the wall, gets short.
Would be good to have a stand so it stands on its own.


12. Girls Viva La Juicy La Fleur Eau de Toilette Spray
This juicy couture toilette spray makes one of the best gifts for a girl entering teens. You can gift this to your best friend's daughter, or buy one for your younger sister/ friend, or yourself too! It is the best companion especially if she is going for school celebrations & proms or on a holiday / excursion trip. It suits young girls of all attitudes from all over the world. This is the best surprise gift that she will love and remember forever.
Pros:
Intriguing scent that lasts long
Mix of Golden Amber, Sandalwood
Dash of Creamy Vanilla Mingle & Mandarin Citrus
Contains Extracts Of Exotic Florals & Wild Berry Nectar
Cons:
Smells similar to alcohol
The scent fades away after opening
Seems to be old stock / imitation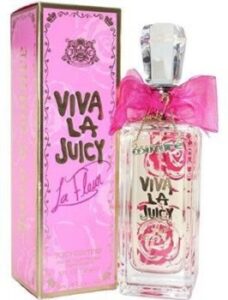 ,

13. High Definition Camera – A Great Gift for any Occasion 
If the 14 year old is a water sports enthusiast or loves swimming, diving, or electronics, then she will love this gift. The HD Camcorder selfie shooter is great for both spot pics and video shooting / recording. She will love it if she is a water geek as it comes with waterproofing case. It makes an ideal companion while camping, cycling, at birthday parties to capture every moment. There is a 2 inches display screen along with various multi-functions. So this is a great gift to remember forever.
Pros:
It comes with usb interface and supports Android/ iOS & Wi-Fi, and up to 32 GB memory card.
2 rechargeable batteries are included in the kit.
Each battery gives 90 minutes of recording.
Waterproof Case allows you to dive and video record under 30 meters deep water
Cons:
SD card not included in the kit
memory requires pre-formating before use to store pictures.
Have to charge the battery for almost 2 hours.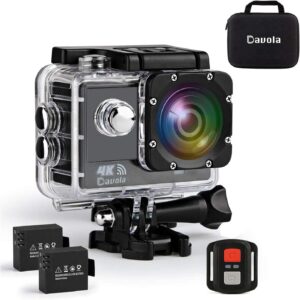 14. Glowing Moon Lamp – Light up Your Princesses bedroom
This amazing daylight lamp that glows resembles the moon and it feels like the moon is in your room! It makes an extraordinary gift for anybody including a younger teen of 14 years. There are amazing features with 3 different shades that light up on touch. There is a wooden stand for the glowing moon. It is portable so you can carry it around to put it on your writing table, desk or bedroom. Great product at a reasonable price.
Pros:
Comes in 3 color options – warm white/ yellow & cool shades
All you have to do is touch it to change color
The battery is rechargeable so don't worry about replacement.
The realistic look of texture just like the moon.
30 days money back guarantee & 1 Year Warranty
Cons:
Color could slightly vary from the website.
Slight difference in measurement by 1 to 2 mm.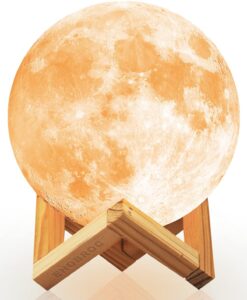 15. 3D Drawing Pen – Creative Girls Would Love this Christmas Present
This is a suitable gift for age group from nearly 10 years to adults if you are artistic and like creative fun. It comes with power adapter, a user manual and two random color filaments. There are 10 additional filament refills available at extra cost once this gets over. If the teenager likes 3D paintings or creations then this doodle pen is an ideal interesting and exciting gift for her.
Pros:
Reduced risk of burning or injury because of MIIW Low-Temperature 3D Pen.
Uses environment-friendly materials that are from bio-degradable renewable sources.
Safe & Does Not give pungent odor when transferring into 3D pen.
In-built ceramic nozzle & PCL filament at low temp.
No risk 1 year replacement policy.
Cons:
Takes one minute to load filament.
Too many buttons & functions can make it confusing.
Requires time and practice to get familiar with it.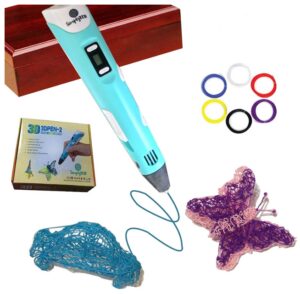 ,

16. Mathematics Scientific Calculator for the Nerdy Girls
Before you are preparing for your board exam it would help you especially for your pre-algebra classes. It performs many calculations including fraction conversion of both kinds and things like number +pie, etc. It is a great product for a reasonable price so it is a good investment as a gift for a year old girl.
Pros:
Good for simple algebra, developmental maths, and chemistry.
Different colors to select from though it may vary slightly.
Cons:
Some products arrive in not original packing with different brand.
Customers say it looks scratched and not clean & color not attractive.
Does not arrive in a calculator case.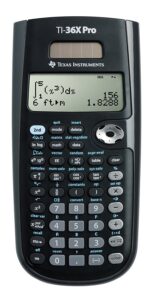 ,

17. Julvie Faux Fur Full Animal Hood Hoodie Hat
This makes an ideal gift for 14 year old girl. It could be for any prom/ special / fun occasion/ Halloween, or causal evening wear. Make others laugh with the 3 in 1 winter wardrobe essential. It covers the head, hands and paws to keep you warm and looking like cat or bear! There are various colors including 'snowflakes', white etc. It also has different animal skins/ furs like grizzly bear, snow-leopard, leopard, wolf, etc.
Pros:
Reasonably priced for the variety of different furs & colors.
Same piece for scarf, paws, and neck.
Do not use mittens and you can wrap it around stylishly.
Different design varieties to select from.
Cons:
Have to couple it with jacket/ woolens or tees.

18. Sock It To Me Colorful Girls Socks
This is an amazing item to gift to a 14 year old teenage girl as they would require several pairs. This comes in various colors and funky casual design options including butterflies, honeybees, cupcakes, unicorns, etc. It fits girls with feet sizes from 5 to 10 in a snug and comfy fit. These colorful knee length socks is good for any climate and will go with sneakers, kittos, or any open/ closed footwear.
Pros:
Sock materials are 70% cotton so it is most comfortable.
Team it up with any pair of shorts, skirts, and suitable footwear.
Cons:
Length & width is great but foot size may differ.
The remaining material uses 5% spandex & 20% polyester.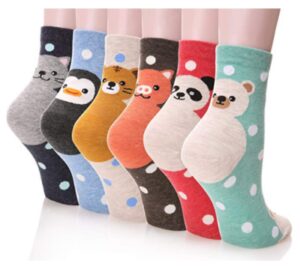 19. White Coffee Mug – World's Okayest Daughter
This is a fun-filled unique gift with nerdy quotes on the tea/ coffee mug. It makes a great gift for 14 year old girls to use and to keep as a showpiece or on study table. There are two options of 15 oz and 11 oz (prices differ) it is a white mug with black big captions to read.
Pros:
Dishwater/ microwave safe mug.
Usable as pen-stand, or to store study table stuff/ cookies, etc.
Product comes with 30 days money back guarantee
Cons:
Design choices and quotes on mug gets updated so this may go .. Order soon!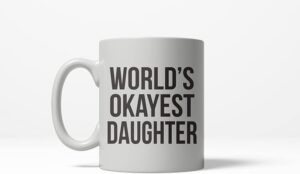 20. Best Friends Stainless Steel Key Chain
This metallic keychain is best for friends or as a friend's gift. The keychain holder is coin sized and the stainless steel with the captioning is 2mm thick and less than 1 inch in size. However, the words on the keychain speak stronger than the metal. It is ideal for girls of the age group of 14 years.
Pros:
Has a tiny bead over the keychain for look.
Construction is stainless steel so it will not spoil.
Captions shows strong friendship bond.
Cons:
Very small to see so it might easily get lost.
Too small to read so have to take it close and read.

21. Growing Up Girls Brunette Figurine
This handicraft figurine of a brunette is best to keep all year long when the teen celebrates 14 years of age. It makes a great gift for friend or daughter or any relative or well wisher. It is also an amazing cake top gift when she is cutting the birthday cake while turning 14 years old! She would love to have the special figurine in the room.
Pros:
Best suitable length at more than half foot in length.
Made by handicraft and hand painted.
Gift wrapping available on amazon.
It can make a good show piece item or paper weight on desk.
Cons:
This is the Only Doll for the Age 14 (other dolls are for different ages).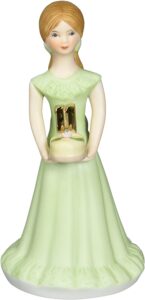 22. Young Princess Jewelry Set
At 14 year old girls start liking new things like accessories, bracelets, make-up etc. This 7 pieces accessory set including 7 necklaces matching with 7 bracelets (for hands) and 7 clip-on earrings. This is best for a teen girl who has not got her ears pierced yet. It is an amazing set of many pieces that goes with most of the clothes in your wardrobe. The 14 year old will be elated with each matching set to wear on different attire on various occasions.
Pros:
Comfortable, pretty & simple designs and not too gaudy ideal for 14 year kid.
 7 necklaces matching with 7 bracelets (for hands) and 7 clip-on earrings.
An ideal jewelry set to go with your wardrobe.
Strong elastic bands so they will not break.
Easy and fast to wear beaded jewelry.
Cons:
Check neck diameter measurements as it may choke if too tight.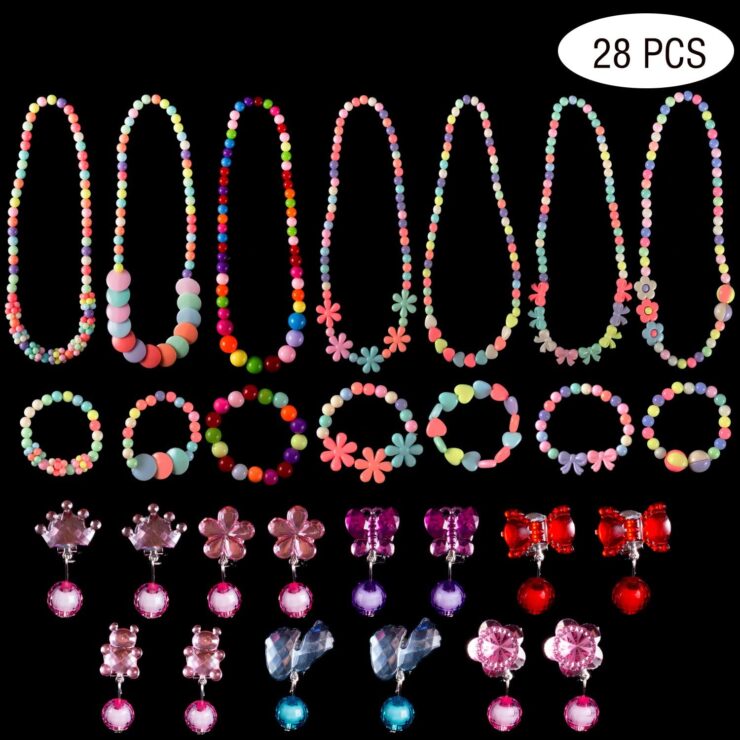 23. Pink Fancy Cat Ears Glowing Headset For Mobile /gaming
This is the best fancy gift you can give your growing daughter at age 14. There are variations with colors & style with price ranging from $16.99 to $23.99. Best suitable for fancy show or when friends come over to the house or to have fun family time together. Fits different head sizes. It is over the ear headset like a headband & a foldable ears headset. Reasonable long wire at 1.5 meters to attach to a device.
Pros:
It includes the battery.
Good quality headphones.
It has noise cancellation.
Sound with strong bass.
Padded ear muffs for ear comfort.
3 light options – On, Off & Blinking effect.
Cons:
No microphone only headphone
Only 18 to 20 hours of light burning duration.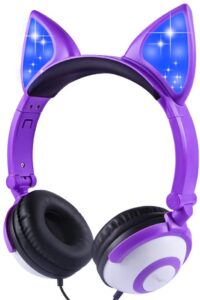 24. Rose Gold Unique Mermaid Makeup Brush Set
This is an excellent gift for your 14 year old on how to wear make up. These soft nylon bristles will suit soft face skins. They are great as a showpiece on her vanity desk. The rose gold set of 10 brushes are of all varieties usable for a foundation, applicator, cream or cosmetic powder, eye make up, concealer and blusher. They are fashionable and come in a mermaid shape. It goes great with a three angled mirror given next.
Pros:
Thick handle to make sure it has a good grip while using.
Fashionable mermaid shape and rose gold colored brushes.
Washable materials with mild /baby soap & only cold water.
Cons:
Comes in a bag not a box.
Requires strict cleaning rules.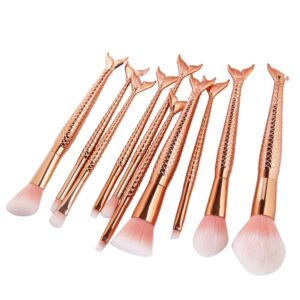 25. Miss Sweet LED Tri-Fold Makeup Mirror
This is one of the most amazing gifts when 14 year old girls would want to see their faces in the mirror forever. There are great colors and shades to select from. Colors include sky blue, white, black, Grey, rose gold, silvery white, pink, etc. It is also the best travel companion and conveniently fits in a handbag or broad wallet too. It opens and reflects in different angels giving the reflection from different sides. This is a fashionable gift with lights and comes along with the battery.
Pros:
Comes in 12 -14 different colors and one different size variation.
Folds up conveniently just like a fashionable purse.
Battery included for LED light with on/ off switch.
Cons:
Requires a low – power CR2032*2 battery which is included.
If gifting it may break in transportation. In such a case contact amazon.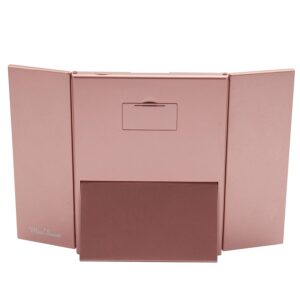 26. Musical Jewelry Box with Spinning Fairyqueen
This is one fascinating gift for a teen girl who is growing up. It lasts for many teenage years and usage all through. There are several places to store accessories including a closet type door to hang chains, bracelets, etc. There are three pull -draws to keep rubberbands, etc. It has a big mirror when it opens and plays Dance of the Sugar Plum Fairy while the fairy twirls beautifully. There are three options, two pink and one white. The one without the outer design has the best looking fairyqueen. Others have okay fairy inside but great designs on the out and white has 'princess' written on it.
Pros:
Three types of jeweler storage boxes to select from.
Dance of the Sugar Plum Fairy tune plays when opened.
Fairy twirls to the tune inside.
Mirror on the lid of the box.
Meets US & European safety standards / heavy metal content.
Cons:
Not for smaller kids as it can hurt them.
If broken it may be risky to anybody.
It supposed to be wood but some say it is cardboard.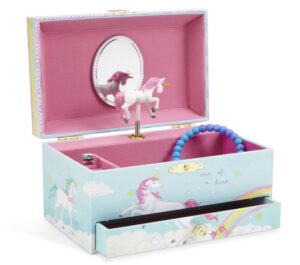 27. Smart Watch With Fitness Tracker & Camera
This smart wearable technology has several unique features all in a wrist watch! It supports bluetooth, iOS, and top mobile brands. (go through specifications on amazon) One of the best gifts to your 14 year old friend/ relative as it reminds the youngster not to oversleep! It comes with USB cable, a user manual and an additional battery when this goes out. It is the best way to stay connected with friends & family.
Pros:
Remote cam has special features like focus & high definition so you can click from far.
Movement tracker for fitness, sleep monitor to check oversleeping, and alarm notifications.
In case you cannot find it, it will vibrate or sound alarm from 5.5 to 10m distance with anti – lost.
The 'Sedentary Reminder' feature also checks fatigue or alerts about it.
Send email/ texting SMS, make and receive phone calls with 2G Network SIM card.
Has calender, gallery, music player to listen music, recorder & calculator.
Comes with lifetime warranty. (Check with seller).
Cons:
None so far.,
Overall Best Gift for a 14 Year Old Girl
We have looked at loads of great gift ideas here, but the one which really stands out is the 3D drawing pen. It is one of the best gifts for 14 year old teen girls, as it is unique and loads of fun! Girls will have hours of creative fun with this pen, using it to create fun ornaments for their room or even making gifts to give out to friends and family.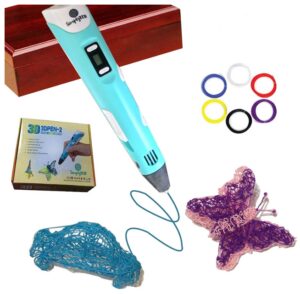 Watch the following video for some creative ideas:
Types of Gifts 14 Year Old Teen Girls Love
Of course, not all the gifts reviewed here will appeal to every girl aged 14, so it's important to consider her individual tastes and interests. Some of the main types of gift teen girls are sure to love include:
Make up and nail polish sets
Clothes and fun accessories
Tech gifts and accessories such as a cell phone case
Board games
Jewelry
Decorations and accessories for her space
Crafting kits