Board games are a great way for your toddler to develop skills such as problem-solving, logical reasoning and manual dexterity. They may also provide educational opportunities such as a number or letter skills and visual perception. Not least, games are a great way for families to spend good, fun quality time together after a busy day.
Board games can be a good way to teach young children about sharing and taking turns. They will also learn to act appropriately when they win or lose – although probably not without a few tantrums along the way!
The range of games available now is huge – there are products for all different age groups and which use a variety of different skills. Here, we have rounded up the best board games for children aged around 2 years old, to help you find something age-appropriate and educational as well as being fun for your toddler.
Considerations
As mentioned above, it is important to ensure the game you choose is suitable for your child's age and level of development. They will become frustrated if the game is too easy or too difficult. However, if you choose something a little bit tricky, explaining the rules is a great way for parents and children to bond.
Make sure there are no small parts if buying for a child under 3 years old. Many board games have small die or counters, which can be a choking hazard for the very young. These are best avoided – instead choose a game involving something such as cards which are less likely to pose any danger.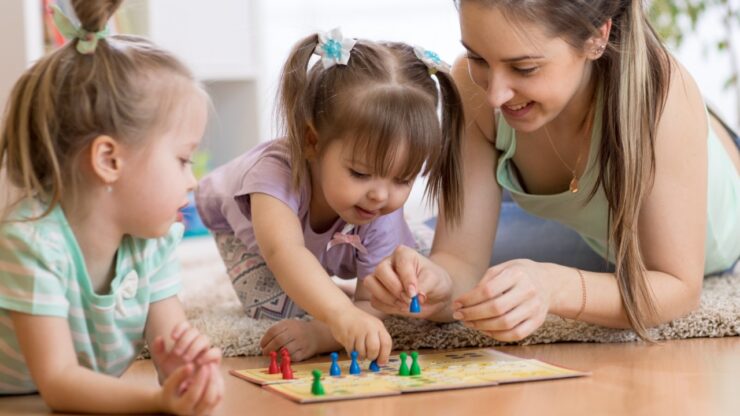 2
It's a good idea to check how many people are required to play a game prior to purchase. If you have a large family, ensure everyone can play together or can play in teams. If only you and your child will be playing, make sure it's possible to play the game with 2 players.
Age Guide: How to Choose the Right Board Game for your Children
Choosing the right game for your toddler is about making sure you get the right age-appropriate game or toy. Toddler games made for 1 years old are not the same for those aged 2 years old. Make sure to choose a game that is age appropriate and always check the manufacturing guidelines for age, because a 3-year-old toddler isn't going to be able to enjoy a 2-year-old gameplay.
Toddlers
All the games in this review are for toddlers and by letting us help you choose the best board games for your little one you can be sure to give a gift that is educational and fun all at the same time.
Top Picks in 2023
Here we selected the best board games for toddlers that you can find in 2023. Check it out!
1. HABA First Orchard
This game is specially designed to be easier for children as young as 2 years old to understand. It is suitable for 1-4 players, meaning your child can use it alone too. The gameplay lasts around 10 minutes, which is perfect for toddler's short attention span.
As well as serving as a board game, this set can also be used for pretend play thanks to the solid wood fruit pieces which are included. The rules of the game are easy to follow, so even young children will be able to learn quickly.
The game is played as a team, meaning everyone either wins or loses. This is great for young children who may become upset if one person wins. There are other versions of the Orchard game, so you can choose something more difficult as your child grows if the game is a hit.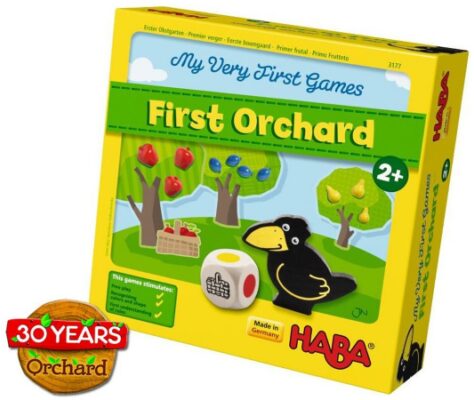 2. Hi Ho Cherry-O
This game is perfect for helping preschool-aged children to practice math skills. The game does contain small parts, making it best suited to children over the age of 3. The gameplay is relatively simple – spin the spinner wheel to find out how many cherries you should pick from the tree and put into your basket. If you land on the squirrel picture, you have to put two cherries back, and there's also a chance you might have to empty your whole basket!
Kids will develop basic counting skills, as well as learning to add and subtract with numbers up to 10. They will have so much fun playing they won't even realize they are developing their math skills! Children will also learn how to take turns when they're playing this game. They will also have a laugh whether they win or lose – the first person to fill their basket gets to yell "hi ho cherry-o!", sure to cheer everyone up!
The rules of the game are simple enough that young children will be able to pick it up quickly. However, it is also entertaining enough to keep older children and parents interested, too. The game is perfect for giving your child a head start before starting school and makes the ideal addition to a family game night.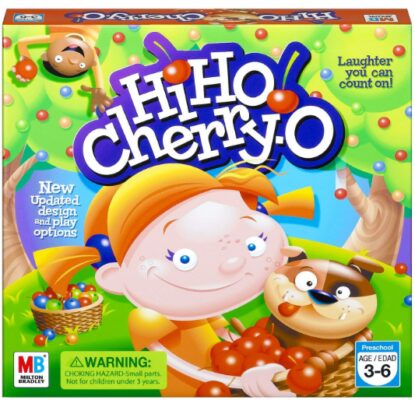 3. Lucky Ducks
This memory matching game is perfect for children and parents to play together. It's great for promoting shape and color recognition, as well as improving memory and concentration skills. Young kids will love the fun duck theme, which is sure to keep them interested and entertained. The game board plays sounds as the ducks swim around too, for extra fun for your toddler!
In this modern twist on the classic game, 12 ducks with 4 different shapes underneath swim around the motorized pond. Players take turns to lift a duck, checking if it matches their symbol. If it does, the player keeps it and the first to collect all 3 is the winner. The game is suitable for 2-4 players, and slightly older children may enjoy playing without parents too.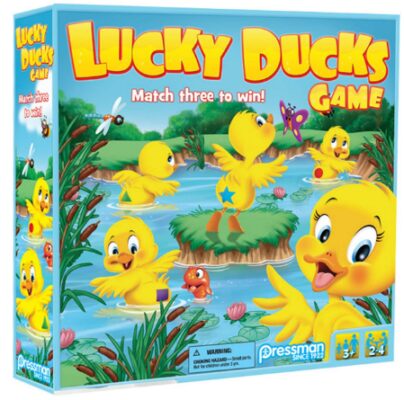 4. Outnumber Board Game
This preschool board game is great for teaching toddlers basic numeracy skills. There are 4 different games which can be played with the cards, to make sure your child will never get bored. The deck features numbers from 1-20, written in digits, in words, and as a picture, to give a total of 60 cards.
Children will learn how to recognize different digits and match these to the appropriate word. They will also learn how to count and match the number to the corresponding digit. These are great skills for pre-schoolers to learn and will make starting school much easier as well as more fun.
The cards are glossy and good-quality, to ensure they will last for years. There are simple addition problems on some cards, making the game perfect for children who are already in the early years of school, too. Even those who don't enjoy math lessons will love how these cards make learning and counting fun.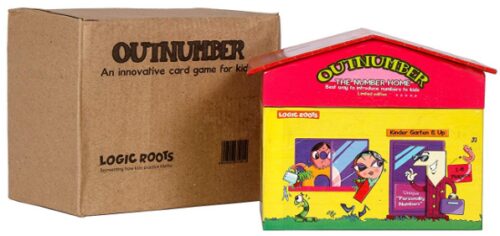 5. Peaceable Kingdom Where's Bear?
This sweet board game is great for 2-year-olds who love to play with building blocks. The game is a great way for parents to play with their toddler in a new and stimulating way. There are 5 different suggestions for how to play, meaning your child won't get bored quickly.
The set includes 6 nesting boxes and a wooden bear figure. The bear can be hidden under one of the boxes whilst the other person looks away – 2-year-olds will be so excited to find the bear!
Each box is decorated as a different room of Bear's house. Another game you can play with your toddler is asking them to find different items in each of the rooms, which is great for developing new language skills.
The simple game is great for teaching young toddlers a variety of skills, including problem-solving, object permanence and matching and sorting. The blocks are well-illustrated with bold, attractive colors and the materials are high-quality and will withstand repeated use. Everything fits neatly into the storage box, making it the perfect size for traveling.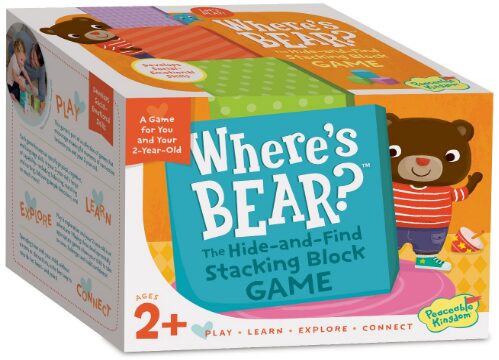 6. Elefun
This popular board game is great fun for young kids who love to be active all the time. It's great for kids of all ages, and 1-3 people can play at a time. The game involves catching butterflies which are blown from the elephant's trunk, whilst music plays throughout. Whoever manages to collect the most butterflies is the winner – then you can quickly load them back into the elephant trunk to play again!
The game is great for getting kids moving around – they will get so excited when the butterflies are blasted into the air. It's also great for improving young children's coordination. Elefun is perfect for kids to play alone, with siblings or friends or even with mom and dad – it's sure to be a great laugh every time!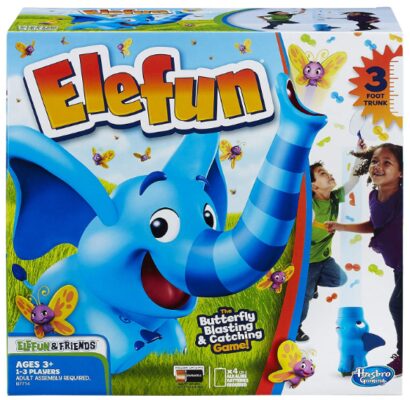 7. Thinkfun Roll & Play
This game is ideal for children aged 18 months and above. It involves a soft cube and almost 50 game cards, to give loads of opportunities for educational fun. The game is really easy for young children to learn – simply roll (or throw) the big cube and see what color lands facing up. Then, choose a card with the same color to see which activity to perform.
The Roll & Play game can teach your child so many different things. First, they will learn about color recognition and matching. The cards belong to different categories, to help your child learn different skills. They may learn about emotions, by being asked to make a happy or sad face. They can also learn about animal noises, or to find something red or blue for example.
This board game is perfect for parents and toddlers to spend quality time together. It is a great way to help children develop language skills, and interact with parents in a new and interesting way.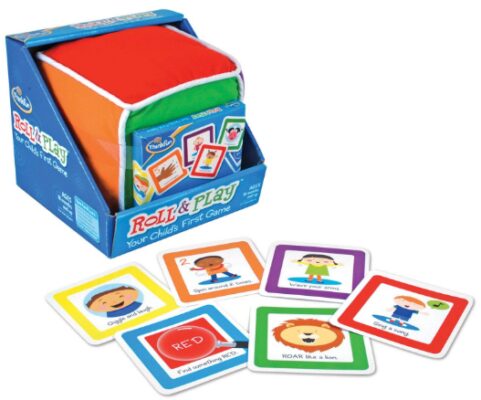 8. Hungry Hungry Hippos
This classic board game is sure to be a hit with kids of all ages, from toddlers right up to teens and maybe even adults! However, the marbles are small so are not suitable for children under 3 years of age. Between 2 and 4 people can play at once – the game is great for kids to play together or to play with parents.
Parents will love to relive their childhood with this fun and exciting game. Players race to chomp as many marbles as they can – or you can play that whoever catches the golden marble wins.
The game is sure to keep young kids entertained time and time again. The will love firing the marbles out from the launchers and making lots of noise as they snap the marbles up again!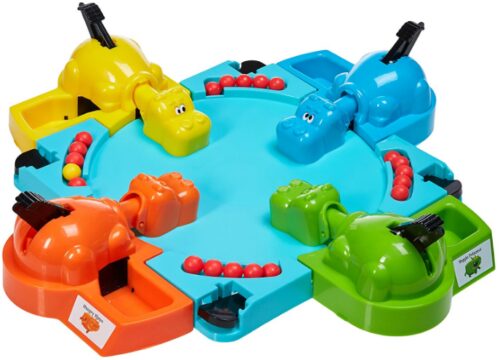 9. My First Brain Quest
This quiz game is perfect for young toddlers to increase their language skills. It features 350 questions for parents to ask their 2 or 3-year-olds, to help them learn about a variety of topics. The cards come in two decks, so they're perfect for sharing between siblings.
They are joined together, meaning parents won't have to spend ages picking up scattered cards! Therefore, they are also perfect for keeping in your bag, to ensure your toddler is entertained no matter where you go.
Youngsters will love the cute monkey character, going with him to the zoo and the circus, as well as celebrating different holidays. There are other sets available for older children, too. The sets are all curriculum-based, so you can help your child prepare for school by regularly playing with these cards.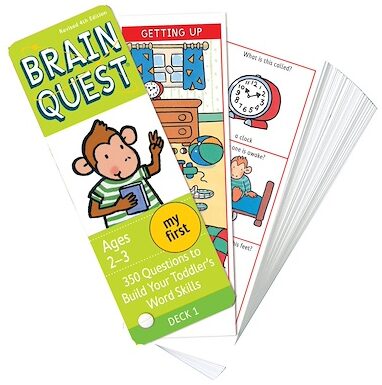 10. Seek-A-Boo
This memory match game is perfect for children as young as 18 months. It involves matching two sets of cards, which are broken down into 6 different categories. The game is therefore ideal for helping expand children's vocabulary.
There are a few ways to play the game. Children can play on their own, using both sets of cards to create a memory match game. Or, parents can show their child the 'Find Me' card, and let them look through the 'Seek Me' cards to find the matching pair.
The large, laminated cards are sure to provide toddlers with hours of entertainment. They are strong enough for young children to play with without the risk of any becoming damaged or torn.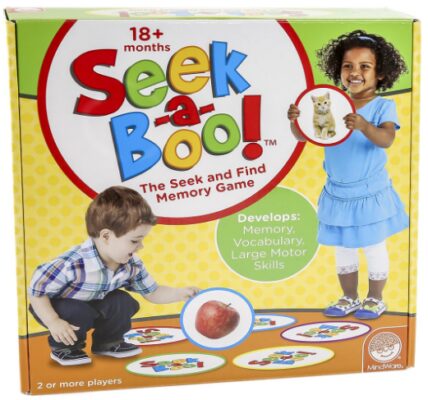 Best Overall Buy
Our favorite boxed game for toddlers is the First Orchard game, described above. It is the perfect way to introduce children to board games, thanks to its attractive design and simple-to-follow rules. Young children will love to play as a team, sharing the excitement of winning or the sadness of losing.
The game is perfect for playing along with your child, yet it's also interesting enough that older children will love to help play it with them. The wooden fruit pieces are great quality, so the game is sure to last a lifetime. It's also great for developing imagination when the game is over – toddlers will love to feed everyone a bit of fruit!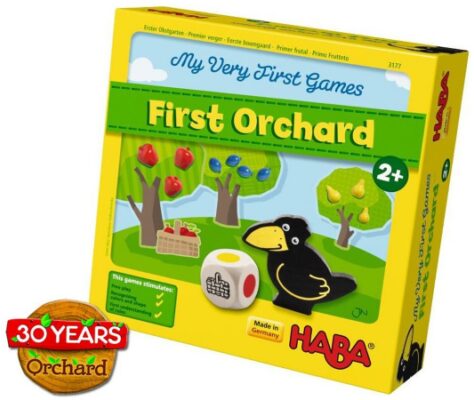 Best Budget Pick
For fun on a budget, Hi Ho Cherry-O is a great pick. The pieces are not recommended for children under 3 years old, however, 2-year-olds will be able to enjoy the game under supervision. The game is great for developing early math skills, to help your child transition to school.
However, the game is so fun and exciting that they won't even realize they are learning math! Young children will love to spin the wheel. They will have loads of fun yelling when they win!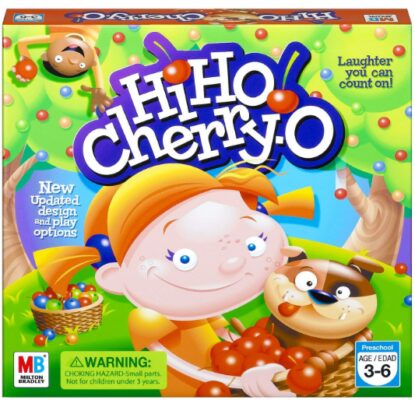 Before you go, take a look at these board games suitable for toddlers: