Farm animal toys are very popular with toddlers and there are loads of different types to choose from. So, picking out a farm set for your little one can be challenging. These toys offer many benefits to children, allowing them to use their imagination and increase their vocabulary as they act out scenes with their animals and the farmer.
They are great for open-ended play and are sure to be enjoyed time and time again, either alone, with friends or with mom and dad.
Many toy farm sets come with a selection of popular farmyard animals, a barn for them, and fun accessories to help kids make the most of their toy and use their imagination to bring their farm to life. You can also find smaller, portable sets that are perfect for keeping toddlers entertained on the go. Other sets focus on particular types of animals, for example, toy horse stables are very popular. Let's take a look at some of the ways to choose between the different sets on offer and find one your toddler will love.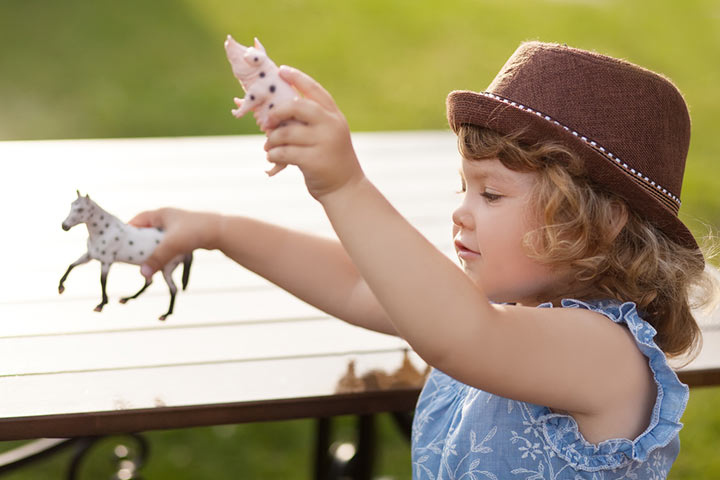 Considerations When Choosing Toy Farm Animals
With so many different types of these toys out there, it's important to think about a couple of considerations before making a decision as to which to purchase for your toddler. First, their age. Make sure the toy is suitable for toddlers – it shouldn't contain any small parts which could be choking hazards for youngsters who still explore toys with their mouths. Also, look at the materials the toy is made from.
Ensure they are non-toxic and durable enough to withstand the rough play toddlers often engage in. It's also worth checking out all the pieces the toy includes, to make sure their favorite animals are included as well as some fun accessories to use with the set. Finally, think about the type of toy you wish to buy – a full farm set or perhaps just a couple of your toddler's favorite animals – it's all possible.
Top Toys for Toddlers
We will now take a look at ten great toy farm sets, so you are sure to find one your toddler will love to play with. There is something here for everyone and to suit all budgets.
1. Melissa & Doug Fold and Go Barn
First on our list of toy farm sets with animals is this awesome red barn from top brand Melissa & Doug. It can be folded up making it perfect for storing as well as taking out and about. But, when it's time to play, the barn opens wide and has plenty of space inside to play.
The barn itself is wooden and it comes with 7 plastic animals – a cow, pig, sheep, turkey, horse, goat and dog. You'll also find a wooden ladder to access the upper level of the barn, as well as some fencing to keep the animals safely inside! The barn has sliding doors to let the animals in and out, and it has a carry handle on top for when it's time to pack it away and transport it. Finally, it has the option for personalization, by adding your toddler's name to the front of the barn for a few dollars more.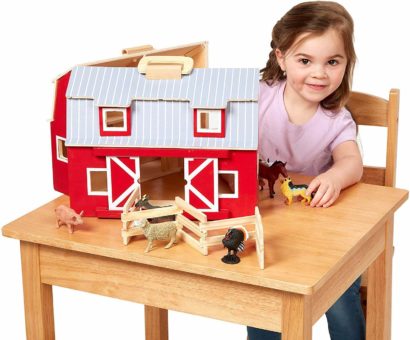 2. Green Toys Farm
Next up we have nice little plastic farm animals set which is perfect for toddlers around 2 years old and above. It comes with everything a toddler needs for hours of imaginative fun – a barn, fencing, pigs, sheep, cows, a pick-up truck and a small shelter for the animals. The set is made from entirely recycled plastic milk containers and is BPA and phthalalte-free. It's also made in the USA which further helps reduce the environmental impact.
When playtime is over, all the pieces of this set conveniently fit inside the barn to make tidying up a breeze. There are plenty of doors and windows on the barn for easy access, and the back side can be fully opened to make playing inside easy.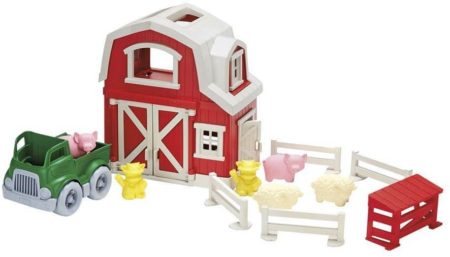 3. KidKraft Farm Train Set

Next on our list of farm animals toys, we have this lovely wooden train set from KidKraft. It has a whopping 75 pieces to play with and explore, including track pieces, vehicles, animals, people, a bridge, a tunnel, buildings and more. The pieces of this set are durable, so you can be sure it will give your toddler years of fun. The tracks are also interchangeable with the majority of other train sets, so you can easily add to the track for even more fun. Toddlers are sure to have hours of fun creating different layouts and pushing the trains up and down the hills on the track. This set is great for their imagination and they are sure to enjoy it for years to come.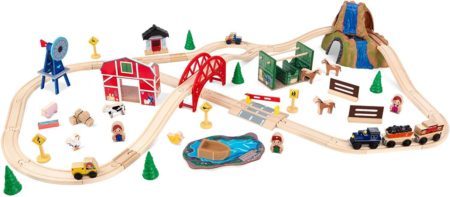 4. Storytime Farm Playset
This lovely set comes with a story so toddlers can act out the adventures on the farm with the play pieces as they listen along to the story. This set offers something a little different from the others, as it comes with different crops that can be 'planted' in the field by slotting them in to the spaces. Other play pieces that come with this set include horses, cows, sheep, a pig and piglets, chickens and a rooster, eggs, a chicken coop, a boy and a girl figure, and the barn with stables inside and the pasture area outside.
The pieces are easily slotted together and taken apart – the whole set stores flat so it's easy to put away if space is limited or for taking when traveling.


5. Fisher-Price Little People Farm
The Fisher-Price Little People range is hugely popular and this lovely farm set is sure to be a hit with toddlers and parents alike. It comes with a farmer and four animals to care for, and there are many fun and interactive elements that add to the fun of playing with this set.
For example, there's a button which, when pressed, plays songs and animal sounds. It also switches the light on and opens the barn doors. The corn crop can be turned and the pieces inside will move around which is sure to entertain toddlers. The barn comes with a real bell for calling the animals when it's feeding time and it also includes a little blanket for when it is bedtime. This is great for encouraging toddlers to develop their nurturing side.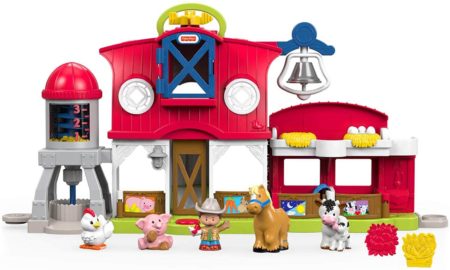 6. LEGO Juniors Mia's Farm
LEGO toy barns are another good option for those looking for something a bit different, and this one is ideal for slightly older preschoolers from age 4 and upwards. It has 100 pieces to keep them busy, including some to build the barn, the truck, a cute foal, and a lamb, and a girl farmer to tend to the animals. There are also accessories such as a wheelbarrow for cleaning up the farm and some food items for the animals.
The pieces of this set are slightly bigger than on standard LEGO toys and are also east-to-build, with just a few simple steps to follow. Therefore, it's the perfect choice for younger builders. Toddlers will have loads of fun driving the pick-up and caring for the animals, and when playtime is over, everything can be put back in the included carry case. So, the set is also ideal for taking outside of the house.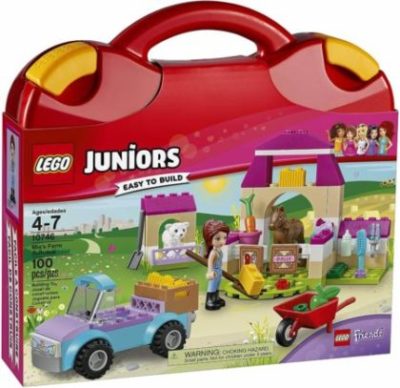 7. TOMY John Deere Tractor
Next up we have a John Deere tractor, which comes with four animals and a farmer to drive the tractor. There are slots on the trailers for each animal to sit on, and each is labeled with a picture of who should sit there. Each slot also plays the noise of that animal, so it's great for toddlers to practice their matching skills, and the sounds are sure to help keep them engaged for longer.
To make it even more fun, the farmer's seat plays 'Old MacDonald' – they will love to sing and dance along to this! This is a great toy for improving hand-eye coordination skills and is a nice addition to a toy barn, or can be used on its own too.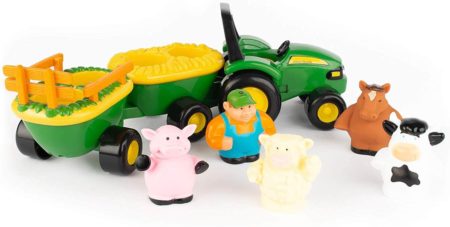 8. VTech Go! Go! Farm
VTech Go! Go! toys are fun and interactive, and this farm is sure to delight your toddler and teach them something new as they play. It comes with a rooster, which, when moved around the track, plays interactive phrases and music. There are seven different points that provide these interactions, and they will tell your toddler about numbers, colors, and plants, so they are sure to learn something new every time they play.
The set comes with a shape sorter and the plants in the garden can 'grow' when the watering can is moved. So, toddlers can explore cause and effect play with this set. There are more than 100 interactive sounds with this set, so you can be sure it won't get boring and has a high replay value.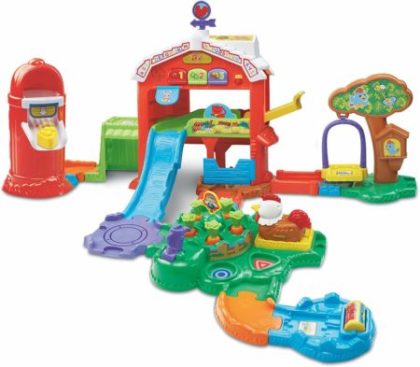 9. Melissa & Doug Barnyard Puzzle
If you are looking for slightly different animals toys for toddlers, how about this stunning farmyard floor puzzle instead? It has 32 pieces and measures 2′ x 3′ when fully assembled. The pieces are made from thick cardboard and they can easily be wiped clean after use.
They're also sturdy and easy for toddlers to slot together, without getting bent. The puzzle is shaped and is highly detailed, so toddlers are sure to love talking about what they can see in the picture as they are building it.


10. Learning Resources Large Farm Animals

Our last pick is this animal toys set which comes with seven large pieces. It has all the animals you would expect to find on a farm – a horse, pig, goat, sheep, cow, rooster and goose. The plastic is durable and also dishwasher-safe, so it's easy to keep the toys sanitized after playtime.
The set comes with an activity guide which is filled with fun facts and conversation prompts to help your toddler learn as they play, and increase their vocabulary. The animals are proportionate to one another, too.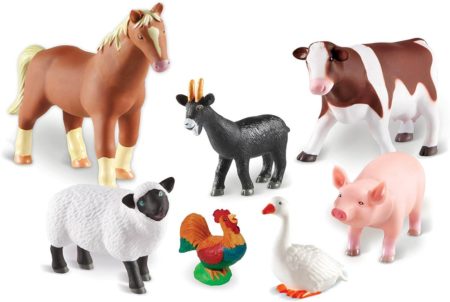 Best Farm Animal Pick
After considering all of the above animal playsets, it's time to determine which takes the spot as the overall best buy. We've decided to go for the Melissa & Doug wooden barn, which was the first toy reviewed above. It's the best farm house toy for several reasons.
First, we love the durable wooden construction, and the possibility to add personalization is a nice touch. It comes with a good range of accessories – animals and pieces for the barn, so toddlers can have a great time using their imagination as they act out a day on the farm.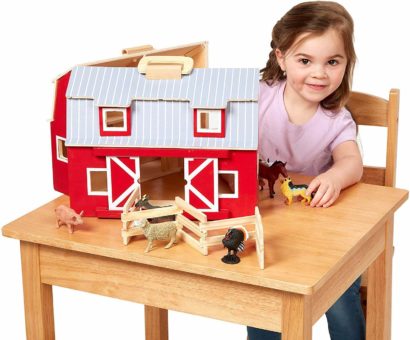 Best Budget Buy
If you are looking for a cheaper option, although the Melissa & Doug barn won't break the bank, we recommend choosing the Green Toys playset. It's one of the best cheaper toy farm set because it comes with loads of fun pieces for your toddler, and they can all be tidied away inside the barn afterward.
It's ideal for taking on the go and we also love how it's made from 100% recycled materials – it is perfect for eco-conscious families.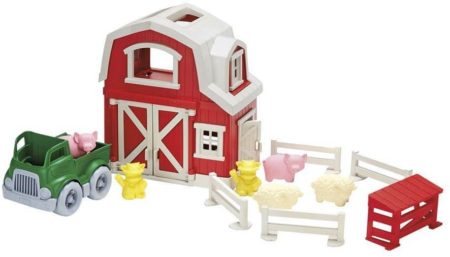 Who Sells Farm Animal Toys?
All of the toys reviewed above can be purchased from Amazon for convenience, and this allows you to thoroughly compare the options as well as reading more reviews from fellow parents. However, it is also possible to find toys like these at all good toy stores. This can be a good option if you prefer to look at the items in person and compare the quality and features.
How to Organize Farm Toys?
A couple of these sets are very easy to keep tidy as the animals and accessories can be stored inside the barns after use. The Melissa & Doug and Green Toys barns are both great for this. These are ideal for carrying around, for example when visiting family or friends – perfect for keeping toddlers entertained on the go. This is also a good way to encourage toddlers to start tidying up after themselves!
Take a look at these options also: