Looking to choose a new baby high chair for your baby? You're in the right place.
A good high chair is a good companion for your baby.
Not only does it allow your baby to join you at the table for dinner. But you also won't have to jump around trying to feed your baby before satisfying your hunger.
With your baby beside you feeding to satiety, you can relax and enjoy every bite.
High chairs are comfortable, especially those with reclining features and are helpful in getting babies engaged with their food.
While there are many aspects to choosing a high chair for a small baby, the most important thing is safety, followed by portability.
For that, it's important to ensure you're buying something that's stable. This is so it can withstand the jumpy, edgy baby, who might be excited to eat at the table.
And since you're choosing for a small baby, you need something that's portable and not too wide-in-width.
Most babies will outgrow the smaller sized chairs more quickly than the bigger ones. However, the small footprint means it'll fit snugly and suit your baby.
Having said that, there are a few more things you should put into consideration when choosing.
Here are some of the things you should look for when choosing the best high chair for small babies:
---
What to Consider When Choosing a Portable High Chair
---
There is an enormous variety of high chairs on the market. While this is something good, it could spell doom for new parents looking to buy.
But arm with some of these things, it should be easy to choose one that'll suit your preferences.
Safety of your baby
I'm going to mention this again because of how important it is. Most baby high chairs come with straps that go around the waist and between the legs, especially those for younger babies.
These are the types you want to look at. This is important as it helps prevent injuries as your baby is properly restrained.
No matter what you think or know about baby safety, you should try to ensure your baby is strapped to the high chair at all times.
Even if the instructions don't indicate that it's something to keep in mind when using this product.
Ease of use
Another thing to consider is how easy the seat is to use, both for you and your baby. First, it should be easy to clean and maintain.
This is even more pronounced if you intend to keep the chair once your baby outgrows it and use it for your upcoming baby or send it out as a gift.
In most cases, you'll find baby high chairs easy to maintain since they have very few small parts.
In this same vein, the straps should be simple to fasten and unfasten. This will help your baby move freely and feed in a secure manner.
Some chairs also come with trays that are separable with one hand. Not only are they great for catching all the spills and splatters, but also makes cleanup extremely easy.
Style
In most cases, this is may not be important. Depending on your needs and preferences, it might be worth looking into.
There are plastic modern high chairs as well as classic wooden ones, each one with a distinctive design to suit different tastes.
There isn't one that's better than the other though, as long as the qualities and features are top-notch. And as long as the chair is safe and practical, you're good to go.
Stability
I mentioned this at the beginning of this article and here are more details for you:
Choose a high chair with a wider base as they tend to be more secure. Some models come with wheels, which makes it easy to use on at different positions in your home.
And since there are many others that are not with wheels, you'll certainly have to choose between them. It all depends on you and your baby's needs.
If you intend to only use the high chair at the dining table, there you may not see the need for a wheel-on high chair.
However, if you like to feed your baby at different locations, buying one with a wheel can make your life so much easier.
---
Best High Chair for Small Baby (2023 Reviews)
---
1.

BabyBjörn

High Chair, White/Gray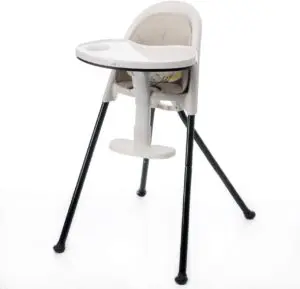 There are small high chairs on the market. But not all of them are created equal!
If you are looking for a stylish, sturdy, low-profile, quick-to-fold and store chair, look no further than the BabyBjörn High Chair.
Though it's only available in two colors, it comes with all the features that'll make it a favorite for you and your baby.
The BabyBjörn High Chair is created on a straight frame. This allows your baby to sit upright and maintain a good posture while eating.
It helps your baby learn how to sit properly at the table. And also make it easier to inculcate ideal food etiquettes in them right from their young age.
Design of the BabyBjörn High Chair
This is a small baby high chair. You can use it at home or for traveling.
In fact, the chair comes in a brilliant design that any busy mom will like. First, it prevents food from falling on to the floor while your baby eats.
When your baby sits at the chair, the tray comes close to their tummy, which prevents crumbs of food from falling on their laps and seat.
This means you have less washing to do. Even cleanup is going to be seamless since you don't have to search for scraps every time your baby finishes from eating. This reduces stress and saves time.
Also, there is no space for your baby to squirm around once a seat. This is important in keeping your baby concentrated on the meal.
It also helps your baby gets into the mood since he/she will be able to associate seating at it to mean it's time for food.
It also folds small for storage so you don't have to leave it at that one station. You can pop the legs on and off too, so packing it into the car for your weekend getaways, travels, etc., is going to be easy.
Some Points to Think About
Many people fault the high chair for being too small. While people are complaining about that, it's a positive sign for you.
Being small, compact, and portable is what we are looking for and that's why it's even the best item on this list.
Not only is it lightweight, but surprisingly have a small footprint, which is good for your baby. Need I say more? In fact, it's great for toddlers too, so you're in for a treat.
Verdict on BabyBjörn High Chair
What's most important to note is that if this chair is great for small children, then it's a perfect fit for tight space/small apartments.
Even with that, it has a lot of grow room and can accommodate your child up to the age of 2 years, 36″, and 30 pounds.
And since it's all-plastic, wiping down after mealtime is enough to keep looking new, so you don't spend too much time and effort trying to make it look good.
When it comes to cleaning, you don't have any fabric to clean, no divets or creases for food to hide so you aren't going to go seeking them out.
Another thing is that it's at the height of most dining chairs so your baby is going to be at your eye level so you can watch them eat.
So, if you're looking for the best small high chair for your baby, you should check this out.
---
2. OXO Tot Sprout Chair with Tray Cover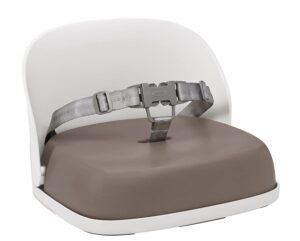 This is another low profile high chair for your little one.
While it comes with more parts and requires more steps in setting it up compared to the Ikea and BabyBjörn Highchairs, the OXO Tot Sprout High Chair provides a much more comfortable environment.
Both chairs above are entirely made of plastic. This one comes with a soft, plush fabric seat that helps your baby relax and enjoy his/her mealtime every time.
The fabric is machine washable, so it shouldn't present too many problems when it comes time to wash it.
It doesn't come with wheels, which means it'll be stationary just like the other two chairs. Fortunately, it isn't too heavy so you can easily carry it around.
In addition, having no wheels allows it to be more stable and the plastic pieces on the legs prevent splitting and premature wear at the base.
Fortunately, the chair also has a small footprint, so if you have a small dining room, you can fit it in a corner easily.
Another great advantage is that it's eco-friendly and can grow with your baby. These features are seen only on high chairs for small babies.
Verdict on the OXO Tot Sprout High Chair
The design of the chair, especially where the tray is located, may encourage the growth of mold. The tray is screwed to the frame.
To properly wash it, you'll need to unscrew the 14 screws on it to reveal the tray.
You'll also have to clean it regularly and ensure water doesn't run over the tray as it'll get into the chair and you won't be able to get it out easily.
So, you have to either wipe it clean or disassemble it and wash it.
Another thing to watch out for is that food might get into the chair as a result of the poor design of the tray. They are two parts joined together, which leaves some holes where water or food can get in.
Therefore, if you're looking for a small footprint high chair, check this out.
---
3. Ikea's ANTILOP Highchair with Safety Belt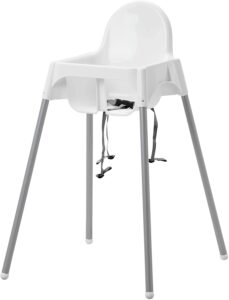 Want a small chair for your baby? Check this out.
The Ikea's ANTILOP Highchair is a clean looking chair with a modern design that'll go well with your home style and suit your fancy.
It's made from strong, durable plastic, so foods like berries, carrots, don't stain it. And it's going to wear nicely, just like any other plastic high chairs like the BabyBjörn High Chair.
The fact that there are no nooks and crannies to clean and that it's made from plastic makes it very easy to clean.
The legs on the Ikea ANTILOP is slightly slanted, so it stays steady in any position. So your baby can rock in it and it will stay in place.
This makes it a good option for you if your baby is already above one and plays while feeding. It comes with a 3-point seat harness, which helps secure your baby in the proper position.
There is also a leg divider that goes in between the baby's leg. This is designed to prevent them from sliding or jumping out of the chair, while you're looking away.
Just like the BabyBjörn High Chair, this one too is small, so it'll take very little space once installed.
Verdict on the Ikea's ANTILOP Highchair
It's tall, which makes it possible for the baby to seat across and close to you, compared to the BabyBjörn High Chair, which is quite low.
So if you don't want a low-profile chair or your baby is slightly tall, you may want to go with this one since it's the best option for that.
And if you have to choose between the two in terms of price, then the Ikea Highchair is so much cheaper.
The downside is that the tray may be very difficult to take off. This might means you've to exert more effort in cleaning. That's the gain for choosing one of the highchairs for small spaces.
---
Final Words
---
When you're choosing the best high chair for a small baby, you are most likely concerned with the portability of the chair.
You probably will like to choose one that's compact, lightweight, and affordable. However, you should also consider other important factors like safety features and durability.
Understanding what you want in a high chair will make your decision making infinitely easier. Since you are looking for specific features, it becomes easier to prune down to a select few.
In this case, make sure you first look for a model that's portable before any other thing. Once you get a few that meet this criterion, then you can compare them based on price and other elements.
Fortunately, getting a compact high chair or a small high chair is not difficult. Just choose one of the above. Or…
As the last recommendation, our favorite portable high chair is the BabyBjörn High Chair. Not only is it well built, but also portable. So check it out here: BabyBjörn High Chair.
Take a look at these products from Amazon also: