In this article, we'll be writing specifically for boys, reviewing 11 of the best LEGO sets for boys. LEGO is very popular among boys between 5 – 8 years old. But before we go ahead and review the products, let's see why you should not just select any LEGO for your child, but rather make an informed decision.
Not long ago, buying LEGO was simple, as there was less to choose from. Parents could easily choose a LEGO set based on their child's age. A lot has changed, as the choice of different sets is vast, so making the right decision is much more difficult. Not only should you consider your boy's age, but also the types of set he will be interested in.
This is because LEGO has expanded their brand to include a multitude of different interests and distinct themes catering for toddlers, schoolboys, teens and even adults. Some sets are designed uniquely for boys, while others are aimed more towards girls, whilst others still are unisex.

Purchasing the right set for your son will greatly interest, challenge, and excite him. It will also help his development by improving his fine motor skills, enhancing his dexterity, increasing his problem solving ability and boosting his sense of creativity and imagination.
Top LEGO Sets for Boys 
The LEGO sets reviewed in this article would make a perfect Christmas or birthday gift for your son. Not only will a building set keep him occupied for a long time, it will also provide some important educational benefits. Let's take a look at our 11 top picks of the best LEGO for boys.
1. LEGO Architecture New York City 21028, Skyline Collection, Building Blocks
Give your young boy the privilege of building a detailed model of the New York skyline. With these intricate LEGO brick blocks, your son can recreate one of the world's most beautiful cities, celebrating the architectural diversity of New York City.
The city has over 200 buildings with a height more than 492 feet – it really combines classic 20th-century skyscrapers with modern, futuristic towers.
The LEGO Architecture New York City Skyline Collection comes with 598 LEGO pieces. The pieces are scaled to give an accurate representation of the comparative size of each structure with true to life colors.
This building block set features the iconic buildings of New York City such as the Chrysler Building, Empire State Building and of course, the State of Liberty. After assembling, your son will experience great satisfaction and will love to display the models in his room.

The Skyline collection set also includes a name base plate to build on, making the models easy to display. There's also a collectible booklet containing the step by step guide for assembly as well as information about the design, architecture and history of the buildings.
The set is compatible with all other LEGO construction sets for creative building. It is aimed for those above the age of 12 who have an interest in traveling, history, architectural culture and design.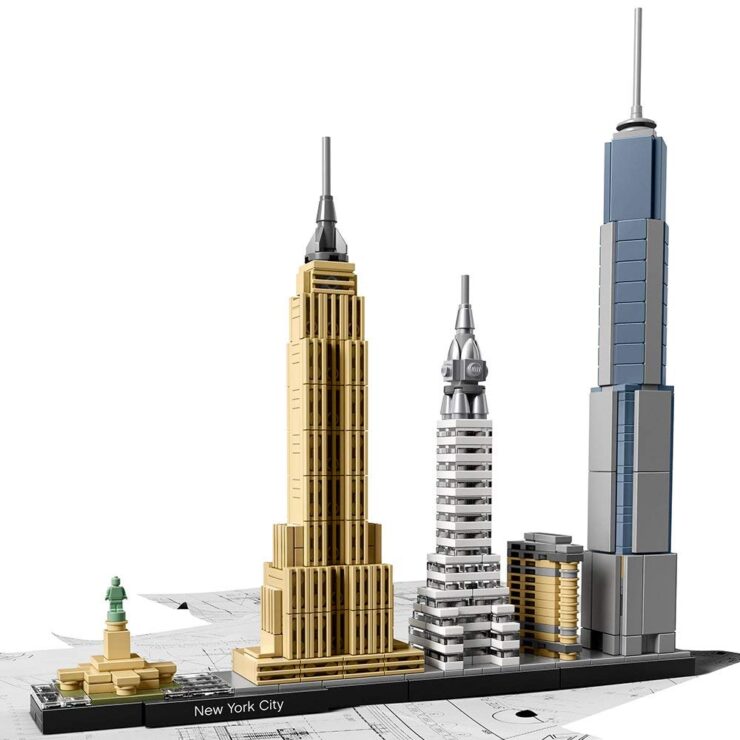 2. LEGO Architecture London 21034, Skyline Collection Gift
Just like the New York City set, this LEGO architecture London skyline set gives your 12+ year old son the opportunity to build the iconic old city of London and it's popular skyline.
When completely assembled, the model includes London's most popular icons- Big Ben, Tower Bridge, Nelson's Column and many more. The construction is concluded with a decorative "London" name plate. The pieces of this set can also be used with together with other LEGO construction sets for creative building.
Once it's built, playing with this this skyline collection set is a mindful way to unwind and relax with your kids. You can teach them about this historic city with the help of the included collectible booklet. This contains detailed information about the history and architecture of each building represented in the set.
You'll also find many facts about the city's landmarks; you might find yourself learning one or two other things too! Building using these small LEGO pieces, totaling 468, can be challenging, but with the included guide kids are bound to improve their dexterity and improve in their ability to follow instructions.
Once the structure is completed, it gives kids confidence in their own ability to solve problems, as well as a sense of satisfaction. The city scene would look excellent on display around the home.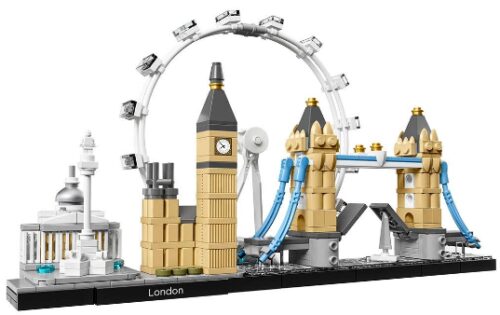 3. LEGO Ninjago Movie Fire Mech 70615 Building Kit
The LEGO Ninjago Fire Mech set will give kids hours of action-packed fun! Your son can become a ninja hero by building and role playing with ninjas who demonstrate courage, discipline and teamwork.
He can relate easily with these self-aware and brave characters. Besides being a creative build, your ninja can take a break from screen time and re-enact exciting battle scenes from the LEGO Ninjago movie, offering even more thrilling role-play possibilities.
The exciting world of LEGO Ninjago is filled with action and mystery. This huge and posable LEGO Ninjago movie mech features two shoulder disc shooters, two arms with non-shooting fire blasters and an opening mini figure cockpit. So, it's great for boys to enjoy creating epic battles with their friends and siblings with.
There are 944 LEGO pieces with this kit, so building it is sure to keep your son occupied for a while. Then of course, they will have even more fun playing with it once it's built!

Minifigures included with this set are Kai the red Ninja, who is one of the most popular in the series. You'll also find Zane with his sophisticated bow and arrow, Jelly and Hammer Head.

The LEGO Ninjago theme helps kids between the ages of 9 and 14 to develop community awareness, imagination and creativity. The LEGO Ninjago brick building toy is compatible with all other LEGO construction sets for endless possibilities. It's the perfect gift for those who already have a collection of Ninjago LEGO sets.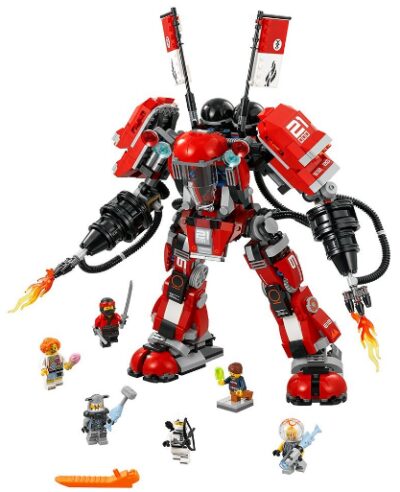 4. LEGO Classic Large Creative Brick Box, 10698
The classic large creative brick box contains 790 LEGO pieces. There are 33 different colors in the set, from natural shades of blue and green to bright colors like fire truck red and baby pink to the browns and greys we see in the built world around us.
In addition to the standard bricks; your boy also gets 2 different sized green baseplates, 8 distinct types of windows, doors and frames, 6 wheels, 6 rims and 3 sets of eyes.
This means that your son can create anything he can imagine; from building a LEGO city from the ground up to cars to race with or even making his favorite animals. The kit has all the required pieces he needs to unleash his imagination and constantly improve his creative building skills.
The set also comes with fun model ideas to help him get started, a brick separator to make disassembly an easy task and a handy box for easy storage.
The classic LEGO box is an ideal toy for your son to play with starting from the age of 4. You can be sure it will continue to interest him even as he gets older, as it inspires open-minded creativity and imaginative building play. This box is a great step up from Duplo to classic LEGO and is sure to provide endless hours of fun.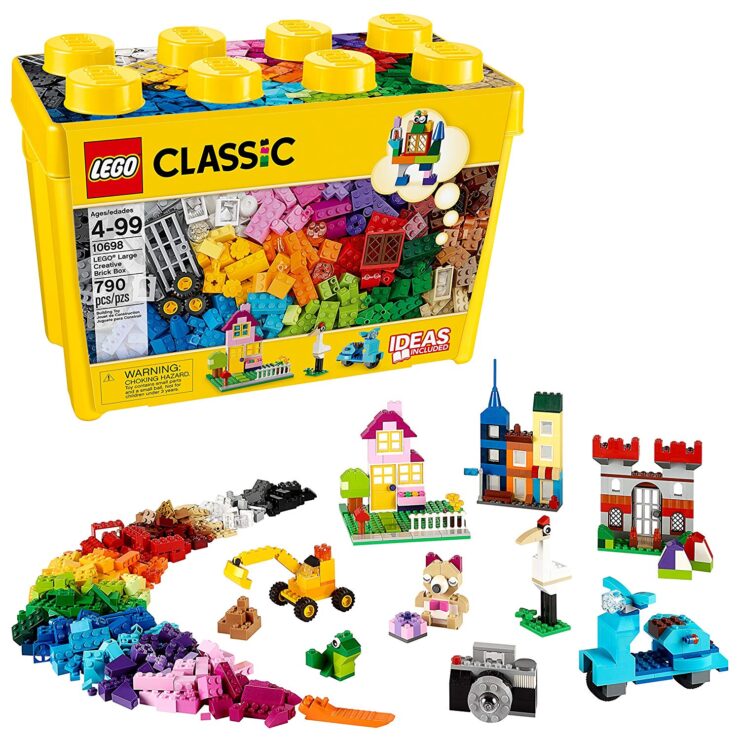 5. LEGO Education Fairytale and Historic Mini figures Set
This set features a variety of mini figures that enables kids to create and act out beloved fairytales and popular stories. Boys 4 years and older can explore role playing while creating and re-enacting fairytales, therefore helping develop their imagination.
The LEGO set can be enjoyed by a group of five kids at once, where they will be actively learning creative thinking and problem solving through real life, engaging experiences.
The set has just under 230 pieces, which are used to build over 20 figures, both male and female, and representing a variety of different cultures. There are many different types of figures which are sure to be popular with kids. For example, there are kings and queens, mermaids and wizards.
There's even a range of accessories for the figures to wear and use, such as magic wands and pretty flowers. So, kids will love to use these figures to create fun adventures and fairytales based on their favorite stories.
The 227 piece set includes elements that can be used to build 22 male and female mini figures, representing characters in different occupations and ethnic backgrounds from fairytales and history.
The themes include pirates, a witch and wizard, a king and queen, knights, mine workers, a mermaid and merman and more. The set also comes with accessories such as wands, hats, flowers, spiders and snakes.
The set is compatible with any LEGO education system, which means if your boy already has one or more LEGO play sets, then you can expand it further with this set. It offers the ultimate entertaining and educational experience and comes with a decorated box to easily store the pieces.
In addition, the set comes with matching games cards for each different white, black and brown male and female members of your LEGO community.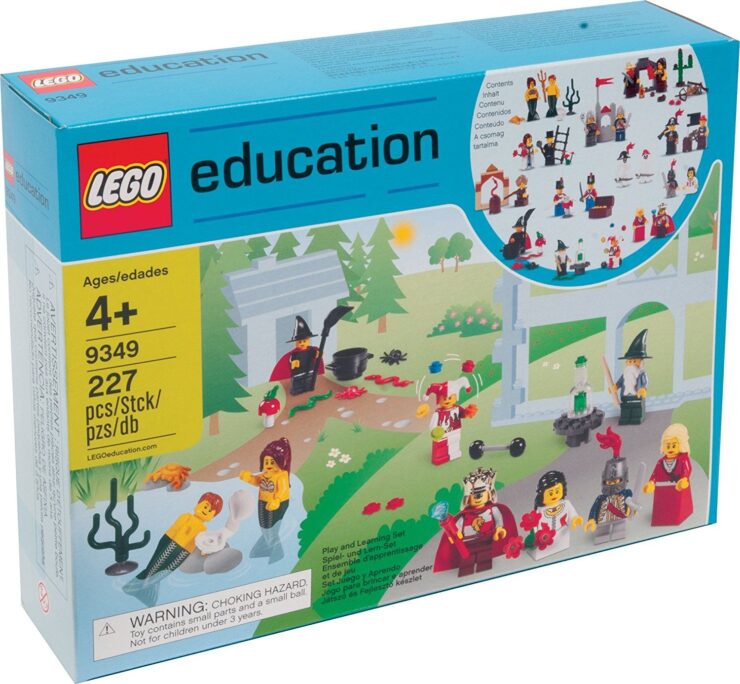 ,

6. LEGO Jurassic World Raptor Rampage 75917 Building Kit
The Jurassic movie series is really popular with boys recently thanks to the newly-released movies featuring super special effects. Kids love playing with toys based on their favorite movies, which is why this set is a great choice. The LEGO Jurassic World Raptor Rampage Building Kit helps your kids to relive the adventures of Owen and his 4 fully trained Raptors.
They can also use it to invent their own adventures for characters which is great for boosting the imagination. The kit comes with a 324 LEGO pieces, 3 mini figures with weapons and other assorted accessories like Owen's motorbike, knife and Claire's mobile phone.

The set also include 2 Raptors (blue and delta) each with posable arms, legs, neck and snapping jaws plus raptor head gear elements. The mobile vet unit has a driver's cockpit for a mini figure, opening rear door, detailed interior, assorted tools and a rotating rooftop shooter.

This LEGO set can increase your little boy's imagination and creative ability. With all these pieces, he can create his own Jurassic Park with his imagination, pretending he is in the dinosaur park while building the mobile vet unit and Owen's motorbike.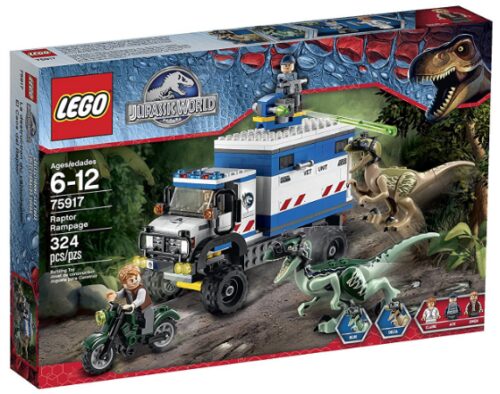 7. LEGO Architecture White House 21006
There are not many structures in the world with the history and reverence of the White House. Getting your son this LEGO set is much more than providing him with a fun toy, but also an exact replica of one of the most important buildings in America.
The six-story sandstone structure was meant to command respect for the nation from citizens and foreigners alike. The LEGO assembled White House model stands 9 inches wide and can be built on it's baseplate with a printed name label.
Based on the James Hoban design as chosen by President George Washington in 1792, this LEGO model is made for kids aged 12 years old and above. It consists of 560 LEGO pieces and includes a booklet that talks about the historical facts surrounding this famous building.
Your son will enjoy building this great house and at completion will have that joy of accomplishment, building one of the most important houses in earth's history.
Playing with this set provides you and your son the opportunity to have fun, discuss history and bond, thereby improving your parent-child relationship. This is really a great tool for building fine motor skills, improving problem solving abilities and encouraging self belief. As with the other Architecture sets, this one would look fantastic on display at home.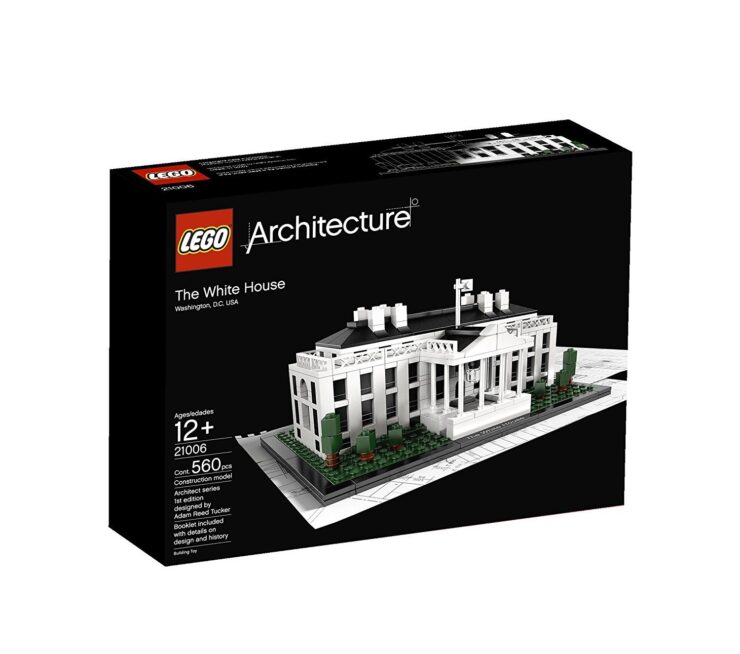 8. LEGO Harry Potter and the Chamber of Secrets Hogwarts Whomping Willow 75953 Building Kit
This LEGO Harry Potter kit lets your son, 8 years or above, relive the engaging and exciting details of the popular movie series. With this kit, your son can recreate one of the most intriguing scenes of the movie. He is tasked with the responsibility of helping Harry and Ron race to Hogwarts, flying with the Ford Anglia whilst avoiding getting hit by the Whomping Willow, whose branches spin and move in this set.
The kit comes with 753 LEGO pieces for building the 3 story Hogwarts Chamber of Secrets castle. Inside the castle, there's the dormitory as well as Professor Snape's potion class and office. The Whomping Willow features spinning branches and the shrieking shack tunnel entrance is also made from the brick pieces.
This fantastic Harry Potter building kit also includes 6 mini figures, the main 3 students as well as Finnigan, Filch and Professor Snape. It also includes Harry's pet owl Hedwig, plus other accessories like the potions wands, 2 suitcases, candles, a lantern, a broom, tables and more.

Your son will enjoy building the incredible magical castle set either with friends or alone and his role playing will bring so much fun and entertainment. The pieces and figures of the kit can be used alongside other LEGO Harry Potter's building toys – it is perfect for boys who already have a collection or are looking to start one.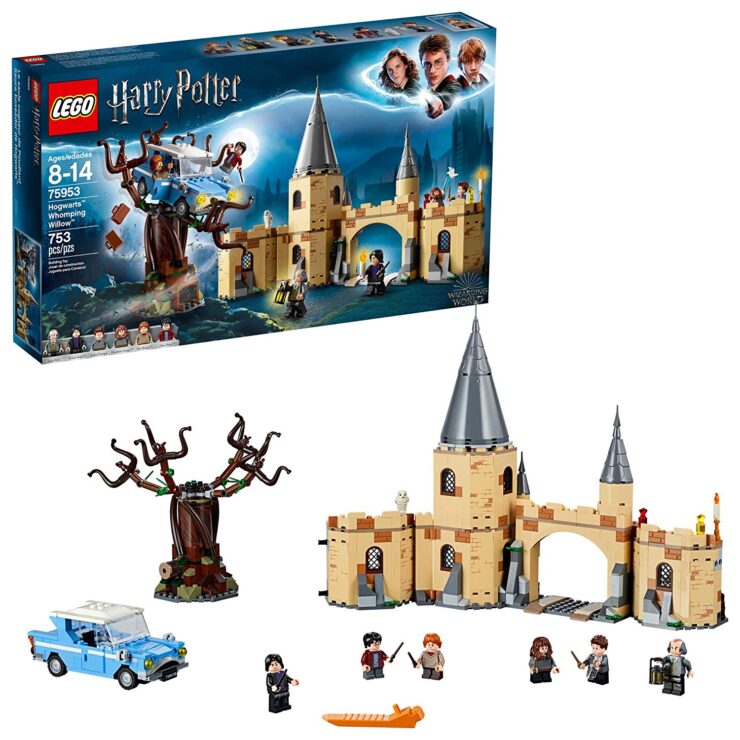 9. LEGO City Police High Speed Chase, 60138 Building Toy
What a wonderful set that promotes crime fighting, teaching kids 5 years and above to shun unlawful acts or find themselves wanted and chased down by the police. The LEGO City police high speed chase is an engaging, imagination-spurring and creativity-harnessing construction and role playing game which promises so much fun. Your kid is given the responsibility of helping Chase McCain nab the crook.
For the chase to begin, your son is expected to build a police helicopter that will enable Chase to spot the crime from the sky, a police car to chase the criminal as well as his car which contains the stolen goods. Kids will have hours of fun making the sports car race away with the police car fast on its heels.
A buildable barrier is then used to cover the road and stop the criminal from getting away. The police helicopter also features a spinning rotor and a lowering winch with a hook to snag the getaway sports car.
There are 294 LEGO constructing pieces in this kit, so it is not too challenging a build. It is suggested for children aged 5 years old and above. The high action building set also comes with mini figures including Chase McCain, female police helicopter pilot, male police officer and the crook, plus other accessories like the gear, walkie-talkie, handcuffs, 2 gold bars, 2 money bills and more.
The LEGO city building toys are compatible with all LEGO construction sets for creative building. They are especially fun to use with other sets in the City range.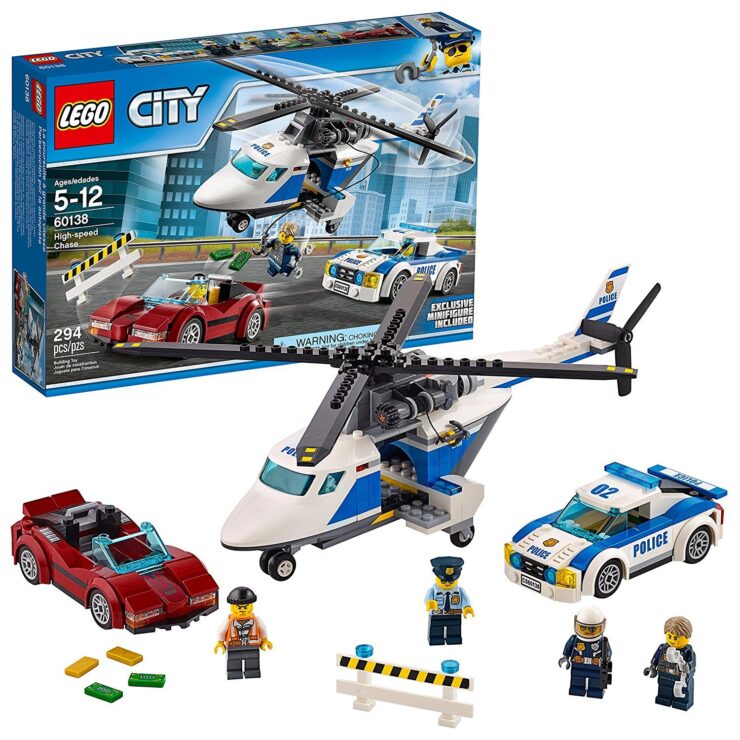 10. LEGO Harry Potter Hogwarts Express 75955 Building Kit
Kids of all ages and even adults can't get enough of the magical Harry Potter movies and love anything that brings back memories of watching them. Just like the LEGO Harry Potter and the Chamber of Secrets Hogwarts whomping Willow 75953 Building Kit, this is another LEGO building kit that relives the movie experience, with kids tasked with the responsibility to recreate the exciting express scene.
This building kit is immensely fun and entertaining, and sparks pure imagination, improving creative and problem solving abilities. Kids use this set to build the LEGO Hogwarts Express train, which has removable parts to allow for east play, plus the railway bridge and platform. There are 801 LEGO construction pieces in this kit, making it ideal for those over the age of 8 or who have some previous LEGO experience. 
Once the train is built, characters can order chocolate frogs and other candy from the trolley witch before flying the dementor into the carriage. The other features of this set include a moving brick wall entrance, 3 pieces of luggage, 4 wands, Kings Cross station sign, a wanted poster and 2 daily prophet newspapers.
This great LEGO Harry Potter Hogwarts Express construction toy also includes characters such as Ron Weasley, Hermoine Granger, Remus Lupin, the trolley witch, a dementor and scrabbers figures which are perfect for enjoying some imaginative play.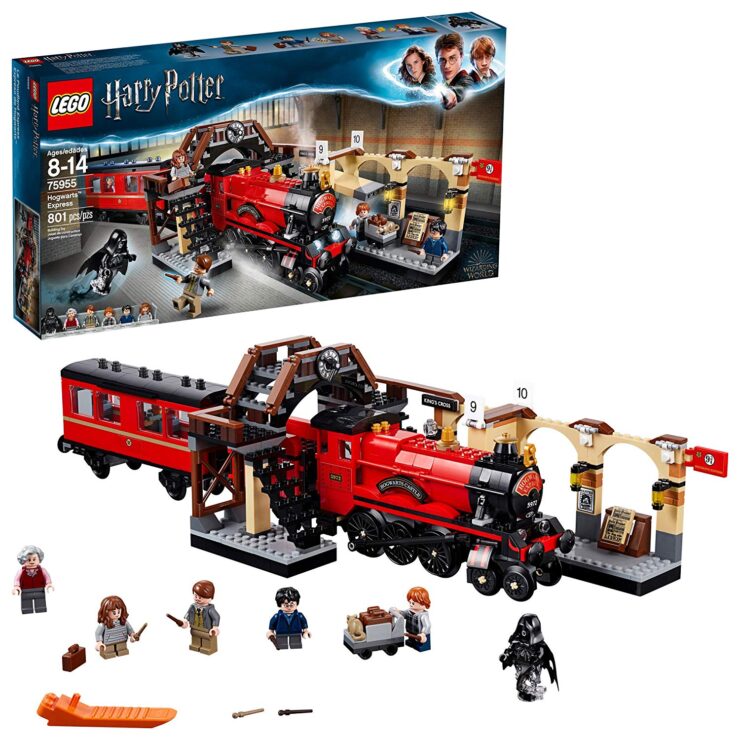 11. LEGO City Police Station 60141 Building Kit with Cop Car, Jail Cell and Helicopter
This Police Station building kit provides top-notch entertainment and fun with its engaging role playing concept. It gives your kid the opportunity to test their skills as they attempt to keep the prisoners safely locked up in jail where they belong!

This kit involves using the the 894 LEGO construction pieces to build a 3-storey police station filled to the brim with accessories. Kids can build a jail cell with toilet, vent with opening grill and exploding wall function, rooftop helipad, satellite dish and antenna, searchlights, ramp, a watch tower, a garage and 3 offices.
They will also be able to make a helicopter to search the skies, a cop pursuit car which is set loose by raising the garage door and a police motorbike. They will also find 7 mini figures included: four police officers and three crooks, as well as a police dog and the crooks' truck with rotating extendable cherry picker for unlimited bad guys versus good guys role playing.
Some of the fun accessory pieces included in this set are the handcuffs, walkie-talkie radios, mugs for the officers to have their morning coffee and some tools and weapons. This LEGO set is suggested for boys aged between 6 to 12 years old.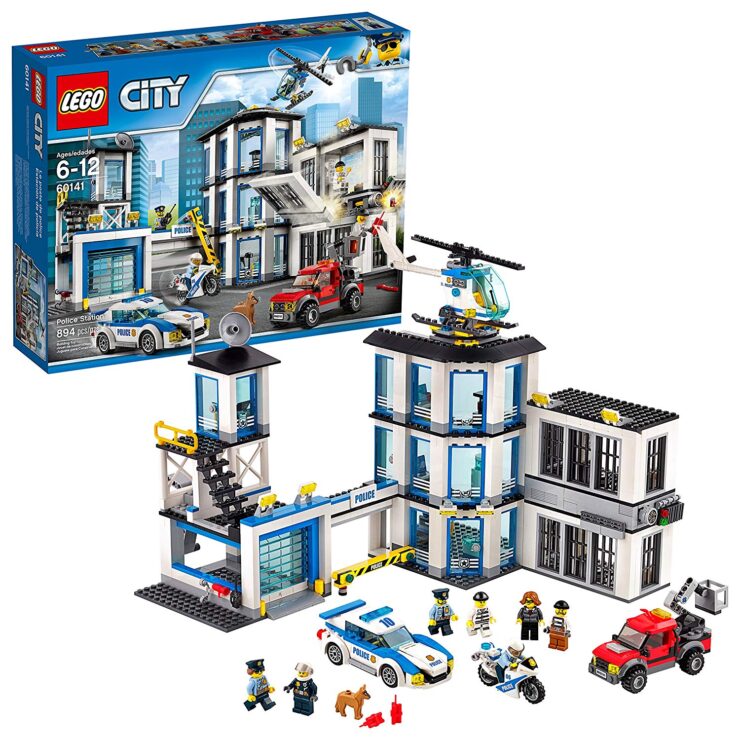 Criteria Used in Evaluation of the Best LEGO Sets for Boys
It's essential that you consider your kid's age, ability and interests when you go out to purchase a LEGO set for him. These are quite important in keeping him engaged, interested and learning from the set.
Buying a LEGO set which features his favorite theme will always make him interested in the building and role playing process. The difficulty of the game either challenges him if its within his age and ability or might cause frustration if it's too simple or too difficult.
Other criteria evaluated are;
Educational and skill Benefit
Picking the best LEGO set for boys, you must be sure they are not just play tools but sets that are as educational as they are entertaining. The best and easiest time for young boys to learn and develop different skills is when they are enjoying themselves. So, you can be sure they will learn more from playing and having fun rather than sitting down trying to learn and remember facts.

Fun
You definitely want to get a LEGO set that will keep your child interested and engaged for a long period of time, not one that easily bores him out after a period of playing. Having fun when playing with LEGO is probably the most important reason for buying it.

Teamwork
It's always great to have parents play with their boys, especially the father. Buying a set, it is best to buy a set small and simple enough for the child to play alone yet also large enough to be played with others, either parents, siblings or friends.
Our Overall Best LEGO Set
Every LEGO set that has made this list are outstanding building kits with immense benefits both educationally and in entertainment, but our overall best LEGO set for boys is the b>LEGO Classic Large Creative Brick Box, 10698 <for its versatility. 
It is the ideal boy LEGO set since it allows for open-minded building, granting the player the opportunity to make many diverse creations. Another set that deserves an honorable mention is the b>LEGO City Police Station 60141 Building Kit<. This is a great one for boys who love imaginative playing with action figures and playsets.

Conclusion
The list we have provided will be of great help when it comes to finding a LEGO set your son will love. Any of the above are ideal for boys, but the one you should ultimately choose really depends on the theme he is interested in, his age and of course how much experience he has of building LEGO sets.