Bring the joys of play construction to life for your little boy or girl with a remote control crane. RC toys can be a wonderful addition to a building set or they can be the first piece and what is sure to become a large collection of remote control construction toys.
Crane toys are fun to play with for all ages and also build hand-eye coordination as well as the love of construction. With such a wide range of cranes available on the market today it's hard to choose the best one for your child. There are a few things you need to take into consideration and hopefully, this list will give you a better idea of what you're looking for in a crane for your child.
Considerations
Wired or Wireless. These cranes can be pretty big and some of them offer a wired option for a more powerful toy. For younger children, a wireless option might be better as there's less of a trip hazard. For older children who want more power and versatility, a wired connection might be the ideal situation.
Charging time. Kids like to keep playing and you need to choose a toy with a batter that will recharge quickly so your child can get back to play. If this is the only piece in your construction set you'll most definitely need a quick charging toy because there won't be other toys to distract your child with.
Functionality. Do you want a crane that rotates a full 360 degrees for your child or do you think your child would be happy with a crane with restricted movement? Decide the right amount of functionality and extra features that would be just perfect for your child.
Top Race 12 Channel RC Crane
The Top Race 12 channel model features both a battery powered radio control and crane that functions with lights and sounds. This crane operates just like a real crane that you would see on a construction site.
You can easily swing the crane around in a circle and move it in every direction. The strong caterpillar tracks allow the crane to travel on unstable ground indoors or outdoors.
This cranes battery takes 50 minutes to charge to its fullest capacity and it will last for 25 minutes for play on a single charge. Constructed on an incredible scale this plug-and-play remote control toy crane runs on a frequency that won't interfere with your other pieces of equipment in your construction playset.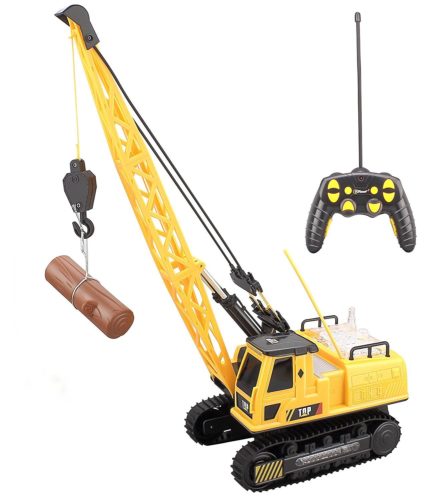 Top Race 15 Channel RC Crane
The Top Race 15 channel model is an amazing 1:14 scale and listed as in their professional series. The battery-powered remote controller controls the toy crane which is fully functional. It moves in every direction on its heavy-duty treads on their Caterpillar Track and the crane's cabin performs 680-degree rotations.
This powerful remote controller controls the crane from 100 ft. away. One of the most powerful transmitters on the market this crane is the highest grade toy level you can achieve. Along with a user manual, the crane has functioning lights and sounds and a 2.4 gigahertz remote. This crane is best played with by children 8 years and up.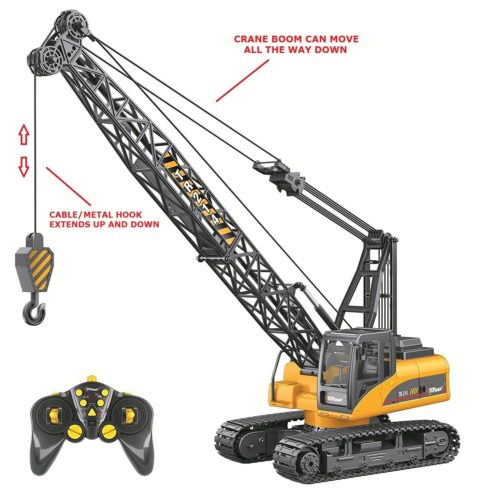 Kid Galaxy Remote Control Crane
The Kid Galaxy toy crane boasts independent functions that allow your child to bring creative joy to their 8 construction playset. Whether you choose to use this heavy duty toy indoors or outdoors you'll be able to transverse a wide range of terrain with the sure grip treads on the caterpillar track.
The controller for this crane is wired and it's suitable for children ages 3 and up. The controller requires six double a batteries and the crane's platform and cab can rotate a full 360 degrees.
The crane arm is fully operational and you can lower and raise the bucket filled with sand or small stones. Your children will love to honk the horn on this realistic toy crane.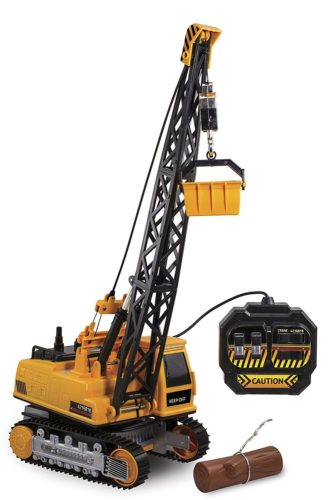 40 inch tall RC Tower Crane Toy
The Bo-Toys toy is 40 in tall and features a 2.4 gigahertz transmitter which can power the crane from up to approximately 70 ft away. Designed as a platform, this construction toy doesn't roll or move around like a tractor style crane. It does rotate 360 degrees and the boom hook does move up and down, and forward and backward as well.
This platform style construction toy features a strong and durable hook which has a weight capacity of half a pound. The transmitter controller requires two double AA batteries end the crane platform itself comes with an onboard rechargeable battery.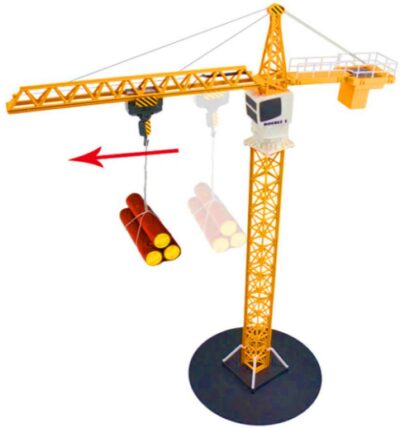 RC Crane Tower Toy Set
This Dickie toy is a wire remote-controlled crane that's designed as a platform. The cab of crane and deck the platform rotates 350 degrees. This rotation enables your child to move objects in the bucket wherever they need to go. Batteries are required but not included.
Rugged and reliable, you can use the bucket to lift small toys, sand or loose gravel. Your child will be able to rotate the crane to drop the toys or gravel wherever you'd like them to be. This 4 channel model lift moves up and down and right and left.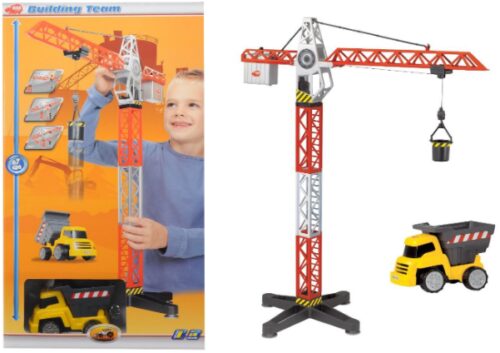 Best Overall Buy
The best overall crane toy would be the Top Race 15 channel version. The amazing scale makes it completely lifelike and the wireless control makes it easy to play with. The long distance of at least 100 feet is impressive and the real working lights and sound are a delight for children of all ages. The 680-degree rotation is more than any child could ask for and the functionality of the boom and hook are amazing.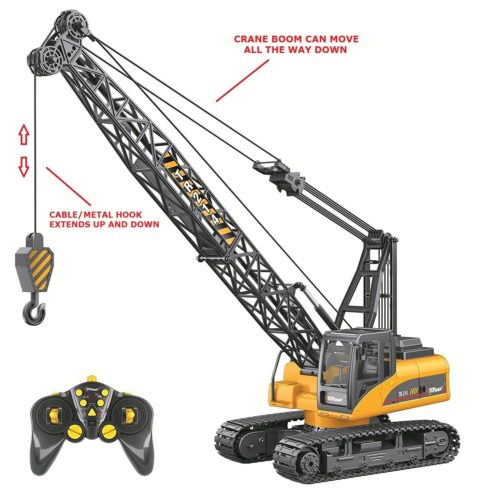 Best Budget Buy
The best buy for your budget is going to be the Liberty Imports wired platform crane. It offers 360 degrees of rotation and allows your child to move things in a bucket which might be a little easier for younger children to manipulate.