Are you looking for the best sprinklers for kids that are both fun, safe and easy to use? In this review of toy sprinklers we compare different types of sprinklers to help you find the best pick for your kids.
Summer vacation is just around the corner and that means that it is the perfect time to install a kids sprinkler or water sprayer in your back yard. Sometimes parents find it hard to keep kids occupied during the long vacation, but sprinklers water play toys are a great way to encourage kids outside and away from electronic screens. We know that spending time outside is good for kids and with sprinklers in your yard, you won't have to convince your children to play outdoors!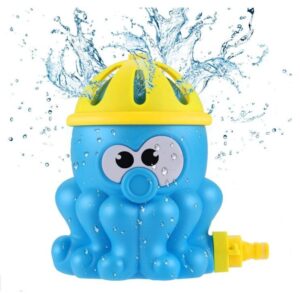 Sprinklers are a great addition to your home because they provide fun for all the family as well as keeping you cool on hot summer days. They are perfect for summer cookouts, family barbeques, and gatherings with friends. And you can be sure that if you decide to buy a sprinkler for your kids, your back yard will be full of friends and family all summer long! 
There are lots of sprinklers for kids and families on the market, but we have taken the work out of selecting one. Our comprehensive guide introduces the best sprinklers available in 2023 as well as tips for making the best selection for your family. Make 2023 a summer of fun with a new garden toy your kids will love. 
Considerations when choosing kids Sprinklers
As with any purchase for your home, you want to make the best selection. By considering a few factors, you can narrow down the choice and find a sprinkler that suits your family.
Design: kids' sprinklers come in all sorts of shapes and designs, from mats and hoses to characters. You will find a wide variety in our guide. Consider how your kids will use the sprinkler, and whether they will be more engaged by a particular design, color, or type. 
Age appropriate: Outdoor water toys for toddlers and safety matter and is the most important thing to consider when you are purchasing an item for your family. By following manufacturer recommendations for baby water toy age restrictions, which ensures that your whole family can enjoy fun outdoors in a risk free way. In our guide, you will find sprinkler mats suitable for young kids as well as fully functioning squirters for older children.
Size: Waterplay for toddlers is cool, but size also matters, if you are short on space in your yard, you may want to select a smaller sprinkler, and you will find plenty of compact sized sprinklers in our guide. Your kids will still have a ton of fun but it will not take up your entire garden. If space is not an issue, go for a model that spreads out and will entertain your children and all their friends too. You will be glad for a wider coverage on hot summer days!
Function: are you simply looking for a fun toy to help get your kids outside during the long summer break? Or do you need to install a model that will give your garden a much needed drink as well? It is a good idea to consider how you wish to use the sprinkler, so you can make the best choice for your purchase.
Having covered some of the considerations you will make before deciding on your choice, we will now introduce some of the best sprinklers for kids currently on the market.
Top Water Sprinklers for Kids
Matty's Fire Hydrant Toddler Sprinkler
This Henry the fire dept water hydrant sprinkler, from Matty's Toy Stop, is bound to appeal to kids of all ages this summer! Gather the whole family in your back yard for some fun water play and watch the kids' delight as they splash around. Henry the Hydrant attaches to any standard garden hosepipe and is quick and easy to set up, taking just a few seconds. Once he is set up, watch as Henry shoots water up to 10 feet high and up to 16 feet wide! He is the perfect addition to your garden for endless summertime play and is sure to cool little ones down. Made of heavy duty plastic, Henry is built to last. This sprinkler toy is suitable for kids aged 3 years and up.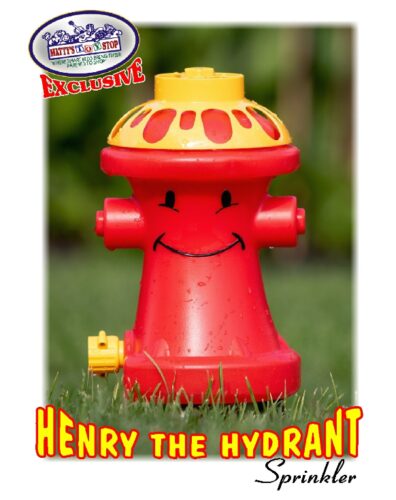 Outdoor Rainbow Sprinkler
This rainbow sprinkler from Splashin'kids would be a bright and colorful addition to any yard! Made from high quality and heavy duty PVC, it is easily inflated using an air pump and can be installed and working in next to no time. Kids will love running through the vibrant rainbow while they are showered with water. It is a huge 86 inches wide, making it perfect for family parties and friendly gatherings. Simply inflate the rainbow, connect a garden hose, and fill the supporting clouds with water for stability. The entire family is sure to adore playing under this sweet rainbow, which will keep everyone cool on warm summer days. This sprinkler is suitable for kids aged 18 months + and is one of the fun sprinklers for kids in this review.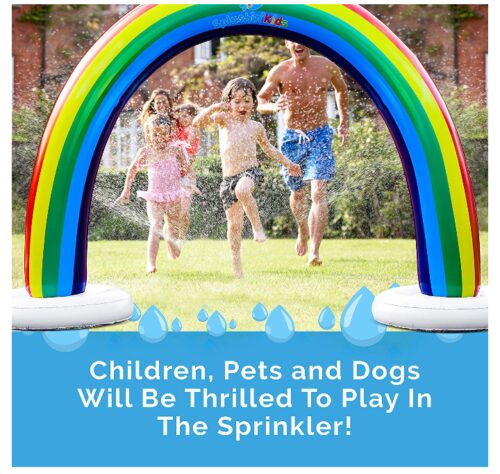 Unicorn Water Sprinkler
Unicorns are incredibly popular with kids right now, and there is no shortage of unicorn themed children's items available. If your little ones are into unicorns, they will love this inflatable sprinkler! It inflates quickly thanks to the rapid valves, so it can be up and running whenever you need to cool down. Simply connect your hose and enjoy the spray from the unicorn's horn! The bright white body and rainbow colored mane and tail will liven up any garden or yard. The sprinkler is supplied with four pegs to secure the unicorn on windy days. This backyard water game kids are sure to love playing with in their garden with these fun water toys.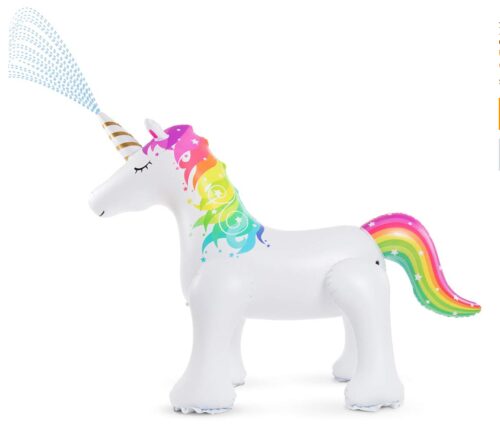 Trampoline Water Sprinkler
If your kids love bouncing on their trampoline, why not upgrade it this summer with the Bobor trampoline sprinkler? Perfect for hot days, the sprinkler can reduce the temperature of the trampoline by up to 25 degrees. The trampoline sprinkler comes with two tie band sizes, which should suit any trampoline shell size. It is easy to install: simply affix it to the shell of your kids' trampoline and then connect your garden hose. Your kids will be enjoying bouncing in the cool water in no time at all! The hose length is 39 feet, which means the trampoline sprinkler can also be used to water plants or cool your back yard. It is the perfect way for kids to cool down and still enjoy the trampoline during the heat of the summer.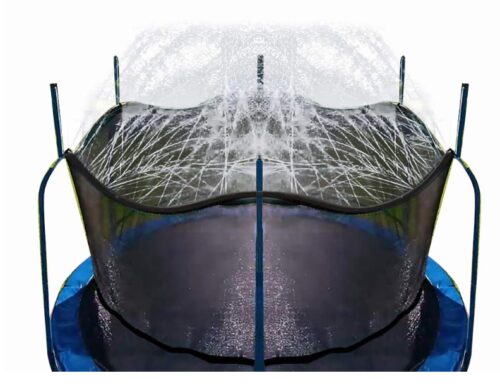 Air Sprinkler Pad
This splash mat from Epoch Air is a compact way to add a ton of water fun to your garden this summer. Your kids will love the ocean themed design, which features dolphins, jellyfish, octopi, and seahorses. At 67 inches in diameter, this mat is big enough for all their friends to join in yet can be folded down small enough to be portable. The strong and durable splash pad is made from heavy duty PVC and has dielectric welding at the seams to make sure that there are no leaks. It is free of BPA and phthalates so it is kid friendly. The mat is very easy to use, as it only requires a connection to your garden hose. This is also a great way for babies and toddlers to explore water play, under the careful supervision of parents of course!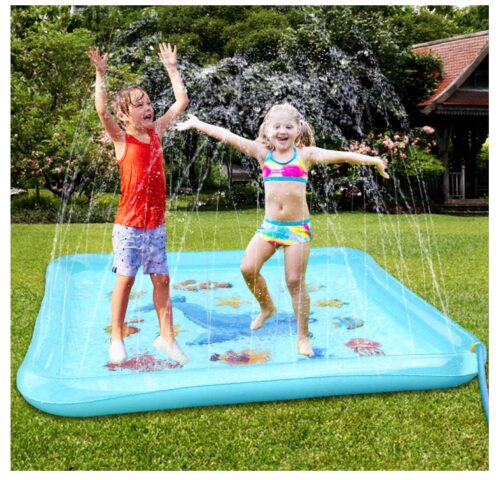 Flower Sprinkler Toy
If you are short on space but you are looking for a fun sprinkler toy, the Pretty Petals Sprinkler from Melissa & Doug is a great choice. This trusted brand has been making high quality toys for over 30 years. The Pretty Petals Sprinkler features a green base with twelve sweet pink flowers that squirt water! Its compact size means it is ideal for small outdoor areas. Your kids will love exploring this high quality sprinkler, running and jumping through the water and even using it to water the plants. Playing with water toys for toddlers can help with the development of gross motor skills and can also encourage a love of the outdoors.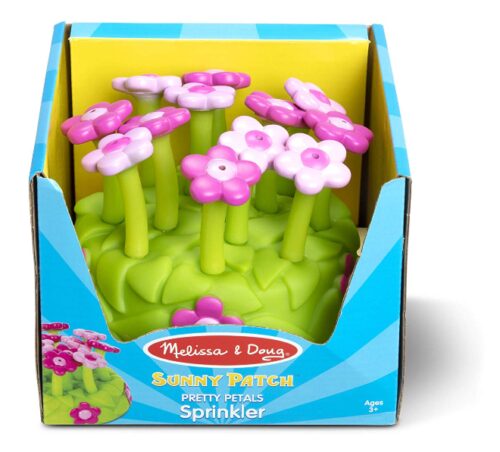 Fire Hydrant Sprinkler
Little kids are sure to adore this fun garden friend if you bring it home this summer! This friendly looking fire hydrant from Fun Splashers attaches easily to any garden hose, then spins and sprays water all over the place. At approximately 8 inches tall, it will not take up much space in your garden yet it can splash water up to 8 feet. The sprinkler features a friendly face complete with huge cartoon eyes and a great big grin. Your kids are sure to love playing in the garden with this hydrant sprinkler and will have hours of fun in the sun this summer!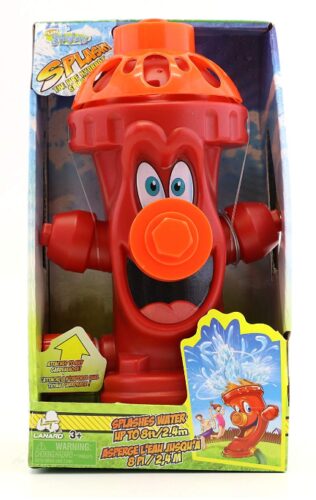 Little Tikes Spiral Child Sprinkler
The Little Tikes Superspiral Sprinkler would make a colorful addition to your back yard this summer! Little Tikes is known for making high quality toys for toddlers and preschoolers so parents can buy with confidence that they are investing in a durable product. It comes in several vibrant color combinations, including blue and yellow, teal and purple, and neon yellow and pink. This fun sprinkler features a spiral and four balls that shoot out of the sprinkler with a jet of water, guaranteeing to delight your kids all summer long! The Superspiral Sprinkler is easy to install upright thanks to the plastic footed garden spike molded on to the base. Bring home something a little different and watch your kids have fun playing with the plastic balls while they splash around.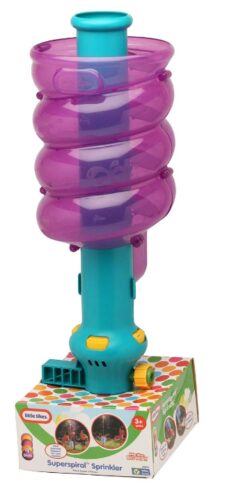 Melissa and Doug Sprinkler Toy with Hose
Like its flowery counterpart, the Grub Scouts Sprinkler from Melissa and Doug is a cute garden toy for little kids. Simply attach it to your garden hose and keep your kids engaged outdoors for hours. The sprinkler can be used to water plants, for outdoor play, and to keep your family cool during hot summer days. It features an entire troop of Grub Scouts, cute green bugs with friendly faces and orange hats, ready to work on achieving the Entertainment Merit badge! The Grub Scouts Sprinkler is ideal for kids aged 3 to 5 years and would be a perfect addition to any family garden. As this water worms toy is designed for preschoolers and young kids to explore, it is a great first sprinkler water wiggle toy for your family.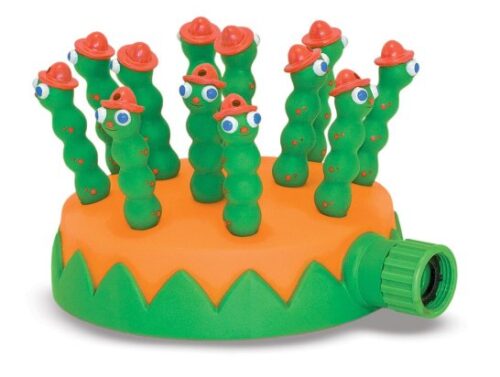 Water Sprinkler Splash Pad
Combine a classic garden game with some splashy fun with this Aqua Blast Hopscotch Pad from Banzai. Kids will have hours of fun discovering new ways to play a favorite back yard game!  The splash pad is suitable for ages 3 years and up so even little kids can join in the fun. Fill the base with water by attaching the hose and keep your kids cool all day. As they play and jump they will enjoy the streams of water shooting up around them. There is even a larger geyser blast at the end for a surprise ending! With kids' safety in mind, the PVC surface is textured to ensure little feet can grip when in use. The set contains a hopscotch splash mat and three playing chips.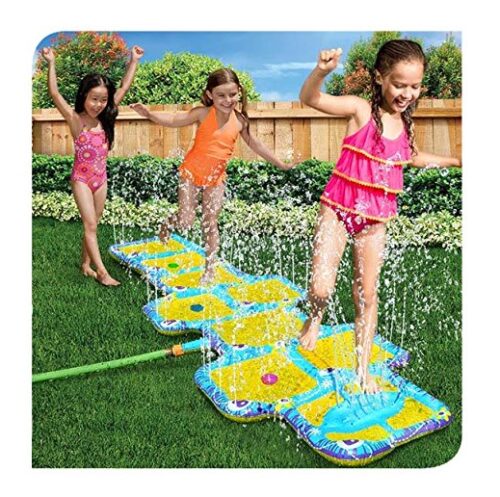 Sprinkler Pipeline Hydro Twist
Get your older kids away from their screens and out into the garden with this super Twist Pipeline Sprinkler from Hyrdro. The colorful tubes and unique pipeline fountains are sure to engage kids of all ages and provide hours of fun on hot summer days. This super size water sprinkler features two fountains and multiple tidal force wiggle tubes, with sky high water jets. The Twist Pipeline Sprinkler comes in a variety of vibrant colors and will really brighten up your garden. Your kids are sure to thank you if you bring this home on a warm sunny day! It is a great item for children to explore and enjoy playing with.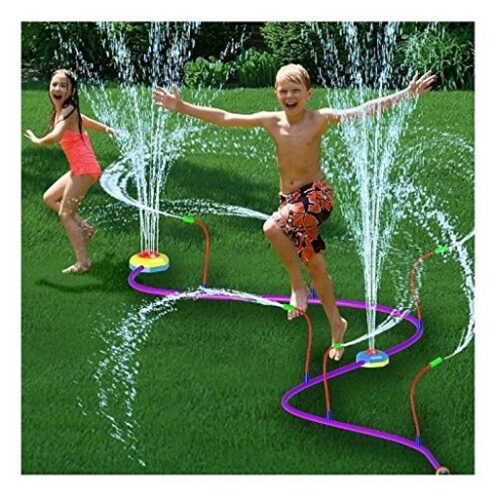 Giant Sprinkler Whale
If you are looking for a simple garden backyard fun for kids toy to entertain your little ones on sunny days, check out this giant inflatable whale sprinkler toy from Kleeger. This friendly whale is sure to appeal to kids of all ages as they play and splash in its water jets. It will also add a fun talking point to your garden or back yard! The whale sprinkler is easily inflated using an air pump and so can be set up in just a few minutes. Kids will be amazed by the jets of water, which can spray up to ten feet in the air! This fun sprinkler toy will provide hours of entertainment and can be easily packed down for storage or transport to friends' houses or even to the pool.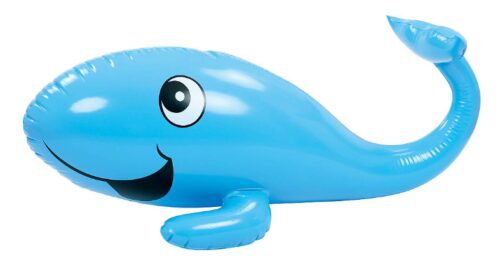 Ninja Turtle Sprinkler Spin and Spray
Got a Teenage Mutant Ninja Turtle fan in your family? If so, they are sure to love this Spin and Spray Sprinkler from Imperial Toy! Attach to a standard hose, place on your lawn, and watch as Michelangelo spins around. The base features four fun water sprinklers that will splash your little one and your garden as the character spins. Perfect for kids' parties, family BBQs, or simply hot days in your back yard, this is a great choice for a fun kids' sprinkler. Children are sure to delight in playing Ninja Turtles while keeping cool with their new sprinkler toy!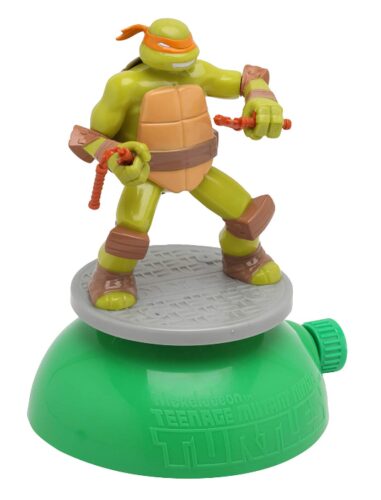 Garden Sprinkler
The Kadaon Automatic Water Sprinkler may look simple in design but it packs a real punch. This premium quality sprinkler can be adjusted to spray either in a direct line or at a 45 degree angle. It is excellent value for money and is a great way to get kids enjoying outdoor fun on a hot day. The automatic sprinkler features three arms and has a coverage area of 3000 square feet so it is suitable for even large gardens. Simply connect the sprinkler to your hose and watch your kids have fun in the water. It can also be used to water your garden, flower beds or vegetable patch and it achieves excellent water coverage.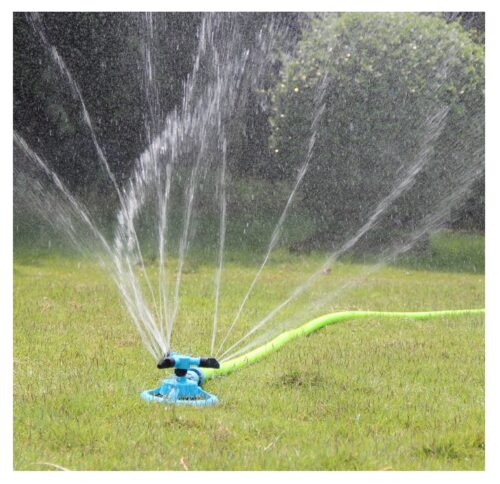 Jumbo Sprinkler Melon Ball
Looking for the perfect kids sprinkler for babies, toddlers, and preschoolers? Look no further than the Mega Melon Jumbo Sprinkler from JOYN. This vibrant and vivid jumbo sprinkler will brighten up your garden and help your little ones to keep cool on hot days. It is made from heavy duty and high quality PVC, which is UV fade resistant so it will stay bright after a whole summer of fun. This outdoor water toy is entirely child safe, made from non toxic materials, and has been ASTM safety approved. The giant sprinkler is 90 cm in diameter and parents can adjust the hose water pressure to change the spray height.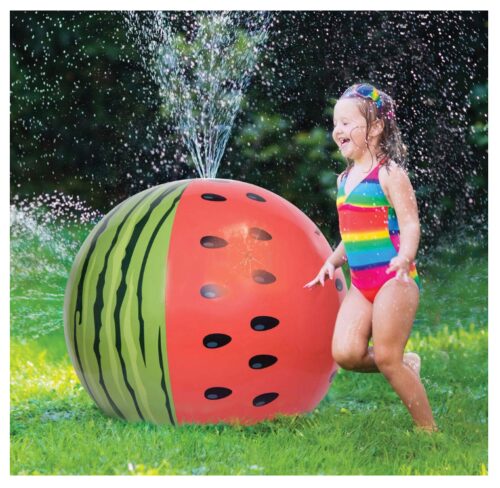 Octopus Sprinkler Kids Toy
Another great kids water sprinkler option for babies and toddlers is this Octopus Sprinkle Toy from Gifort. Little kids are sure to adore the chunky blue octopus with its friendly cartoon style face and bright yellow hat, which can be turned around. This sprinkler toy will cool down your toddler while engaging them in active outdoors play that can help support the development of motor skills and coordination. The octopus yard sprinkler is made from long lasting and non toxic ABS plastic that is built to withstand boisterous toddlers! Once the sprinkler is filled up from a standard hose, it will send water shooting up to eight feet across your yard or garden.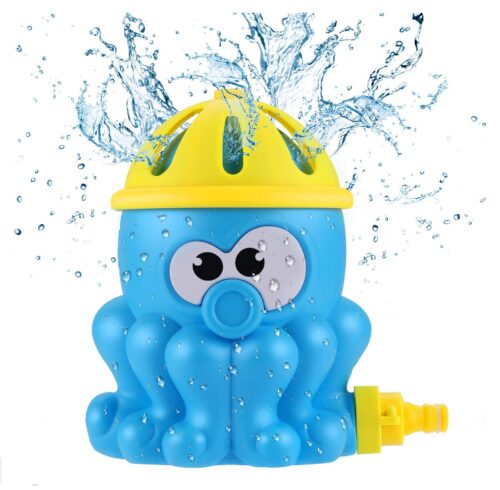 Splash Pad Sprinkler Pool
Water and outdoor play support kids in developing a huge range of skills, like physical coordination, motor skills, attention, and teamwork. If you want to add more education into water play for little kids and toddlers, check out this learning splash pad from SplashEZ. It is a three in one sprinkler, wading pool, and splash pad for little kids and is sure to keep them entertained all summer long. The pad base is a learning mat, helping to stimulate your kid's natural curiosity about the world around them. Choose from three designs: A to Z (letters and animals), The Deep Blue (ocean themed), or Know Our Planets (space themed). Your child will adore playing in the water and exploring the fun and bright pictures on this cute backyard water toy.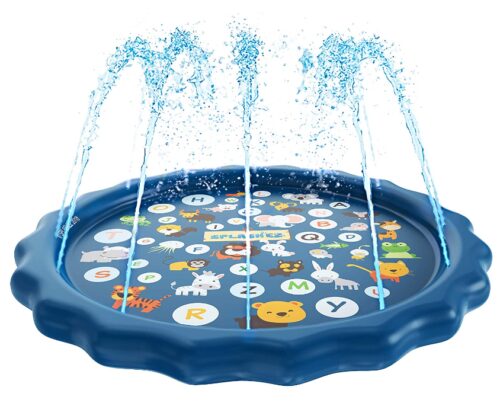 Best Overall Pick
We have covered a ton of different options for buying kids' water sprinklers and we know that it can be hard to make a choice! Therefore we will now present our best overall pick to help you to narrow down the selection. Our recommendation for the best buy is the Henry the Hydrant Sprinkler from Matty's Toy Stop. We have selected this model for a number of reasons, but all centered around outdoor water play. Firstly, it is designed to appeal to kids of all ages and has a wide coverage area of up to 10 feet high and up to 16 feet wide. It is durable as it is made from high quality plastic and will not be easily knocked over in your garden. Finally, it is incredibly easy to set up and is sure to provide hours of water play over the summer vacation.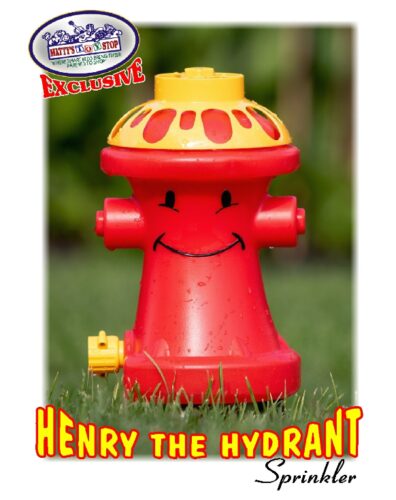 Best Buy for Babies and Toddlers
When buying an outdoor play water toy for babies and toddlers, you will want to be more mindful of safety as they are of course smaller and less steady on their feet than older kids. For this reason, we have selected our best buy for younger kids to help you make the right decision. Our overall pick for a sprinkler for babies and toddlers is the 3 in 1 sprinkler, splash pad, and wading pool from SplashEZ. It is a great size for little ones to splash around safely with a parent or caregiver, and they are sure to enjoy exploring the water jets. And it has an educational aspect so your baby or toddler can be learning while they play. The splash mat base has bright and vibrant pictures to stimulate your child's natural curiosity and help them learn about their world. This is a great value buy to entertain your baby or toddler during the summer.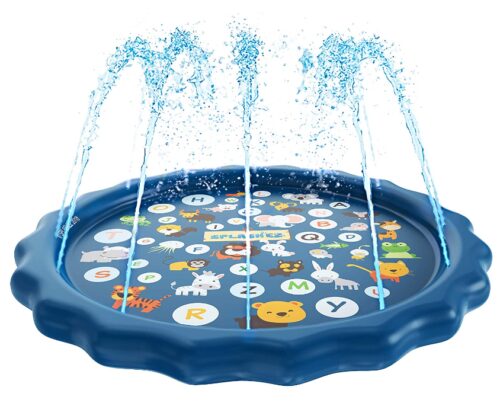 Best Budget Water Sprinkler for Kids
If you have a small budget but still wish to indulge your kids in some outdoor water fun this summer, do not fear! We present as our best budget buy the Kadaon Automatic Sprinkler, which has impressive coverage of up to 3000 square feet. This means that there is enough spray for a whole party of kids! This great value item is quick to install and set up and will provide endless fun for your kids during the summer months. Choose from two spray angles and let your kids jump and run in the water. It is also ideal for watering your lawn and garden plants over the summer.