Any parent knows that bubbles can provide endless fun for kids of any age. Especially with summer upon us, kids bubble machine are a must have for any family home. Blow them in the garden, at the pool, or even indoors to brighten up a rainy day. In this guide, we will present the best bubbles for toddlers and kids so that you can choose the best option to add fun to your family time. 
We will take a look at some of the factors to consider when making your purchase, as well as frequently asked questions. And of course, we will present our picks of the best kids bubbles available in 2022. With this article, you will be confident of finding some great bubble machines for your home! We will include bubble machines, squirters, wands, and lots of other types. Read on for our guide!
What to Consider When Picking a Bubble Machine for Kids?

First, we will look at some of the considerations that we recommend thinking about when planning your purchase. With so many options available, it can feel overwhelming when you are not sure what to go for. By taking into account some of these factors, you can narrow down the choice and ensure you are spending your money wisely.
Safety: as with any item for toddlers and kids, you will want to first and foremost make sure that the bubbles you choose are safe. Check that the bubble mixture is non toxic and ensure that there are no small detachable parts that could post a choking hazard.
Price: bubble toy machines and wands are unlikely to break the bank, but there is still a range of prices in our top picks. Set a budget that you are happy with in order to narrow down the selection.
Type: are you looking for something small that you can throw into a bag and take on day trips? Or perhaps a fully functioning bubble machine that will stay in your backyard? Consider the type of bubbles you wish to buy and this will help you to come up with a shortlist!
Age: finally, consider the age of the children who will be using the bubbles. You will, of course, want to buy an age appropriate bubble maker. Young toddlers may need more help to produce gorgeous big bubbles, whereas older kids are more likely to be able to manage themselves.
Now that we have addressed some of the factors to consider when making your choice, let's take a look at our top picks for best cool bubble toys in 2022.
Best Bubbles for Kids in 2022
1. Little Kids Bubbles
If you are looking for mini bubbles for kids, check out these Fubbles no spill tubs from Little Kids. They come in a set of three so they are perfect for party favors. The mini size means they are easy to tuck into a bag when you are heading out for the day. The Fubbles pot has a patented no spill design, making them among the best bubbles for toddlers. Whether your little one tips it, turns it upside down, or knocks it over, this tumbler will not spill! The fun colors are sure to appeal to toddlers and the handle is just the right size and shape for little hands to grasp.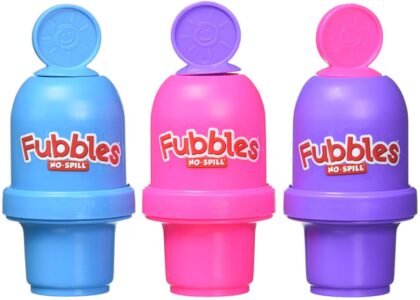 2. Bubble Machine Bubble Blower
Another great option for little kids' bubbles is the best world automatic machine that blows bubbles from WisToyz. Designed to look like an airplane propellor, this fun and brightly colored mini machine will bring tons of fun to your back yard! Though it is small in size, it has a powerful motor and blows up to thousands of bubbles per minute. Easy to set up and with one click operation, your family will be enjoying bubble fun in minutes! It is made from durable ABS materials so it is tough and durable as well as including rust protection.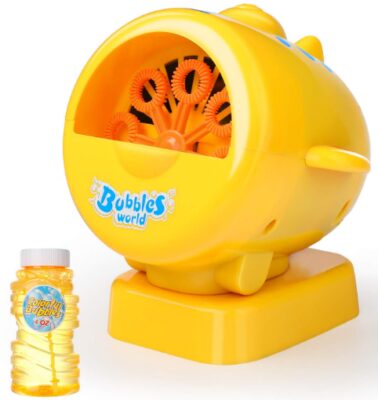 3. Giant Bubble Wands
This giant bubble wand from Wowmazing will produce huge bubbles for kids to enjoy! It features a unique design with two handles that has produced world record breaking giant bubbles! This kit contains everything your kids need to make impressively massive bubbles that are sure to wow anyone who sees them. The box includes a giant bubble stick, a pouch of Wowmazing Bubble Concentrate, and a unique booklet full of tips and tricks for making the best bubbles. Though it feels lightweight, the bubble wand is made from durable materials and is built to last year after year.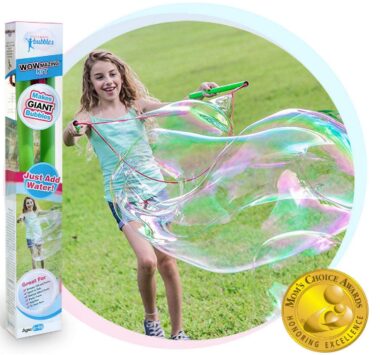 4. Bubble Gun Shooter
This is a great bubbles gun for kids that is sure to impress even the most discerning child! If you are looking for a way to get your kids away from their electronic screens this summer and encourage them to play outside, this would be a great way to achieve that. This noise free bubble gun does not require batteries as it is powered through friction. Kids will love firing a flurry of bubbles and watching how the friction forces power the gun. This bubble shooter also features an LED light show with every press of the trigger, which is guaranteed to hold your kids' attention.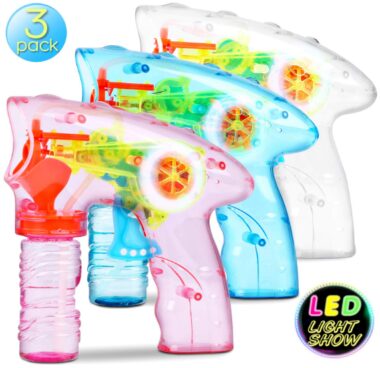 5. Automatic Bubble Maker Toy
This bubbles machine for kids from Lukat would make a great addition to any back yard or even a kids' room or play room. It has a fun cartoon style octopus design in bright purple, turquoise, and green. The oversized features will appeal to little ones and they are sure to exploring this sweet mini machine. Set up is easy: simply insert 3 AA batteries, pour in the bubble solution, and press the button to begin the bubble fun. The powerful motor and twelve bubble blowing wands will produce clouds of bubbles, reaching rates of 1000 per minute! This cute octopus is sure to liven up any summer gathering.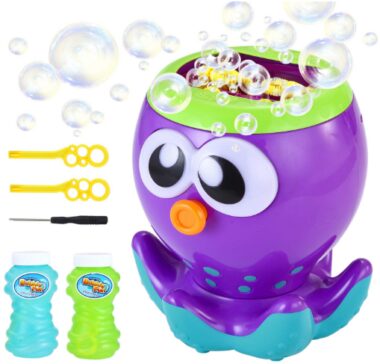 6. Bubble Gun Toy Blower
If you need a way to cool down while enjoying flurries of bubbles this summer, check out this cute airplane themed blower from Bamgo. It would make a fantastic gift for toddlers or little kids as they are sure to love the bright colors and fun design. With four bubble blowing wands, this small blower packs a real punch. It has an innovative design with leak resistant seals, meaning that whichever way kids turn or move the blower, the solution will not spill out. The box contains a bottle of unique bubble solution for longer lasting bubbles, as well as instructions on how to make your own formula at home.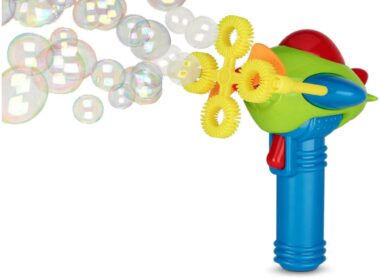 7. Bubble Toy Train that blows Bubbles
For a real showstopper that is sure to wow your kids, check out this bubble blowing toy train from Cif Toys. If you are buying a gift for a birthday or special occasion, this train would be a great choice. Set the train off and watch the delight on your little one's face as they watch bubbles appear from the funnel! Parents are sure to appreciate how engaging this bubble machine is for little kids and toddlers. It has been designed to keep moving constantly and to change direction as soon as it bumps into an object. The fun never stops with this amazing machine!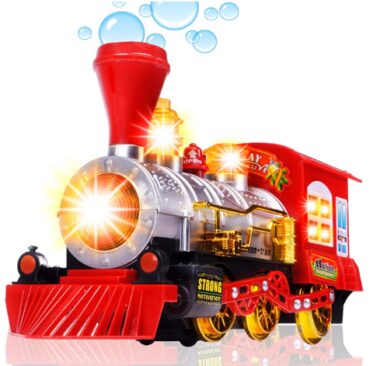 8. Pink Bubble Machine Whale Toy
If a cute item is what you are looking for, this whale design bubble blower from Forliver is a must buy. It features a powerful high performance motor that sends out clouds of colorful bubbles! Perfect for fun in the garden or indoor play, it is made from non toxic ABS plastic so it is completely safe for children. It has 28 bubble wands that produce over 2000 fun bubbles per minute so your outdoor space or room will be filled in no time! With easy operation and durable materials, this cute whale blower will keep kids happy all summer long.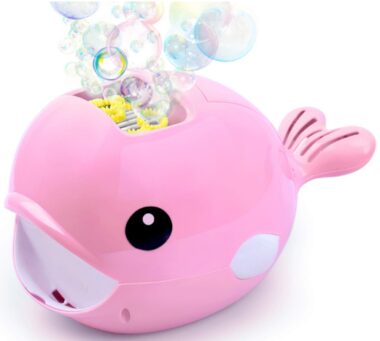 9. Toy Bubble Wands
Kids absolutely adore bubble wands and the bigger the better! You are sure to impress your little ones and their friends if you bring this set home. The amazing value bundle contains 24 jumbo bubble toy wands so you will have enough for all the kids in the neighborhood! At 14 inches long, the wands will produce big bubbles for children that are guaranteed to impress. The set contains four wands in each bright color: yellow, blue, pink, green, and dark blue. They are also the perfect bubbles for kids' parties, as the wands would make incredible and unique party favors.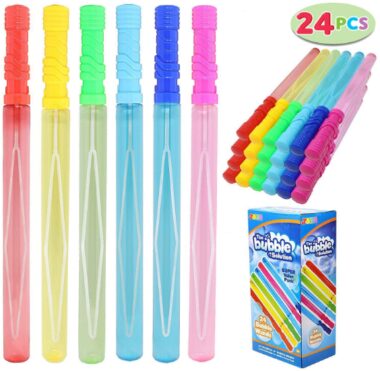 10. Toy Bubbles Wand Kit
If you are searching for the best bubbles for toddlers, look no further! This set of bubble wands from CosyBomB may look simple, but it is sure to provide hours of fun. It is perfect for party favors, cheering up bored kids, or simply having fun in your family's back yard. With an impressive 29 different wand styles, kids are sure to love exploring everything this set has to offer. From multi holed wands that produce hundreds of bubbles to mini heart and stars wands, there is something for everyone. Dip the musical instrument shaped blowers into the solution and shoot bubbles around the garden as you 'play'. The wands are made from non toxic material to ensure that they are safe for children to play with.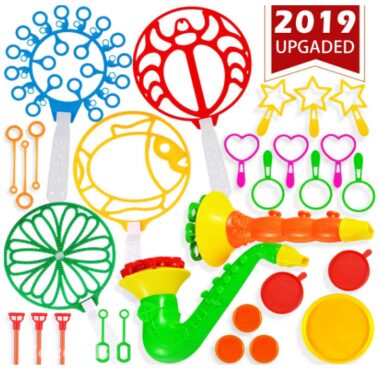 11. Light Up Bubbles Blowers
This light up bubble gun is really something special! It is super easy to shoot so would make a great gift for toddlers and little kids. They are sure to be amazed by the wonderful stream of bubbles that will come from this fun airplane shaped gun. As the bubbles shoot out, the built in LED lights will flash to add an extra element of joy to this cool toy. This durable bubble blaster is made from ABS plastic that is non toxic so it is safe for kids to use. Its diminutive size means it is very portable and easy to take along on a day out this summer!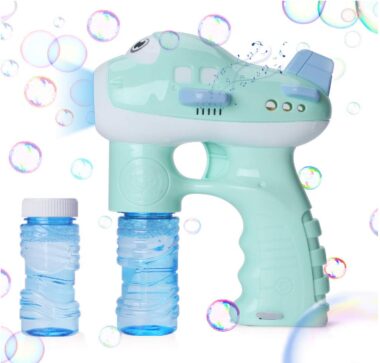 12. Dinosaur Bubble Shooter
Do you have a little dinosaur fan you would love to surprise? Check out this awesome dinosaur shaped bubble shooter, complete with LED flashing lights and dinosaur roar sounds! Simply screw the bubble solution bottle to the bottom of the toy and a continuous stream of bubbles will be produced at the press of the trigger. The box includes two bottles of solution so your little one can begin having fun right away. Kids will adore watching the bubbles light up with the flashing LEDs! This toy would be a great addition to your garden this summer.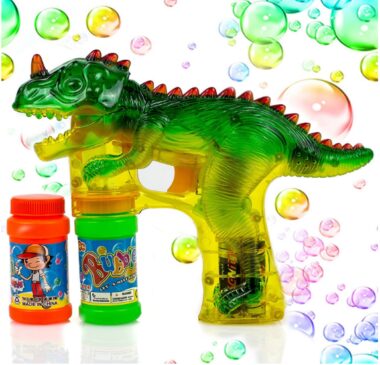 13. Kids Handheld Bubble Maker
This automatic handheld bubble toy from Tencoz will wow your kids this summer. With a high powered motor and 12 bubble blowing holes, your kids will be filling the back yard with bubbles in minutes! This maker features wide ribbed textured handles that make it easy for little hands to hold, so kids can use the machine independently. It is lightweight, which makes it portable so you can take it to the pool, friends' houses, even the beach. The bright purple and green design is sure to appeal to children as they blow over 800 bubbles per minute in all directions.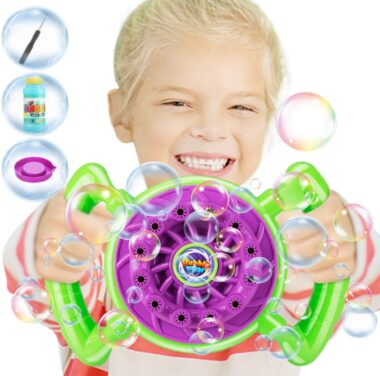 14. Lawn Mower Bubble Toy
What could be more fun than toddler lawn mower bubbles? The Bubble N Go Lawn Mower from Sunny Days Entertainment will surely delight any little kid. Toddlers can pretend to be just like mom or dad and push the mower around their back yard. The bubble lawn mower is powered by friction so it does not require any batteries. Your child will simply push it along the grass and watch as bubbles stream from the mower. The rugged tires make it look just like a regular mower and it even makes a realistic mower sound as it moves along, adding to the pretend play fun.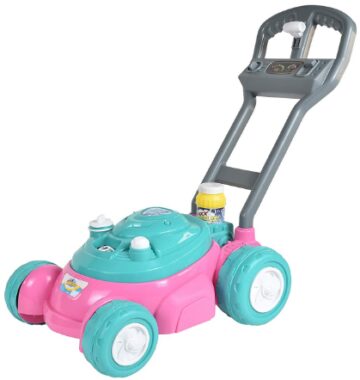 15. Melissa & Doug Bubble Tray
The Sunny Patch Verdie Chameleon Bubble Blower is one of our picks for best bubble gun for toddlers. It is incredibly easy to use so it is perfect for little kids who may struggle with a traditional bubble wand. This set includes a dipping tray, a blow through bubble wand, and a bottle of bubble solution. Toddlers are sure to adore learning how to dip the blower into the tray to coat the end and blowing through the hole to make the bubbles appear. Plus, the sweet chameleon design will really attract and engage little ones. Melissa and Doug is a trusted brand of toy makers so parents can buy with confidence.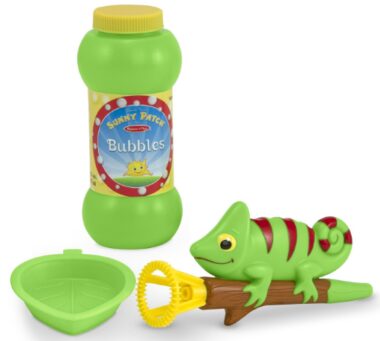 16. Gazillion Bubbles
If you are looking for a simple way to add tons of bubble fun to your home this summer, you will love this jumbo one liter bottle of solution from Gazillion. Sometimes the simplest options are the best choice and this will not disappoint! It comes with a seven in one bubble wand so your kids will be filling the yard with bubbles all summer long! Any parent will want to ensure their choice produces non toxic bubbles for kids, and the Gazillion solution is eco friendly as well. The super solution is specially formulated to produce big, bright, and colorful bubbles that will delight your family.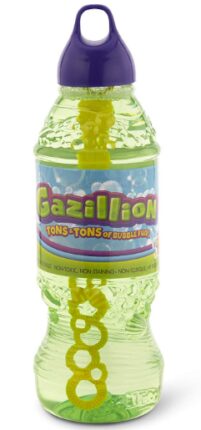 17. Frog Bubbles
This automatic frog bubble machine from Kidcheer is sure to bring joy to all your family gatherings, whether it is a picnic, barbeque, or party. The cute little guy blows clouds of fantastic bubbles out of its mouth and will delight all your guests! The portable size of this outdoors bubble toy means you can easily take it anywhere to add some bubble fun to your day. The eight bubble wands blow up to 500 bubbles per minute so even though this frog is small, it packs a powerful punch! It is made from non toxic ABS plastic that is durable and safe for children. Recommended for ages three years and up.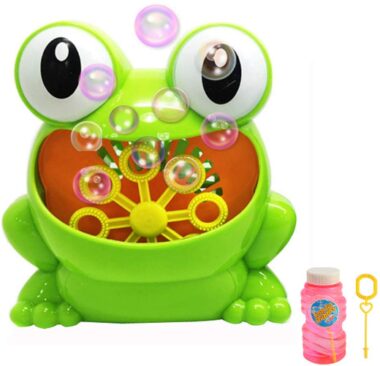 18. WisToyz Bubble Wand
This magical wand has to be one of the best bubble toys on the market. Its shiny details are sure to delight any little kid! This special wand for kids is very easy to use, your child simply needs to push the button and bubbles will start to appear within a few seconds. The bright heart shaped top features an LED light that can be switched on with a second button. Sweet music accompanies the light and bubbles for a truly immersive experience. This wand weighs less than a pound so is lightweight enough for kids to carry around. The wand can be used inside or outside.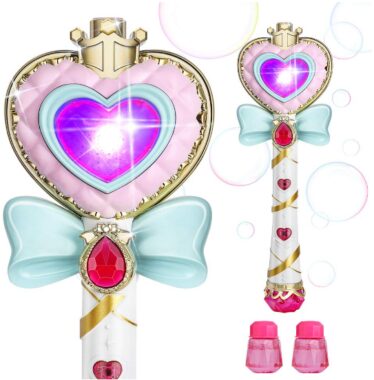 19. Kids Camera Bubble Blower
For a fun retro look bubble maker, check out this choice from Ebstuns. The battery operated camera shaped automatic bubble machine would make a perfect addition to your family home or back yard. It has a cute pink retro design with neon accents and fun details like a lens and flash. When the switch is pressed, you will hear a click sound like a camera taking a picture, and the lens will change color while the bubbles begin to appear. Kids are sure to love chasing the bubbles while they watch the lights change! The machine comes with two bottles of bubble solution so you can make the fun last all summer.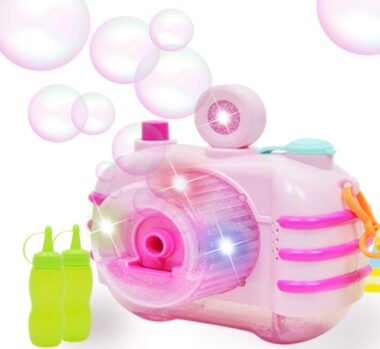 20. Outdoor Bubble Machine
This portable toy machine from iTeknic is super sleek and minimalist. Designed to be incredibly easy to transport and store, it has a lightweight design and features a removable carrying handle. It has two speed settings and is capable of producing thousands of bubbles each minute. The automatic bubble equipment also has continuous blowing modes for either 25 minutes or 30 minutes. It is made from non toxic and high quality ABS plastic that is safe and durable and features additional protection from rust. As an additional safety feature, the blowers stop moving if touched, making it easier to avoid injury.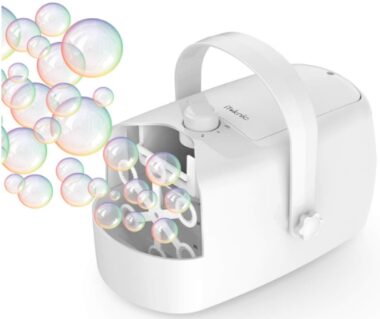 Best Overall Buy
We have presented a huge selection of the best bubble toys for kids and hopefully, you have now lots of inspiration as you shop! In case you are still stuck for choice, we will select our top overall pick for your consideration. We have chosen the novelty camera automatic bubble maker, which would make a fun and bright addition to your home or garden. Its sweet pastel and neon design is sure to appeal to kids of all ages. As well as producing up to 500 bubbles per minute, it makes sounds and music and has a color changing light up lens.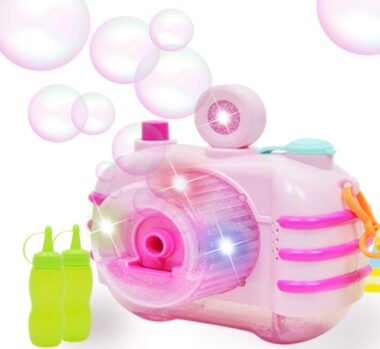 Best Budget Pick
If you are on a tight budget, we recommend the Fubbles No Spill Bubble Tumbler from Little Kids. Particularly good for toddlers and preschoolers, this bubble wand and tub features a patented no spill design so little kids can join in the bubble fun with less of a mess! This pack comes with three mini tumblers for under ten dollars so it is excellent value for money and perfect for kids' parties, play dates, or casual gatherings. If you are looking for safe bubbles for toddlers, this would be a great choice.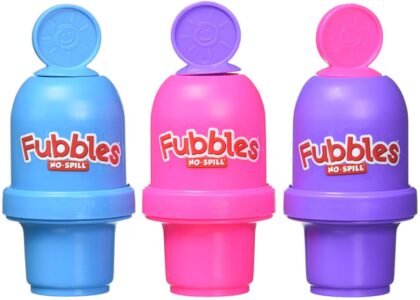 How to Make Bubbles for Kids

Homemade bubbles for kids can be great fun and are a good way to save on buying bubble solution. If you are making bubbles with your kids, you need just couple of ingredients. It is quick and easy so do not worry about running to the store next time you are out of solution! For basic DIY bubbles for toddlers, you can use water and dish soap, adding sugar or corn syrup. Try leaving the solution for a few hours to make it even better.
How to Keeps Your Kids From Spilling Their Bubbles

Cleaning up spilled bubble mixture can be a real chore. It is sticky and slippy and generally just hard to clear up! While you cannot stop your kids from spilling bubble solution, there are a few products you can use to make spills less likely. The Little Kids Fubbles tumblers are great basic bubble wands with a patented no spill design. Using an automatic bubble machine is another way to stop spills while enjoying bubble fun.
When Can Kids Have Bubbles?
It is important that you check the manufacturer age recommendations on the bubble products you select to ensure safety for your children. Many bubble makers are suggested for ages 3 and up but simple wands can be used by younger children under supervision. Just make sure they do not put the wands into their mouths!