A wonderful way to encourage children to play outdoors is with a playground sets for toddlers. If you have a big back garden you should definitely consider dedicating a piece of the land to a properly built playground to encourage them to be active, enjoy themselves, smile a lot and stay away from the TV. However, children grow and outgrow their playgrounds, therefore we would suggest getting a temporary playground for toddlers. There are so many companies that make kids play structures, so here we have summarized the best playgrounds you can find online, at your convenience.
Toddlers Climber With Slide
This is a wonderful colorful fun climber for toddlers of 18 months old to 4 year old. This playset for pre-scholes includes a slide, a crawl space and an activity area to play in. It allows 2 year olds to improve their motor skills as they climb all over this playground, plus develop their sensory skills as they play and squeeze the play balls and put them through the zig-zag maze.
We love how durable this climber for toddlers is and it only takes 15 minutes of parent's time to assemble. We recommend you to fill the ball game area with water and take this set outdoors to have a fun cooling playtime with your children on a hot summers day.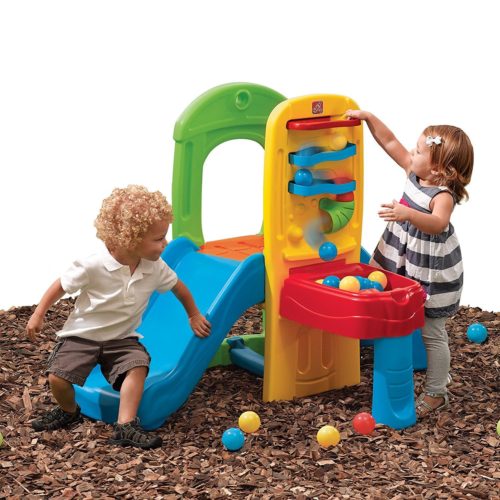 Clubhouse Climber Playground
This is the best quality Step2 clubhouse climber for 2 year olds. This toddler playground features a lot of optional play, such as hiding and crawling underneath it, sliding on two slides and running through the bridge connecting the lookout tower to the main clubhouse room.  You will be pleased to know that each detail of toddler play set has been well thought out to be kid-friendly. The kids playset features non-slip stairs to allow children to access the playground safely, easy-grip handles let kiddos safely pull themselves to the clubhouse and the whole clubhouse is made out of thick safe plastic material that all together weights about 200 lbs.
This is a wonderful outdoors playset for kids that can also be used indoors if you have enough room for a 70" height toddler clubhouse. We definitely recommend this as it only takes a couple of hours to assemble but the entertainment lasts indefinitely!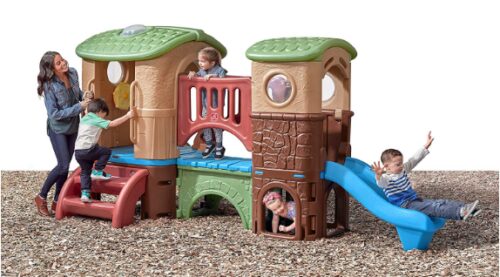 Toddler Canopy Playground with Patio
An open gazebo style kids outdoors playhouse that features a kids kitchen with grill and a sink with a faucet. This summer playset for children also includes a sand and water play area, making it perfect for any 3 year old. Kids can host their own garden party and invite all the kids in the neighborhood. A great feature of this toddler playground is that kids can play with it from inside or outside the gazebo, making it perfect for more than one child.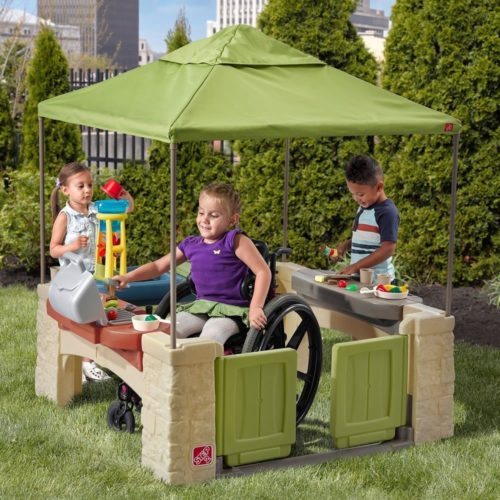 Roller Coaster Ride On Playground
A super fun and innovative children's playground toy rollercoaster for 3 year old children and older. We guarantee your child would love to turn the backyard into a mini amusement park. Kids will be able to have plenty of exercise climbing the stairs and resetting the rollercoaster seat which will also help with developing balance and motor skills. This playset is durable enough to left outside all year round and will be an instant hit at kids birthday parties.
Maximum weight requirement to ride this toy roller coaster is 75 lbs and kids should definitely wear a helmet for safety. This is a perfect toy to encourage children to go play outside and when they push the coaster car up the stars they kids will build strength and coordination.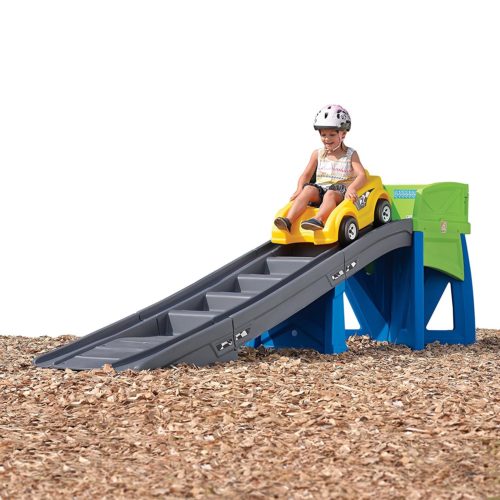 Step2 Skyward Playground
This Climbing Rock play toy is a straightforward rock climbing playset for children over the age of 4 years old. It is a very sturdy plastic "rock" material which is challenging for climbing loving kids. Features include two cargo nets for climbing, one floor net and nine grips to reach the top of the playground structure. Four climbing surfaces give children varying entertainment as they reach the top of the toy mountain to get the victory flag.
We recommend this kids climber to any girl or boy because it is the ultimate kids playground. You won't be able to keep your children off this kid-friendly structure. Be prepared to spend a big chunk of your day assembling this but it will be worth it, this is a very sturdy kids toy and will last you years. Another great thing about it is that up to 4 children can play on it! It is perfect for siblings that are different ages since 3 year old scan stay at the bottom of the climber and older children can climb up higher.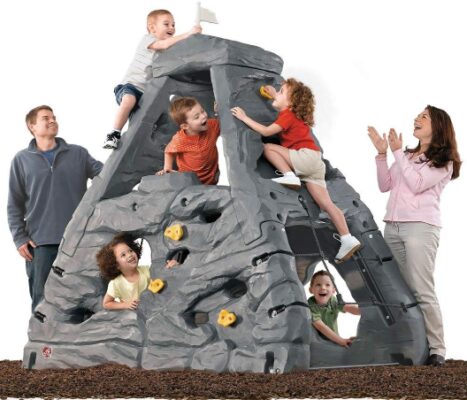 Customizable Tunnels with Tents Playground
A great indoors and outdoors kids playset with foldable pop-up tents and multiple tunnels, which guarantees hours of playing time. Completely customizable playground set allows children to create a different playset every day. A fun and engaging way to encourage active playtime of 3 year olds and older toddlers. This playset can become anything kids' heart desire – racing tunnels, mazes, magic caves or can be filled with colorful plastic balls to create a ball pit.
A quick and easy set up makes this play tent for children a great treat at kids parties or extra entertainment on a sunny day outside. Kids up to 7 years old will be able to fit in the tunnels and enjoy the fun activities this playset provides.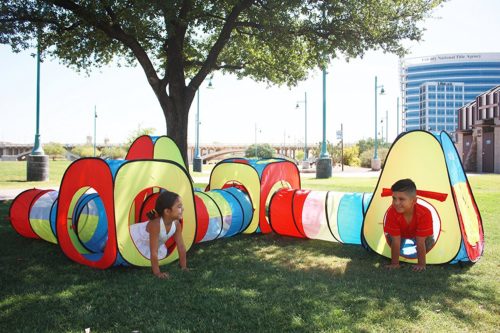 Toddler Foamnasium Playground
ECR4Kids toddler toys are an extremely well rated kids playground that includes amazing quality large shapes to play on, made out of antimicrobial and antibacterial foam. The shapes can create amazing unique playsets as it includes soft foam stairs, rectangles, triangles and two shapes that can be used as slides. It is easy to move the playset pieces as each one has handles attached so even children can move and drag them and change the playset whenever they want.
The playset shapes are covered in a non toxic easy to clean vinyl cove, so as soon as children start crawling at 7 to 9 months can start playing with it.  The foam forms and vinyl cover are durable enough to withstand even rougher children of 5 or 6 years old.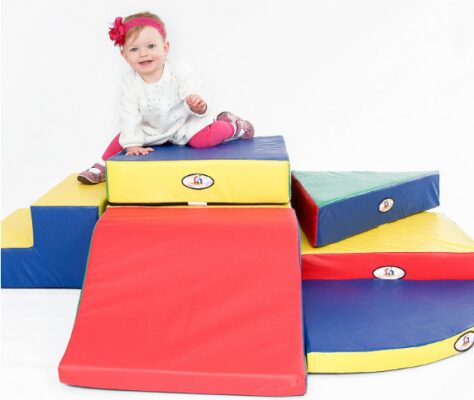 Pirate Boat Playground
This boat playset is a big hit with children as young as 2 years old and as big as 6 years old. A brightly colored pirate boat set for kids is perfect to encourage kids to be more playful and active. Fun fact about this kids toy, many kid hair salons, preschools and child care centers use this exact playground to keep children interested and occupied. This toy play set works every time and children really love playing on it, creating fun pirate stories and other nautically themed pretend games.
We love this very well made and detailed kids playtime set. It includes cute pirate details such as a movable steering wheel, pirate's flag, parrot and an anchor. There is plenty of room on the kid's ship deck for multiple children to play all at once. It is a wonderful toy that will take you less than 30 minutes to assemble and will last you years with such a weather and fade resistant design.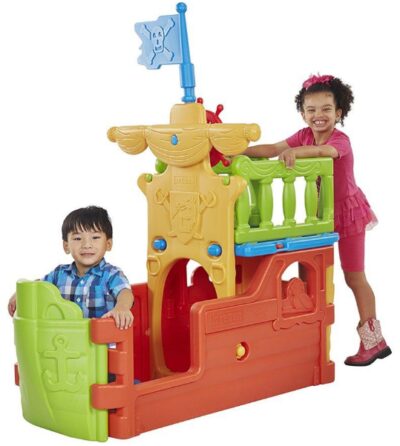 Best Overall Playground
This Step2 Skyward Summit playground is a unique kids activity set which will occupy your children for long periods at a time. Designed to look like a rock, make your kids feel like they are summiting a huge mountain which has a victory flag on the top for that sweet reward.
Very safe structure and perfect for active toddlers up to 8 years old.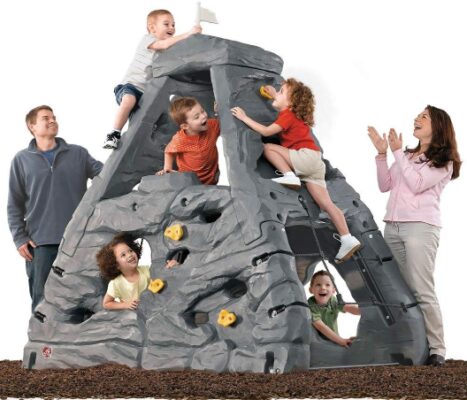 Best Budget Pick
Tent with tunnels is a classic kids play set that requires minimum assembly and can be disassembled very easily after a day of play. What we love about it is that it is completely hassle-free and kids love exploring the tunnels and customizing the shape since all the pieces are very easily movable. This kids playground is perfect for toddlers that love exploring and playing hide and seek. Plus you can turn this playset it into a ball pit!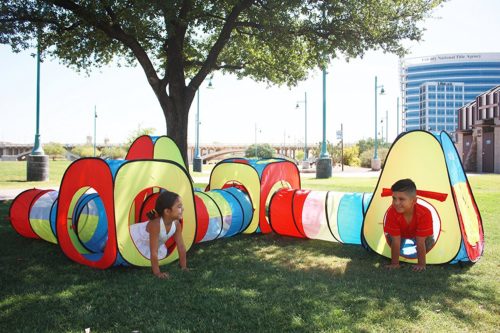 Things to Consider
As with any kids product, there are certain points to consider to ensure your kids enjoys the toy and is safe while playing. 1 year old toddlers need to be looked after much more attentively than a 2 or 3 year old toddler, which is why in this review we have put together a wide range of playground sets to help make an easy decision and ensure safety whilst having loads of fun.
Material
Playgrounds for children have originated from wooden garden toys and treehouses. Kids wooden playground is a classic way to get children outside. Play structures made out of wood are usually permanent and quite strong and sturdy. However, if it is an outdoors playground the wood needs to be treated and prepared accordingly to weather conditions as otherwise it will not last very long and put kids in danger. Another drawback is that wooden structures are much harder to assemble and if you are looking into building a big playground then it will require hiring builders to do it for you. A great alternative to wooden play sets is plastic play structures for kids. You might be concerned with plastic not being very durable or safe but if you are getting a plastic playground set form a well rated kids toy maker then you are guaranteed to get a very sturdy, thick plastic structure that is made from safe nontoxic plastic.
Age
There are different toddler ages to consider when buying an indoor playset or outdoor set. Some toddler boys are ready for walking and love to explore more than other toddlers, while a 1 year old toddler girl is maybe less ready to whizzz down a slide quite the same as a little toddler boy. There are age guides with each product and make sure to check with Amazon the fine-print before finally choosing one.
Safety
The main concern for any parent is the wellbeing and safety of their little one. Playgrounds are designed to be a safe play environment or children, but accidents can happen, therefore we suggest parental supervision, especially of younger and less coordinated toddlers. Make sure the playground set is not too slippery and is easy to grip so that the child does not fall off. If it is a wooden kid playset, then make sure it does not have any breaks and won't give your child a splinter. One last piece of advice, make sure your child can get through all the holes and crawl spaces since you do not want them to get stuck.