Winter is upon us! the jolliest but most bizarre weathered time of the year and we all know what it's like to be a parent of 5-year-old kids. it can be tough, but what really matters at the end of the day is whether or not you have managed to keep their cute little toes warm.
Well by reading this article we can assure you that you would have to worry no more as we have compiled a list of the best winter boots for 5-year-olds that we think will not only get the job done but get it done perfectly without a doubt.
Top Winter Boots for Kids – Review
1. 
Timberland Unisex Kids Premium Classic Boots


The first pair of 5-year-old children's winter boots that we have chosen to include in our list is the most famous of all time unisex kids premium timberland boots. I'm sure most this doesn't come across as a surprise to most due to these being a real top quality well-established brand to be seen most often during winter. however, it's all well and good to be well established but the real question is can they maintain all the suitable requirements for 5-year-old kids in order to meet their needs?
To begin with, the most important reason as to why you would go out to buy a pair of winter boots for five-year-olds is to meet the comfort and the protection at all times whilst the kid is wearing them, right? A
nd as for these famous boots, we would say that they surely do meet these needs as they are equipped with 200g insulation in the lining of them which helps to keep toes nice and toasty in the snowy weather whilst the Seam-sealed waterproof construction keeps the feet dry and comfortable when it begins to rain.
Also, one other important feature is the Full-grain leather upper to help with the durability of your kid's twists and turns as no parents like to see their kids grow blisters on the Achilles.
The choice of making them best suited to the appearance preferences of your kids is also there as these boots do come in different colors, with their most well-known color being a mixture of light and dark brown. with the kid's sizes, they can come in red, green, purple, brown, pink or black you name it. Therefore whether you're looking for a girl or a boy's winter boots, your 5-year-old kid will be well equipped to face the weather in style!.
The fact that they are made in a really wide range of sizes is another good thing about these boots because not every 5-year-old kid has the same size or shape of foot we all know that, so these are well prepared to match any type of foot as the sizes begin from as little as 0.5m for toddlers (equivalent to size 0 in the UK) all the way up to size 7m (equivalent to size 6 in the uk) with half sizes all the way through the chart.
On the downside of these remarkable winter boots, they can sometimes be a little tricky to put on once they have been used for a while and faced a lot of different weather conditions. Although they are designed for the horrible weather, they can also be cold and stiff after a long time of not putting them to use. this would be something to bear in mind as they are considered more as seasonal outerwear boots, therefore once the winter is over they may not be put to use for the next coming seasons.
This may not come across as a shock to some when we tell you that they may begin to feel uncomfortable under the feel if they are used to walking or standing with for long periods of time due to the hard soles that they are equipped with.
Last but not least, possibly the most important aspect to what you would consider when buying your kids winter boots is the price. this would probably be a disadvantage of these boots as the prices usually never change even during sale periods. This is because their features have real value and also they are a well-established pair of boots so there will always be demand for them no matter what the price is. however, the prices may exceed the shoe budget that less affluent parents would consider spending on boots for their kids which may be a put-off.
2. 
UGG Kids K Classic II Fashion Boot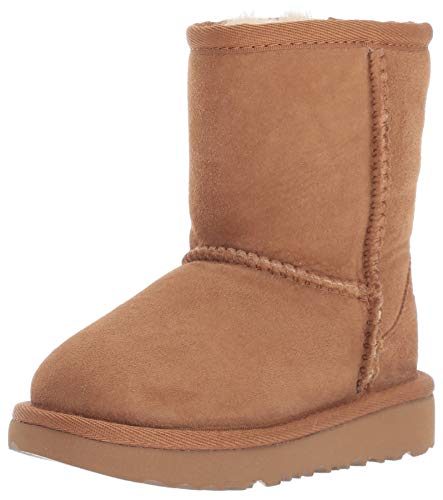 The second pair on our list would have to be the classic Ugg boots. whether we've had them or not, we have all at some point wondered what it was like to wear these boots and how comfortable they really are right?. Well, let us explain to you why you should possibly consider these for your kids.
To begin with, they're made from 100% leather on the outside with a pure wool finish on the inside, meaning they have a big advantage when it comes to protecting your kids feet from any water or ice getting through them. your kids would be able to step or walk through cold areas whilst still feeling as comfortable as walking through the carpet in the living room.
The fact that they are raised and designed to come up above the ankles is also a big advantage of these boots as not only would they be able to walk through deeper snow, they would also be protecting a much larger area of your kid's legs from any harmful sticking out objects as they play around.
over the past few years, these boots have been modified very much to suit more preferences of the people needs and to reduce the flaws that they had. for instance, they have been made much lighter so that they don't tire you when walking with them, they are much less slippery with a thicker grip suction under the sole and only for the kid's versions they have been made with an insole which no longer come out in order to maintain the quality of them even by your kids themselves.
As for these, they do have drawbacks to them too as you can never have a perfect pair of boots. It's all good and well to be walking about with them in the snow or the rain until it was to enter the inside of the boot. unlike other boots, these do not have laces on them which can not only possibly make it difficult to put them on for kids, but they have the disadvantage of not being able to fit tightly and comfortably around every type of leg.
This can possibly leave easy access for the rain and the snow to enter inside the boot, meaning the wool would soak up the wetness leaving the inside and to feel damp and cold for your kids. Therefore we wouldn't completely consider these boots as great kids' snow boots.
Another disadvantage of these boots is the price of them. you would think that a poid of really simple, laceless, one colored and one styled boot would usually be cheap but that's not the case with these boots. the 100% leather being put together with pure wool by fine nylon binding allows these boots to be sold at a very high price.
Although they have a really established brand, it may not be such a good idea to buy them as 5-year-old kids are at a peak growing age meaning they may only last them one winter, or a couple of weeks if we may say.
3. Hi-Tec Kids' Snow Peak 200 WP Jr-K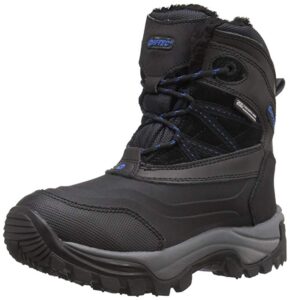 The Hi-Tech kids winter boot is not an extremely popular pair of shoes to be seen on kids, however, it has many benefits that are good to consider when buying a pair of winter boots if you're mostly concerned about protecting your kids feet. This brand may not be too well known but it can most definitely get the job done.
You can immediately tell from the first look of this pair of kids winter boots that they are made from a really thick sole and tough leather. These boots are designed to take on a lot of different rough surfaces and conditions for a very long period of time. This is because they are made from 100% leather and synthetic which are the strongest materials for boots and a 1.5-inch heel which would take a much longer time to wear off.
These boots are equipped with a fleece collar to add on extra warmth to your kids legs even during the coldest weather. Although they have really thick hard rubber soles, they still only weigh around 0.4 grams which means they wouldn't restrict your kids movement by making their feet feel heavier whilst wearing them in the snow.
Check out some other picks from Amazon also: