When it comes to buying gifts for a gymnast, it's always a good idea to choose something related to her hobbies and interests. So, it makes sense to look for gymnastic gifts and accessories. Whether she is new to the sport or has been practicing for many years, she is sure to appreciate some of these wonderful gifts for girls that we have picked out here.
There are ten great gifts to choose from, ranging from personalized items to equipment to help her practice at home. So, no matter what your budget, you are sure to find the perfect gift here.
Considerations Choosing Gymnastics Gifts for girls
There are a few things to think about in order to choose the best gymnastic gifts for girls. Let's take a look at some of the primary considerations.
Experience
First, think about how long the girl has been doing gymnastics for. If she is new to the sport, she might need some basics such as a leotard and a bag and a water bottle to take to class. For more experienced gymnasts, something to display her awards, or a mat or equipment to practice at home might be appreciated.
Type
The type of gift is another important consideration – think about what she needs. Perhaps she has outgrown her leotard, or maybe she needs a new bag to carry her things in because the strap broke. If you are not sure, ask her!
Budget
When choosing any gift, it's essential to set a budget in order not to overspend. We have picked out a range of gifts, from smaller 'stocking-stuffers' costing around $10 or less, to more expensive gifts for when you really want to treat your special little lady!
Personalization
Many gymnastics accessories can be customized, such as a bottle, a bag, or a jacket. Little ladies will love to receive something with their name printed or engraved onto it, and they won't get it mixed up with their friends' things during practice!
Top 10 Gifts for Gymnastics
We'll now take a look at our top 10 gift ideas for gymnastic girls. There's sure to be something here to suit everyone.
1. Personalized Gymnastics Water Bottle
The first of our gymanstics gifts is this personalized water bottle. Personalized items make a great gift and this flask will also make sure she stays hydrated during practice. It comes in two sizes – 19oz or 26oz, or as a 32oz stainless steel cup.
There are loads of options for customization – the flask comes in a choice of 10 great colors, there are many different fonts to choose from and almost 50 colors for the text and design. There's even the option to add up to four colors of polka dots, so you can really make this a one-of-a-kind gift.
With so many options, there is sure to be something here she will love. The top of the bottle flips up to reveal a straw for drinking from, so it's easy to grab a quick drink during a busy session.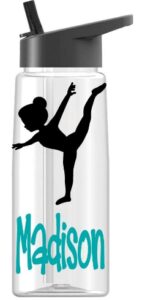 2. 3D Nightlight
Our next gymnastics gift is this cool nightlight, which glows in 16 different colors! It also comes with a remote to allow the color to be changed easily. There are different lighting modes – flashing, fading, or solid light. The lamp can be powered either using a USB cable or three AA batteries, so it is ideal for using even when access to a power supply is limited.
This is one of the best gift ideas for younger children as it is comforting at night and it doesn't warm up during use, so it is perfectly safe. The light is soft too, so it won't hurt the eyes – ideal for sleeping or resting. Any young gymnast is sure to love the design inside this fun nightlight!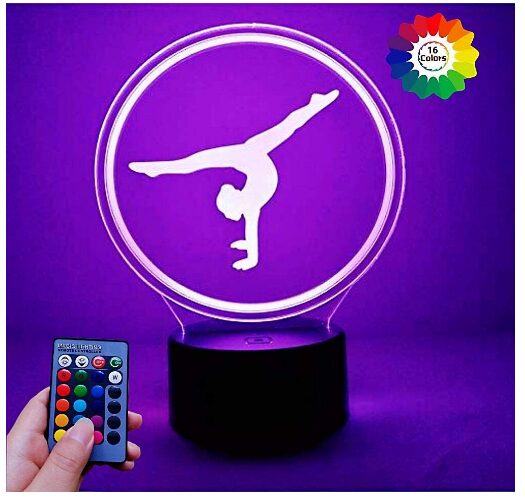 3. Personalized Gymnastics Typography Print
If your girl already has a lot of gymnastics stuff, you might need to look for something a bit more unique. This personalized print is perfect in this case! It comes in a choice of different color schemes and features the silouette of a gymnast along with gymnastics-related words all around. At the bottom of the poster, you can add the name of your choosing, to make this an extra special gift.
There are different sizes to choose from, so you can have a print as small or as large as you like. No frame is included, so it might be nice to pick out a coordinating one to make this gift even better for girls who love gymnastics!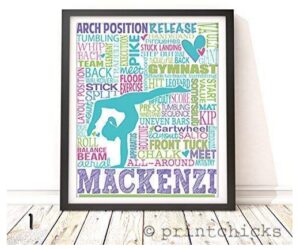 4. I Do Gymnastics Everywhere T-Shirt
T-shirts always make a great gift and this one is perfect for a gymnastics girl! It comes in a choice of eight colors including various shades of pink and purple as well as red, black, and more. There are four sizes to fit youngsters from the age of around 6 to 16 years old, however, sizes run small so it might be a good idea to size up.
The shirt is made from 100% cotton and is pre-shrunk to ensure it keeps its shape and size after washing at home. Gymnasts will love the design, which reads 'I do gymnastics everywhere – at school, at home, at the gym'. It's perfect for showing her love of the sport to the world! The shirt is soft and comfortable and she is sure to want to wear it everywhere!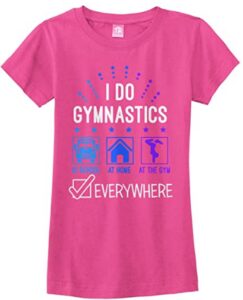 5. Zenova Gymnastics Tumbling Mat
If you are looking for girl gymnastics gifts that she can use to practice at home, this mat is a great idea. It is made from two-inch thick, high-density EPE, which makes practice comfortable. The cover is made from PU material which is waterproof and easy to clean, so the mat can be used over and over again without getting damaged. There are a few different designs to choose between – bright pink and lilac with different patterns, so you're sure to find something here she will love.
The mat measures 4′ x 8′, and has Velcro on two sides so multiple mats can be joined together to create a larger practice area. The mat folds into four sections – ideal for storing it away when not in use. There are also carrying handles on either end of the mat so it can easily be transported.
6. Inspirational Cushion Cover
Cushions are great gift ideas – little ladies love having cute and cozy items like this in their bedroom. This cover (the insert is not included) measures 18″ x 18″ so it's perfect for sitting on a bed or for getting comfortable on a chair. The zipper is hidden so as not to be unsightly, and the cover is washable so it can easily be cleaned if something is spilled on it.
The design appears only on the front of the cushion cover, the back is plain. The text reads 'jump off the beam, flip off the bars, follow your dreams and reach for the stars', so it's sure to be inspirational for any young girl. Simply fill it with a nice plush cushion pad and she will love resting and getting comfortable with her very own gymnastics cushion.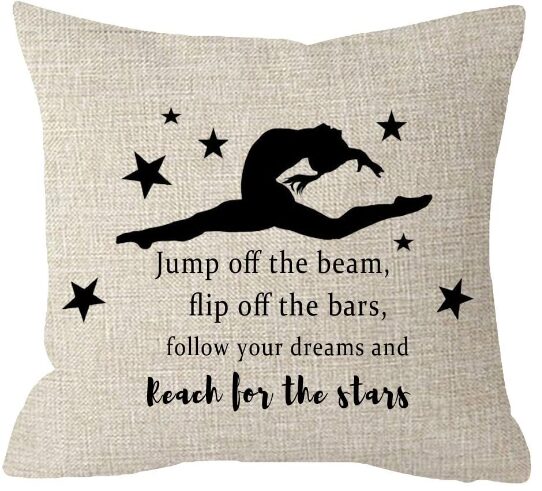 7. Infinity Collection Bracelet Gymnastics Jewelry
The next of our gymnastics gifts is this cute silver-plated charm bracelet. It comes with four charms on an extendable wire bracelet – it fits most sizes easily. The charms include one which reads 'I love gymnastics', one disc engraved with 'she believed she could so she did', a sparkly heart, and the silhouette of a gymnast figure.
A pouch is included to make sure the bracelet is easy to give as a gift, and this will also protect it when it's not being worn. There aren't any clasps or fastenings on this bracelet, so it's easy for children to put on and take off by themselves.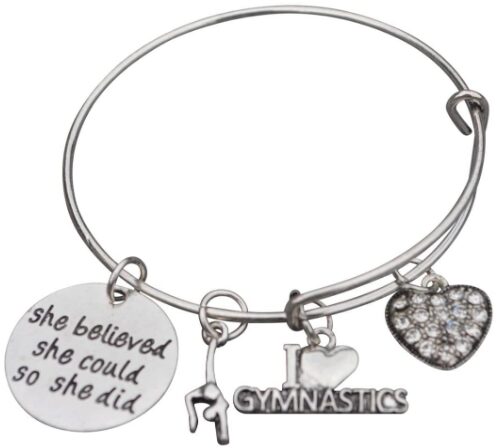 8. Ninja Sports Grips
Any gymnast starting out on the bars will need some grips. These are inexpensive for newbies, so you can make sure they are going to stick with it without wasting a lot of money. There are different sizes available, and you can measure the length of the palm of the hand to ensure the correct size is purchased. Wristbands are also included with the gymnastics grips. Depending on the age of the child, the grips might be a bit tricky for them to put on by themselves, but they will get there with a bit of practice.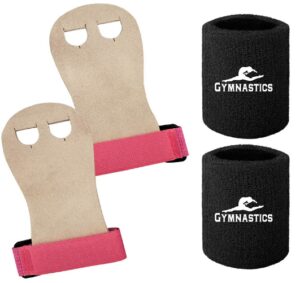 9. Hoziy Rainbow Cats Leotard
Our penultimate pick is this awesome leotard, but don't worry if this isn't to your little girl's liking, as there are plenty of other designs available to choose from. This is one of the best gift ideas for young girls who love gymnastics, as the smallest size available is 2-3T. The biggest is 9-10 years, so there is something to fit most little ones.
The leotard is made from polyester and spandex and is styled like shorts at the bottom. To clean it, the leotard should be hand-washed, or washed in cold water in the washing machine, before being hung to dry out of strong sunlight. The fit of the leotard is perfect and there are so many cute and colorful designs to choose from. Even the gymnastics coach is sure to be impressed with the quality of this great leotard!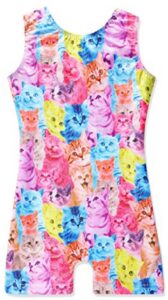 10. Infinity Collection Hair Ties
Finally, we have some of the cheapest gymnastics gifts – some cute hair elastics which would make great additions to her personalized gymnastics bag. There are five hair ties in the set and they are designed not to crease the hair. So, when the ponytail is removed, there won't be dents in the hair like there is with traditional hair ties.
These would make great party bag gifts for a gymnastic themed party. They can be worn as bracelets as well as hair ties, so they are very practical. They're great for keeping the hair out of the way during gymnastics practice. There are a few different designs to choose between from the same brand, Sporty Bella, including some fun and colorful options your girl is sure to love.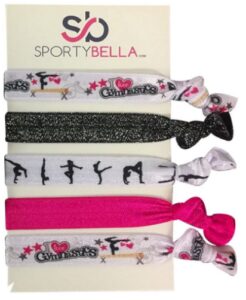 Best Gift Overall
After looking at 10 of the top gymnastics gifts, we have picked our favorite of all. The gymnastics poster is the one that stands out above the others. Whilst it won't fit in her gym bag, it's a great way to remind her of her favorite hobby when she isn't at practice! She'll love having her own name added, and there are different color schemes and sizes so you can easily find something to suit.
Best Budget Gift
The personalized bottle is our favorite of the above gymnastics gift ideas if you're on a tight budget. We love the range of custom options such as the color of the bottle and the text, as well as the fact that the child's name can be added to the bottle. It will make an excellent addition to her gym bag, and she won't lose it if it has her own name on it!
Gifts for Young Girls who Like Gymnastics?
Most of these gifts are suited for kids of all ages. If you are buying for a younger girl, something like the nightlight or the t-shirt is sure to be lots of fun for her.
Where to Find Gymnastics Gifts?
These types of gifts are somewhat niche, but for convenience, you can buy all of the above items from Amazon. Simply click on the link below each product, and you will be taken to that item's purchase page. It might also be possible to find something suitable on a website or at a store specializing in customized gifts. Some of the more basic items such as leotards can be found easily in many stores selling sports equipment.