Wondering where to buy shark toys? Look no further! If it is a new gift or toy you are looking to get for your children then there is one that is selling everywhere and kids are loving, it's… sharks stuff! Shark gear is exciting for kids and the large sea predator captures the imagination of children and adults alike.
Kids left to there own devices will soon turn your house into a shark-infested area with all the different shark items we have reviewed. The love and enthusiasm for the deadly creature will get them excited, from playing with their shark themed toys to using their imagination with these amazing sea creatures they are guaranteed some fun.
When it comes to shark gifts for children there are a few considerations you may want to make rather than just buying the first thing that you come across.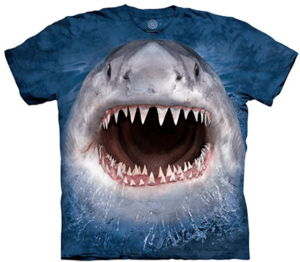 Considerations When Choosing Shark Toys & Gifts
Budget – Budget is always something to think about when it comes to any kind of purchase. There are big shark toys ranging in size and come in all different shapes and categories so when it comes to the price it is definite that you will be able to find something that is in your price range.
Age – Age range can sometimes be something that is overlooked when it comes to gift buying, but it is something that kids can be affected by. Buildable toys with smaller parts and harder to read instructions can be frustrating for kids to follow if they just aren't at that level yet with their development, and the opposite thing can occur when toys are too easy for kids, they will become bored and uninterested quickly.
Design – The design of the toy or the style can really come into play with how your child likes to interact. If they love imaginative role-playing games then figures and models can be great, but if your little one loves anything that is buildable then LEGO shark sets can be great, and wooden building kits.
If you like robots and Remote control shark gadgets then check out these amazing flying shark toys!
22 Top Shark Gifts in 2023
1. Evoish Large Plastic Shark
The shark figures in these sets have a completely natural appearance, as each model has been hand-painted by professionals for a highly detailed and realistic finish. Ideal for educational play, these models sit in active poses with true-to-life details. Made from high-quality, environmentally friendly PVC which is strong, durable, and washable, an absolutely great gift for kids who have an interest in sharks or dinosaurs. The model is a good size, measuring 10 inches in length, and 3.7 inches in height making it a good size model to really let your child take a hold of.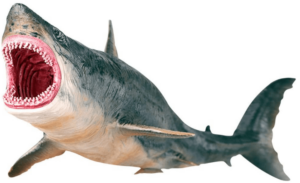 2. Shark Night Light
Shark gift ideas come in all shapes and sizes, and this lamp is a great example that your little ones will love. The night light has been produced with 3D technology creating an optical illusion that has a fully realistic 3D shark design.  The nightlight comes with remote control and also touch control allowing 7 different adjustable colors to choose from. The shark can be chosen to stick to a certain color or switch in a gradient of changing tones lighting up any room in your house. With multi connectivities, this lamp is great, powered by either 3-AA batteries which will need to be bought separately or use a USB cable connecting the lamp to a PC, Laptop, or home adaptor plugged straight into the wall. An amazing, creative way to decorate and light up your children's room.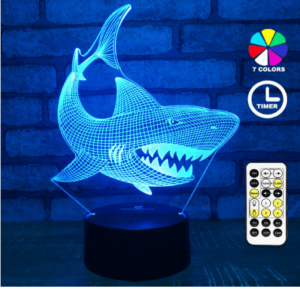 3. Shark Bite Game
In this amazing shark bite game players will take turns in fishing for colorful sea creatures by rolling the die and using the fishing rod, but be careful as you never know when the shark will bite. No batteries are needed in this unique shark toy for kids, just snap the colorful sea creatures into the shark's mouth and start fishing. There is an intermediate skill level placed on this game so it has been aimed at kids aged 4, promoting group play ideal for 2-4 players.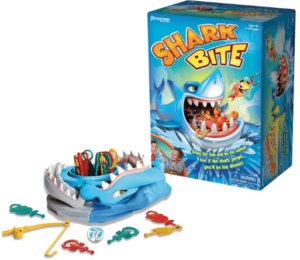 4. CozyBomb Shark Tail Blanket
The shark tail blanket from CozyBomb is made from fleece-like material that is warm and durable saving parents from any rips and tears as this blanket will endure any intense dragging or pulling when your little ones are playing around. The warm material is guaranteed to keep your kids comfortable and cozy with a super soft feeling provided. A family favorite fitting kids from age 3 to 15 yours of age being able to provide that comfortable cover up to 5 feet, perfect for sleepovers and camping. The tail provides a safe comforting space and your kids will love the idea of acting like they have been eaten by the funny shark. Comes in an array of different colors, perfect for all different children.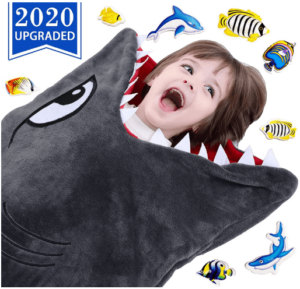 5. LEGO Shark Toy Set Creator 3-In-1
Your little ones can create their own animals with this 3-in-1 buildable set from LEGO. Featuring 3 sea creatures, they can start by building a flexible toy squid, a giant-mouthed Angler fish, or a scary shark with a crab. This is the perfect toy for imaginative play, as the buildable animals include a shark design that has an opening mouth, posable fins, pointy teeth, reflective eyes, and moveable fins making it an amazing action toy for your kids. This set will provide hours of pretend play fun, building 3 different LEGO Creator figures. Including 230 pieces that are ideal for both boys and girls making a great birthday, Christmas, or holiday gift. Targetted at children aged 7 and above, due to t the small pieces and sometimes difficult instructions. LEGO products are great for your child development, providing hand-eye coordination, motor skills, and following instruction skills that will all be great later on in life.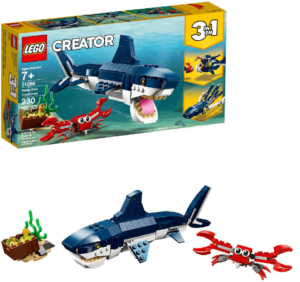 6. Camelbak Shark Water Bottle
We all know kids can be messy when it comes to food and drink. The spill-proof water bottle from Camelbak is a 0.4-liter kid's water bottle specifically designed for smaller hands, made from high quality, safe materials that are easy to clean. The patented big bite valve from Camelbak is great, it has a stem tube and shut off valve that is completely detachable making this all in one component simple for kids to use and for adults to clean. The bottle is a light 12-ounces which is ideal for children to hold and is made from Tritan plastic that is safe non-toxic and is completely dishwasher safe, with all external parts being removable for easy washing. The amazing shark design is bright and colorful making this waterbottle really inviting for children to use, keeping them hydrated on those warm summer days.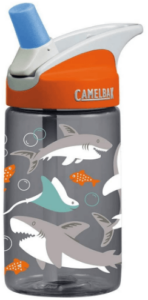 7. Kids Shark Sweater
This amazing kids shark sweater has cotton, polyester blended material made for everyday use which ensures high quality, fit, and comfort. It is a machine washable jumper with a classic crew neck style. The elastic ribbed cuffs ensure that warmth is locked in, keeping your little ones toasty on those cold days. Easy to clean, practical, and stylish which is everything you want in a jumper for your kids.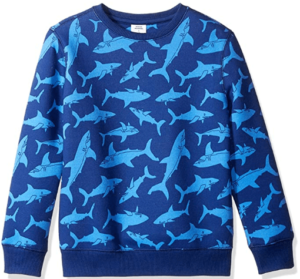 8. Mountain Shark T-Shirt
Made in the United States from 100% Cotton, this shart t-shirt looks amazing. Easy to clean as it is a machine washable shirt. The cotton that has been used is pre-shrunk which will keep your mind at ease using the washer and dryer. Mountain is the pioneers in achieving these ultra-realistic photo printed shirts, developed, created, dyed, and printed in Marlborough, NH.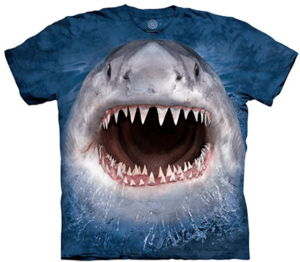 9. Wooden Shark Puzzle
This wooden shark puzzle and model has been made with smooth strong pieces of wood that have been laser cut in a high-quality way making sure there are no toxic elements to the. pieces. The smooth puzzle comes pre-cut on wooden boards which are easy to assemble and require no use of glue. The flat wooden sheets are 1/4 of an inch thick and provide a DIY experience with amazing detail. The kit comes with clear instructions, and the easy pop-out pieces make sure that there is no struggle for your kids to use and interact with this buildable model.  The perfect gift idea for Christmas or birthdays to any little shark enthusiasts, or even just kids who are hands-on and love to build and create.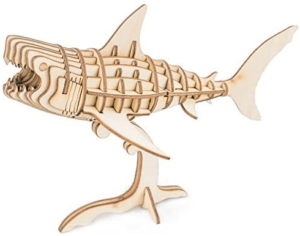 10. Kids Shark Hoodie
Kids who've sharks will love acting like one in this shark hoodie. Made from a cotton blend this hoodie is hand washable, machine washable, and dry clean ready giving lots of different cleaning options to get rid of those nasty stains. Nice cute design perfect for kids both boys and girls. The hoodie has long sleeve length and elastic cuffs to keep the warmth inside. Ideal for kids up to the age of 6, the shark tooth design is soft and won't harm your children at all.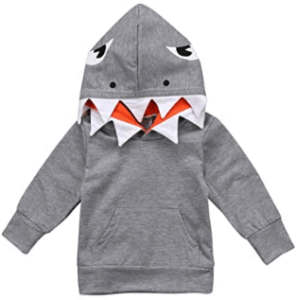 11. Toddler Shark Socks
These shark socks for toddlers will be their favorite every morning getting ready for the day. Made from combed cotton which is around 72% cotton, with a hand sowed head seam for that quality ensuring touch right where it is needed. These socks provide gentle support with a comfortable fit and feature a moisture-wicking heel providing well balanced, soft foot care. A regular thickness so maybe not ideal for these winter days where a more thermal sock is desired, but these socks are comfortable and soft, perfect for daily wear.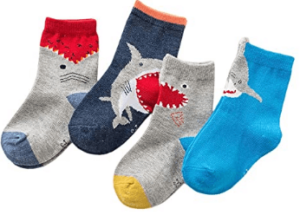 12. Stephen Joseph Pop Up Shark Umbrella
Making rainy days more fun than ever with these fun umbrella design from Stephen Joseph. they produce lots of different characters t choose from, most favorable the shark design. The 3D umbrellas bring characters to life, encouraging your child's imagination to let your kids love being out in the rain with their new friend to protect them from getting wet. A curved handle design makes it easy for kids to hold and is also great for storage making it tight and compact. The easy-open mechanism makes staying out of the elements quicker than ever, and when the sun comes back out, closing the umbrella is just as easy. Perfectly sized for your little ones measuring 22 x 27 inches when opened, easily manageable by themselves. High-quality material has also been used for these umbrellas, assuring that no rainfall will seal through.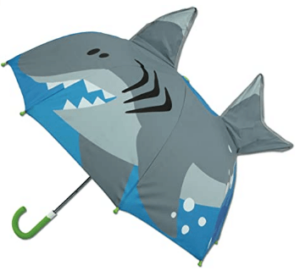 13. Drawstring Kids Backpack with Shark Image
These drawstring backpacks are made from high-quality polyester fabric. It is non-toxic, durable, and easy to clean as it is machine washable. The drawstring design is easy to use, leaving no worries about missing any items you have packed, as they will be secure in the bag. The shark design will attract your little shark enthusiast. perfect for school trips, outdoor activities, home storage or the supermarket.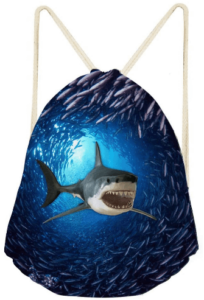 14. 4D Vision Great White Shark Activity
This shark toy model is great for kids who want to learn the entire ins and outs of these amazing sea creatures. The model is a 13″ long, 4D Great White Shark containing 20 detachable body parts and organs. Your little ones will be able to remove the shark's organs and bones, then replace them as they learn the anatomy of the stunning great white shark. When the construction is complete the box comes with a platform for easy displaying. The box also includes an assembly guide with full illustrations, descriptive text of the anatomy, and your kids can test their knowledge with the fun Q and A's inside. All the parts are beautifully hand-painted making this shark look incredible.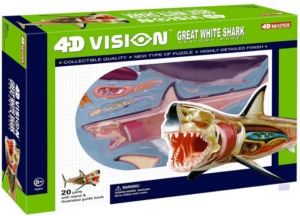 15. Shark Shirt For Sister
This shark shirt is made from 100% cotton, a comfortable fit including the classic crewneck style, and purposely softer material for younger child more sensitive skin. This is the perfect way to announce that your daughter is going to be a new sister in a fun, novelty way. An all-round great gift for your loving sister, and it is great to know that there is a 100% money-back guarantee so you will not be disappointed or your money back.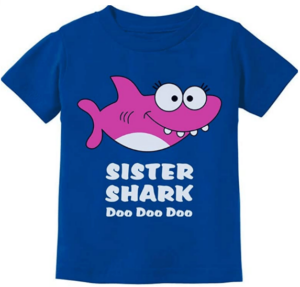 16. Night Light Projector
This amazing kids nightlight projector comes with 2 designs in one including a moon and stars scene and also an ocean night scene. With easy controls, 3 buttons are positioned on the underside of the projector: a power switch, the middle button which changes the kinds of different lighting effects available providing 8 different choices. The final button is the sunlight mode and the rotation button, with different procedures taken to do different things. Press once to start rotating, press twice to turn on the warm light, press 3 times to stop the rotation, and press a final 4th time to turn off the light. The rotation motor is quiet, so the projections on the ceiling around you moving around the entire room are peaceful and relaxing. Powered by either 4 AAA batteries for on the move, or by USB when you have found a fixed position for this amazing projector. An amazing underwater gift or astrological gift piquing interest from a lot of different people.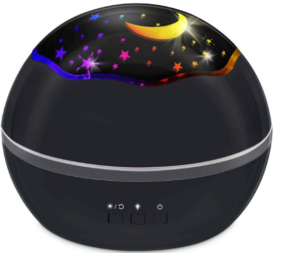 17. Smithsonian Museum Shark Craft Kit
With the Smithsonian Museum Craft Kits, your young ones will combine creativity, learning, and discovery in a single exciting artistic adventure. They will start by mixing the casting material inside the 'mix and pour' bag and then pouring it into the shark-shaped molds. The set comes with an activity book which is a great way to have fun while the cast sets. When completely set, unmold the creation, paint them, and set them in front of the background included for great display results. Build a Thresher shark, a Hammerhead, and a mighty Great White with this fully engaging gift aimed at children aged 6 and above.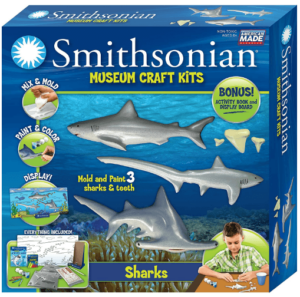 18. Ahegao Pullover Shark Sweatshirt
The wonderful shark pullover hoodie from Ahegao has been made from a silky, super comfortable material that will not fade when washing which is something a lot of parents will love as children's clothes can need more cleaning with their messy habits. The Polyester and spandex mix makes for a breathable lightweight item of clothing. The design has sharks all over in loads of different colors bringing a really stylish finish. It features a hoodie with a crew neck design, long sleeves, and a big front pocket. Ideal for children of all ages as there are a lot of different sizes that are available, so if sharks are something your child is into then this could be the perfect item of clothing t get for them.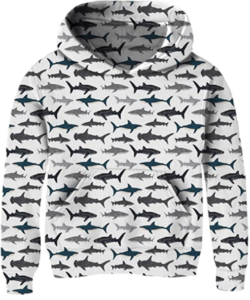 19. Silver Lilly Shark Tail Blanket
The Silver Lilly animal tail blanket will be your kid's favorite, measuring 60 x 23 inches wide this is the perfect blanket for your little ones. The blanket's shark design will look like the user is devouring them with the teeth, eyes and mouth providing a ferocious look. The blankets fleece-like material is soft and cozy, providing the ideal amount of warmth, not being too hot inside. Strong and durable materials have been used letting this blanket withstand loads of adventures your child will go on. An amazing gift for any little shark lovers out there, and one they will enjoy for many years.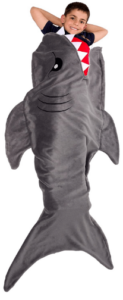 20. Great White Shark Fleece Blanket
Shark gifts for kids are amazing, and this fleece blanket is great. A super-soft warm and cozy throw which is extremely durable. Printed with vibrant bright colors, this blanket is perfect for home use or outside for picnics. A great size measuring 50 x 60 inches all together. This amazing blanket is also easy to clean, as the polyester is machine washable, not effecting the size or shade in any way.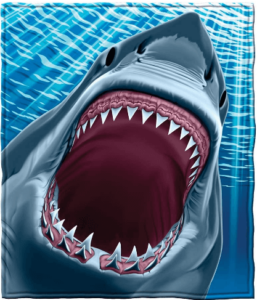 21. Durio Baby Shark Hat
Durio have produced a baby bucket ha that is perfect for your child who loves sharks. It is made from 100% high-quality cotton that will keep your kids head soft and cozy. Suitable for children between the ages of 4 and 8 the reversible design makes this hat good for loads of different outfit choices, giving more matching options. The hat features a wide brim that is perfect for protecting eyes from the sun, and also a chin-strap that will keep the hat firmly on your child's head. The material that has been used is good for 50+ UPF protection, shielding the eyes, neck, and face from strong sunlight. perfect for traveling as the material is also super-lightweight and compact. This bucket hat will be brilliant for camping, holidays, fishing, just about any outdoor activity giving you one less thing to worry about regarding your child's safety.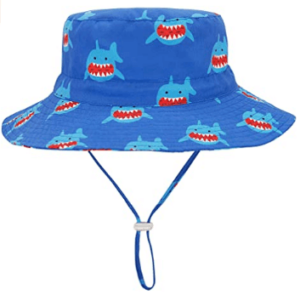 22. Stephen Joseph Quilted Shark Backpack
The quilted backpack from Stephen Joseph is a 12-inch shoulder drop bag with full zipper closure. It is functional and fun coming in exciting colors with lots of characters available, making this bag super stylish as well. This bag has loads of unique features making it a step above just a regular backpack, including zipper pockets, cool embroidered designs, and a zipper pull that looks great. The adjustable straps make this bag great for kids changing with their own growth in their younger years. High-quality material makes this bag flexible and durable lasting after lots of use, another great thing is that this bag is completely machine washable making cleaning easier than ever with no worries of losing the shape, or fading of colors happening in each wash. The spacious design gives plenty of room to kit all the things you need, and the magnetic snap drawstring closing feature will make sure that your belongings are safe and secure.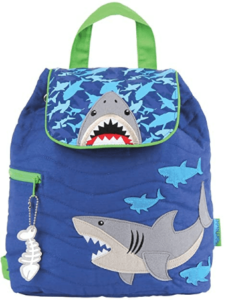 Best Gift Choice
The best overall gift for us is the LEGO 3-in-1 sea creature set. it provides lots of fun from hands-on building play to role-playing imaginative fun when you have complete the models. LEGO is also an educational tool perfect for children in those developmental years, learning skills that will set them up for different things later on in life.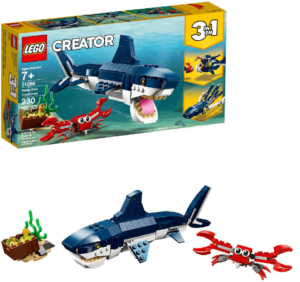 Best Budget Gift
Our best budget buy is the fleece great white shark blanket. it is made from strong durable material that is soft to touch. The good size of the blanket will keep your little ones warm and fully covered, and the design looks amazing. Materials used ensures when washed there will be no change to the shape and size of the product and that there is no fading in the coloring of the blanket.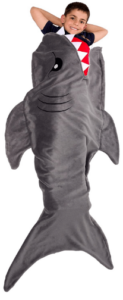 Where to Buy Unique Shark Gifts?
Shark gifts can be bought in a number of different places, such as the high street and local toy shops, but our advice is to search online. this way you can read reviews and personal accounts of people using the product you like, providing a more natural and honest opinion of the product. Amazon is great for this kind of thing, providing lots of reviews and product descriptions enabling you to do your own research on whatever you are thinking to buy.