Boys that are turning 16 years old are great to choose presents for, there are loads of types of toys and games for boys this age, which makes buying a gift easy.
At age 16, boys are becoming independent and are eager to do what they weren't able to do when they were younger. At age 16, he might be ready to have his first pool party or get a part time job for responsibility. Your son might also be thinking about learning to drive or he might have his first girlfriend.
Although there is plenty of choice for boys this age, getting them a gift can be difficult because when asked what they want, they often reply with an "I don't know". However, this response could be deceptive as they already have developed interests in various items and fields of life.
If you are on the lookout for a suitable gift, our 21 best gift ideas for 16 year olds has got you covered. No need to be frustrated over the numerous items on the internet – take a look at our 21 shortlisted items which any teenage boy would love to own.
Best Gifts Ideas And Toys in 2023
#1 Nightime Games For Youth – Capturing The Flag
If you are searching for something which would be fun to play at a 16th birthday, this could be your perfect choice! It is a far better option compared to lawn games, LED balls, paint ball or even air soft balls.
Featuring over 30 fun game pieces which light up and over twenty hours of battery life, kids are guaranteed to enjoy playing with this night time game as it involves chasing, hiding and seeking. Playing this game helps encourage teens to be active and also promotes teamwork. Adults will also enjoy and benefit from this game!
The game can be played anywhere there is enough open space. It is a good game option during sleepovers, sport team events, family reunions, summer camps and many more outdoor events.

#2 Outlaw Drone
This high powered GPS drone is a great starter drone for your 16 year old son or grandson. Drones can be such an exciting gift to receive no matter what the holiday is!
Since the Outlaw SE includes GPS features, it's a lot easier to control and stays stable throughout the duration of its flight. Plus, if you know a boy aged 16 who likes photography, they will really enjoy the Outlaw SE's built-in 1080p HD camera that can capture high quality photos and videos while they're in flight!
If you know a teenager with a drone on their wishlist, the Outlaw SE is a great choice for a gift.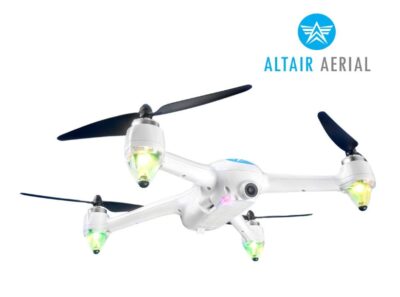 #3 RC Speedboat
It's no doubt that most boys love being outside. Give them the gift of an RC boat so they can continue enjoying their time outdoors and on the water. 
The Aqua is a stunning, bright red boat that can reach serious speeds on the water. Your son or grandson can take it to the pool, the park, or even the lake and have fun with their friends. The boat comes with two 10 minute batteries to give them double the boating time which means more time enjoying their gift from you!
Don't miss out on giving this exciting RC boat as a gift for the boy around 16 years. They are guaranteed to love it!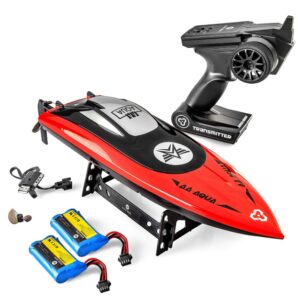 #4 Porsche 911 LEGO TECHNIC GT3 RS
Playing with this toy comes with several benefits, such as encouraging creativity and an interest in the field of engineering. It comes with so many interesting parts, including red suspension springs, life-like orange body work, low profile tires, taillights, headlights and more. There are over 2700 pieces in all, which makes this a great LEGO set for teenagers and even adults.
It also comes with a Porsche GT and LEGO special collector's history book with over 500 pages. The pieces of this kit can be used with any other LEGO construction sets for more creative building. However, it works best on its own, and it makes an excellent collectors item when finished.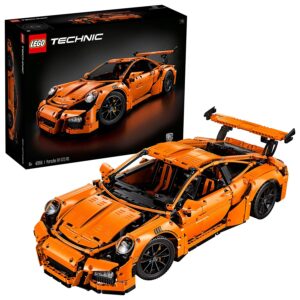 #5 SX500 Razor Dirt Electric Motocross Bike
The Razor SX500 Motocross dirt electric bike is every young boy's dream ride which can be used even for off-road riding. It is powered using a scaled down and powerful battery which guarantees long hours of fun while riding. There are several amazing features of the SX500 razor dirt electric motocross bike and they include throttle twist grip control, chain driven motor, single speed, extremely quiet operation and more.
One feature that makes this bike outstanding is it doesn't require pedaling and can reach a top speed of 14 mph. It is the ideal gift item to offer a boy who is interested in motorcycles but can't yet have a 'real' one.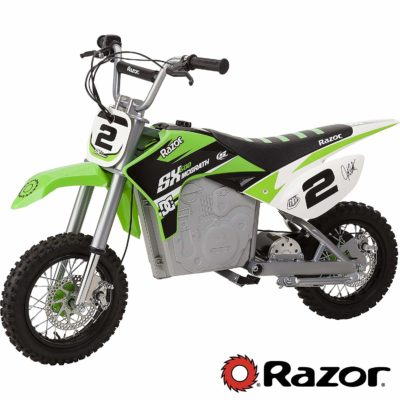 #6 Important Decisions You'll Ever Make: Teen Guide
Written by Sean Covey who is also the author of "seven habits of highly effective teens", this book is aimed at helping kids to overcome some of life's early stage challenges. These challenges includes planning a career, succeeding at school, coping with substances, knowledge on sex, making friends, dealing with parents and gaining self esteem. So, it's great for teens who find it difficult to talk to their parents about these matters.
The author of this book clearly understands the confusion and pain most parents and teens undergo everyday. In order for kids to be more productive and effective, Sean Covey provides teenage readers with seven habits to help deal with these problems. This book will be of great use to any teen boy out there and can also be used as a gift item for birthdays, graduation, vacation and other celebrations.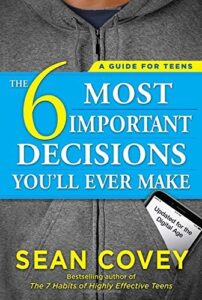 #7 Manhood Manual – Tips on how to Impress a girl
Some of the skills a growing man needs to learn includes how to wear a cologne, tie a tie, grill a steak, write a resume, plan a date, talk to a girl, clean a bathroom and many more. This book proves to be an all in one reference tool and will be the best gift idea for growing boys on their birthdays, graduation and other special events.
For every growing boy out there, there is still a lot to be learnt about life to help him prepare for the challenges he will face. This book will help teach him important skills, to prepare him for leaving the family home and going to college.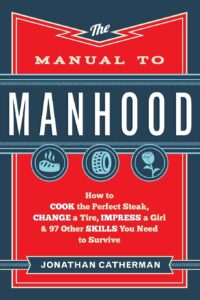 #8 Mini RC Helicopter Drone
The Mini RC helicopter drone is one that every teenage boy out there will enjoy playing with. It features a headless security system which makes it possible for all levels of players to fly this drone with ease. This drone mini helicopter has a flight time of six to eight minutes, after being charged for 45-60 minutes.
Another amazing feature of this well designed toy is its 2.4GHz technology which helps in dealing with interference. It also comes with a Gyro stabilization system which helps in maintaining flexibility and stability. This is the perfect drone for beginners and more advanced pilots alike.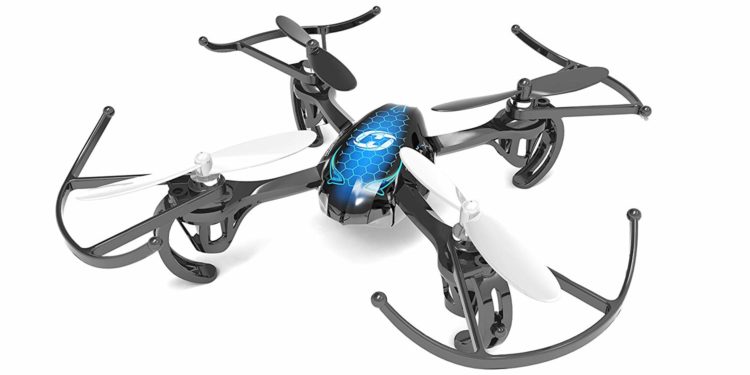 #9 Outdoor, Indoor Spikeball Game Set
This is exactly the same spikeball game set seen on shark tank. It is fun to play, competitive, active and can be played by more than one player. It also has the same rules as volleyball making it easy to learn to play. This game set can be played anywhere – during vacations, get togethers, at the gym, tailgate parties, at the beach, in the yard or anywhere else you can think of.
Designed to be tough, this unique game set comes with easy to fold legs which promotes durability. It also features a compact size which makes this toy quite easy to store after use. Unlike other game sets found on the market, this is a high profile game which comes with an app that enables young players to find other players around their neighborhood.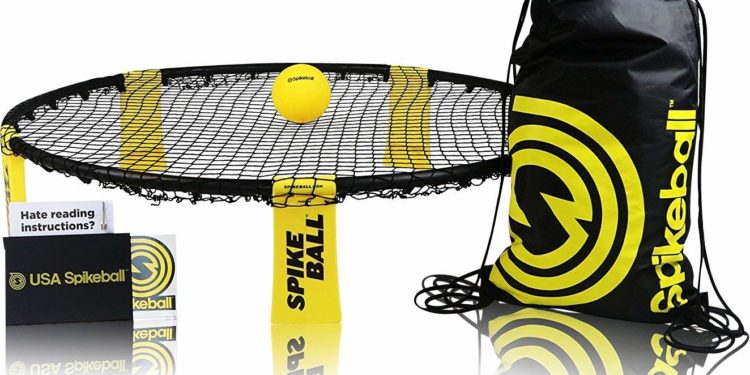 #10 Doominator Blaster: Nerf Zombie Strike
Teenagers love games involving boys and the Doominator Nerf Zombie strike blaster is one that teenage boys are sure to fall in love with. This is a well-designed gun toy, which will fire up to 24 darts without needing reloaded. One notable feature of the Nerf Zombie Strike Dominator Blaster is its four flipping dart drums which hold six darts apiece.
This gun can be held in various ways thanks to its triple handle position. Its full package comes with instructions, twenty four zombie strike darts, four sixt-dart drums and a doominator blaster.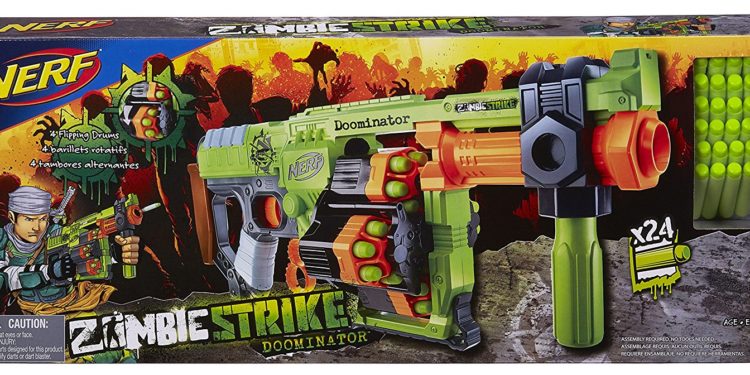 #11 JanSport Superbreak Backpack
The Jansport Superbreak backpack is one that can be used everyday as it is made using high quality materials which ensures it lasts longer than expected. Whether you intend going on an adventure or using it for work and school, this is a backpack is suitable for all purposes. Boys can count on this bag to carry along their gear as it comes with several compartments on the inside which makes sure every valuable item is properly arranged and organized.
Its ideal size makes it portable and easy to use. This backpack also features a waterproof design, which helps to keep valuables safe from water damage when it's raining.
#12 Shocktato Funny Game of Shocking Potato
Specially designed for more than one player, this game comes with three different playing modes featuring the silence, extreme and the shocking finish. The game is aimed at older teens and adults – this isn't one for children. It's great fun to use at parties and gatherings, making it perfect for giving as a gift at any occasion.
It is fun and easy to play with as all that is required is to select a preferred game mode, hit the start button and pass the potato so as to prevent getting shocked when the music stops. It also comes with an automatic shut down feature which turns off the game so as to prevent batteries from running out when it isn't in use.
#13 Lightning Reaction Reloaded – Shocking Game
This is one of the craziest but most fun-filled games for any teenage boy. Players have to grab a handle each then press the middle button. They then have to wait until the red lights turn to green and race to be the first to press their button. The last player to press their button faces an electric shock! To make the game even more interesting, suspenseful music plays when waiting for the lights to change.
The electric shock game is perfect for using at parties or for when your son has friends round. It's also fun for adults, so it's fun for a family games night with your older children! The game requires 3 AAA batteries,so be sure to stock up before gifting this game.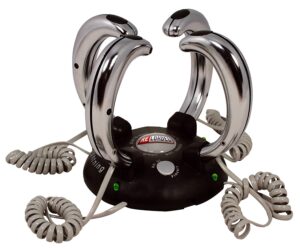 #14 Quality Flybar Foam Master Pogo Stick
Designed since 1981, the pogo stick is a classic outdoor toy everyone should own! It is made using high quality foam, which makes sure this Flybar pogo stick looks great and also has a well cushioned grip for comfortable use.
This gift isn't just fun, it's also great for helping teens stay active. It features a wider tip design which ensures stability during use. It can accommodate weight of between 80 – 160 pounds, so even adults can have a go! It's perfect for giving as a gift during the summer months!


#15 OWI OWI-632 Hydraulic Arm Edge Kit
This is a game that is far from the norm as it doesn't require any form of batteries or electricity for use. This is not just a game for fun – it is aimed at introducing teenage boys to hydro-mechanical technology. The activity involves making your own hydro-mechanical robotic arm, therefore it is sure to keep your son occupied for a long time.
One impressive feature of this well-designed hydraulic robotic arm is its easy to remove gripper which helps in activating the suction apparatus. This means the robot can be used to lift and move objects – sure to provide endless fun!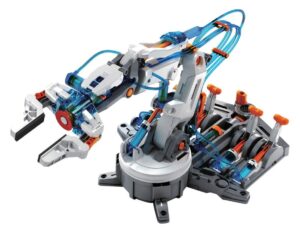 #16 TENKER Q5 LED Mini Movie Projector
Specially designed to be compatible with gaming consoles, laptops, PC's, tablets, smartphones and more, this is one item teenage boys would love to have – especially if they are into movies and gaming. This high-quality mini movie projector features a low fan sound operation thanks to its noise suppression technology. This unique cooling system also guarantees proper heat dispersion to avoid overheating in some areas.
Watching your favorite movie or playing your favorite game with this mini movie projector offers a cinema-like experience. It is designed to deliver crystal clear and crisp images, which is sure to be appreciated by teen boys. It comes backed with a three year warranty, so there's no need to worry about it breaking anytime soon.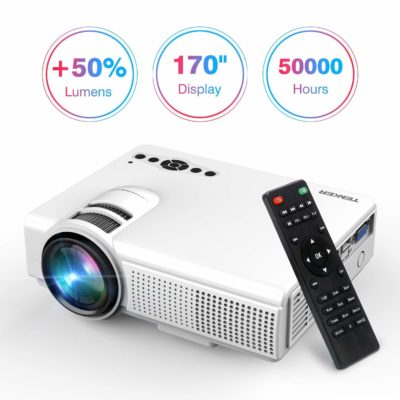 #17 Fanny Bank Funny Farting Bank BigMouth Inc
Not only is this gift fun and entertaining for teen boys, it will also help them learn the important skill of saving money. Not only will the shape of this bank amuse your teen, he is also sure to love the fart sound given off when a coin is dropped inside. It's the perfect gag gift for a teen boy on his birthday, at Christmas or any other special occasion. He's sure to remember this gift for a long time!
It's worth noting that the Funny Farting bank makes use of three AA batteries for operation. Be sure to include these when gifting the bank as your son is sure to want to try it out right away.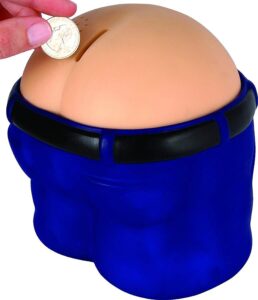 #18 Merax Finiss with Disc Brakes 26″ Aluminum 21 Speed
Durability is the key feature of the Merax Finiss 24-inch mountain bike as it is made using high-quality aluminum material which helps in ensuring long-lasting use. It features a lightweight design which makes it quite easy and convenient to ride, maneuver and also transport. Teenage boys would love owning this well-designed mountain bike as it comes with shimano speed shifters and derailers which enables reliable and fast shifting action.
It also comes with an 80mm suspension fork which helps in enhancing control and ensuring a smooth ride even when riding on bumpy surfaces. Another impressive feature this mountain bike comes with is the mechanical disc brakes found at the rear and front.
#19 Wireless Bluetooth Hat With Microphone & Stereo Speakers
This quality Bluetooth hat with stereo speakers and microphone is one that is designed to deliver superior audio quality. Users will enjoy the sound that comes from this wireless hat  – and there will be no more dangling wires. One notable feature of this well-designed hat is it comes with in-built Bluetooth and sound disks which make way for unmatched sound clarity.
This is a must have for every boy in his teen stage, particularly those who are lovers of music. With this music hat, there will be no more cases of ear ache and falling ear buds. What's more, it also helps keep your son warm when the weather is cold outside.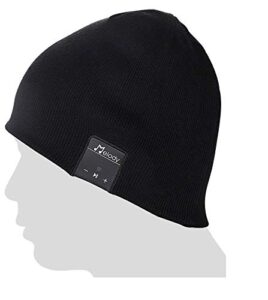 #20 Harvil Indoor Foosball Table
This Foosball table is an amazing gift for teens! It is perfect for beginner and intermediate players, and it comes with everything needed to get started right away. The table has a stylish and sleek look, meaning it's the perfect addition to any room. The legs of the table are completely solid, keeping it stable even during intense games! It also offers smoother action than some tables, with less friction to delay the game. It even comes with a silver abacus for keeping score.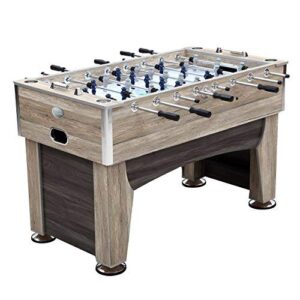 #21 Teens Cook: How to Cook What You Want to Eat
Reading this book will help in exposing growing teens to kitchen chemistry, culinary vocabulary and also how to avoid kitchen disasters. It is a great gift for boys who are moving away for college soon, to help them learn to fend for themselves.
This teen cook guide features over seventy tasty recipes on how to prepare snacks, breakfasts, dessert, dinners and sides. With this cooking guide, teens will conquer kitchen struggles without having to set the house on fire.
It is common for teenagers to like only what they like or eat only what they are interested in eating. Instead of selecting what they would want to eat or not, why not introduce them on how to prepare their own meals. You might find your child is more likely to try new things after preparing it themselves.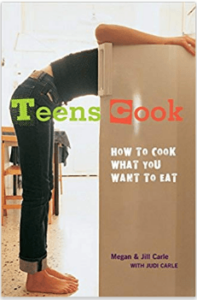 #22 Kidzlane Infrared Laser Gun
If you want your son to have maximum fun at his birthday party, this is the perfect choice of gift. The laser tag guns can be used both indoors and outdoors, so no matter what the weather, they can be enjoyed. Safety was taken into consideration when designing this gun, as it emits infrared signals below 1mW therefore making it perfectly safe to use.
It comes with four different colored guns, meaning four people can play together. The guns offer a fun and realistic sound when the enemy is hit, which makes it even more exciting to play.
These guns vibrate and light up while shooting. They also come with different shots, life bars and booming sounds which helps keep teenage boys occupied. Playing with these guns is also a great way to help teenage boys get and stay active.
#23 Stomp Super High Performance Extreme Rocket
Rated as the best in stomp performance, this is one toy that proves to be one hundred percent fun for everyone who plays with it. Adults can also join in on the fun and choose to play this game with kids. It's great for the whole family to enjoy some fun and laughter together. It is easy to play with, easy to assemble and also requires no batteries for operation.
All that is required when playing with this toy is for kids to run, jump and stomp this rocket as high as four hundred feet into the air – longer than a football field! The rocket can be used anywhere – in the yard, at the beach or even on vacation. It's sure to be loads of fun and is great for helping older kids stay active.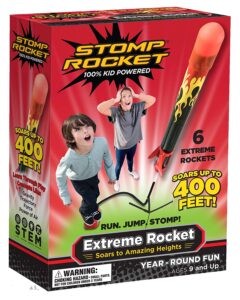 What To Get A 16 Year Old Boy For Christmas
It is difficult to find the right gift for a 16 year old boy because this is the part of his life where he is solely thinking about things that are beneficial to him and not just something to play with for fun. Check out the top rated products listed below which would catch the interest of every 16 year old boy out there;
What Should I Get a 16 Year Old Boy for His Birthday?
Teenage boys can be extremely difficult to buy for, especially if they already have everything. If your son will be learning to drive at age 16 and has his own car, you could get him some accessories for his car. You could choose seat covers and steering wheel covers to allow him to customize the car. A hands-free cell phone holder is also great, or perhaps a Bluetooth headset so can communicate safely whilst driving.
Any of the gifts in our review would be excellent for a birthday. If your teenager is into gadgets and technology, you could really spoil him with a new games console or cellphone. If he already has a console, you could get him a new game or some accessories to go with it. For teens who are happy with their phone, accessories might also be a good idea. You could get a new case, a wireless charger or pay for him to sign up to a music or video streaming service he can use via his phone.
FOR U DESIGNS Men Car Seat Protector Cover Wolf Black Design Boys Teenager Car Seat Covers Fashion...
Package: Include 2 pieces front seat cover.
Material: Made from high-quality fabric.Designed to provide long lasting durability and max comfort.
Feature: Protect your seats from spills, tearing and fading.
Easy to Install and Clean: Quick and easy installation of most cars, trucks, vans, SUV seats. No tools required for installation. Also easy to clean...
Perfect Present: Makes an Excellent Gift for Family and Friends; Great for Families and Pet Owners.
FICONEO Universal Car Phone Mount, Hands-Free Cell Phone Holder for Car Air Vent Compatible iPhone...
【ONE TOUCH OPERATION】Just one simple touch to mount or remove your phone within seconds - Super easy to use while you drive.
【SUPER STABLE】The air vent clip adopt most stable triangle force structure, one side insert to the vent and the two wings fix the blades. It'll...
【EXTREME FLEXIBILITY】Thanks to the 360-degree swivel head, your phone can be oriented to portrait, landscape, or any angle in between. For added...
【BROAD COMPATIBILITY】Creative adjustable foot make this car mount universal for 4 to 6.7" smart phones, such as iPhone 14/14 Plus/14 Pro/14 Pro...
【YOUR BEST CHOICE】With the car phone mount, you'll enjoy our worry-free 18-month warranty and 6 hours customer response.
Srhythm NC25 Active Noise Cancelling Headphones Bluetooth 5.0,ANC Stereo Headset Over-Ear with...
Digital Active Noise Cancelling Technology(ANC): Professional advanced noise cancellation silences up to 90% of machine noise. Cancels noise from...
Provides High-Res Audio in Silence: Features a dual 40 mm HD high-resolution audio driver, along with 360° omnidirectional noise-cancelling ANC...
50+ Hours Music Enjoyment: A built-in 1000mAh battery won't allow your headphones power off, you can enjoy your world without noise for 50 hours' long...
Unique Foldable Lightweight & Ergonomic Design: The professional-grade protein ear-pads,100° inward rotation and 120° inward folding ear-cups with...
Low lantency gaming mode: Only press the Multi-function button three times, enter the low latency gaming mode. Enable you to experience the immersive...
Considerations When Shopping for a Boy 
There are a few things worth keeping in mind when shopping for a teenage boy. You should take his personality and likes and dislikes into account, and make sure not to choose something too childish. Also think about what he already has – there might be something you can buy to add to an existing collection. For example, if your child collects LEGO sets, why not try a more advanced set as there are many aimed at those aged 16 and over.
LEGO Architecture Skyline Collection Las Vegas Building Kit 21047 (487 Pieces)
Build a LEGO interpretation of the Las Vegas skyline featuring iconic Las Vegas attractions!
This Las Vegas, Nevada LEGO skyline model includes the Bellagio Hotel, Luxor Hotel, Encore Hotel, Stratosphere Tower and the downtown Fremont Street...
Measures over 7" (19cm) high, 10" (27cm) wide and 2" (7cm) deep
487 pieces – Las Vegas souvenir model for boys and girls over 12 years old
LEGO Architecture building toys are compatible with all LEGO construction sets for creative building
LEGO Architecture Skyline Collection 21043 San Francisco Building Kit Includes Alcatraz Model,...
This San Francisco building set captures the essence of the San Francisco skyline with models of the city's most iconic architectural marvels, from...
Architecture building kit includes "painted ladies" buildings near Alamo Square, 555 California Street, the Transamerica Pyramid, Salesforce...
This San Francisco skyline set from LEGO Architecture can be built together with all other original LEGO sets and LEGO bricks for creative building....
The LEGO Architecture collection allows kids and adults to recreate famous landmarks from around the world, from Paris to China and beyond
City model measures over 6 inches (16cm) high, 11 inches (28cm) wide and 2 inches (7cm) deep; 565 pieces, Makes the perfect San Francisco gift for...
LEGO Technic Monster Jam Grave Digger 42118 Building Toy Set for Kids, Boys, and Girls Ages 7+ (212...
Let monster truck fans recreate favorite stunts with the LEGO Technic Monster Jam Grave Digger (42118) building kit. Authentic features include huge...
The monster truck toy rebuilds into an off-road buggy so kids can enjoy 2 building challenges and heaps of vehicle role-play action
With a pull-back motor, the monster truck and off-road buggy speed along easily, just like the real-life vehicles
This set is ideal for kids aged 7 and up who love Monster Jam shows or awesome toy vehicles
Cool features include the bendable flag which moves up and down and red headlights, just like on the real Grave Digger truck
What are the Best Types of Gift for Teenage Boys?
Many children this age like technology, so a new gadget is usually always a great choice. We have included a few gadgets here, although if you are really wanting to spoil your son you could buy him a new console or a tablet perhaps. Kids love keeping up with the latest tech, so be sure to do your research to ensure you don't buy something which is old and outdated.
Event tickets are great for teenagers too. You could buy them a ticket to see their favorite sporting team, or a concert by his favorite band. If there is an event taking place near his birthday, you could buy tickets for your son and a few friends in place of having a party or buying lots of presents.
If your boy is at the age where he likes to spend most of his time in his room, you could buy him some posters or signs to make it more personal. You could also get him a large bean bag or a new gaming chair to make the room more comfortable to relax in. Some teenagers prefer to have money and gift vouchers so they can choose their own presents. This can help take the headache out of finding great gifts, but there is something nice about having a few surprise gifts to open on a special day.
Conclusion:
Adolescents sometimes are misled by the many choices that comes their way but we hope that this well detailed list on the 21 best gift ideas for 16 year old boy will be helpful in figuring out a suitable gift for your teenage boy.