Kids need to learn about numbers and money as well as working on their counting skills, which is why they need the best kids cash register to help with their math skills, it also helps them respect and appreciate money when they buy things with their play money and pretend credit card.
Toys like theses help them socially as they get to buy food items with their bills and coins. Most of these registers come with a cash drawer, making this an instant favorite among children at least three years old. Parents can of course sit their child down at a table and teach them all they need to know. But, what every parent should ask themselves is if kids still enjoy that old-fashioned method of teaching because honestly, kids usually find such methods boring.
On the other hand, cash registers are a cool and fun way to introduce these skills to your kids. With toys like this, kids can actually learn or develop mathematics skills at a very early stage and they will also have lots of fun just by playing with this gadget. Making use of this imaginative play will enable kids to remember more as well as helping them build a sharp mind.
So, if you are wondering how to find a suitable and reliable gadget, our childrens cash registers has got you covered. You can trust this review to find the best gadget for your kids, as we have chosen from some of the best brands and models. Let's take a look at them right away;
23 Best Play Cash Register Reviewed in 2023
Kids need to learn about money from an early age so what better way to introduce money to them than making use of a fun cash register. Of course, kids can also learn important counting skills and learn about the value of money. The toys come with fun and useful accessories and also have various features and benefits that makes learning fun for kids, so check out the products listed below;
#1 Pretend and Play Learning
Designed to help kids improve on their imaginative play, this is also the ideal plaything which will help introduce kids to mathematics and making calculations. This calculator register is powered using a solar panel and also comes with a large and bright LED display where one can view the numbers.
This is the ideal gift item for kids aged three and above as it works to improve social skills such as interacting with others and role playing, fine motor skills and also early money skills. It also comes with large sized buttons which makes this calculator register easy for young kids to operate.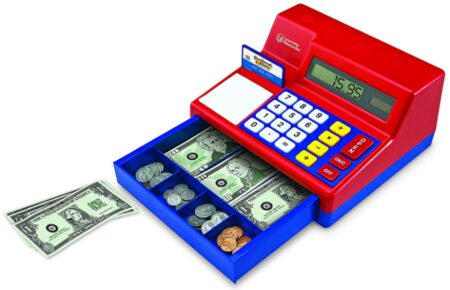 #2 Pretend and Play Teaching Game
Specially built for kids aged five and above, this is the ideal gadget for promoting pretend play by introducing kids to money and mathematics skills. This interactive register is designed to talk and comes with four in-built learning skills which is why it is a must have for every growing kid out there.
There are so many impressive features on this gadget, including a scanner, a coin slot, voice messages, sounds, lights and a weighing scale.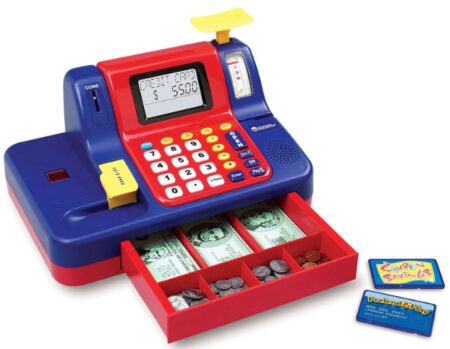 #3 Boley Kids Educational Cash Register
This is a reliable, educational gadget which parents can trust to help their kids learn about money management, business administration, arithmetic for boys and girls and so on. It also ensures that your child's imaginative play abilities hit a higher level. This gadget is certified safe and user-friendly as it is made using non-toxic materials which will cause no harm to kids.
This particular item is designed for use by children aged three and above – it is one of the best gift items for kids on their 3rd birthday or any other notable celebration. This gadget also comes with several life-like features such as a retractable cash drawer and a beeping scanner, which makes playing with this item so much fun.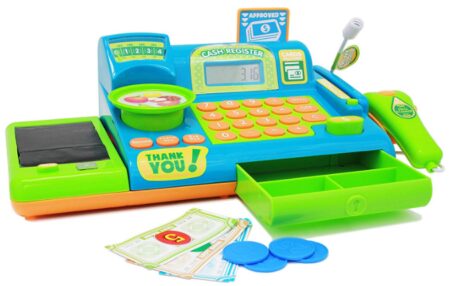 #4 Count Along Leapfrog Register
Specially designed to sing and talk, this unique gift is one that would make learning really fun for children. With this gadget, children will figure out how to count and identify numbers, and it is also aimed at improving role playing and imaginative skills. It is the best gift item anyone can offer a child aged two years old and above.
Toddlers will also enjoy singing along to the cool songs this Leapfrog gadget plays. It comes with every necessary accessory including a shopping card, ten coins and eight food pieces for starting your own pretend store.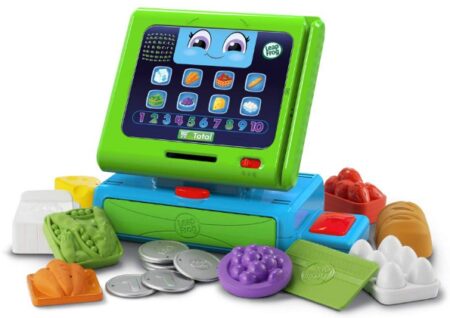 #5 FUNERICA Microphone Calculator
Made using safe and high quality materials, parents can rest assured that they are getting their child a gadget that will last, and one that will also not cause any harm to their health. This is the best gadget to help improve any child's imaginative and creative play as children can mimic cooking foods, standing at a restaurant or even attending to customers.
Playing with this gadget will keep your little prince or princess engaged for several hours and it comes with every accessory required to play! Accessories include a chef hat, vegetables to slice, packets of food, cookware, a shopping basket, a stove, money and more.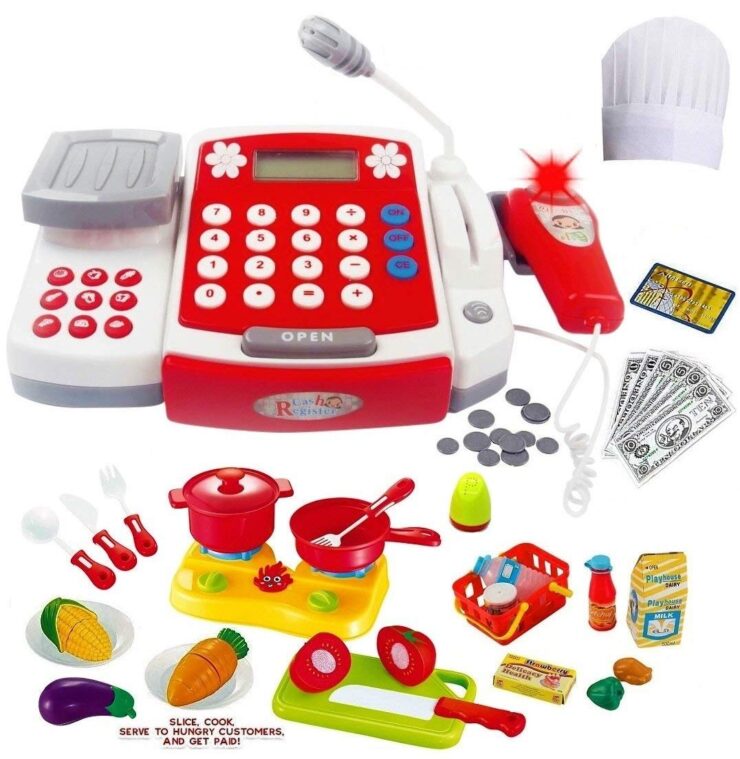 #6 CifToys Pre-Schoolers and Toddlers Cash Register
This gadget is perfect for preschoolers as it teaches them how to count and identify money as well as helping them work on their communication abilities. So, it is perfect for giving your little one the necessary skills for starting school. Playing with this gadget is beneficial in helping children learn simple math such as counting, dividing, multiplying, subtracting and adding, from an early age.
One benefit that this gadget brings to the family is bonding between parents and children, as it can be played alongside other members of the family. It will also keep children engaged for hours as they have fun playing with this gadget over and over again. It comes with a scanner, conveyor belt, fake money, grocery basket and so on.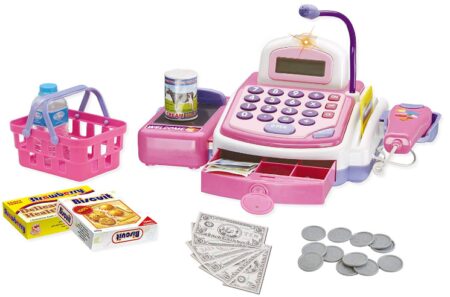 #7 Click N Play Pink Electronic Cash Register 
This pink register comes with an LCD screen which helps in displaying and viewing items and objects. One advantage chilren stand to benefit from playing with this gadget is it introduces them to money and basic mathematics.However, it runs on two batteries which are not included, so remember to buy some before gifting this to your child.
With this gadget, children can improve on their imagination and role-playing abilities by using the items which come packaged with the register. These include a scanner, a cash drawer, coins and bills, a credit card, play food and an in-built microphone.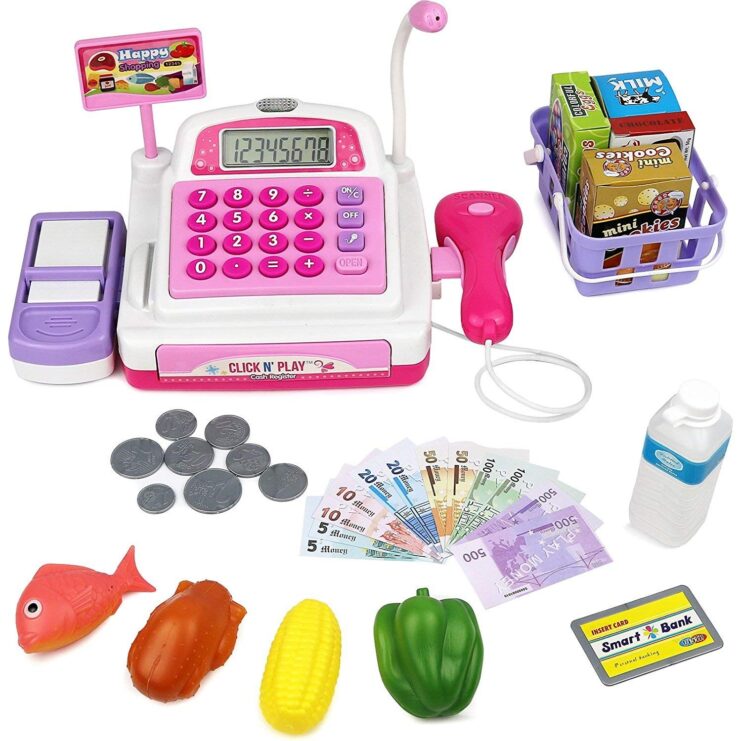 #8 Battat Playset Cash Register
If you want to help your child's imagination develop and also keep their hands busy, this is the ideal toy to offer them. This cash register comes with life-like sounds which makes playing with this toy seem real to your child. It is one which is designed with durability in mind – it is made using high-quality materials to ensure it lasts for a long period of time.
This is considered to be an educational toy as it helps in introducing children to early counting and fundamental mathematics. It is recommended for children aged three and above and it comes with everything required for use such as a lockable drawer, beeping buttons, a microphone, a conveyor belt and a scanner.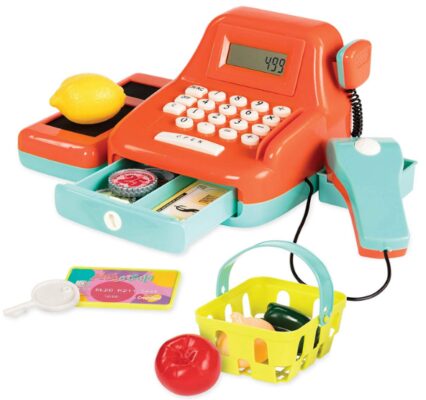 #9 Big Mo Pretend Play Cash Register
This is one of the best toy cash registers ever made as it comes with realistic sounds and lights which makes it similar to that of a real life register. Playing with this game comes with lots of benefits for kids, including learning counting , identifying currency, improving their motor and problem solving abilities.
It is the best gift for kids as it helps in improving their social interaction and imagination. It is also durable and safe to play with as it is made using premium, non-toxic materials, which ensures it grows with your child and won't get broken during play.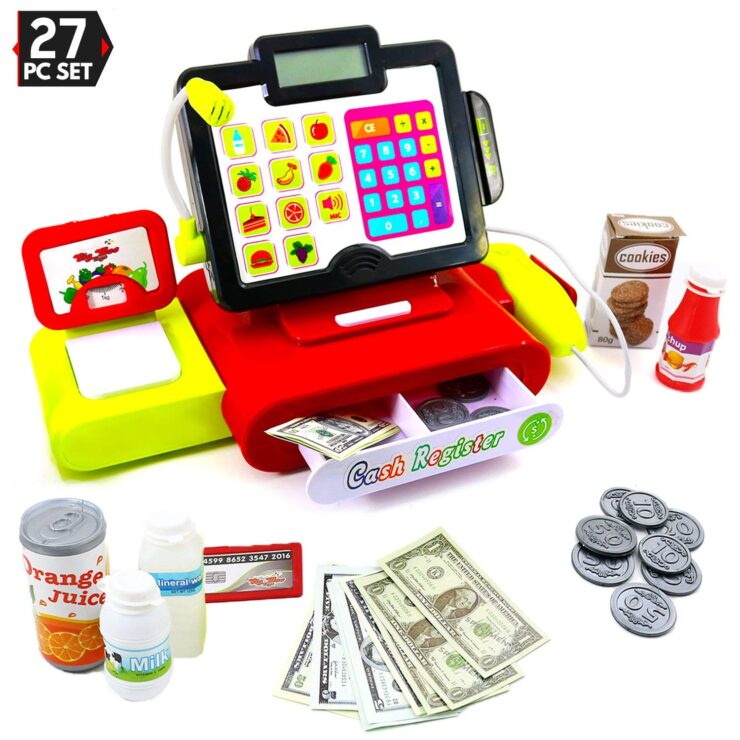 #10 Victostar Shopping Playset Activity 
Kids can pretend to act as a cashier, cook or even running their own supermarket or restaurant by playing with this well-designed toy. It is considered an educational toy as it helps in introducing kids to currency recognition and counting. Kids will enjoy pretending to live like an adult while playing with these toy cash registers, which is why it will keep them occupied for hours.
This is a safe product to play with as it is made using non-toxic materials which will not be detrimental to your kids health. These cash registers are aimed at providing unmatched fun as well as improving kids' imaginations each time they decide to play with this gift item.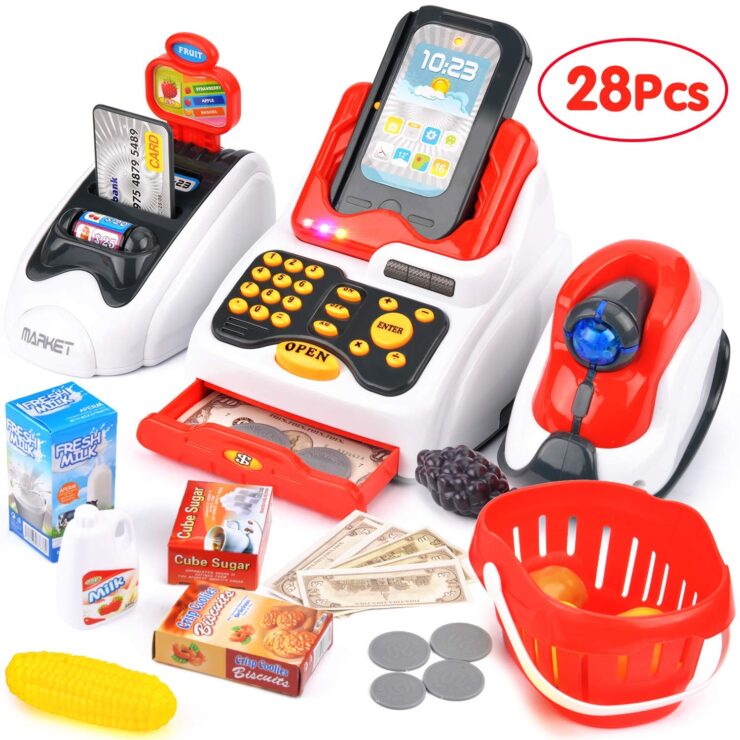 #11 Fisher Price Retro Pick
This game comes with six coins to play with, and the fun retro design is sure to appeal to parents and children alike. This is a brightly-colored register which kids will find attractive and thrilling, it is sure to hold their attention well. Playing with these toy cash registers is not only fun, but will also help kids get familiar with recognizing colors and counting money at an early stage.
Kids will be mesmerized by what they see, as coins go down the ramp which turns the crank and gives off a beeping noise before the drawer opens up. This Fisher Price cash register is sure to appeal to younger children for this very reason.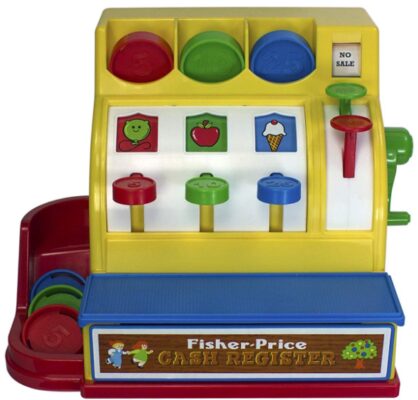 #12 Velocity Toy Cash Registers
This is considered to be one of the best and most educational toys that every parent would love their young son or daughter to have. It is designed specially to help kids get familiar with basic mathematics and counting as well as being able to identify money.
This one comes in an amazing green color which makes it attractive and attention-grabbing, perfect for keeping toddlers engaged. It is the best gift anyone can offer to any growing kid out there, as it promises to be hours of endless fun each time they decide to play with these toy cash registers.
Notable accessories included with this children's toy cash register include play food, money, a grocery basket, credit cards and more.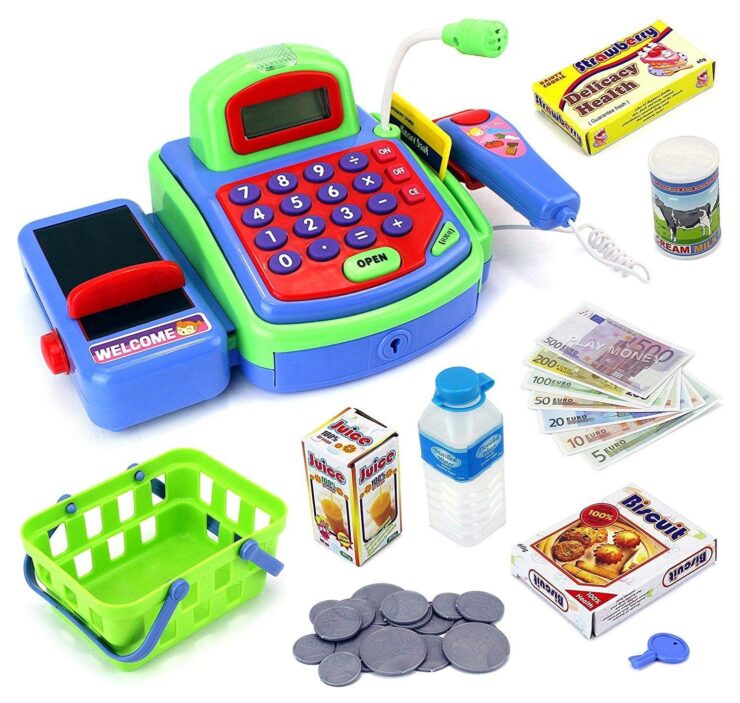 #13 Learn the Value of Money Pretend 
This play cash register toy has a realistic feel, as kids can now imagine running their own business as well as knowing the value of money and developing excellent business minds. This game is also aimed at enhancing tactile and visual acuity in kids which is why it is deemed a must-have for every young child.
This is the best gift item to offer any child aged three and above and it is made using kid-friendly and safe materials which guarantees that no harm will come to kids while they play.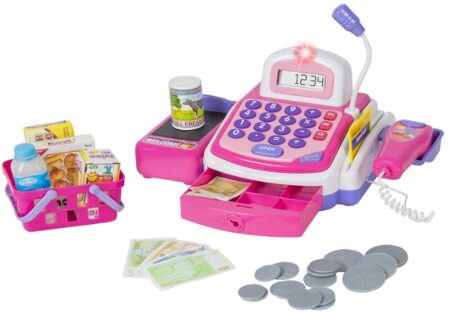 #14 Theo Klein
Constructed from high quality materials, this is one toy that will last for longer, so parents don't have to be worried about getting a replacement anytime soon. It is the best for pretend play in kids which sparks up their imaginative and creative skills and thanks to its scanner bar, kids will find it easy to pretend to read codes.
One impressive feature of this cash register is its drawer which can be closed and opened using a key. Other interesting features that comes with this one include a credit card, paper money and coins to play with.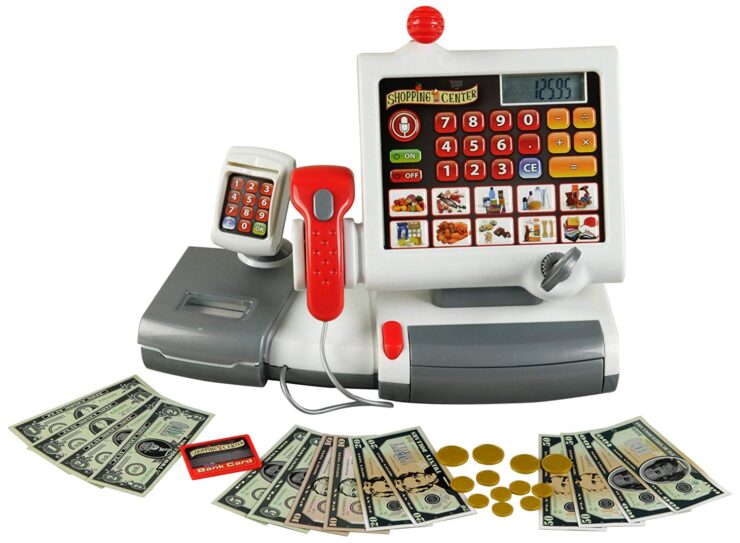 #15 Supermarket with Cash Register
It is safe to refer to this realistic toy cash register as an educational toy as it is aimed at helping kids understand basic math skills like adding, multiplying, subtracting, dividing and more. It is made using durable and kid friendly ABS plastic materials which makes it one hundred percent safe for kids.
This activity toy comes with a variety of accessories for kids to enjoy, including a drawer key, play money, pretend groceries, a shopping basket and more. Other impressive features of this one include a scanner, microphone, scale and a calculator. Kids will have loads of fun making important announcements over the microphone!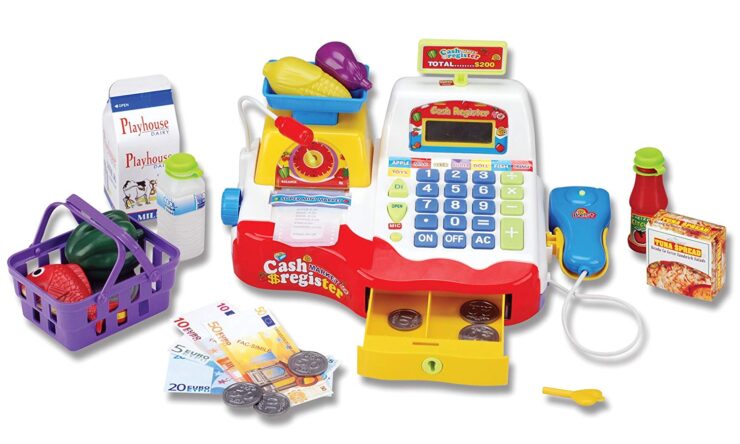 #16 Brainy Bucks Talking Cash Register
This toy is an ideal play set for kids aged five and above. It comes with a voice amplifying microphone for talking and communicating and also features a large LCD screen on which the numbers are displayed. These cashier toys registers require AAA batteries for operation, which are not included in the box.
The toy cash register includes fun accessories such as a money booklet, barcode stickers, play coins, play bills, credit card and scanner.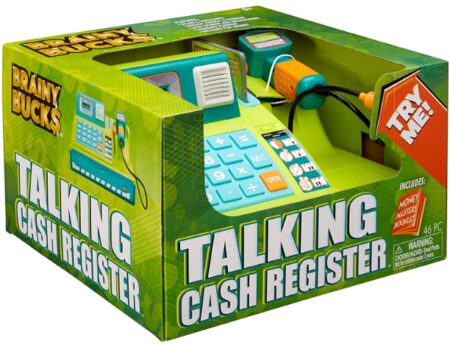 #17 Liberty Imports Toy Cash Register
This educational toy cash register helps kids get familiar with basic mathematics in a fun and creative way. The toy is also aimed at helping kids enhance their imagination. It is one for every kid aged three and above and it also requires the use of batteries for operation.
This child cash register has similar characteristics to that of a real life register as it is designed to make life-like sounds and lights. Other notable accessories that comes with this one include the drawer key to lock the money safely away, credit card, pretend dollar bills, plastic coins, groceries and shopping basket.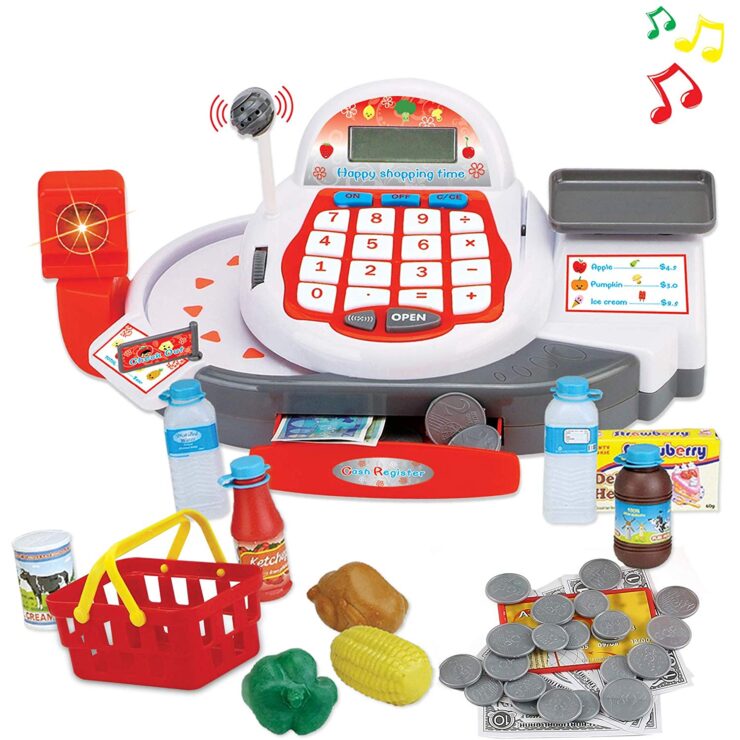 #18 KIDAMI Realistic Actions 
This is the ideal gift item anyone can offer boys or girls today as it is one that prepares them for school based on its ability to introduce kids to early money and counting. It also ensures that kids build on their hand to eye coordination. Kids will find this type fun to play with as it comes with colorful pieces which will keep them entertained and interested for hours.
It also comes with realistic 'ding' sounds, similar to those you would hear at a real supermarket. The toy requires four AAA batteries for operation which do not come with the package. However, it does include a grocery basket with boxes of food, the drawer keys, credit cards, pretend dollar bills and many more.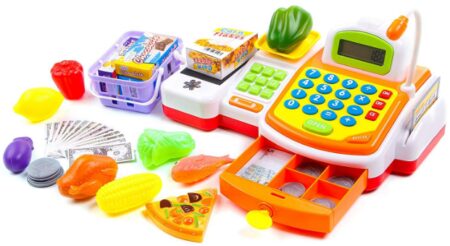 #19 Kid Fun Children Cash Register
This is the toy parents can rely on to help teach their kids money counting and basic math skills as well as enabling kids role-play like they are at a supermarket. This toy cash machine comes with certain accessories that makes it similar to that of a real life register, including a microphone, speaker, scanner, card reader, drawer and a conveyor belt. This toy cash register is one of the best toy cash registers as the drawer opens to give the very realistic experience of shopping in the grocery store with your credit card. Children can play with these play registers buy imaginary food items in their imaginary grocery store.
However, one notable feature of this cash register is its calculator which enables kids to sum up amounts during and after purchase. Parents can also rely on this one to help kids to understand the basic principles of addition, subtraction, multiplication and division.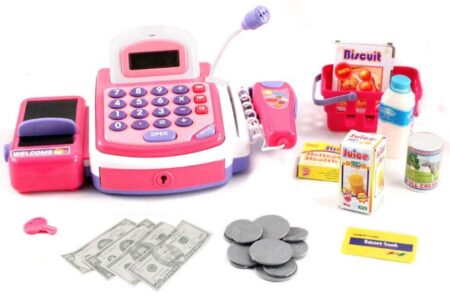 #20 Pretex Pretend Toy Cash Registers
This is the best gift item to offer any young boy and girl during Christmas and birthday celebrations. It is also considered to be an educational toy as it helps to introduce kids to money and basic counting. Playing with this item guarantees that your kid would be occupied for hours as they enjoy endless fun.
However, one major benefit that comes with playing with this gift item is it enhances pretend play in kids. Other necessary accessories that comes with this cash register include scanner, food basket, credit cards and money.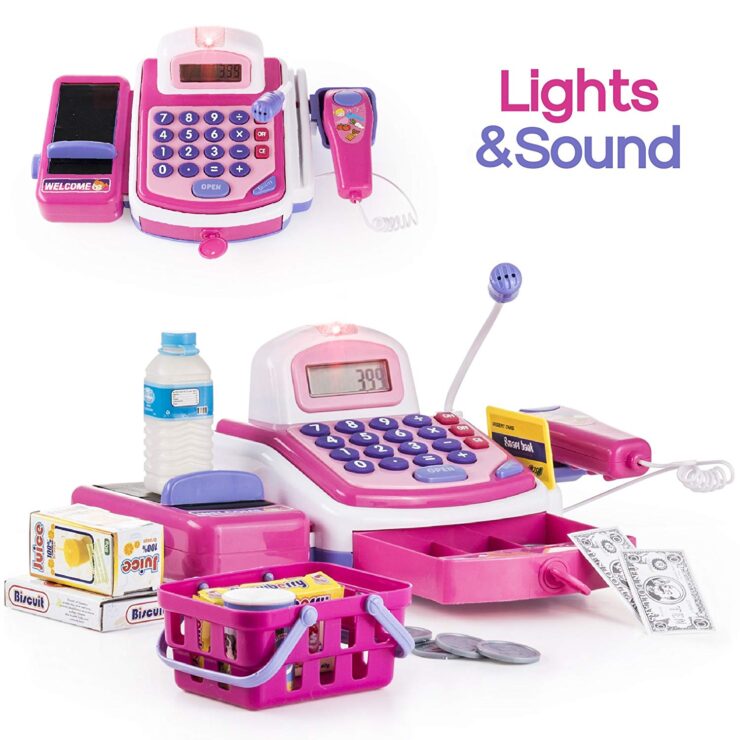 #21 Melissa and Doug Wooden Cash Register
Unlike other poorly designed types with no features to excite young kids, this high quality product from Melissa and Doug comes with a lever which when pressed spins so as to effortlessly open its drawer. This is the ideal gift anyone can offer a kid aged three year and above and it is also considered to be an educational gift as it introduces kids to money and counting..
This toy is made using a durable wood which will last longer than it's plastic counterparts. This toy is aimed at helping kids develop fine motor and counting abiilties as well as enhancing imaginative play. Kids will love watching the wheels spin around as they discover the different pictures featured on them.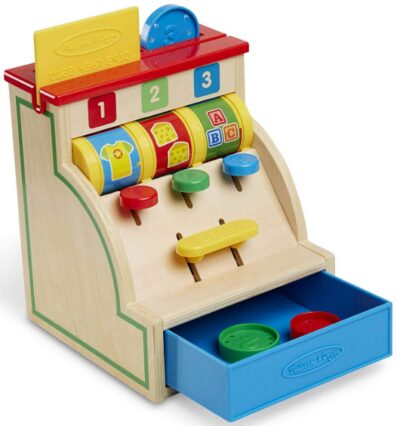 #22 Learning Resources Cash Register
This is one awesome gadget you would need to get your child. It comes with a solar powered LCD display that adds for an immersive playing experience. The register allows your child make purchases with a pretend credit card, bills and coins, that is play money. Playing with this register helps your child improve his math skills. The Learning Resources register is best enjoyed by children at least three years old.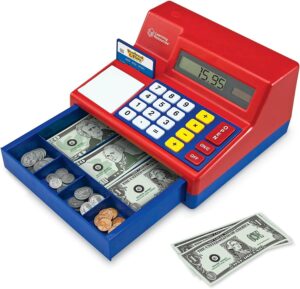 #23 Top Race Wooden Cash Register
This lovely gadget is the perfect combination of everything children would expect from a pretend register. It has a cash drawer, allows for use of pretend credit cards and a card reader. If you are looking to get a toy cash register with scanner and receipt, you are looking at it.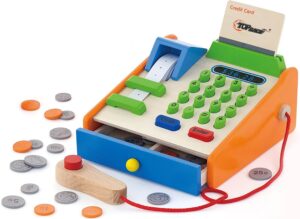 Factors to Consider When Shopping For a Reliable Cash Register
Purchasing a kids toy is not always a simple task, after all there are certain key factors that one must take into consideration when deciding what option to settle for. Let us take a look at these factors listed below;
Materials used – this simply involves trying to figure out the quality of materials used in making a particular one. It could either be plastic or wooden materials and there is currently an ongoing debate as to which is better or preferable. Wooden ones might last longer, although plastic versions tend to have more advanced electronic features.
Age – the age of your child is such an important factor to note when considering what toy to buy them. Most times, toys like these come with small parts and accessories which could be hazardous to young children if they decide to chew on them. If your child is too young for the toy, they might find it very frustrating to understand what the toy is all about.
Accessories – toys like these come with a range of accessories which make the register a lot more fun to play with. There are lots of accessories that a cash register should come with and they include scanners, fake money bills, card readers, credit cards, money drawers, shopping basket, groceries and many more. Choose a toy with the accessories you think will interest your child the most.
Conclusion
Toy cash registers are a must-have for every kid out there to help them learn the basic principles of mathematics, develop counting skills and be able to identify money at an early age.
The benefit attached to playing with this kind of game is kids tend to learn a whole lot of new skills without even realizing it. That's not all, they also tend to benefit socially by playing with such games.
Take a look at your child and what stage they are at, and ask yourself if they are ready to learn about math and money. If your answer is yes, go ahead and select your favorite from our detailed list which we have provided so you can get them started.