The craze about Nickelodeon's series Teenage Mutant Ninja Turtles, or TMNT, is back. Kids have become more enthusiastic about the characters of this satire-inspired comic series. The show was established in 1984 and was received better than most. This has seen it thrive for decades but with a little reworking to fulfill the needs of a much younger audience.
Today, there have been several spin-offs from the original Teenage Mutant Hero turtles to produce thrilling movies, video games, and even toys based on the favourite characters from the show. For this post, we are going to focus on the toys that are much-talked about in the market. You will also find some valuable information on how to choose these toys and how your children will benefit from them from an entertainment and health standpoint. So let's get to it.
Here's the list of the Top TMNT Toys.
Our List of Best Ninja Turtle Toys
1. Donatello Action Figure
This new Playmate's TMNT Donatello action figure comes with exciting new features. What's most striking is how playmate has paid attention to detail in its design. Compared to the other TMNT action figures, Donatello appears taller and much leaner. He has a pale green skin tone.
Donatello wears his signature bright purple mask across his face with some of it hanging off the side of his head. He also wears a brown strap that runs from his back across the chest to the brown belt cutting across his waist. His knees and elbows are also covered with brown pads whereas the ankles have a brown strap securing them in place. The white eyes have black pupils in them to add character.
Not to be missed is his lethal Bo staff strapped on his green shell. The staff is retractable and can be placed on the figure's hands to ready it for battle.
Another lovely feature of the toy is the detailed articulation of its various body parts. The neck moves sideways, up, and down. The arms can move from left to right or rotate. The elbow joint are also mobile. The hinge joints in Donnie's legs allow him to perform a split. Thanks to the elaborate articulation, he can make different fun poses and aggressive action stances.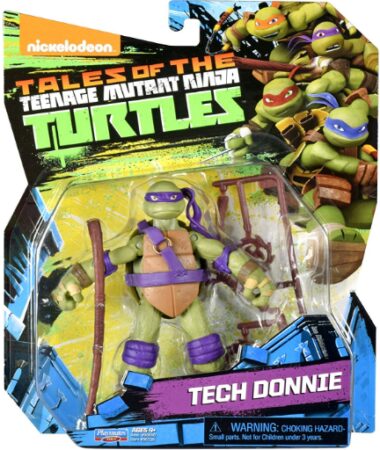 2. Inflatable Turtle Training Bag
The Inflatable Training Bag brings so much action and fun in the form of training. It is made up of vinyl material and stands at 36 inches tall. Moreover, it has posters of the TMNT action figures on the back. Before your child can use it, you need to assemble it for them first. The parts are quite basic making the assembling process effortless.
All you have to do is add some water to the bottom water base and then inflate it to make the vinyl bag pop up. It is quite inviting, and you might feel like punching it yourself. The package also comes with a repair kit to help you mend any patches should the toy succumb to rough treatment. The Inflatable Turtle Training Bag is just what your child needs to improve their motor skills.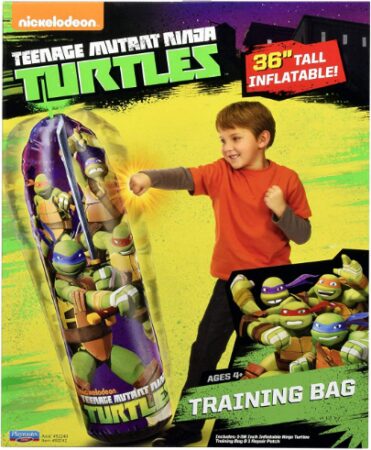 3. Nickelodeon Turtles Toy Organizer
This well-thought out Nickelodeon Turtles Toy Organizer offers great storage for your child's toys. It is quite sturdy thanks to its wooden frame. It measures 30.5 inches long, 25 inches wide and 16.5 inches tall. The toy organizer is divided into three compartments. The topmost row has three cubicles lined with green fabric. The second compartment has two rectangular storages that are covered with blue felt. The bottom chamber isn't segmented to help in the storage of much larger toys. It has a red fabric lining.
The colour theme of this toy is inspired by the theme colours from the TMNT show. However, there are stickers from other show brands such as Spiderman, Mickey Mouse, Paw Patrol, and DC Super Friends. In addition, the face and sides of the toy have pictures of the characters from the show.
This is a perfect gift for your kid as it teaches them how to organize their toys to maintain uncluttered rooms. Moreover, they can access them without much hustle. At last, they won't be bugging you to help find their toys in the house.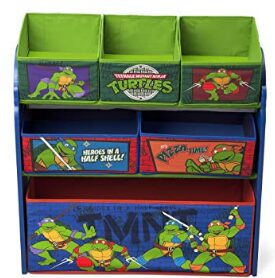 4. Set of 4 Classic Ninja Turtle Action Figures
This TMNT toy set brings four 5-inch action figures of your favourite turtles each with their unique swagger. There's Donatello with his usual purple mask and usual bo staff. Leonardo dons a blue mask and carries two swords. Michelangelo, the joker, graces the occasion with his orange mask and a pair of deadly nunchaku. Lastly, Raphael comes with his signature red mask and favourite weapon – a pair of Sai.
The collector-quality action figures appear to have been pulled right out of the classic TMNT shows, therefore, are a big deal. They are made of high-quality PVC. However, the packaging is rather cheap – they are wrapped in colourless polythene bags. Since they are unbranded, they are quite pocket-friendly but still look authentic.
This set is a good way to show your kids what their favourite TMNT characters looked back in your time.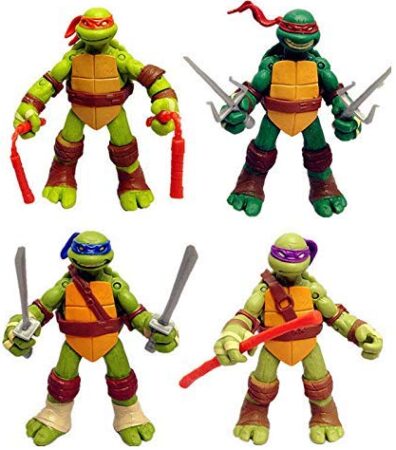 5. Leonardo's Dojo Pet to Turtle Playset
The new Leonardo's dojo pet playset is another toy receiving much attention after the resurgence of the teenage mutant ninja turtle toys. In this edition, Leonardo comes as a baby turtle whose shell can open to reveal a micro playset loaded with adventure.
The set comes with three mini figures. They include Leo himself wielding his signature katana swords, the Cockroach Terminator that's fully articulated, and The Shredder. There are platforms where your child can fix Leo and the Cockroach Terminator pitting them in an epic battle. He/she can move the figures with a knob located just under the platform.
Next to the platform is a button that Leo can use to lift the stairs and to launch any uninvited guests into the sky. There is also a prison cell curved out in the floor of the lair where subdued enemies can be locked away. It also doubles as storage for the tiny action figures.
On the shell that flips open is a slide in the form of a sewer where turtles can have some fun if not busy training or fighting the shredder.
There is also another platform on the shell where you can fit a cannon that comes with the package. The gun shoots off blue missiles when the trigger is pulled. Use it for target practice on the shredder target found next to the platform.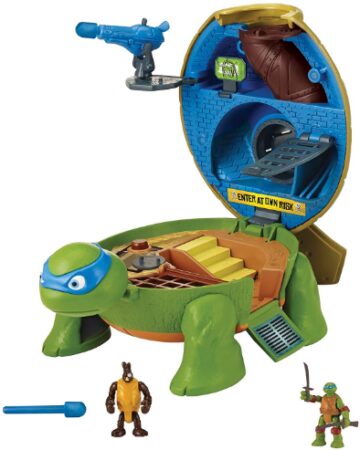 '
6. Rise of the Teenage Mutant Ninja Turtles Epic Lair Playset

This is a deluxe playset that contains more than 20 awesome features for your child to enjoy. Among the flagship features are a gym, a training dojo, a tech centre, an adjustable skate ramp, and a basketball hoop. The attention to detail on this playset is just amazing. Each of the action figures has its own uniquely designed rooms to match their personalities.
Leo has his room stocked with a rotating weapons rack. Raph, who won't hesitate to throw a punch, has a workout bench launcher in his place. Donnie, the tech geek, has a lab barricaded with a slide-in entrance. And lastly, Mikey's room has a slide that is also an escape. The layer is protected by a hidden projectile launcher that will keep off enemies.
The playset also introduces the vicious Splinter mutant whose aim is to destroy the turtles. Also, it is well-designed with premium materials and themes from the TMNT show. Therefore, it makes a great toy for pretend play, which helps to boost your child's imagination and creativity.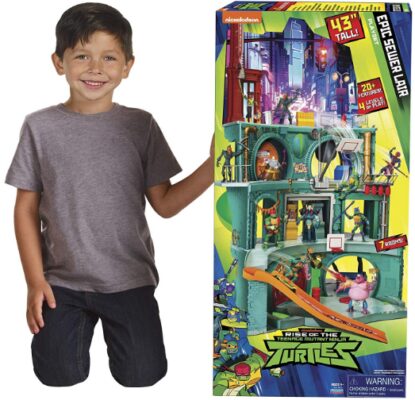 7.Mega Bloks Teenage Mutant Ninja Turtles Sewer Hideout
The Mega Bloks TMNT sewer hideout is a buildable and customizable lair hideout. It is furnished with fun stuff that relates to specific TMNT characters in the set. Leo gets a revolving wall with a katana hidden inside it. In addition, there is a tech station that appears to suit Donny. The spirited Raph gets a skate ramp that is branded New York. Also within the set is a DJ table that will help the turtles unwind after a long day of heroism.
Among the things that the kids will love about this lair is the dynamic display feature. It has LED lights as well as speakers that emit animated sounds to make the mood even more real. Consequently, the lair has a sewer launcher with sensor-activated sounds as well as a retractable zip line.
Not to forget are the four action figures themselves together with the shredder and a foot soldier. Once your kid has successfully built this sewer-based lair, they can get creative with all these characters as their imagination runs wild.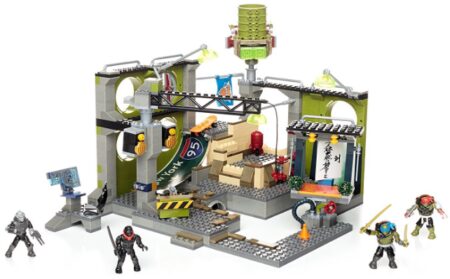 8.Ninja Turtles Play House
This TMNT themed playhouse promises your children hours of interactive adventure. It is quite easy to erect thanks to the EZ Twist technology. Similarly, you can easily fold it down for storage. It is designed to look like a bus with images of the popular TMNT action figures peering from the windows and others emerging from the doors. Children can pop their heads off the roof for some air before diving right back into the fun. Besides that, the roof hatch also provides a great spot for spying on the lurking combatants.
The Turtle house also has tunnel ports that act as great escape routes. They can also be used to connect this toy with other play hut structures if you have them. The materials used to make this house are durable, stain resistant synthetic fabric. These are quite easy to clean – a simple wipe will clear your child's mess.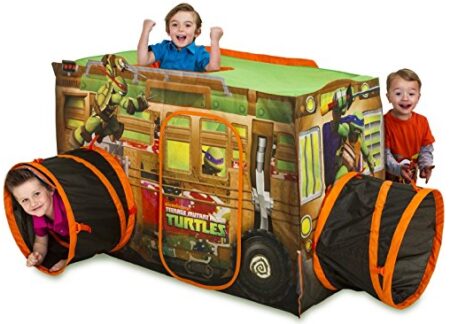 9.TMNT Shellraiser
The ninja turtle shellraiser is fully loaded with all the armour to deal with enemies. It comes in a matte brown finish looking like a tank. There's a red blasting bazooka on the roof that is ever ready to terminate a target. Moving on to the back of the car, twin exhausts come into sight. They look fired up and ready to propel the turtles straight to a battle scene. Kids can pack all their TMNT action figures in the spacious cabin and drive off for an adventure like no other.
The full-size door on the side of the bus as well as the smaller one in the front both open to the ground to create ramps for easy entry. On top of the rear and front wheels are battle grips that mimic sewer pipes. All features considered, the shellraiser couldn't be any meaner. Your kid will love it.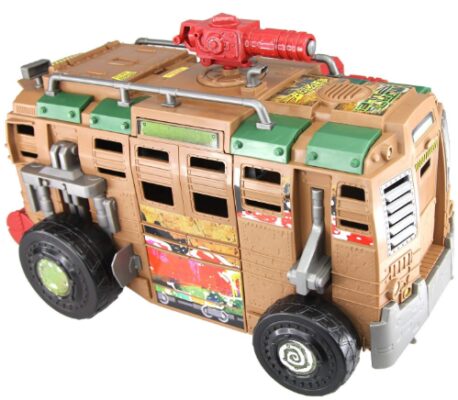 10.TMNT Character Walkie Talkies
The TMNT walkie talkies come in two characters, Raphael and Leonardo. The Raphael-inspired one has a red mask and antennae while the other has a blue mask and antennae. These walkie talkies are quite practical and can help your kid communicate with friends from long range. Other accessories that come with the package are a utility belt clip and a turtle's code key.
In pretend play, your children and their friends can use this to discuss mission objectives or to alert each other of the impending attack of the Shredder or Kraang. These devices use 9v batteries. In order to operate them, the user needs to use the key code to switch them to the same frequency.
One downside, however, with these walkie talkies is that there isn't a volume control button or knob to reduce the static interference.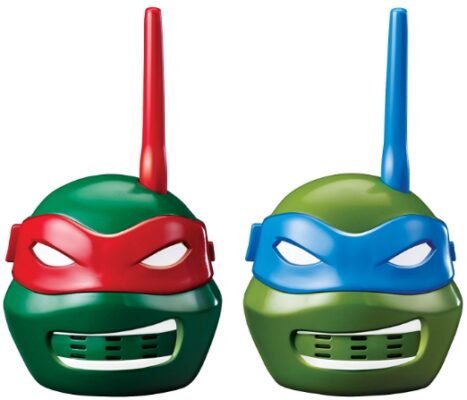 11.Rise of the TMNT Tank Vehicle
This is arguably the best ninja turtle toy for kids. It was among the finalists of the 2023 toy of the year. The TMNT tank vehicle looks angry and ready to demolish enemies. The flagship feature is that it can transform from a tank to a vehicle with a towering secret lab at the back.
Once the kids switch it to vehicle mode, its front cab swings open and a purple mast which supports the secret ladder pops up. The lab serves as a mobile command centre where the turtles can hatch plans of destroying the bad guys. It also shoots projectiles, has an escape hatch beneath it, and can be removed to fit on the sewer lair playset.
You can buy the Hog cycles separately and attach them under the tank to create an aggressive and mean TMNT machine.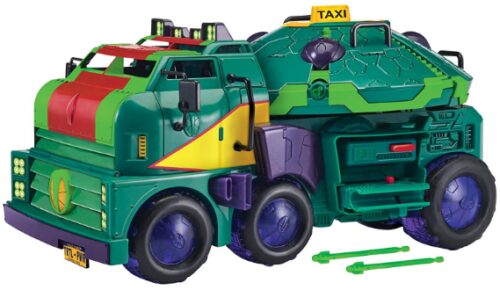 12. I Love TMNT Pillow
This figurine pillow is made of pure microfiber polyester that kids will love cuddling with. It comes in pale green but with a purple mask, elbow wraps, wrist bands, a body strap, and knee wraps. However, note that the colour of the detailing will depend on the character that it was made to mimic. So, find out which of the four is your child's favourite and get it for them.
This plush toy makes for a great throw pillow especially if you already have the TMNT bedding that compliments it. It is also a great way to complete your child's Ninja turtle themed room.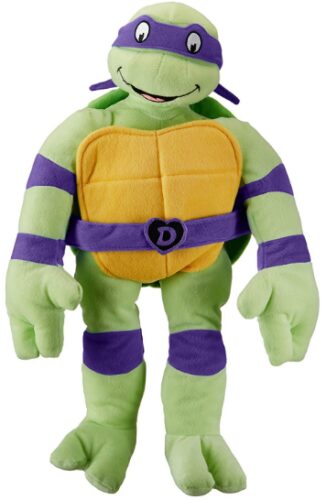 What are the Different Types of TMNT Toy?

The most common types of TMTNT toys are action figures. These are the four turtles, Raphael, Donatello, Michelangelo, and Leonardo, and their enemies. Each turtle comes with their favourite toys and accessories that match their unique characters.
The other category of TMNT toys are the playsets. Some call for building while others have retractable and adjustable parts. Examples are the sewer lair, TMNT playhouse, and Leo's dojo.
Another category is the vehicles and their accessories. Here, you'll find products such as the shellraisers, transforming tank, and psycho cycle.
Others are TMNT collectibles, plush toys, punch bags, and accessories such as walkie-talkies and watches.
Considerations when Choosing a Ninja Turtles Figure Toy
The most important consideration when finding the perfect toy for your child is age. TMNT toys can help your child develop essential life skills including cognitive, social, listening, and motor skills. This only means that each age has the perfect toy that suits their needs. Luckily, the toys will have a recommended age that will guide parents on what to buy.
When buying toys for toddlers, those with little parts such as weapons, projectiles and other collectibles are discouraged. Children can easily choke on them. So consider soft fabric or plush toys. For children aged 3 and above, you can vary the complexity of the toys as the age advances. Building sets and playsets will be more appropriate for much older kids.
Also, consider the character that your child loves the most. First, there is Leonardo, who dons a cool vibe in most Nickelodeon TMNT shows. Donatello, who appears the most intelligent, is also available. Finally, there's Michelangelo who always has a few jokes up his sleeve. Try to match your child's personality to these toys, and you might find their perfect one.
What are the Benefits of Playing with Teenage Mutant Ninja Turtles Toys?

These toys can teach your children essential life skills such as teamwork, courage, and doing the right thing. Consequently, TMNT toys develop the imagination and creativity of your kids. They allow players to come up with unique adventures in their minds with the toys, weapons, and tools at hand.
In addition, the various action figures and collectibles are articulated in detail. This introduces the kids to some crucial aspects of joints. Important physics concepts can also be learned especially with the erector sets. Worth mentioning is that as the children grip the various figure forms, their fine motor skills are improved. So besides being fantastic, TMNT toys are also valuable learning aids for kids.
Best Overall Ninja Turtle Toy
For this list, our best overall is the "Rise of the Teenage Mutant Ninja Turtle Lair Playset." It delivers the whole TMNT experience in one playset. All four action figures have their quarters to train or have fun. Similarly, villains such as splinter are introduced. Standing at 43 inches tall, this set is big enough to bring out every single detail accurately. Finally, it can be integrated with other toys such as Leo's lab from the tank.