Most can agree finding a gift for an 8 year old boy can sometimes be difficult. They are at an age that they are difficult to buy for and want certain types of gifts. However, we have put together some of the best choices to make things easier for parents and grandparents.
There's something here for all types of boys aged 8, including toys, electronics, learning games and so much more.  We've also chosen gifts to fit all budgets, whether you are looking for a small, inexpensive gift for a friend's birthday party, gift of giving, or a major gift for your son, you'll find it here.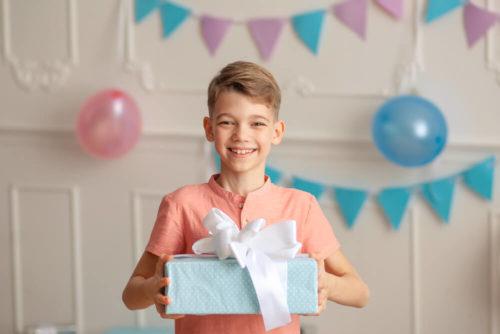 Considerations when choosing a present for a boy
When your little boy is 8, he'll have been at the school for a few years, and his intellect will be developing to a point where he really devours information at a startling rate. It can be a good idea to choose gifts that will tie into his appetite for knowledge, such as science games or building sets. This could be a tech gift, such as a programming game, or a STEM toy.
Eight year old boys are also physically developing at a very fast rate, and many lads of this age love to go running, jumping, climbing trees and exploring, and many also get seriously into sports or other hobbies, so you could buy them something sporty, or perhaps a skateboard or something else that they can use physically.
Finding gifts for boy age eight years old can be challenging as they often want to be like their dads or older brothers, so if dad or the older brothers like driving cars, perhaps an RC car would be great for the younger boy?. Therefore, a remote control vehicle can be an excellent gift for a boy's 8th birthday, and not just cars.  RC tanks and helicopters will be great gifts too.
 TopToys & Gifts Ideas
1. Kids Aqua RC Boat
Get your kid outdoors playing on the water with this exciting remote controlled toy boat. The AA Aqua is perfect for any energetic young boy who loves playing with toys. 
Your son will have the best time racing this boat at the park, in the pool, or on the lake and it's the perfect outside toy. The AA Aqua comes with two 10 minute batteries for double the racing time! Not only that, but the boat's anti-capsize hull system will help young boat captains stay upright in the water. 
This is a great toy for any 8 year old boy and they will have endless fun racing this boat.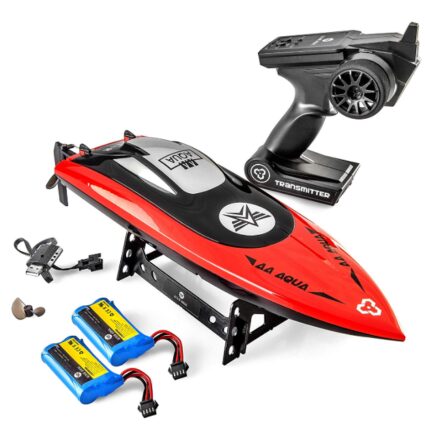 2. Robobloq Robot Kit
This robot is a great toy for both learning and having fun, kids love it!
Does introducing your child to the future of technology in a fun way sound good? Well, if so, then i would seriously check this 6-in-1 robot kit.
Your kid can build a robot tank, car, dozer and stretch their imagination with technical development at a rate that suits their age. This STEM educational device has been designed for kids aged 8 years old and above.
The graphical programming is based on 3.0 programming system and helps develop the basics of logical coding, which is a great way to introduce them to the work of the future!
The app remote is easy to control and has instructions for ease of use.
We especially love this one with its fun faces, easy controls and ultrasonic sensors that auto detect obstacles which makes this a really cool toy for an 8 year old boy or girl!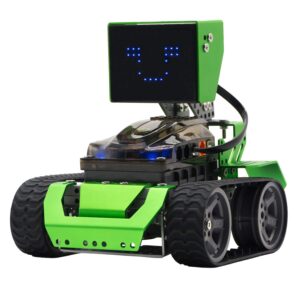 3. Nerf Bow
We all know how much boys love toys that shoot things, and this amazing Nerf Mega Thunderbow is one of the coolest toy bows you can find.  Not only does this thing look amazing, its real bow action and can fire its darts up to 100 meters away.  It can also load up to 5 Nerf darts at once and fire them without reloading.  Now tell him that doesn't sound exciting?
Coming from Nerf, you can be confident that these kids bow and arrow is both safe and durable, and this will be a great gift for boys, no matter what their interests are.  Hopefully, by the time they reach this age, boys should be responsible enough to use one of these without causing to much trouble.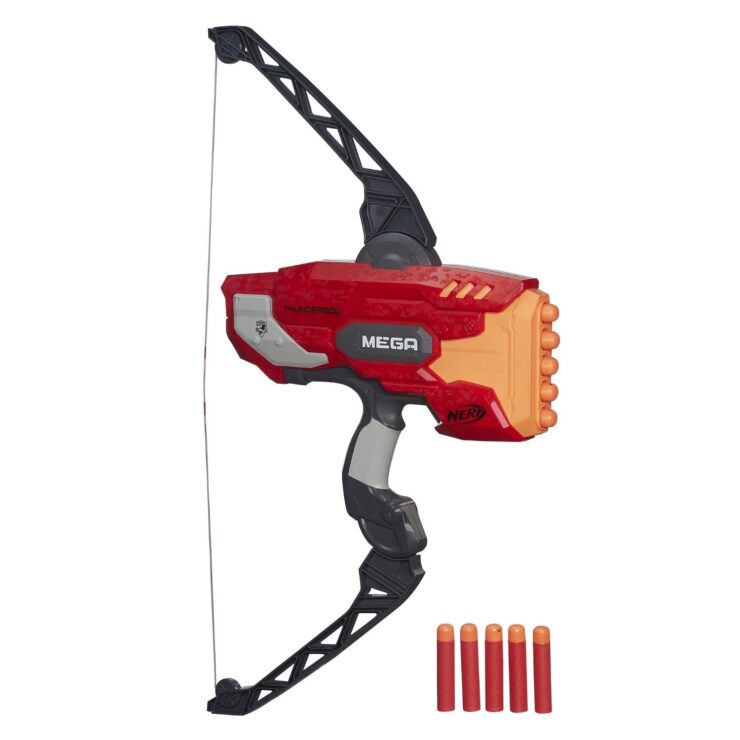 4. Nerf Blaster
That Nerf Bow above is serious cool for any boy, but if you're looking for something similar but a little bit smaller and more affordable, this Nerf Gun will also bring endless hours of fun to an energetic little boy.  The Nerf Strongarm blaster holds 6 Elite nerf darts and can fire them up to 90 feet.  It also has a feature where it can fire all 6 at once!
What your eight year old son will really love about this is that the barrel on the gun rotates, just like a revolver, which will make it really fun to use.  If you've got to by a present for an 8 years + who likes to have Nerf battles with his friends, this is a great budget choice.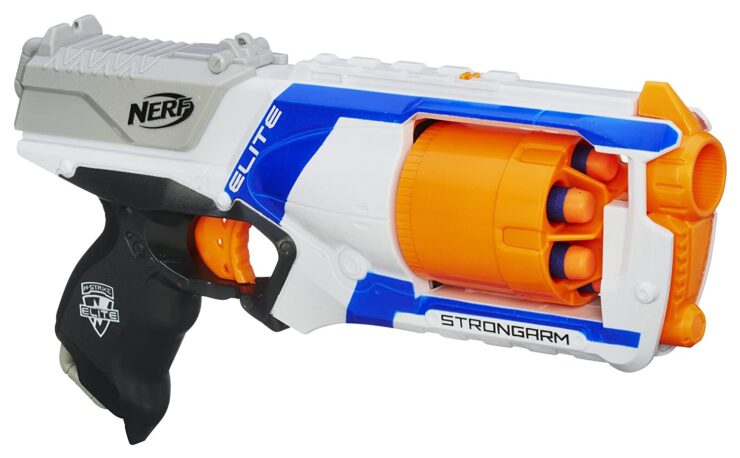 5. RC Millennium Falcon Drone
Boys love Star Wars.  Boys love RC toys.  Boys love drones.  So why not get the ultimate gift for your grandson of 8 that combines all three in this cool Millennium Falcon drone?
Styled after the iconic spaceship of Han Solo from the movies, this cool quadcopter drone has a 2.4Ghz transmitter, so your son can control it from around 200 feet away, and recreates the magic of Star Wars with authentic lights and sounds. It has been constructed with impact resistant foam, making it resilient to minor crashes, and the propellers are cleverly hidden within the design of the ship, which also protects them from damage.
This is definitely a gift for an eight year old boy who loves Star Wars, this might be the ultimate choice.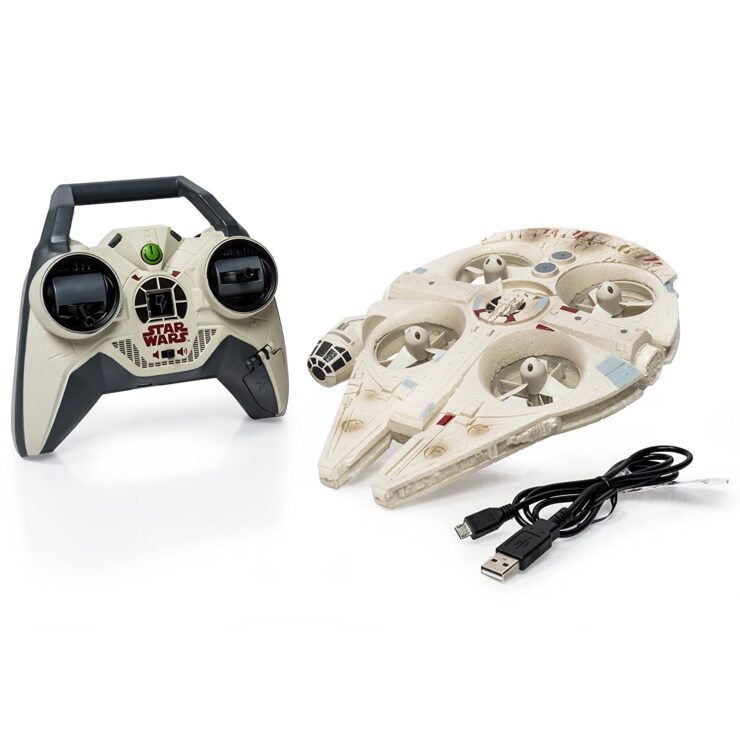 6. Lego Chain Reactions Craft Kit
This award winning STEM gift introduces little boys to the science of chain reactions as build and play with all kinds of cool working machines and contraptions.  By following the clear 80 page instructions, your little engineer will build ten machines, all with moving parts, which show of different chain reactions, and they will be learning all about physics at the same time.  They star off with easy designs, such as a seesaw, but then get more complex with pulley and elevators.
We really recommend this as a boy gift for eight as it is very educational and supports STEM learning, and once they've built all the machines in the instructions, they are free to craft their own inventions with this building set.  It can get pretty complicated though, so make sure there's an adult on stand by just in case they need a little help.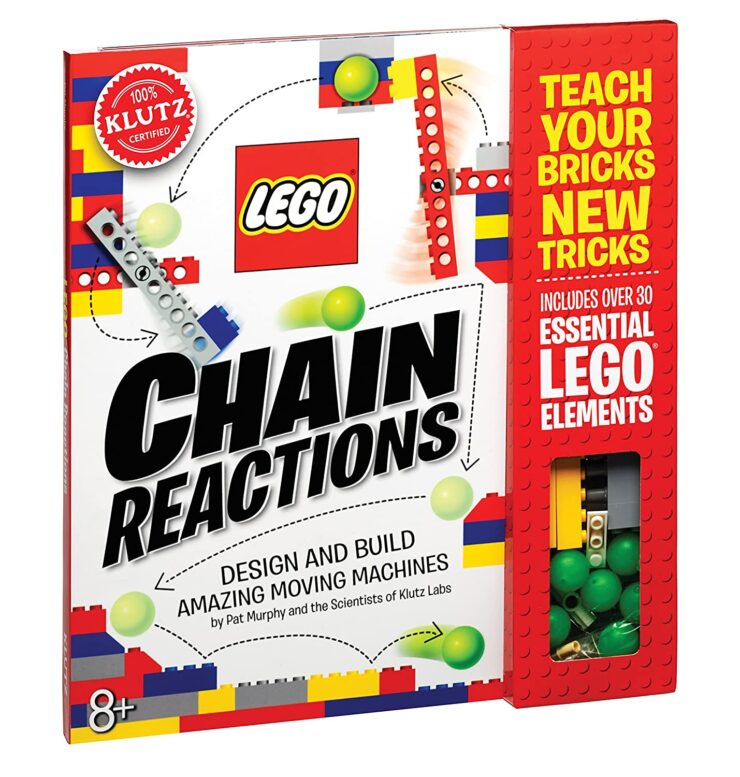 7. Lego MineCraft The Farm
Its hard enough trying to find a kid who doesn't play Minecraft these days, so if your 8 year old son likes this gaming phenomenon, why not encourage him to get a little less screen time with this awesome Lego set based on the popular video game?
This 262 piece set will let your little one recreate all kinds of scenes from the games, and helps them to understand the responsibility of using resources as they will need to use what they gather to survive and fence their livestock off to ensure they don't run away.  Also, just like the game, they need to be careful of the creepy skeleton that comes out at night.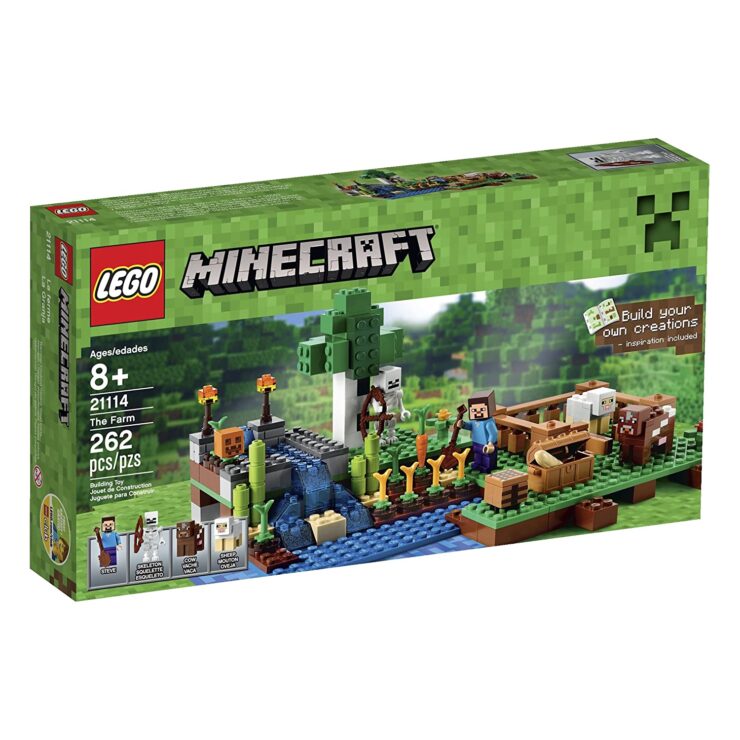 8. Piper Computer Kit
Inspire your little boy to become one of the top programmers or inventors of tomorrow with the Piper Computer Kit, which was the top Tech Toys of 2017.  Rather than just letting little boys play the video game Minecraft, this cool set has them solve different types of puzzles in Minecraft teaching them to learn how to build the physical controls, light-up switches and loads more mechanisms.
The beauty of this set is that it encourages creativity and problem solving and helps kids can a grasp of programming. This really will be an amazing gift for an eight year old boy who loves computers and technology.
There is a real computer inside this kit, and with it, your son can learn from scratch to become a top programmer or computer expert in the future.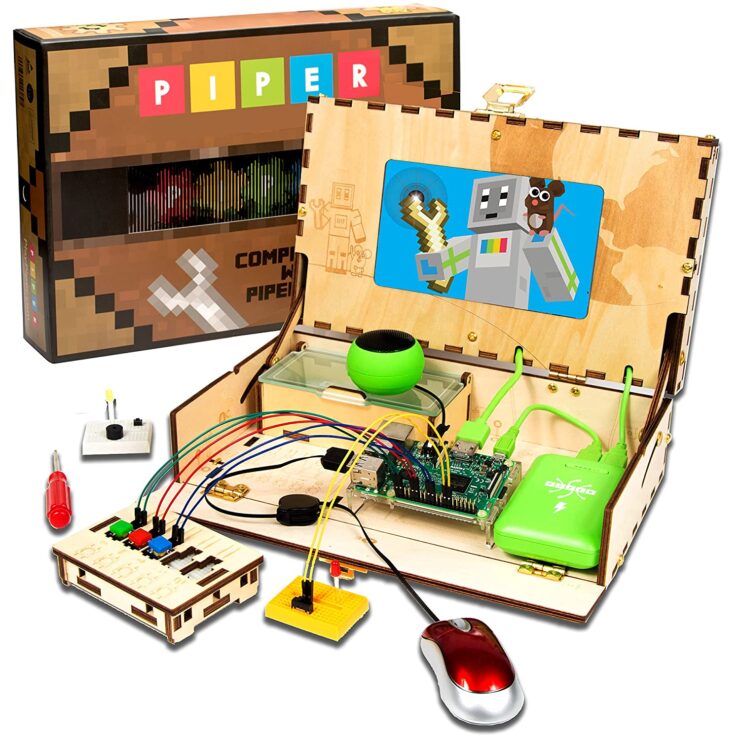 9. Robot Building Kit for Boys
Robot kits are brilliant gifts for boys, as they can challenge themselves to build the robot and then have lots of fun playing with it afterward.  This cool set let them build many different models of Geckobots, and what is really crazy is that these robots can use suction cups to walk up and down smooth surfaces like windows and mirrors.
This gift really is triple the fun, as not only will your boy have a blast creating all 7 different types of robot the kit allows for, he will love playing with its gravity defying powers, and learn a little about the science of gravity, pressure and vacuums as he does.
This comes with detailed instructions, and also h handy online resource with videos to help your boy out of he gets stuck.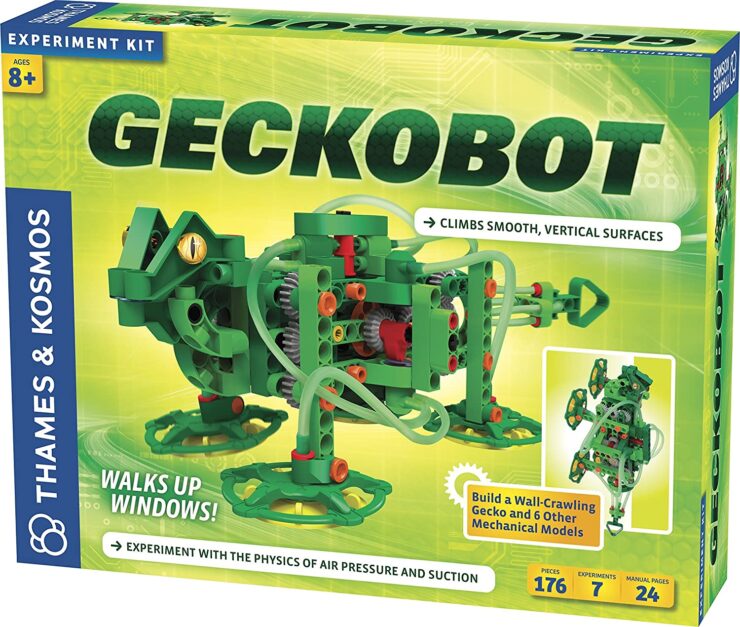 10. Ticket to Ride Board Game
Little boys love playing board games, especially competitive ones where they can take on their family and friends, and this cool set, based on the travels of Fogg's famous 'Round the World in 80 days' travel, will be a wonderful gift. Up to 5 players can take part, and the challenge is to The objective of this train board game is to see who can travel by rail to the most cities in North America in just seven days and win the $1 million dollar prize.  They can use train cars and players have to collect cards that allow them to use the different railway routes connecting the cities across the USA.
This is one of the most popular specialty board games of all time, and it is great for kids as it is not only fun and enjoyable, it also educates them about history and geography.  Plus, a game only takes between 30 minutes to 1 hour, so its not gonna mean your sons friends end up staying over all night just to finish. This really is a great family board game, and your birthday boy of 8 years will love it.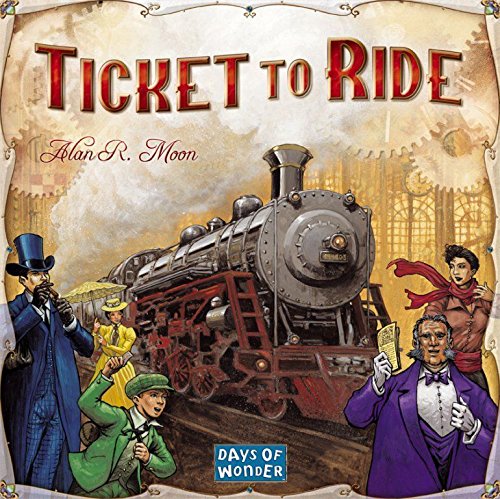 11. Snap Circuits JR Electronics Set
Kids turning 8 are developing intellectually and cognitively at a fast rate, so getting them a gift that challenges them mentally and helps them to develop problem solving skills is going to help them in all aspects of life, not just school.  If you think your little lad is up to it, this amazing kids electronic set will really push them to discover their talents for electronics and engineering.
With all kinds of cool components and connectors, your children can work through the instruction manuals to go through lots of experiments and make some amazing real world items, like alarms and sensors!.  This will be a great gift to go through with mum or dad.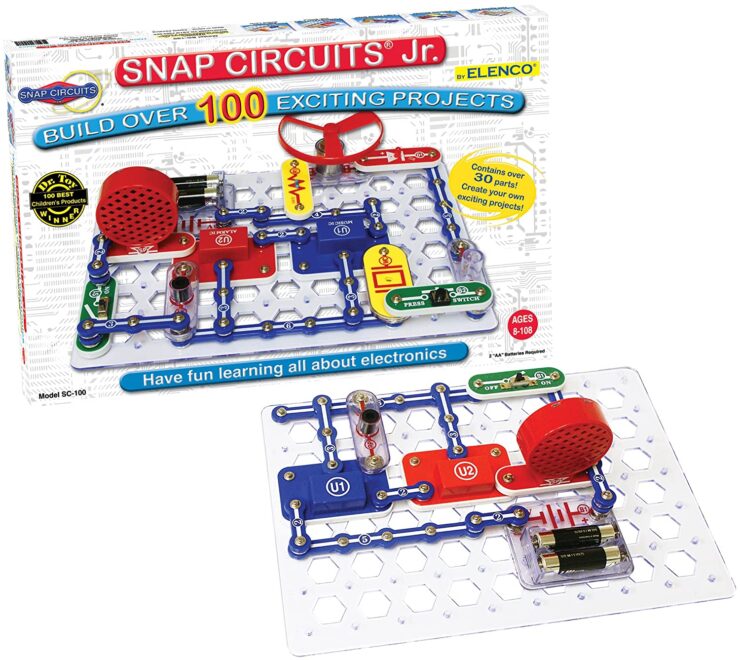 12. Dancing Groot Toy for Boys
Marvels Guardians of the Galaxy have been a pop culture sensation, and little boys seem to love this franchise.  If you know a boy of 8  who is a big fan of the movies, this cool and cute dancing Groot toy will definitely be a great gift for him if you are on a tight budget.
Stick this cool Vinyl figure on the boys desk and it will dance along to whatever cool music he's playing!  An essential gift for any bog Marvel fan.


13. Monopoly
This kids board game really should need no introduction, and eight years old is the perfect age for a young boy to get into this extremely fun and mischievous family board game.
Don't forget that Monopoly is a game that tests their wits and maths skills too, so it is a good game for a growing boy to play with either friends or family.  This will be one of the best gifts for 8 years +, and one that will bring hours of fun and laughter to the whole family.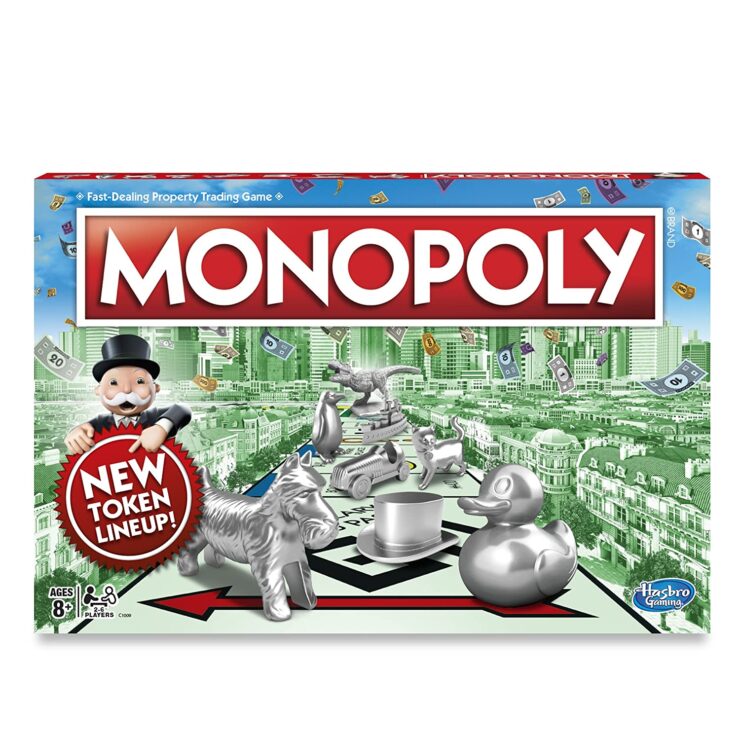 14. Relay Phone for 8 Year Olds
If your 8 year old loves to explore, Relay is the tough, durable, and safe phone he'd love.
Relay is as easy to use as a walkie talkie and has the range of a cell phone. It's also full of features like music and jokes! With no screen and a private network, you choose who he can talk to and there's no risk of inappropriate content. You can track his location via GPS and make sure he's safe at all times – there's even an SOS button!
Boys will love the freedom and independence of having a phone of their very own – great for birthdays or as a holiday present!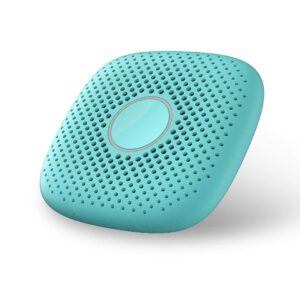 15. Sphero BB8 Boy Toy
BB8 captured the hearts of children all over the world in the movie The Force Awakens, and this amazing remote control robot has been doing the same.  Using a smartphone app, your kids can control this BB8 droid, and will be amazed at just how cool it looks as it rolls around.
He gets about 1 hour of life from a full battery charge, and can connect to a smartphone with distances of up to 30 feet.  The only downside is that you need to have an iOS or Android phone which is comparable with the app.  This might be the best gift for 8 years old boys who love Star Wars.

16. Jenga Game for Little Boys
We're sure that many parents reading this article spend many long hours in their childhoods playing this awesome yet simple game, so why not let your son get in on some of the fun as well?  This classic game of building block towers and trying to remove the blocks without bringing the whole thing down is something that should be a part of every child's life!
This version includes 54 Jenga blocks of genuine hardwood , stacking sleeve with instructions If you're looking for some simple, solid, and timeless fun for your boy of 8, go with some Jenga.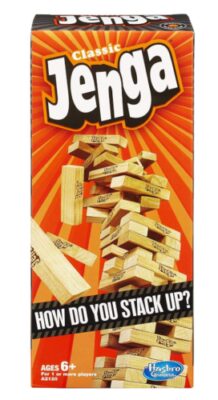 17. Hedbanz Board Game for a Boy
This award winning board game will be a great present for an 8 year old boy to play with friends or family members. The set up is really simple; everyone has a cartoon picture stuck on their headband, which they can't see, and they have to ask yes or no questions in order to try and figure out what it is.  In practice, this is really hilarious, and little boys will love it.
This is a great game for parties and family events, and although it might sound a little silly, asking the questions helps with their reasoning and language development, so it is good for growing boys in that sense as well as being really enjoyable.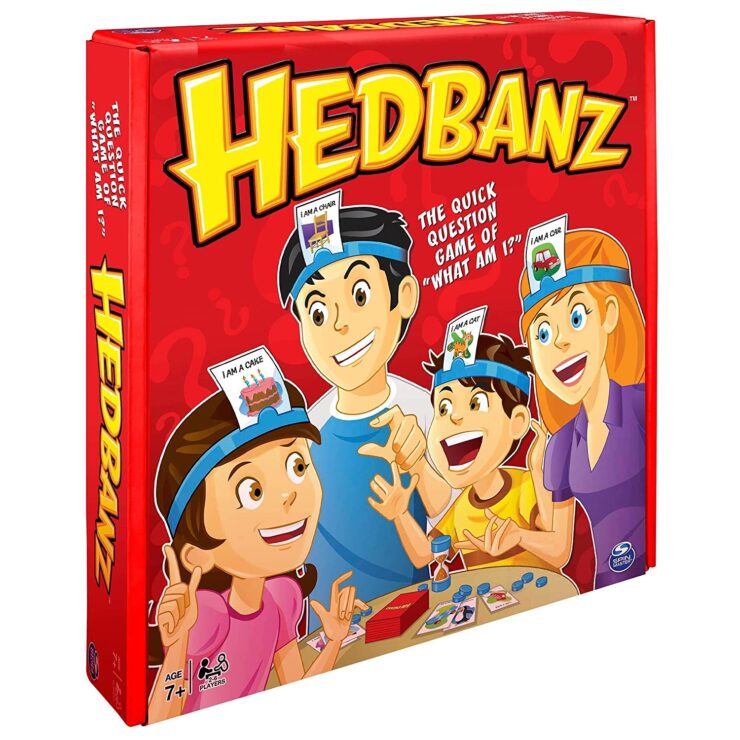 18. Nerf N Strike Target Set for a Keen Shooter
Boys love shooting games. You've probably noticed a lot of Nerf products on this list, and that is because they make the best shooters on the market, and we all know little boys love guns and bows.  This cool set includes a super cool Nerf blaster pistol that has an amazing LED target light on it, and it fire safe suction darts.  Best of all, this also includes a target board that is easy to hang on walls and doors, so your lad can shoot the targets instead of his siblings or pets for a change.
This is a really great Nerf gun set, and we love the fact that the target board means that it can be fun for your son to use it on his own, perhaps on rainy days or when his friends are all busy.  This will be a good gift for 8 years old boys who want to get some target practice in their spare time.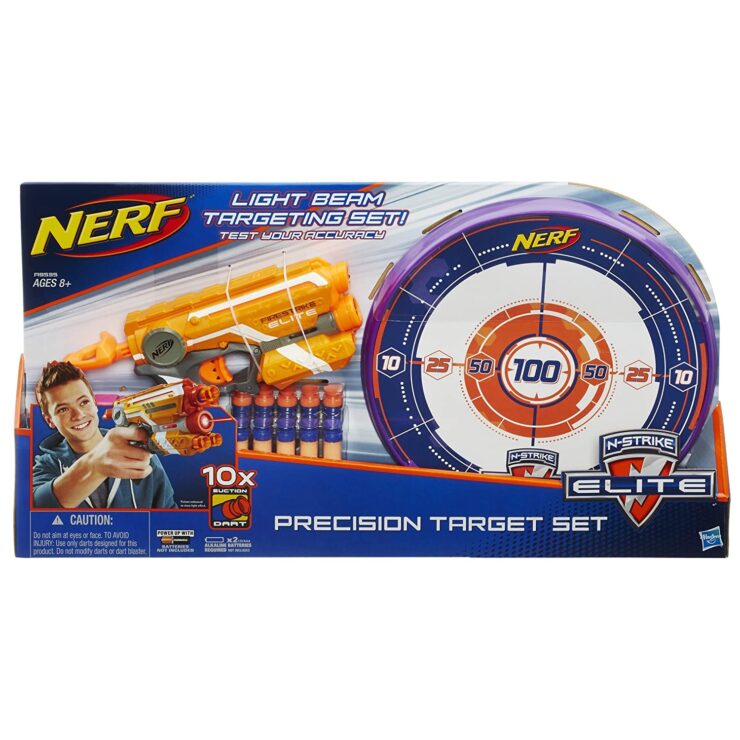 19. Magnetic Travel Games
Boys get restless when travelling, which is why this magnetic toy travel game is a great pick. Travel games make wonderful gifts for little boys as not only are they very affordable, they are very useful for keeping them entertained and occupied on long journeys, saving mom and dad a lot of hassle as well.
This cool little set has 6 travel games all in one cute and portable set, including chess and checkers, so long trips in the car or in the air will feel like minutes for your son, keeping him and his siblings busy and out of mischief.  Best of all, as everything is magnetic, you don't have to worry about pieces falling off or getting lost.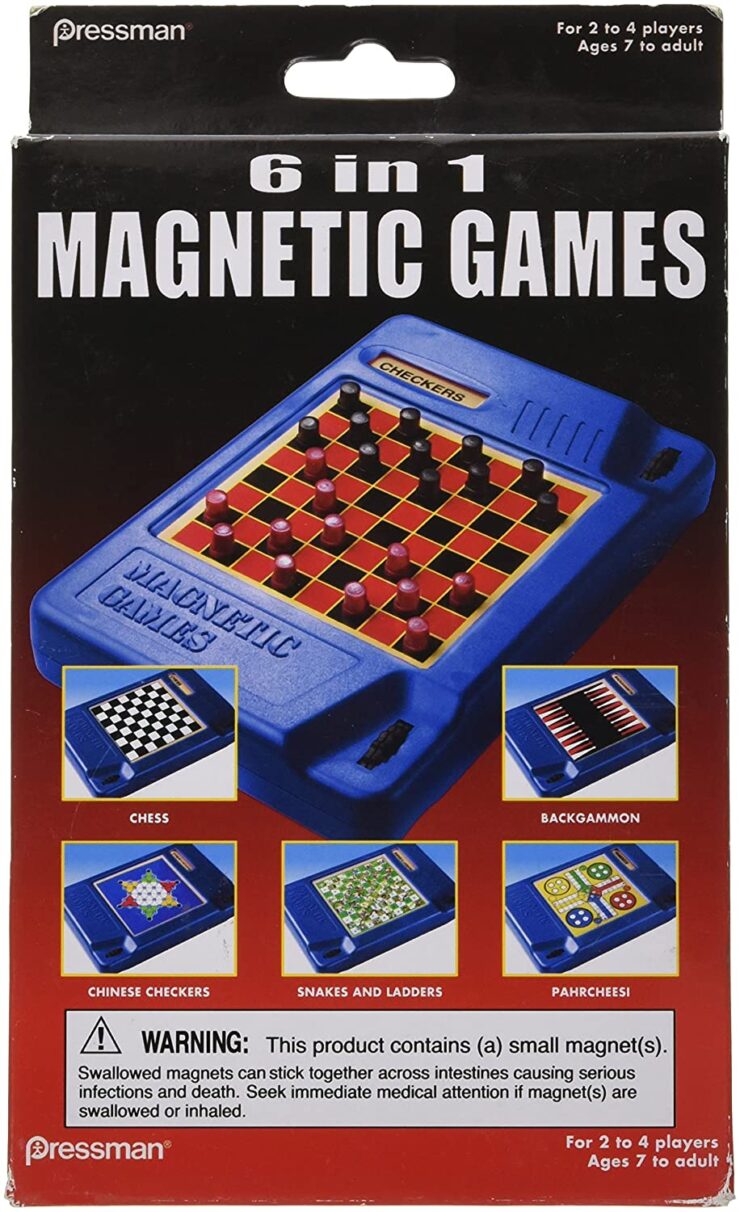 20. Marvel Superheroes Jigsaw Puzzle
On a rainy day boys need to play indoors, nothing quite beats staying inside with a good Jigsaw puzzle, and this 100 piece set will be a little challenging for your 8 year old grandson, but we think that joys of finding his favorite Marvel Superheroes will definitely give him enough motivation to see it through to the end.
Spiderman, the Hulk, Scarlet Witch, Black Widow, Starlord, they're all here in their super cute pop up forms.  This will be a great gift for any boy who loves comic books and superheroes.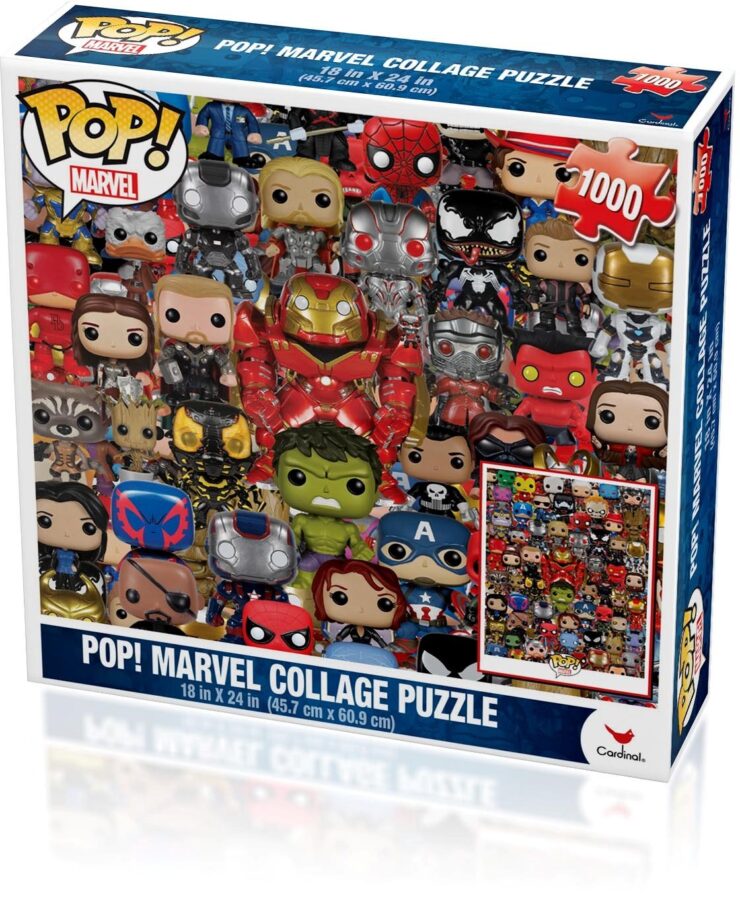 21. Cool Darth Vader Mug
little boys love dark vader and star wars in general, which is why this is a perfect small gift. As you may have noticed, ever since The Force Awakens hit the big screens a few years ago, kids have been absolutely mad for Star Wars, just like they were in the 70s and 80s.  If you're on a bit of a budget and are looking for a gift to impress a little Star Wars fan, why not get him this super cool Darth Vader mug?
This cup looks seriously impressive, and it is well made from strong ceramic, so you can be sure that it won't leak or crack.  Best of all, if your children are like mine and they complain when I tell them they haven't been drinking enough fluids, they'll always want another glass of water if it comes in this.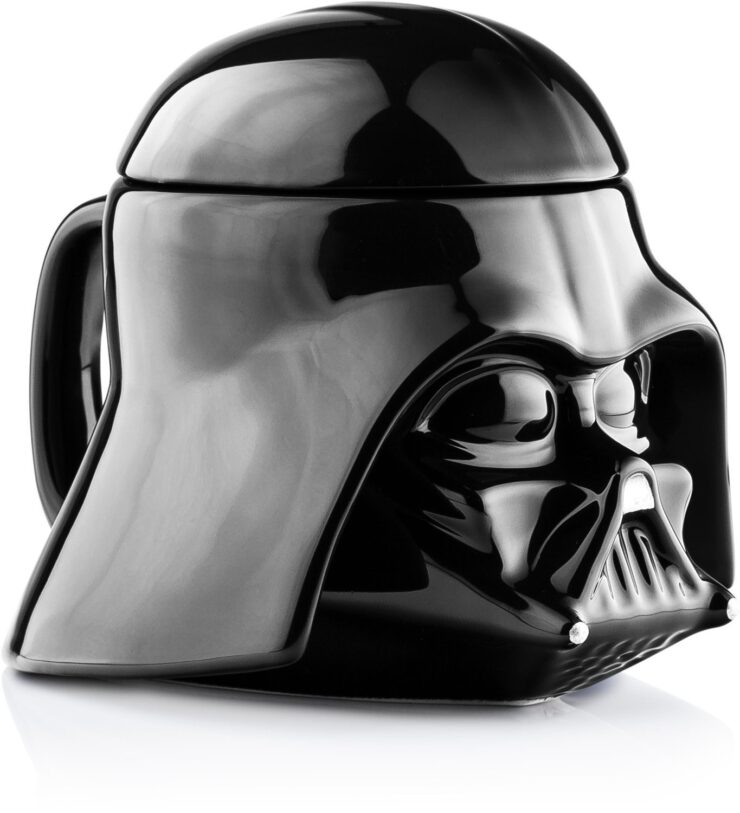 22. Potato Clock Science Gift
Looking for the best gift for an eight year old boy who loves science, but your on a budget? Help teach your little fella about science and the power of nature with this amazing science kit for kids.  He will be in awe of the incredible power held in vegetables as this simple yet amazing science gift helps him turn a humble potato into a battery to power a digital alarm clock.
This sweet kids science kit includes a digital clock, wires and prongs and detailed instructions; the only extras you'll need are two potatoes. This science gift is ideal for young science enthusiasts, and offers a valuable lesson on the transformative power of green energy. No batteries required, and you can always make some fries with the potatoes if he gets bored of it!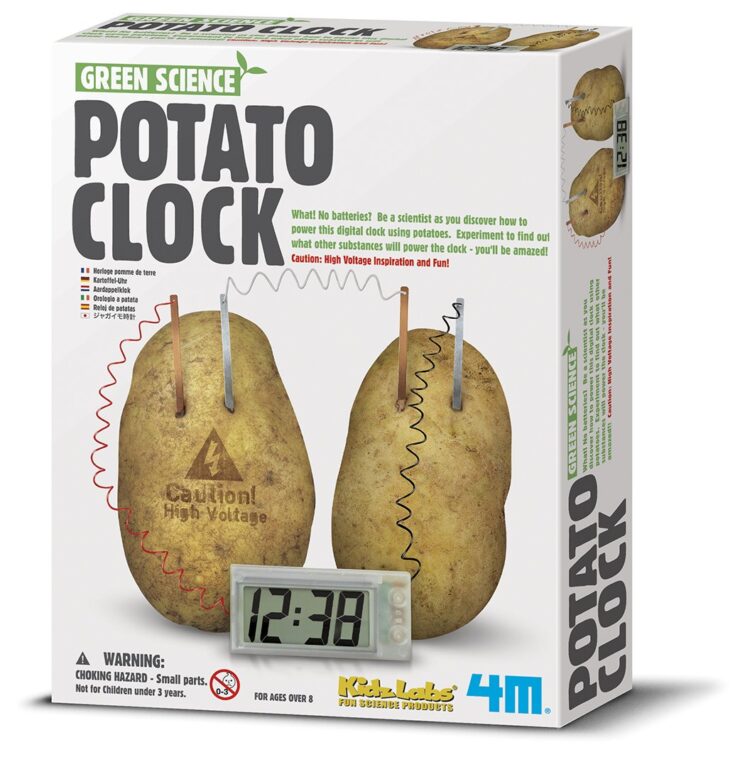 23. Cool Science Board Game for Boys
There's no way your little boy will think that science is boring after they play this cool kids board game.  This award winning University game is designed to help children learn to appreciate that science is fun and interesting by making the game about some of the grossest questions and scientific facts out there.  And we all know how little boys love to shock and gross people out!
The cool gift for an 8 year old boy includes a game board, loads of Question cards, heaps of Gross-Out cards, over 30 different Lab cards, 4 funky playing pieces, and a whole load of slime.  Up to 4 players can play, and they will tackle questions cover various scientific subjects as well as the hilarious 'gross out' challenges.  Education and laughter go hand in hand with this cool science board game set that is the ideal gift for a boy who thinks science is boring.


24. National Geographic Volcano Science Kit
Fun toys for 8 year old kids don't need to be boring if its educational as well. Help your little boy learn about some of the most interesting and thrilling phenomenon in the natural world with this awesome volcano science set.  This classic and time tested STEM set will be a great resource for your son not only to enjoy making a volcano right in his bedroom, but also help him learn a little about physics, geology and chemistry.
It also comes with an informative National Geographic learning guide on volcanoes.   Providing children with the best educational toys for 126 years, this kit is backed by National Geographic's 100% satisfaction guarantee.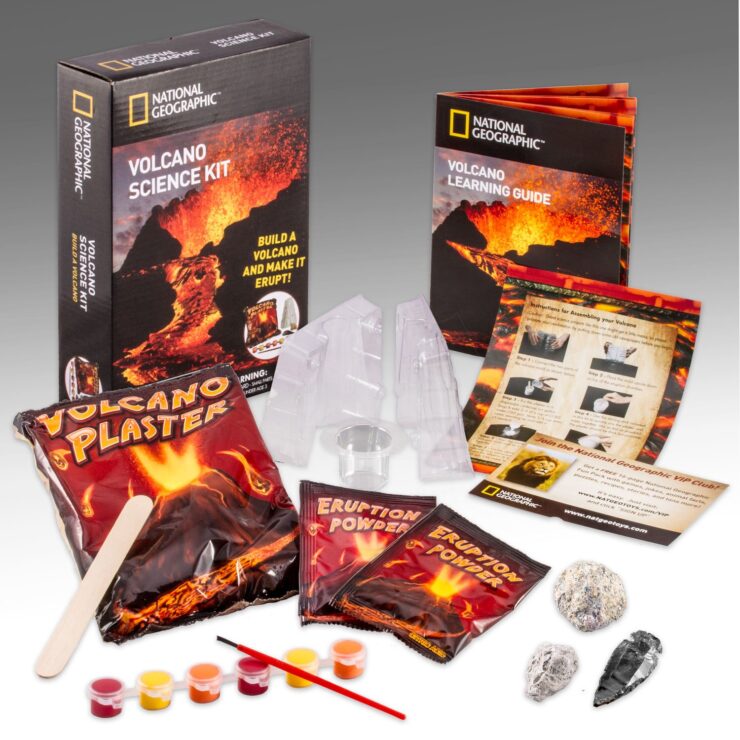 25. Ripstik Caster Board for Boys
Toy gifts can be outdoor toys ideal for an 8 year old boy who often likes to be adventurous and to try crazy new things outside in nature.  If your son is up for a challenge and wants to find out about the coolest way to get around, this ripstik will be great for him to try out.
A variation on the classic skateboard design, speed is built up by twisting on the board, and as such, your boy will feel like he is riding the waves.  Once he gets really good, there are all kinds of stunts, grinds and jumps he can learn.  Just make sure to get him some good protection pads and a helmet too.
This caster board is made of Fiber-reinforced polymer, so it is touch and durable, and you can be sure it won't snap or break while he is using it.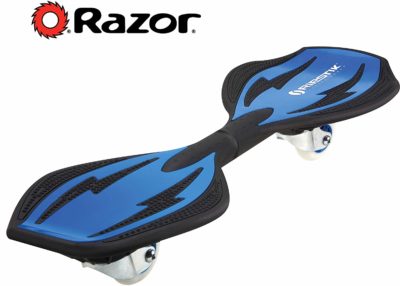 26. Boys Pokemon Cards 50 piece set
Unique toys and gifts I must confess for my boys, but some kids love Pokemon. I must admit that I don't really get this Pokemon stuff.  Its card game, a video game, a TV series and a crazy app all at the same time, its all about collecting monsters and making them fight. Kids do seem to get it though, as it is hugely popular all over the world, and i you're got an 8 year old Pokemon fan in your house, this card set might be a great gift for him.
Each pack contains 50 assorted cards, all in new condition and it contains a mix of common, uncommon, trainers and energy card. Hopefully, your child will understand what that means.


27. Boys Bug Catcher
Young boys often have a fascination with creepy crawlies, and they like to see what kinds of weird and wonderful creatures they can find around the house and in the yard.  If your son falls into that category, then this bug catcher will be something he will really enjoy.
This cool toy and is great at catching bugs with its vacuum bug-catcher. This awesome toy for an 8 yr old boy is a wonderful gift for his birthday or X-mas and best for eight years old boys who love nature and want to study wildlife.  And hopefully, they won't use it to catch bugs to scare their parents and siblings!


28. Tin Can Cable Car
This could be a unique fun present to receive for your son. Teach an 8 year old lad about science, energy and the importance of recycling with this cool robotic toy. This neat little kit will help your son turn an empty soda can into a functioning cable car, and it makes a wonderful budget gift for 8 year old children.
The box contains everything your son will need in order to get this up and running, aside from batteries, and this is a really cool educational toy as well, as it will get him thinking about science, energy and recycling as he uses it.


29. Monopoly Deal Card Game
Whether a birthday or Christmas present this gift is ideal for every born around 8 years old. Unfortunately, your son might not always have the time or space to break out the full sized Monopoly board.  For these types of situations, such as long car rides, plane or train journeys, camping etc, why not let him pass the time in fun with this great Monopoly Deal Card Came?
This is a fun game for kids, totally addictive and moreish card game based on the full board game that your son and his buddies can play in no-time! They can deal and try and steal your opponent's way to the top and all you need to do to win is gain 3 properties. However, special and dreaded Debt cards can turn your huge fortunes in an instant.
This has 110 Deal Cards and instructions and will make the best gift for 8 year old boys who travel a lot.


30. Set Enterprises Five Crowns
Eight year old boys are clever and savvy, and love a challenge. This rummy-style card game would be a great gift for any young boy and can be enjoyed with friends or family, children and adults alike. From ages eight and up you can play with up to seven participants and you can also play alone when you're feeling bored.
It has a special double deck and a rotating wild card, for extra excitement and drama in this quick thinking game. It has won over ten awards for Best Game, so it is definitely worth considering.
Card games can be considered 'old school', but sometimes the old ones are the best ones, especially when you want to get your son away from a games console or computer screen and encourage him to talk, interact, play and laugh with others. It is great for any competitive families, you can have hours of fun at home, on holiday or anywhere with this fun game.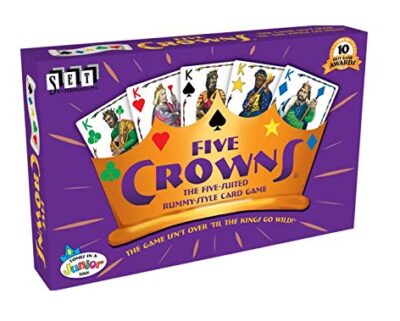 31. Mongoose Expo Scooter
As scooters for eight year olds go, this one is pretty darn cool. It is well made, with twelve inch air-inflated wheels so it is great to ride on concrete, grass or anywhere really. It has the vibe of a BMX bike, so the coolness is really built in. There are hand brakes so it is built with safety in mind and is made of a sturdy frame and can be relied upon to respond when you need it to.
Because it has a wide foot board it provides extra support so your son or nephew can balance easily while he races around excitedly. Any young boy would love this amazing scooter, as it has a freestyle brake rotor also, so they can practice tricks and perform their scooting skills for all their friends. It also has a helpful lifetime warranty.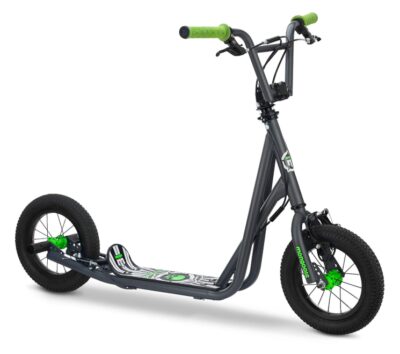 32. K'NEX Imagine Power and Play 
This is a substantial gift for a young boy and seems to have absolutely millions of components to keep your child busy for hours. With over 500 pieces, this building set has a twist, it isn't static, but is motorized, being crafted of a range of rods, wheels and connecting parts. When you assemble them, they can be arranged in many varied versions, all in glorious three dimensions.
So not only when your child makes his construction will it look impressive, but once it starts moving it will seem to come alive before their very eyes, and impress all their friends.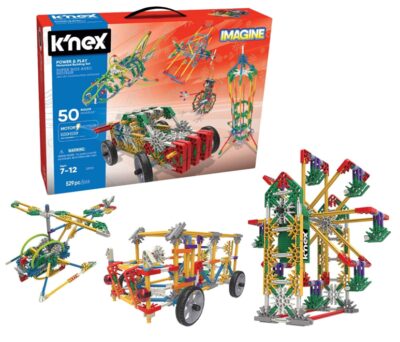 33. Awesome 8 Year Old Shirt
Kids need a constant supply of clothes, especially 8 year old boys – they seem to go through about four outfits a day as they get mucked up to the eyeballs and have to change constantly. But that's kids, as long as they are happy. This t-shirt will be a great gift for any eight year old to show off in, especially if it is their birthday and they want to stand out.
Let's face it, all kids (and a few grown-ups!) want a fuss made of them on their birthday, and with this t-shirt, they really will be able to enjoy that. It is made of 100% combed cotton in a classic crew-style neckline with short sleeves so it can be worn in the warmer months or complemented with a hoodie or sweater when it gets colder. It comes with a 100% money-back guarantee.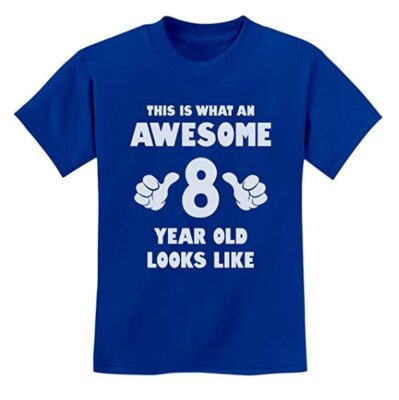 34. How to Train Your Dragon Hoodie
The How to Train Your Dragon movie franchise is unbelievably popular with young boys. They love the movies, the merchandise and the toys. So for their birthday or a special Christmas, this How to Train Your Dragon Hoodie is a great idea, and will have you in their good books for a long time.
Made of cotton and polyester mix, it is a pullover style and has a stylish motif of the dragons and Hiccup on the front, which your child will just love. It is soft and comfortable and will keep its shape when washing and drying and your child will probably get plenty of wear out of this item, all year round.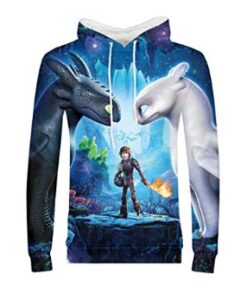 Overall Best Buy 
K'NEX Imagine Power and Play 
This was the obvious choice for the Overall Best Buy, because it just has so much to offer in the way of playtime, creativity, imagination and construction. Covering the STEAM theme, (Science, Technology, Engineering, Arts and Maths) this clever toy covers all bases and will offer your child hours of opportunities to create, build and discover and they will be rewarded with its amazing movement when it eventually comes to life.
With over 500 construction elements, this toy can be enjoyed all the way into early teenage years as it has a range of levels of challenge that your son can grow and develop into.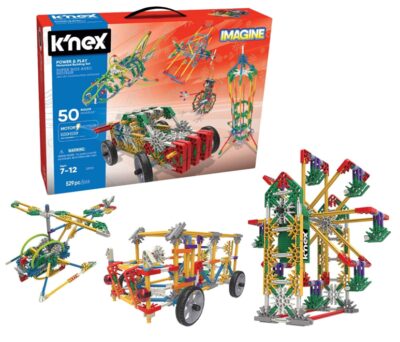 Cool Toys for Boys Aged 8 
There is endless choice of toys and gifts for young boys. Some love sporting gear, such as training golf clubs or soccer kits, while others prefer STEM based toys, where they can craft, create and build for hours on end. Other boys want computer and gaming toys and some want musical toys.
Whatever your child's preference, this mini drone toy will be a well received gift regardless. It is hand operated so is simple to use for young children and will have them amazed and in awe of how it flies above their heads with ease. It can be used inside or outside so there are lots of possibilities for fun and it has clever motion sensors that detect any obstacles as well as a USB cable for recharging to use again and again.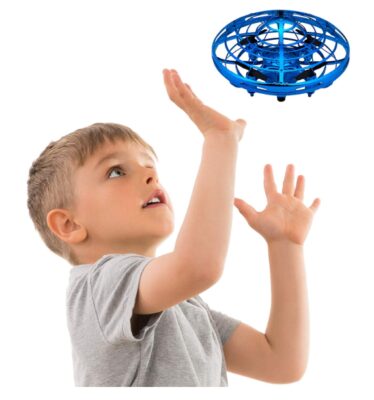 Gift Ideas for 8 Year Old Boy Who Has Everything
What actually do you get for the boy who has it all? He might have all the marvel figures, all the LEGO in the world, and you might be really stuck for ideas. So why not choose a more quirky, off the wall style gift? If they already have an amazing bike, get them an accessory or something to enhance their already cool toys.
These LED bike frame and wheel lights are really fun and increasingly popular. Not only are the cool as heck, and will make your eight year old the most popular kid at the park, but they are safe to use in the twilight or late hours, they are waterproof and they make the bike visible for extra safety. You don't need any tools to attach them and they fit all sizes of bikes – yes adults can have them too!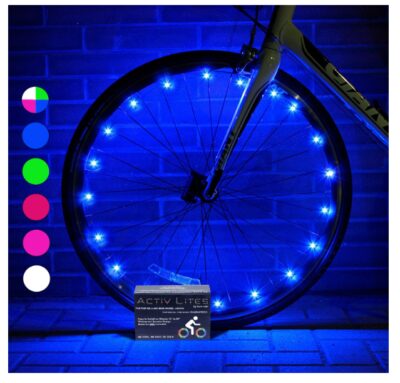 Christmas Ideas for Kids Aged 8 Years
A really fun gift idea for any brick building lover is this amazingly quirky mug, which is unusual and fun. Not only is it a mug that you can actually use, it is made of safe, non-toxic plastic and will take warm and cool beverages safely.
It's a fun talking point and you can add all sorts of suitable building blocks to it to create amazing shapes and scenarios as you enjoy your milk, lemonade or juice. It holds up to 12 ounces and is FDA approved. The company also offer a money back guarantee for this creative and fun mug. A great combination gift with any other building games or sets, or great just as a stocking filler.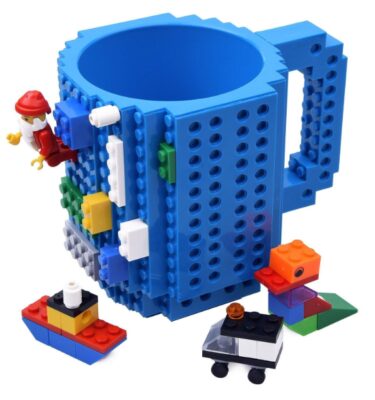 Here are some other awesome gift ideas for you to check out: