Yesterday I had some fun with my sisters instead of working on today's post. It was really great and exactly what I needed. We ate a yummy lunch, shopped a little, and then we got wild and crazy and dyed each other's hair :)
So I don't have a Feature Friday for today, but I do want to tell you about a few upcoming things on the blog here that I'm super excited about. You know how I love to have things to look forward to. I have been planning and working out details for a few special things.
First off is
Silhouette Week
. Next Tuesday through Friday I'm going to be doing some
video
tutorials to help you learn how to use the Silhouette cutting machine. Don't have one? We'll also be having
a SWEET giveaway
for a brand new machine! I'll show you two projects a day and break down how to use the software. Think of it like a friend showing you how it works, rather than spending hours with a manual.
Then, during the first two weeks in November we'll be having the "Refashionista" series again. It's back by popular demand and there will be some fun guest bloggers. We'll show you how to take clothing cast aways and turn them into something new and hip.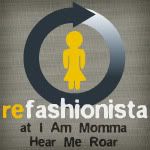 At the end of November we'll get ready for Christmas as we repeat another popular series from last year - CHRISTmas. The idea is to share ideas that will help us remember the reason for the season.
I hope you're excited about all the upcoming stuff, too! Thank you for reading my blog.