Are you looking to find the best tea sets for girls who love pretend tea parties? There are tons of adorable tea party sets for girls out there. From cute teas sets to baskets, there's so much choice when it comes to selecting that perfect gift or a new addition to the toy box…
We're going to take a look at the best little girl tea sets out there. Whether you choose a plastic set or opt for a real-feel with a ceramic toy set, there is a set for every type of little girl, which ensures for hours of imaginative tea preparing play with friends or solo.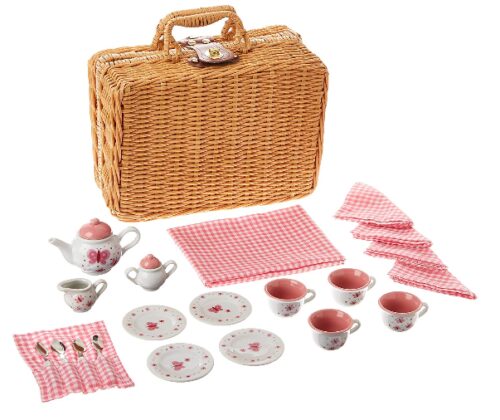 Key Considerations When Buying A Tea Party Set
Age: Kids tea sets contain lots of small pieces which understandably can pose the risk of being a choking hazard. Prior to buying sets for kids, you should be sure to check the recommended age with the retailer or via the packaging directly. When it comes to considering age as well, you should also consider the most-friendly material for the child that will be interacting with the set. Plastic sets are far more suitable for younger children as they are safer and don't risk being broken. 
Material: When considering the best tea set for toddlers you'll want to take into account the material that the components are composed of. Plastic sets are far more suitable for young children due to their durability. If you're buying a set for an older girl, consider investing in a more realistic ceramics set. 
Size: Kids teapot sets come in a variety of sizes and can include a large number of pieces. If you're buying this type of toy for a younger child consider choosing a set with fewer pieces as these are generally less complex. 
Purpose: Plastic play teacup sets for girls are a perfect option for those who will be regularly interacting with the toy and wish to use it for learning and developing skills. If you're opting for a ceramics set consider that they may provide less opportunity for play due to the fragility.
With so many options available out there when it comes to choosing a tea toy party set you may be left indecisive. That's where our recommendations list comes in, we've scoured the net to source the best sets out there and, with plenty of different styles, there is something for every type of personality.
Top Sets in 2023
1. Tea Set with Basket
This beautiful children's set for a little girl is a perfect birthday or Christmas gift and will provide hours of imaginative play. All contained within a pretty, latched, hand-woven basket, kids teacups sets don't get much more lovely than this! Featuring 23 porcelain pieces which have delicate pink-colored butterfly detailing.
Your child will have the best tea set as they can recreate the party of dreams with 4 teacups and saucers, a classic teapot with lid, a creamer, 4 spoons, 4 gingham printed napkins as well as a protective tablecloth to soak up any accidental spillages. Suitable for party hostesses over the age of 8 years old, this wonderful child's fun time playset is wonderful for any occasion and will bring children and toys together.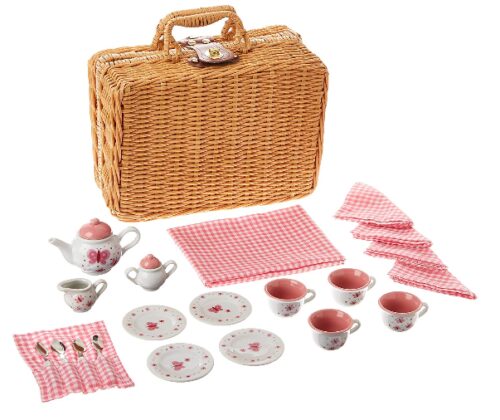 2. ALEX Toys Ceramic Set
This pretty ceramics children's teapot set comes with 13 pieces and is the perfect tea set for a young girl. Kids will be able to throw their very own party for friends, family and even toys with this high-quality set that includes a delicately decorated butterfly printed teapot, 4 teacups and saucers, a sugar bowl with a lid and a creamer too. This pretty Chasing Butterflies kids toy pretend play set is recommended for children ages 4 years old and above.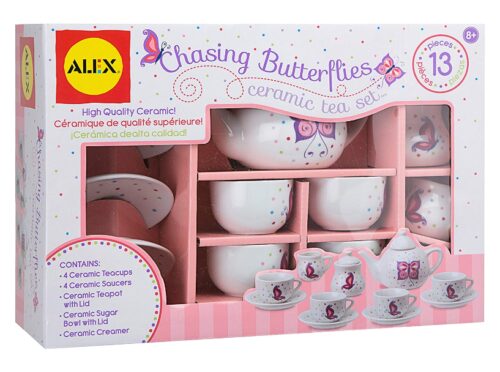 3. Beauty & The Beast Tea Playset
Is your little girl a fan of the iconic Beauty and the Beast film? If so, this wonderful children's toy tea and cup set for two is sure to bring a smile to your child's face. Have your child sing along to 'Be Our Guest' as they reenact the scene with this animated children's china tea gift set. A stunning set will allow your little girl to throw an enchanting tea party for two.
Mrs. Pott's eyes blink as tea is poured and Chip wobbles on his saucer, just like in the movie! This children's activity set is recommended for children ages 3 years old and above.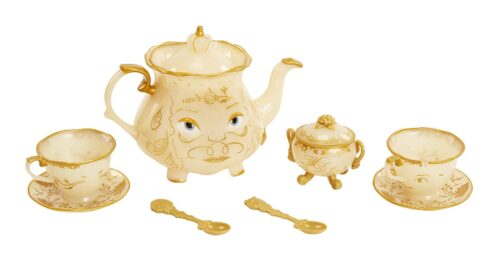 4. Kidzlane Plastic Play Tea Set
Children's plastic sets don't get much cooler than this! A perfect choice for toddlers, this set for four is a great gift for children ages 1 year and above. Kids can imagine their own tea party scenarios, as they pour drinks for friends and family members.
With 15 pieces, there is plenty of fun to be had! Featuring a colorful red and yellow plastic teapot, yellow cups and saucers, green spoons and a green creamer, this set will familiarise young children with color naming too. A durable mini tea set for kids and made from BPA free plastic, this set is safe and sure to last a long time.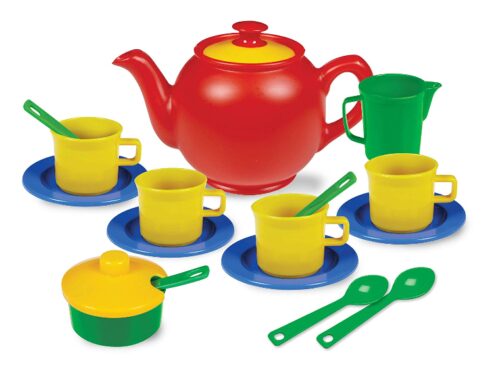 5. Toysmith Mini Set
Give the gift of a lifetime with this pretty 17 piece children's china tea set. Packed perfectly into a pink case, this children's playset for sale will help kids to practice their social skills as they host extravagant tea parties for guests. Including a teapot with flower motif, 4 cups, and saucers, a sugar bowl and spoons, ceramic sets for kids don't get much more awesome than this.
The container box can be securely closed for travel and contains specific compartments for each ceramic item, with part of the box being cushioned with pink silk for extra protection. This china set is suitable for children over the age of 8 years old.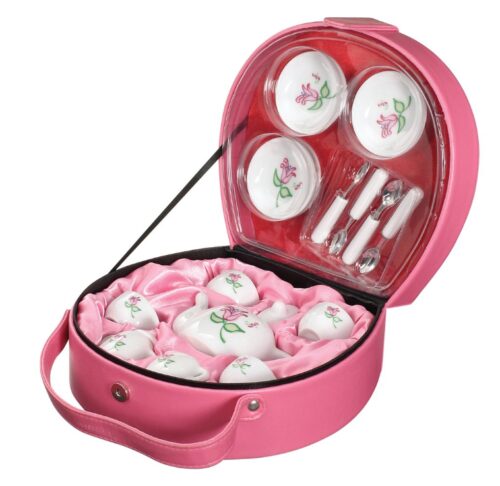 6. Melissa & Doug Pretend Play Set
This pink butterfly themed children's set for four is an excellent choice if you're looking for a girls plastic set. Composed of a durable material and stylized to look like flowers, this set includes a fairy-like teapot, 4 cups and saucers, spoons featuring butterfly handles, and leaf-shaped saucers. BPA and PVC free, the set can be used practically and is guaranteed to last years of play.
Encouraging creative play, children can improve their social skills as they host a tea party in the garden for friends. This set is recommended for kids ages 3 years and above.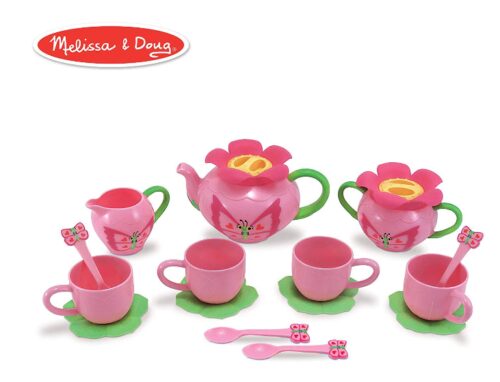 7. Melissa & Doug Wood Set
Are you looking for a kids toy set that will hold the test of time? This wonderful wooden tea set is sure to get creative kids stimulated as they can serve up both tea and biscuits to friends and family members. Including a teapot with lid, 2 cups and 2 spoons, a sugar bowl, milk pitcher, 6 assorted teas contained in a caddy, 2 cookies and a dry erase card, this set really is excellent value for money!
Perfect for toddlers, this gift could provide children ages 3 to 7 years with hours of fun as well as the opportunity to develop cognitive and imaginative play skills too.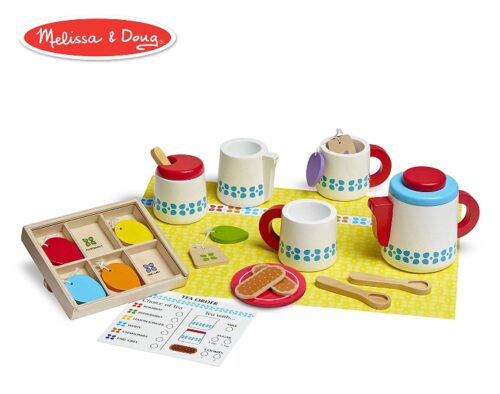 8. ALEX Pretend Tea Time Set
This tin set is ideal for parents who are looking for a children's tea set for four that is durable and suitable for both indoor and outdoor use. Your child will be able to throw their own adorable party using the beautifully floral patterned set which comprises of a teapot with lid, 4 cups and matching saucers, 4 plates and a serving tray too.
All the pieces can be packed away into the handy case which can be carried for an awesome addition to a picnic. This kids toy set is suitable for children ages 3 years and above.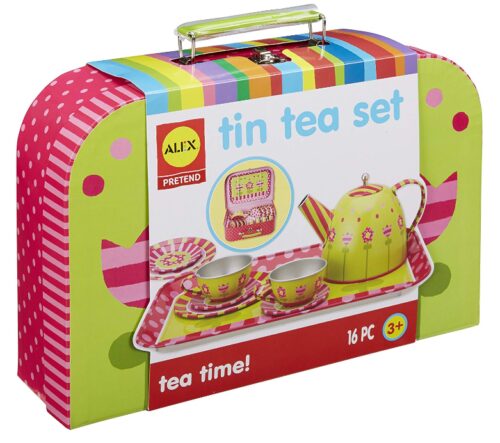 9. PlanToys Wooden Set
Made using wood sourced from rubber trees, this solid wooden tea set reinforces the idea of green living through teaching children about the environment as well as encouraging a positive learning environment. This educational toy comprises of a contemporary teapot, 2 teacups, and saucers, a sugar pot, creamer, and spoons as well as colored tea bags for 'brewing' too.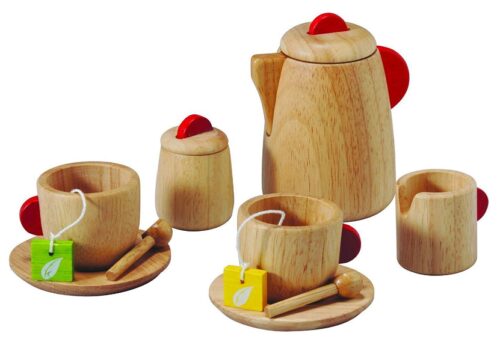 10. Green Toys Set
This colorful kids tea set for kids is a great choice for helping young girls to develop their motor skills and will encourage imaginative play too. Comprising of a centerpiece pink and lilac teapot, 4 blue cups with green saucers, 4 yellow spoons and a purple sugar caddy too, making it complete for a tea pretend party with guests.
Composed of environmentally friendly plastic, this set is suitable for children who need encouragement with fine motor skills as they learn how to arrange and use the different elements as they brew and make tea. To clean the set, a mild soap can be used.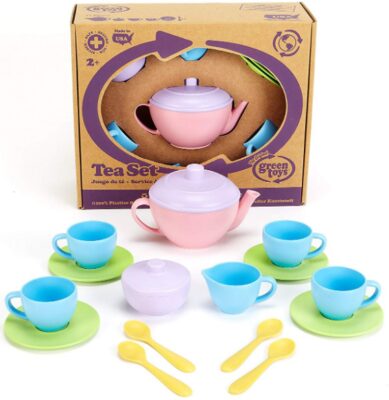 11. Tin Tea Set With Hat And Book
We love this adorable tin 12 piece cute set which includes a book, hat, and bag too! A great birthday gift idea for a little girl, your child can host their special birthday tea party with friends as they read the story included and dress up too. The rhyming storybook is based on the narrative of a little girl's first-ever party, making it relatable and great for imaginative play.
This floral printed pink and white set comes with a beautiful teapot, 4 cups, and saucers and is lead-free for safety. The pretty pink hat and bag featuring a flower and ribbon fit children between the ages of 2 and 7 years. Composed of straw, these wonderful accessories are a great addition to any garden party in the summer months.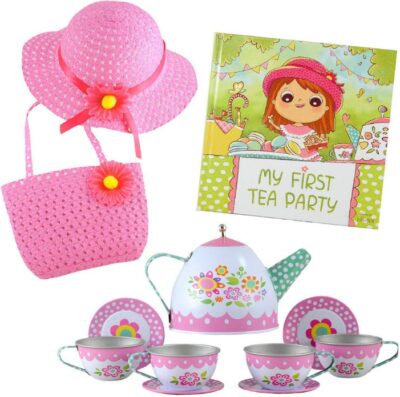 12. Leapfrog Toddler Set
This musical rainbow plastic tea party set is an ideal choice when it comes to buying a toddler a birthday or Christmas gift! Designed for kids ages 1-3 years, this wonderful toy set contains 10 pieces which have sounds and lights for sensory play.
The set will help to teach a toddler about manners, colors, taking turns, greetings and counting with over 50+ phrases.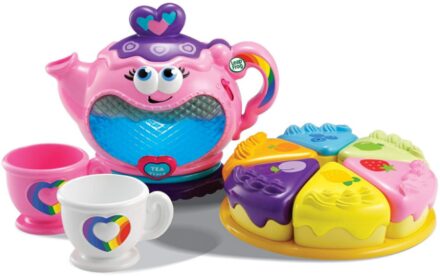 13. Colorful Tin Set
What better way to teach a child about nature than to get this cool tea and tray set? Containing 14 pieces, it's colorful fruit theme makes it one-of-a-kind and, a great gift idea for a little girl. Including a large serving tray, a pretty red teapot, 4 cups and saucers, and 4 fruit themed plates, this set is great for any pretend parties!
Each piece can be used practically if children wish to use the plates to serve real food to their guests and the set is generally durable thanks to its tin material making it an ideal choice for outdoor use too.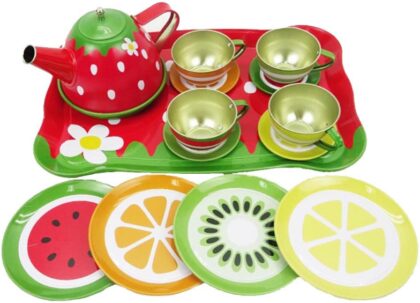 14. Musical Tea Set For Toddlers
If you're looking for a gift for a little girl, this wonderful musical toddler set for making tea may be exactly what you've been searching for! As a perfect addition to a kid's play kitchen, it composes of 1 musical teapot, 2 teacups, 2 saucers, 2 spoons, and 2 cupcakes for an extra cute touch too. With realistic sounds, kids can lift the plastic teapot lid to hear the tea brewing and push the lid down to create a whistling noise.
The flowers on the side of the teapot also play soothing melodies that children can use to entertain their party guests. Recommended for children ages 3 years and above, this plastic set is great for improving hand-eye coordination and imaginative playtime.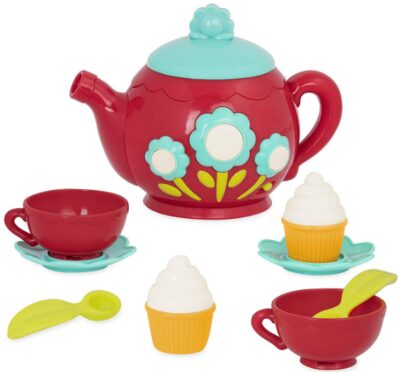 15. Serving Shapes Set
Including a colorful centerpiece purple teapot and 5 purple teacups and saucers of different colors, this set aims to introduce kids to numbers, shapes, and colors too. If you're looking for a more educational set for your little girl or, the girl you're buying a gift for, this set ticks all the boxes.
Children can develop their skills as they host a tea party which promotes stacking, matching and sorting in a creative way. This cute set is composed of plastic making it extra durable and is recommended for preschool-age children above 2 years old.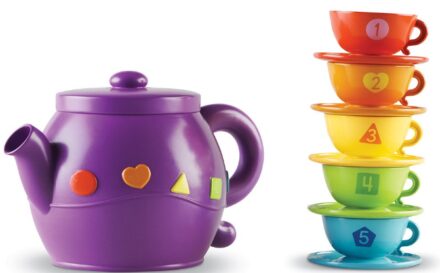 16. Lucy Locket Woodlands Set
This beautiful woodland themed tea play party set is a beautiful gift idea for any little girl who is celebrating a birthday. In line with the teddy bears picnic theme, children can host their own imaginary party with friends or toys with this 14 piece durable tin set. Complete with 4 cups and saucers, an illustrated teapot featuring owls and a serving tray, don't get much cuter than this.
Featuring illustrations of a range of woodland-themed animals including owls, hedgehogs, birds, and foxes too, each individual piece can be packed away into the convenient robust carry case for versatility!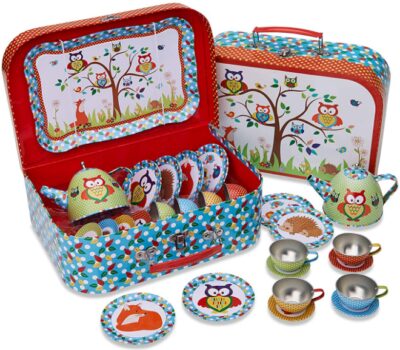 17. Garden Party Set
For little girls who love the outdoors, this garden tea party set is a great choice. Children can choose to hosts any guests they wish, from outdoor animals to their family members with this beautiful floral set. Featuring 15 pieces, kids have everything they need to throw the perfect garden party with a teapot with lid, serving tray, 4 cups and matching saucers, all of which are food safe too!
Each piece is adorned with illustrated flower motifs, bees, and butterflies making it a great summertime gift. Recommended for kids ages 3 years and above, mini hostesses can throw their very own imaginative party both indoors and outdoors with this wonderful set.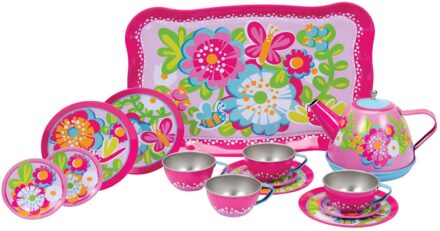 18. Delton Porcelain Set In Basket
If you're searching for that perfect gift for an older girl who loves imaginary play, look no further than this stunning Delton porcelain teapot set. Made using the finest ceramic material and, containing a functional teapot, creamer, sugarbowls and 2 cups and saucers makes this a perfect set for an entertaining a special friend with tea.
Each piece features a beautiful dancer illustration colored purple with all of them being stored in a gingham lined purple wicker basket, making it perfect for travel. This gift will be treasured for a lifetime and can either be used practically or as a collective piece too. Great purple tea sets for girls!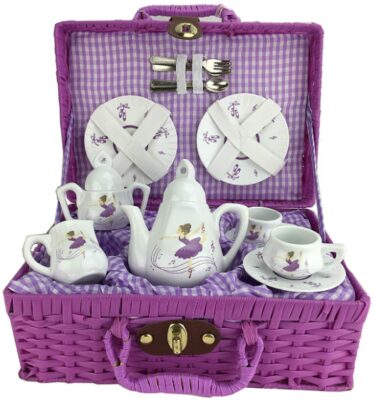 19. Peppa Pig Teatime Set
Lots of toddlers love Peppa Pig and this roleplay set is perfect for any little girl fan. Featuring adorable plush toys, children can enjoy tea with Peppa's teddy and George's dinosaur. The set comes complete with a pink teapot featuring a Peppa illustration which when the knob is pressed it sounds fun phrases from the popular show and, if tipped over will mimic pouring noises too.
The 11 piece set includes 2 teacups, 2 saucers, 2 teaspoons, 2 cupcakes, a teapot, and 2 teddys for roleplay. What do you make of this adorable toddlers tea party set?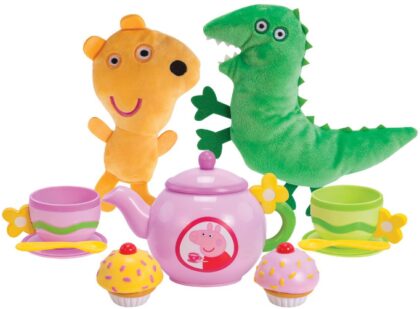 20. Polkadot Play Set
If you're looking for a durable tea toy set containing enough pieces for a little girl to host the best imaginary tea party ever, then this is the set for you. Made of ABS durable plastic, this set is non-toxic and safe for even young children to play with. The eye-catching polka dot design colored in pink and purples make it a great addition to any girl's existing kitchen play items.
This set can be used for real picnics, bathtime, and indoor/outdoor use too. Recommended for children ages 3 years and above, this set is ideal for educational play as children learn to share and socially interact.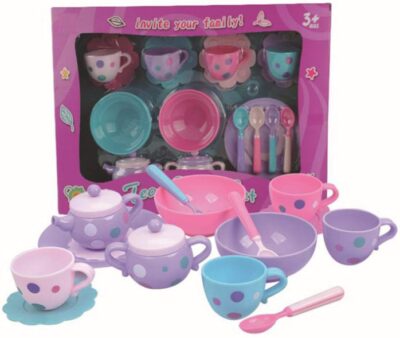 Overall Best Buy
Having reviewed a wide range of children's tea sets we have picked our overall top buy from the selection above. If you're still struggling to select that perfect set for your own little girl or, if you're buying a gift and are just not sure which direction to take, we want to present to you our preference: Melissa & Doug Pretend Play Set.
We love this particular party set because of its simply adorable design which features plenty of pink and flowers making it a great choice for little girls who enjoy such things. Suitable for entertaining up to four guests at a play party, the cute set is bold in design and composed of plastic making it fantastic for younger children.
We love the matching teacup and saucers which mimic a real flower for that extra sweet touch! What's more, is that the set is made using BPA and PVC free plastic making it perfectly safe for children ages 3 years and above.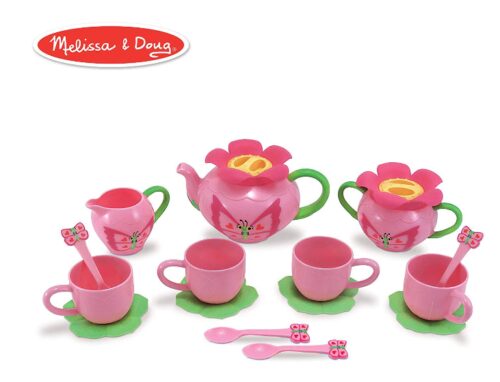 What Age Should A Child Get This Type Of Toy?
Generally speaking, toys that contain small components such as plastic tea sets, should not be given to children under the ages of 3 years. There are many benefits that this type of toy and interactive play can provide a kid, so we'd recommend adding this to the toy box if you haven't already. Suitable for all genders, these type of toys are not only fun but educational too! Let's take a look at what a child can learn and develop from interacting with a teapot set.
Benefits of Tea Pot Set Toys
Teapot set toys don't only just look cute, they actually can help a child develop plenty of vital skills and will encourage them to develop their imaginary play skills. Let's take a look at how your kid can benefit from interacting with this type of toy:
Pretend play: Children who regularly pretend through the use of toys as props are naturally mimicking what they see in the real world. This inevitably helps a kid to learn about the world around them and practice how adults exist in their environments. Such activities also encourage negotiation, cooperation, and role-playing too across many different situations. Kids can use the opportunity to develop their own characters and storylines, pushing their imaginative skills too.
Motor skills: Through interacting with the different elements of a toy such as a kids teapot set, children learn to control different items and improve their spatial awareness. The development of fine-motor skills is crucial in childhood as it will help a child to develop further cognitive abilities and will provide them with the opportunity to interact with the world around them easily.
Social interaction: Such toys will have children participate in role-play, where they are the 'host' of the tea party. This type of imaginative play is really beneficial for social interaction. Through putting themselves in the shoes of another, kids can develop their empathy skills and demonstrate their consideration of others. Teacup sets are great for this as children actively interact with other kids, family members or toys as they 'serve' tea. Positive behaviors such as politeness can be reinforced through this type of activity and kids can develop their language skills through asking questions too.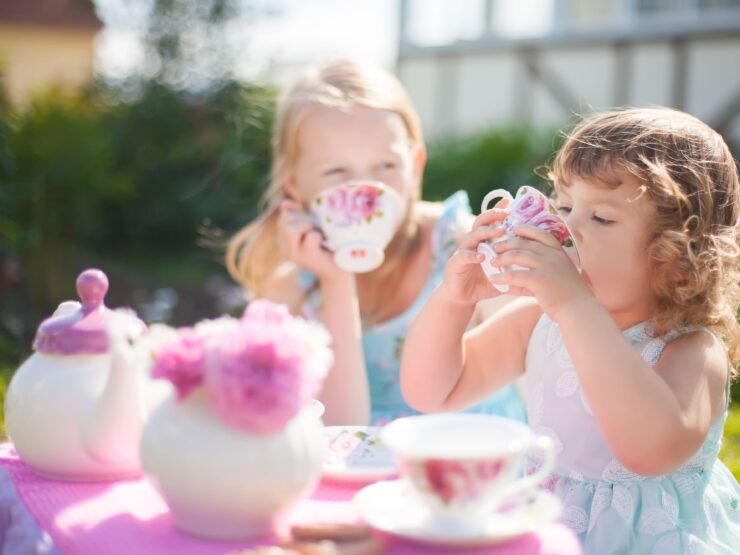 Language development: As mentioned above, there are many benefits when it comes to developing social skills with these type of toys. Pretend play encourages children to use expressive language, ask questions and act due to their 'role'. Parents can use this as a great gateway to helping a child through paraphrasing and questioning in response to their interactions to positively instill their language growth.
Imagination: Imagination stands as a crucial building block for any child as they navigate their way into adulthood. Not only is imagination important for children, but in adulthood, it is a powerful skill that can help in wider careers too. Scientists and artists are just a couple of examples of jobs that require active imaginary skills to be used on a daily basis.
Improved self-esteem: By giving a child full control of their imaginary world and their role within it, you are encouraging them to have confidence in themselves and their abilities. Enhancing a child's self-esteem through play is something that can be done fairly easily with the right type of reinforcement from a parent or guardian. When a kid uses their own initiative to control their storyline, the characters within in and their own role, they have complete power over their own worlds which will increase their self-esteem.
Here are some other great picks for you to check out: