Are you looking to buy a gift for a 3-month-old baby? Whether it is for your own baby or a friend's, it can be difficult to know what are good toys for 3-month-old babies. But you do not need to worry any longer, because we have put together this guide for finding the best toys for 3-month-olds available on the market!
As parents ourselves, we know that the number of toys available to purchase can feel overwhelming. It is difficult to know what to look for when buying a baby toy, especially for young infants as they are changing and developing so quickly. And while babies often come with a lot of equipment, it is often hard to know what will engage them in a toy.
In this guide, we will address some of the main considerations you may want to factor into your decision so that you are confident in your purchase. We will also present our picks for the best toys for a 3-month-old infant as well as a top overall pick and best budget buy.
New babies are constantly growing and developing, and by three months your little one will already be working on many skills. They may start holding their heads up during tummy time, develop an interest in opening and closing their hands, and even start reaching for and grasping objects.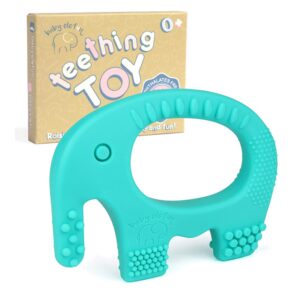 Considerations When Buying 3 Month Olds Toys
With so much choice available, you might feel it is hard to know where to start when looking for appropriate toys for 3-month-olds. Here we will present some of the key factors to consider before making your purchase, which should help you to narrow down the selection.
Safety: the most important consideration when buying an item for a young baby is its safety. There are a number of guidelines around what is safe for young babies but as a minimum, the item should be made from nontoxic materials and it should pose no risk of choking to a small baby. In our guide, you will find plenty of safe toys and stuff for 3-month-old babies.
Material: babies love to explore different textures and types of material and engage in touch and feel activities. Many of the toys in our guide will provide lots of sensory stimuli for your baby so that they can learn as they play. Of course, any materials used in baby items should be nontoxic to ensure they are baby-friendly.
Price: there is no need to spend a fortune on 3-month-old baby toys because the baby may quickly outgrow them. Set a budget that you are happy with and you are sure to find something suitable. Our guide features a range of options at different price levels and we have also selected our best budget picks at the end of the article.
Age: when making your selection it is important to consider what would be age-appropriate toys for 3-month-old babies. Look for items that are easy for little babies to hold, move, shake, and explore as they learn how to control their limbs and movements.
Function: as well as a fun addition to playtime, consider whether you would like the toy to be educational. There are lots of developmental toys for a 3-month baby available and we will cover many of these in our guide. Babies learn well through play so a fun toy is a great way to encourage them to practice their new skills!
Best Toys for 3-month-old Baby
Now that we have addressed some of the considerations to make before your purchase, we will present our top picks for 3 monthly baby toys in 2023.
1. Homofy Musical Instrument Toy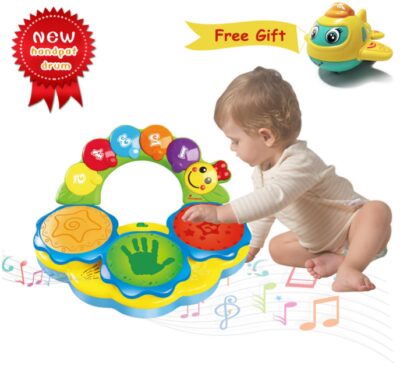 Looking for fun toys for 3-month babies? The Hand Pat Drum from Homofy would be a great choice. This bright and colorful electronic toy features three light-up drums that are just the right size for babies to pat. They will adore the noises they hear as they bat at and pat the drum pads!
When the pads are pressed they will light up, attracting the baby's attention and promoting visual development and color recognition. Babies are sure to love the drum sounds, melodies, silly sound effects, and flashing lights. The drum toy also features a carry handle for easy transportation. This toy is built to last from durable and resistant materials.
2. iPlay iLearn Baby Rattles Set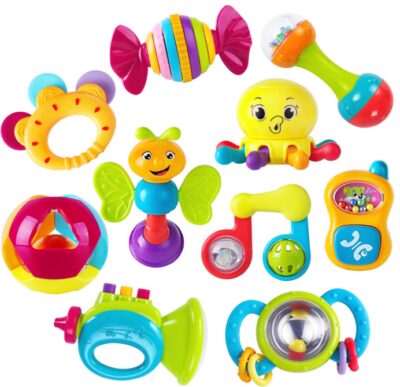 Babies respond to auditory and sensory stimulation and this rattle set definitely offers both! The set from iPlay, iLearn contains ten unique rattle toys that your baby will love to explore. The rattles make great developmental toys for 3-month-old infants because each one is designed with individual designs to stimulate fine motor skills. With a variety of different sounds to explore, babies will be engaged for endless fun at playtime. There are bells, rattles, musical notes, and electronic sounds. And each toy is baby-friendly as they are made from BPA-free materials.
3. Fisher-Price Maracas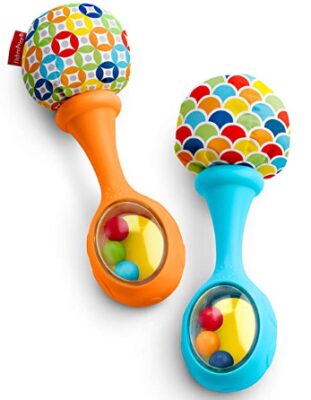 Fisher Price has been a leading brand in toy manufacturing for many years and the company continues to develop engaging toys for babies and children. These Rattle 'n Rock Maracas are designed to be easy for your baby's little hands to grasp and shake. The handles feature brightly colored beads that move as your baby shakes the maraca, attracting and engaging their attention.
At the top of the maracas are soft and colorful fabric pom-poms that babies are sure to love exploring. The Rattle 'n Rock Maracas are intended to support your baby's gross motor development as well as provide fun sensory stimuli.
4. Lamaze Freddie Firefly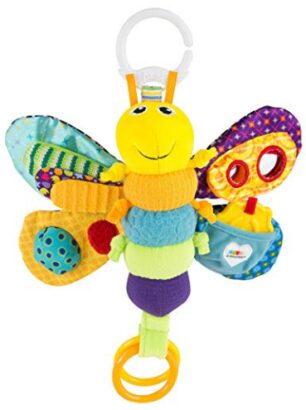 If you are wondering what toys are good for a 3-month-old, check out the Lamaze Freddie the Firefly. It is one of the most popular newborn toys available and it is easy to see why. The firefly toy is packed full of sensory stimulation, including textured fabric, sounds, and bright colors. Its soft body features velour and patterned fabric designed to stimulate baby's visual interest.
The full and layered wings have a small mirror and crinkly fabric for babies to explore. This wonderful toy also has a squeaker, plastic clinking rings, and a ladybug teether. The unique Lamaze clip allows parents to attach the firefly to a stroller or car seat handle to entertain babies on the go.
5. Splashin' Kids Inflatable Tummy Time Mat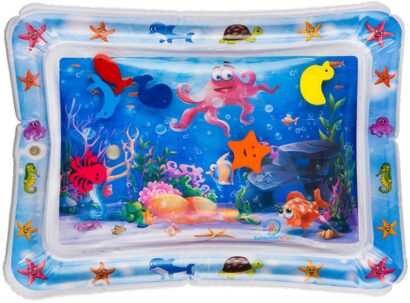 Looking for unique toys and activities for 3-month-old babies? This Inflatable Tummy Time Mat from Splashin'kids is a wonderful way for babies to experience sensory water play without ever getting wet! Made from heavy-duty and high-quality PVC, it features engaging ocean-themed graphics and six fun moving toys.
Your baby is sure to love tummy time as they explore this intriguing inflatable mat. Tummy time is recommended by experts as it helps your baby to develop muscular strength in their neck and shoulders and practice holding their head up. This large mat is easy to set up, simply inflate the outer ring and then fill the inner mat with water to your desired level. A real sensory treat for your little one!
6. Baby Einstein Take Along Tunes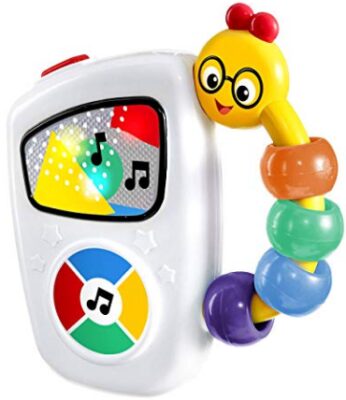 Babies love listening to music and studies show it helps their brains to develop well. The Take Along Tunes Musical Toy by Baby Einstein is a great way to introduce music to your newborn baby. It is designed for babies from 3 months and older and features seven different melodies that your little one will love.
With large and bright buttons, it is easy for babies to control the toy themselves, helping them to learn cause and effect. Gentle dancing flashing lights move to the rhythm of the musical tracks to stimulate your baby's vision while they listen. The caterpillar-themed handle features beads that baby can move up and down for extra fun.
7. Fisher Price Sit Me Up Seat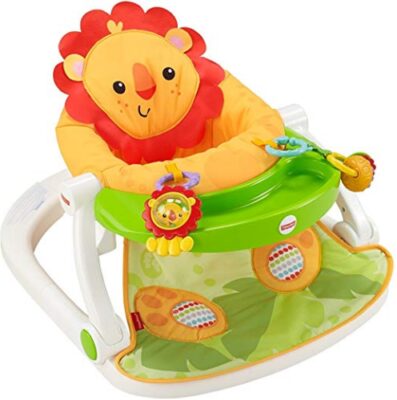 There is a lot of stuff for 3 monthly babies available and it is hard to know what is essential! The Sit Me Up Floor Seat from Fisher-Price could be a great help to parents who want to sit their babies upright before they are able to support themselves.
This portable infant seat has a fun and friendly lion design that babies will love. The removable snack and toy tray features a lion rattle with teether feet and set of sliding clacking rings to keep your baby entertained while they sit. The seat's wide base means that your baby is well supported and comfortable even before they are able to sit themselves up.
8. VTech Moosical Critters Cow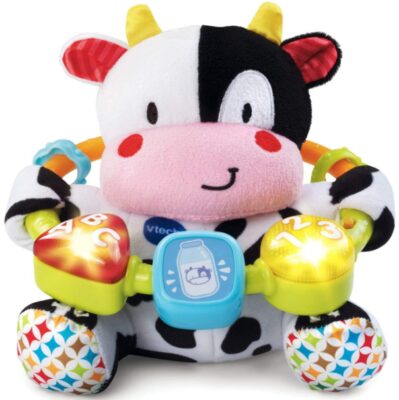 Have you seen anything cuter than this Moosical Beads cow toy from VTech? This leader in electronic toys has so many engaging products for babies and children. The soft plush toy cow has a friendly face and textured body for baby to explore and cuddle. It also features a bead ring with light up buttons that play music when pressed.
Your infant will love to push the buttons and hear over 30 songs, melodies, sounds, and phrases. The bead ring contains a spinning square to encourage babies to use their developing motor skills. This toy is the perfect size to pop in a diaper bag or under the stroller to entertain your baby while you are out and about.
9. VTech Rattle and Sing Puppy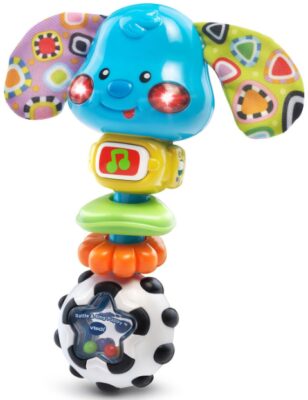 Another wonderful toy from VTech is the Baby Rattle and Sing Puppy, certainly one of the best toys and games for 3-month-old babies. This cute puppy-themed rattle is designed for little hands to grab and shake. Your baby is sure to love shaking the toy and hearing the colorful beads rattle. They can also see the puppy's cheeks light up, further engaging baby's attention.
The rattle features a bright musical button and when pressed, the toy plays over 20 fun phrases, songs, melodies, and sounds. Babies will adore exploring the various colors and textures of the rattle, including the bright crinkly fabric ears. This would make a fantastic gift for any new baby.
10. Fisher Price On the Go Baby Dome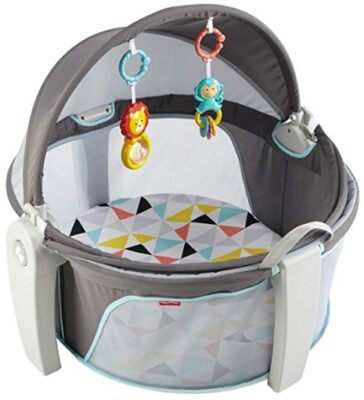 Many parents find it hard to keep babies in their preferred nap routine when out and about. The On the Go Baby Dome from Fisher Price aims to overcome this. The Baby Dome can be used either as a safe play space or napping spot when your family is out for the day. It folds down flat so it can be easily transported, carried, and stored. When used as a play area, the mesh sides keep baby safe while the canopy protects from the sun and pesky bugs. Parents can hang toys from the loops to keep baby entertained, and the dome comes with two removable stimulating toys.
11. Stroller Rattle Toy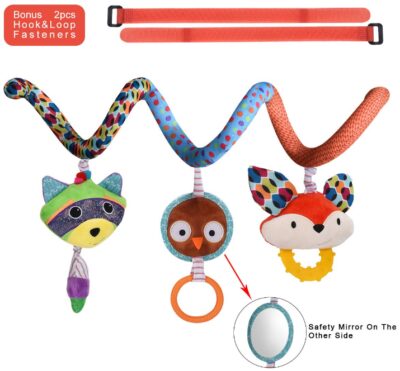 This hanging rattle spiral toy from Haha Baby is designed to keep infants happy when out and about. Its unique spiral design means that it can be wrapped around a stroller or car seat handle. The colorful fabric spiral is sure to intrigue babies and the three hanging animals are good toys for a 3-month-old infant to kick at or reach for.
Your baby will love to explore the fox, which has crinkle fabric ears, built-in rattle, and BPA-free silicone teether. The sweet owl toy has a safe plastic mirror that baby can gaze at and a plastic ring to grab. The raccoon has crinkly ears, an inbuilt rattle and a squeaker in its tail. Babies are sure to adore playing with this spiral toy while on trips out.
12. Babylian Grasping Rings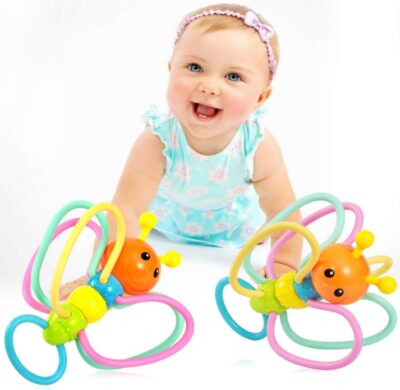 Some of the best gift options for this developmental stage are ring toys for 3 month olds. Babies of this age are learning how to grab for and grasp objects, and ring toys give them a great opportunity to practice their new skills.
This bee grasping rattle from Babylian is a great example. It features a cute and colorful bee at the center of seven silicon grasp rings, which are easy for little ones to hold. As your baby moves and shakes the toy, the bee will rattle, which is great for stimulating auditory development. The silicon rings can also be used to ease sore gums when babies are teething.
13. Yookidoo Tummy Time Musical Mat

Tummy time can be great for 3-month-olds to help them develop muscle strength and motor skills. With the Baby Tummy Time Mat from Yookidoo, babies can enjoy tummy time anywhere, inside or outdoors. The mat features soft farm animal toys which attach to the unique Magic Motion Track and move back and forth to keep your baby entertained.
This innovative track is designed to encourage optimal posture in little ones as they explore the play mat. The Tummy Time Mat also features 10 minutes of consecutive Old McDonald music to calm and soothe your baby. In order to easily carry and transport the mat, it folds down into a self contained case.
14. Teething Scratch Mitts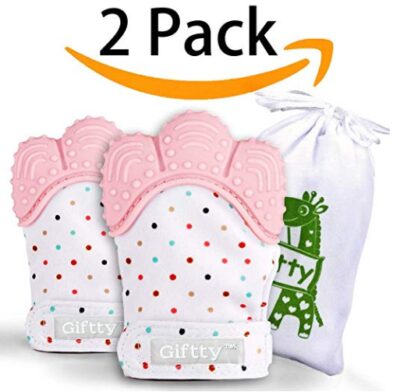 Around 3 months is when babies often start teething, with their baby teeth beginning to cut through. This can make babies grizzly because their gums feel sensitive and sore, which leaves parents looking for items to soothe their little ones. This set of baby self soothing mittens is a great idea to help young babies when they are suffering from a sore mouth.
Simply attach the mitten to your baby's hand using the strong and adjustable Velcro strap, and they can gum and chew on the soothing teethers at the tip of each finger. The teethers are made from food grade silicone that is BPA free and completely safe for babies to chew on.
15. Foreast Soft Animal Rattles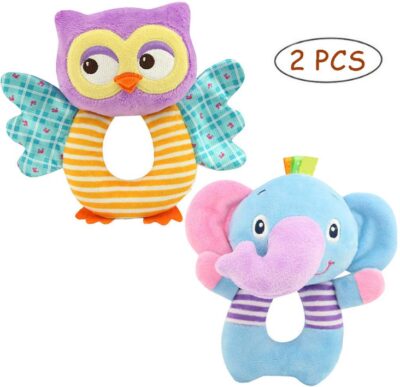 Rattles are classic gifts and are a great choice for baby toys for 3 month olds. Babies just love exploring new sounds, especially when they can make them independently. This set of two animal themed soft rattles from Foreast is bound to capture your baby's attention. Both rattle toys are made from from soft plush fabric that is kind to baby's hands.
They have an O ring design that makes the toys easy for little ones to hold and move around. The cute owl features brightly patterned fabric with crinkle paper wings and a ring bell inside the head. The sweet elephant also features a ring bell in its head and ribbon tags for babies to explore and touch.
16. Ike and Leo Teether Toys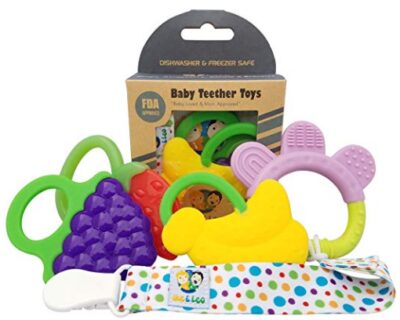 These funky teething toys for 3 month olds from Ike & Leo are guaranteed to please! Aimed to provide soothing and massaging comfort when teething pains strike. Babies will love the fruit themed toys, which are designed to be easy for small hands to grasp. The set contains teethers shaped like a banana, a bunch of grapes, a strawberry, and a fun pacifier clip / shaped teether.
The toys are made from certified and FDA approved premium food grade silicone that is free from BPA, PVC and phthalates. This means that they are safe for babies to play with and mouth so parents can buy with confidence. This set would make a fantastic and unique gift or toy for any little baby.
17. My First Words Cloth Book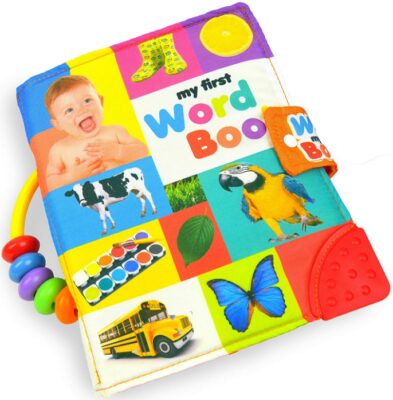 Reading together is a wonderful way for parents to bond with their babies, and has many benefits for even very young babies. This lovely cloth book from Mamma Kiddie is a lovely toy to share with your 3 month baby and the bright colors and large pictures are sure to engage little ones. Each page is made from soft printed cloth and features words and pictures in categories including bathtime, bedtime, feelings, animals, mealtime, food, toys, clothes, vehicles, colors, and outside.
This cloth book is designed to be durable, with high quality materials and strong stitching. It features a carrying handle that can be attached to a stroller or car seat handle so you can entertain your little one on the go.
Best Overall Pick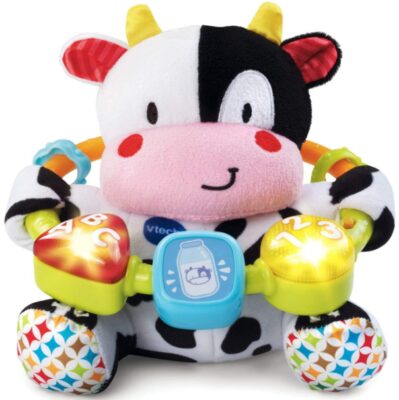 Having presented a ton of ideas for baby toys for this developmental stage, we are sure you will find the perfect item in our guide. We will now select our best overall choice for baby engagement, value for money, and quality. We present the Lil' Critters Moosical Beads toy from VTech. VTech is a brand leader in making electronic toys for babies and kids. This toy is designed to be extremely engaging for little babies as it features textured and brightly patterned fabric to stimulate both touch and sight.
The colorful toy cow is soft enough to snuggle and comfort baby when needed. The fun bead ring features light up buttons that play over 30 songs, phrases, melodies, and sounds. Your little one will be delighted with the fun music and words they can hear!
Best Budget Buy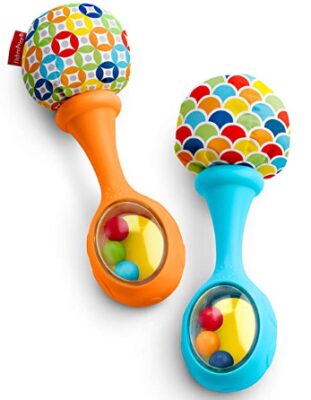 If you are looking for a toy that packs a punch but will not break the bank, we present the Rattle n Rock Maracas from Fisher-Price as our best budget buy. This set of two shaker toys is excellent value for money and is sure to impress any 3-month-old infant. The maracas are the perfect size for babies' little hands to practice grasping, grabbing, and shaking.
The colorful beads will attract the baby's attention and stimulate visual interest, and make a pleasant noise when the baby shakes the toy. The rattles are topped with brightly patterned soft cloth pom poms that little ones will love to touch and explore. This set is sure to be a fun addition to playtime as well as helping your baby to develop their muscle strength and motor skills.
If these weren't enough, check out some other picks from Amazon also: