Girls can be tricky to buy for. I find it much more difficult to buy gifts for my little girl than I do my little boy. Especially as they get older. Boys can still be content with prank toys up until a very late age (I still love pranks!), but girls tastes are more refined.
What to pick for a ten years old girl?
Ten is a delicate age for your daughter. Some girls start puberty later than others, some start earlier, but my time as a primary school teacher has taught me that a lot of girls begin their journey to womanhood when they reach about ten.
The body starts to change, hormones start being released and their whole perspective on the world changes. They become more aware of themselves and support and encouragement from their family and friends is important.
Different Types of gifts to Consider
It can be a tricky time, especially for Dads, who see their beautiful little daughter growing up into a woman. As your little girl goes through this delicate stage in her life, she'll want more time for herself. It can be a tricky balance to strike, giving her the freedom she wants, but then also supporting her and letting her know that you're still there
Don't fear though, in this blog post, we'll go through some of the best presents for girls that show that you still love your daughter and you're there to offer support whilst also offering up some of the best ways that you can respect her newly found personal space.
Best Games and Toys in 2023
There are loads of amazing gifts for ten-year-olds which are ideal birthday or Christmas presents for girls who want something special for their big day. We have all different types of ideas in this review and with 21 different types of gifts you will surely find something your little girl will love! Find out which are the best gifts for 10 year old girls in 2023.
1. Girls Only! Secret Message Lab
This gift is a perfect example of combining secrets and science. Designed for use with friends, this Girls Only Secret Message Lab lets girls share with each other secrets and code.
The present allows them to find space and privacy when they feel like they need it most. Maybe they're talking about boys, maybe clothes, maybe about anything else. This kit will let them express themselves fully.
Whilst your little girl and her friend are sharing all of their secrets with one another, they're also learning the science behind it too. A good toy does many great things.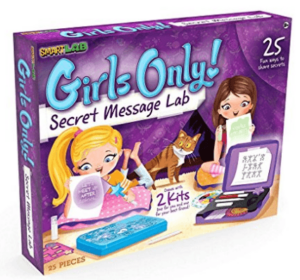 2. On the Go Friendship Bracelet Craft Set
As the little one gets older, you'll find out that she begins to rely more and more on the friends that she chooses to spend her time with rather than yourself. That isn't to say that she won't come to you for things too, but some things are just 'too embarrassing' to talk to your parents about. I've had it all from my daughter, trust me.
The friendships she forges at this age can be some of the most meaningful she'll ever make, and with this gift from Melissa and Doug, they can mark how special it is by making each other friendship jewelry.
Friendship bracelets have been around forever, and symbolize something very important. This set contains enough material to create at least ten unique and cool design patterns with beads, buttons, and instructions to help them along their way.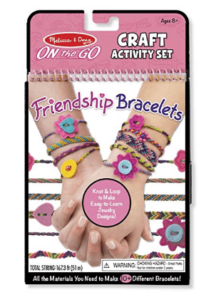 3. Bag of Unicorn Farts
Admittedly not every girl was made equal. Though all love unicorns, not all would love farts. But unicorn farts? Genius
Something about this gift is hilarious and so wrong at the same time. Your girls face when she receives this present will either be full of shock or laughter, but fear not, unicorn farts are strangely similar to cotton candy.
The company behind this has ensured that the unicorn farts are 100% magical and come from only free-range unicorns. The farts themselves are gluten free meaning that everybody can enjoy them. Perhaps best of all, 10% of all profits go to charities that support children with neurodiversity, what's not to love.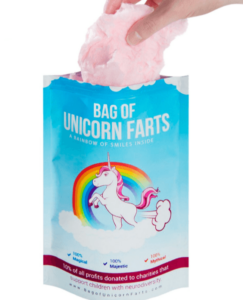 4. The Spa Deluxe Gift Set
As girls get older, it's only natural that they take in interest in wanting to look and feel good. This ideal gift from 'Creativity for Kids' helps them to achieve exactly that.
All the fun of a spa day without the costly price tag, this set comes with everything your girl will need to pamper Themistocles. Including a footbath, a nail dryer and more nail polish that you can count on one hand.
Whether your girl is having a sleepover, or just wants some me time, this gift is perfect for both and comes highly recommended by parents everywhere.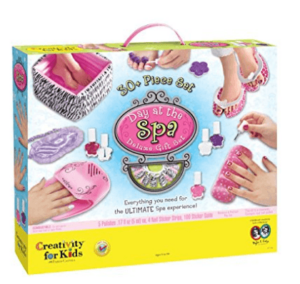 5. Science Academy: Perfume Lab
Coming from the Science Academy, this range focuses on mixing science with creativity. Perfect for those little aspiring scientists.
Your girl will learn chemistry, biology, and creativity to get a great product that she can wear and be proud of by the end of it.
The kit includes everything you need to make several of your own perfumes and instructions that talk your girl through extraction of essential oils, the science behind what makes something smell nice, test tubes and a spray bottle amongst other things. You'll love this gift as the house will smell great after every use.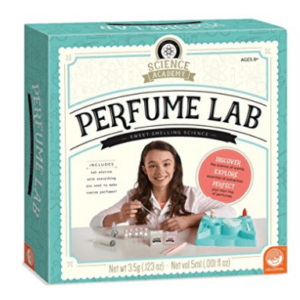 6. To The Moon and Back Photo Frame
Sometimes a gift isn't something that needs playing with. Sometimes a gift needs to be something touching, something sentimental, and that's exactly why we've chosen this beautiful photo frame by Mud Pie.
As girls start to grow up, they sometimes need to know that you're there for them, even when you can't be. This photo frame will comfort and remind a little girl of the memories that you make with each other whilst letting them know how much you love them. A great addition to any bedroom that will warm the hearts of anyone who sees it.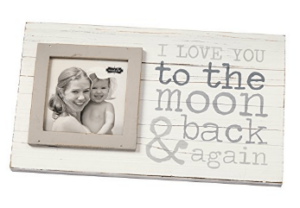 7. Butterfly Diary with Lock
Privacy is going to be a hard lesson learned when redefining boundaries of a girl who has begun puberty. She'll want space, she'll want freedom and she'll want to be able to keep secrets safe in the knowledge that nobody will ever know.
This gift helps a girl feel safe in the knowledge that her secrets are just that secrets, whilst also managing to look elegant at the same time. The pink butterflies sparkle to illuminate a girls imagination. the lock comes with a key that the little one can safeguard however she wants.
Writing down thoughts and feeling has proven to be a healthy habit and helps developing mind understand themselves better whilst also improving the quality of their writing.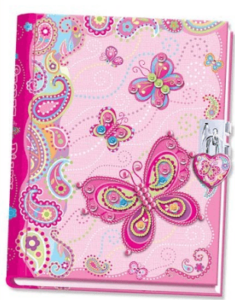 8. Harry Potter and the Sorcerer's Stone: The Illustrated Edition
Harry Potter was only ten when the mysterious letter from Hogwarts started to arrive by owl at his door. The perfect time to spark a child's imagination with the introduction to the magical wizarding world.
This beautifully illustrated edition keeps kids entertained by the wonder and the magic that this book evokes. A whole new world, invisible to the simple 'muggles'.
This is a great present for any girl who loves to read and wants to further develop their ability. The book is an international bestseller and is widely regarded as the best series in modern history and for good reason. I love it, and I'm sure your child will too.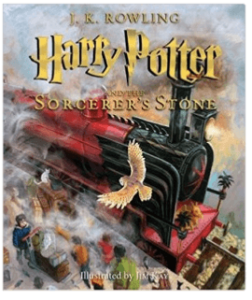 9. Knitted cotton Hat with

Earflaps

Just as important as gifts that are fun and creative, are gifts that are functional. Add functionality to unbelievable cuteness and you'll quickly arrive at this winter hat from SurBlue.

This hat is delicately handwoven from the best cotton available to ensure warmth, snug fit, and quality. Cotton is much softer and less irritable than wool, it's also less prone to wear and tear meaning that this gift will last a lot longer than some of its woolen counterparts.

The 'flaps' are long enough to double up as a scarf meaning that your little one will stay warm even when the weather isn't. The little-embroidered whale on the front only serves to add an extra element of cute to the design.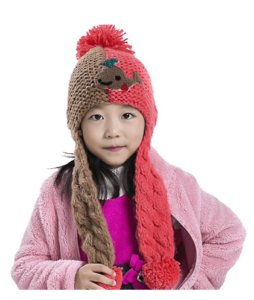 10. All-Natural Lip Balm Boutique
Soft lips are a must when you're a little girl, or so my daughter keeps telling me.
I love this kit because it's made purely from what nature has to offer. Meaning that your daughter will be putting no harsh chemicals on her face or in her mouth.
This gift will allow our daughter to make and learn the science that goes into making your lips nice and soft.
The six mold included allows your daughter to express herself by creating her own brand design too. Maybe one day she'll go on to market her product!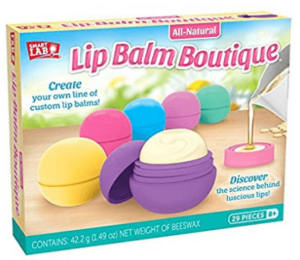 11. Create Your Own Spin Art Kit
Developed by Swiss artist Alfons Schilling in the 60s, spin art is the process of adding paint to a canvas that is spinning.
This gift not only brings European culture into your home but also allows your little girl to express her creativity and allow her to explore the reaction between different speeds of spin, how the paints react with each other when spinning compared to stationary and much more.
Make art you can frame with this kit from 4m. In the box, you will find 20 paper sheets and 3 tubes of colored paint. Any pain will work with this fun and imaginative toy.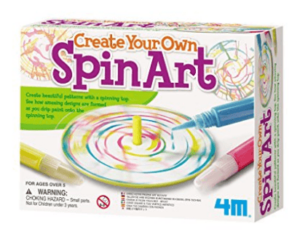 12. Karaoke System with Disco Lights
Girls love to perform. Whether singing, or dancing, or both, this machine will enable them to do it.
Performing such things increases confidence in themselves and also develops their ability to handle the pressure felt from being watched by their peers, parents or others. An important aspect of developing for adult life.
This machine comes with connecting cables that allow you to have scrolling lyrics on your tv screen, adding to the authenticity of your favorite karaoke bar. With two microphone jacks, duets have never been so easy, and see those dials on the front? They do exactly what a voice synthesizer does, only without all the expensive equipment.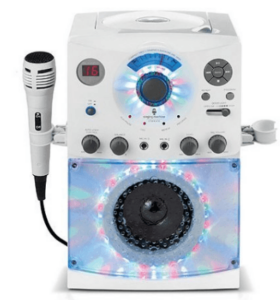 13. Sparkle Tattoo Parlor – Peace and Love
Girls love to dress up and make belief, although as they get older, the costumes change and so does the acting. This sparkle tattoo parlor reflects the age of a child. When they're moving away from Disney princess and moving more towards wanting something a little bit rebellious, this harmless gift will count for a lot.
More adept than just your normal 'lick and stick' temporary tats, the Alex Spa tattoo parlor includes stencils and brushes, along with glittery powder paint to enable them to apply their very own tattoo. To themselves or you!
A great gift for fashionista's who want to match their tattoos with their outfit.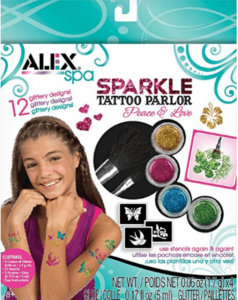 14. Rad American Women A-Z: Rebels, Trailblazers, and Visionaries
A book that belongs on any young girl's bookshelf. Having heroes to aspire too is so important, and in this age of female empowerment, it's good to recognize the female heroes of our time and the past.
This gift will show little girls everywhere that it's okay and fine to be different. That sometimes being different means that you'll go on to achieve great, wonderful and noble things in your life. It will help them realize that even though they're 'just a girl', they can achieve anything they can possibly dream of.
Creating a strong feminist Foundation, this book is a must-have. Written by Kate Schatz, it quickly came to be on New York Times bestsellers list.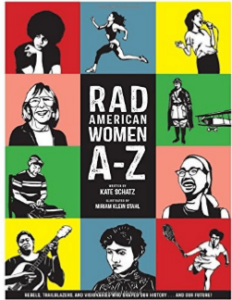 15. Franklin NHL Indoor Sport 
Good for indoor and outdoor use. This 2 in one hockey set by Franklin is perfect for those girls who want to become a famous hockey star one day.
The set includes 2 indoor sticks, 2 outdoor sticks, 2 sets of goals, 2 foam balls and 1 hardball. Everything you need for your girl and a friend to have a great game of hockey. She and her friends will love this present.
Perfect for indoor or outdoor fun so you can play no matter what the weather is like. Helping kids to stay fit and active whilst also finding new hobbies for them to try out is just as important as any other type of learning and should never be overlooked when considering gifts.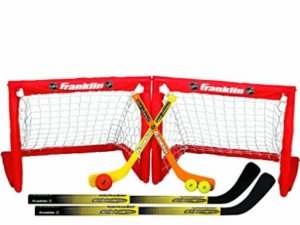 16. Fashion Studio by Creativity for Kids
Fashion is a big part of the female culture, and becoming aware of it can ignite a strong passion for design within some girls and it's only natural that they'd want to develop and explore their curiosity.
Creativity for kids has really hit the mark with this product. The set contains everything needed to express one's individual style and artistic side. With non-toxic fabric, not only is the gift fun, but it's also safe for the environment. Perfect for the environmentally aware designer of the modern world.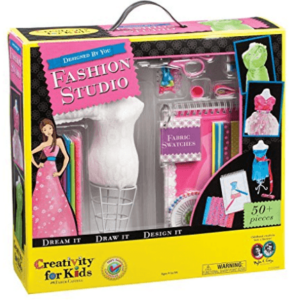 17. Girl's Charm X Boa Inline Skates
Skates have been around much longer than me, and they have aged considerably better. When I was a child, I'm pretty sure inline skates hadn't been developed yet. But for over a decade now, they've established themselves as the only way to wear wheels on your feet.
Fun, fast and sporty, these skates from K2 certainly look like a force to be reckoned with.  An easy to use closing system means that even children will be able to lock their feet safely into position. With the extra padding. your girl can ride around all day in her new present without her feet getting even the slightest bit sore. Coupled with the uber cool design, it's easy to see why these are so popular.
All that, coupled with the uber cool design, it's no wonder why this particular skate is so popular.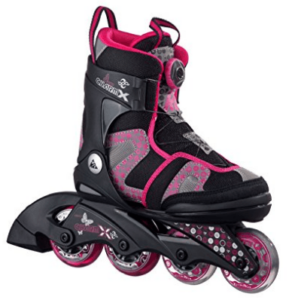 18. Pink Guitar Starter Package
There are so many musical icons of past (and present) that have represented social and cultural change within our great country. Dolly Parton for example, is an idol that has surpassed time, race and gender and is loved amongst all. Some children have an innate musical ability and need a creative outlet.
This 38-inch guitar is the ideal size for a child who wants to learn the instrument without having a big cumbersome object to lug around with them. Coming with a bag, extra strings, pick, strap, pitch pipe tuner, and a pickguard, it has everything you need to perform their very first gig.
If you feel like pink wouldn't be the best color to choose from, fear not, this gift comes in a range of different colors so you can find the one that suits your daughter no matter what her taste is.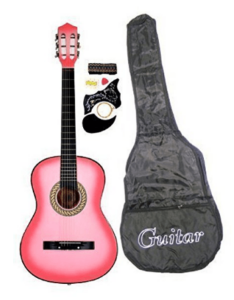 19. Create Your Own Crystals
Clemontoni is an Italian company that has made a reputation for itself through great quality products that help kids learn and understand complex scientific methods in an easy to explain way.
This specific grow your own crystal kit is aimed at girls and the instruction manual allows them to grow crystals in all kinds of shapes. From elephants to dolphins, they'll have tons fo fun with this present.
Adult supervision is required, which means that your daughter has explained exactly what she's going to do and how she's going to do, you can sit back and observe your young scientist at work.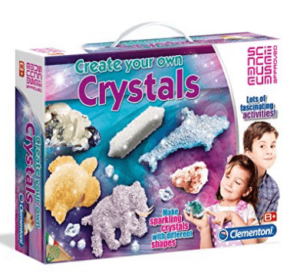 20. The Sleepover Party Game
As girls get older, their friend circle expands and includes much more people than it did only a couple of years prior. Although in this growing amount of friends, girls tend to have only a few ones that they would consider close. This elite group of friends are the ones that your invite over to sleepovers. Did someone say sleepover, Yayyyyyyyy!!!!!!
With over 200 different ways to keep the girls entertained, you can relax comfortably knowing that all night, they'll have great entertainment that will keep them occupied.
Having people over to sleep is a great bonding experience and being able to laugh at one another and yourself will only strengthen the bond that they'll share.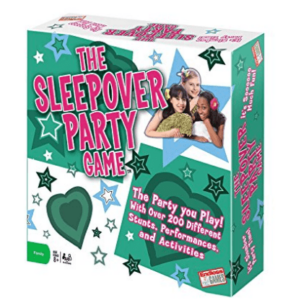 21. Roseate Girls Waterproof Jacket 
This sports lightweight jacket is outerwear at its best. Who said outdoor adventure was just for boys! The folks at Roseate never got that memo and designed this wonderful outdoor jacket, designed specifically for the young female adventurer.
This lightweight coat comes with a waterproof polyester shell meaning that it will hold up even in the rainiest of conditions. The breathable seams allow for sweat and moisture that develops on the inside to escape so your girl is always comfortable. The hood will keep the rain from the face and head whilst the elastic cuffs will make it an even tighter fit.
This would make a wonderful gift if you're trying to encourage your girl to get outdoors more and explore the great American wilderness, and because it's made by Roseate, you know that it will hold up against its competitors.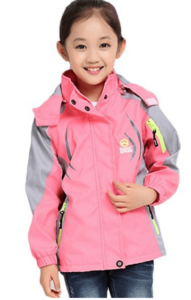 Before you go, check out these awesome picks for young girls: